Cagliari gives Roma a tough battle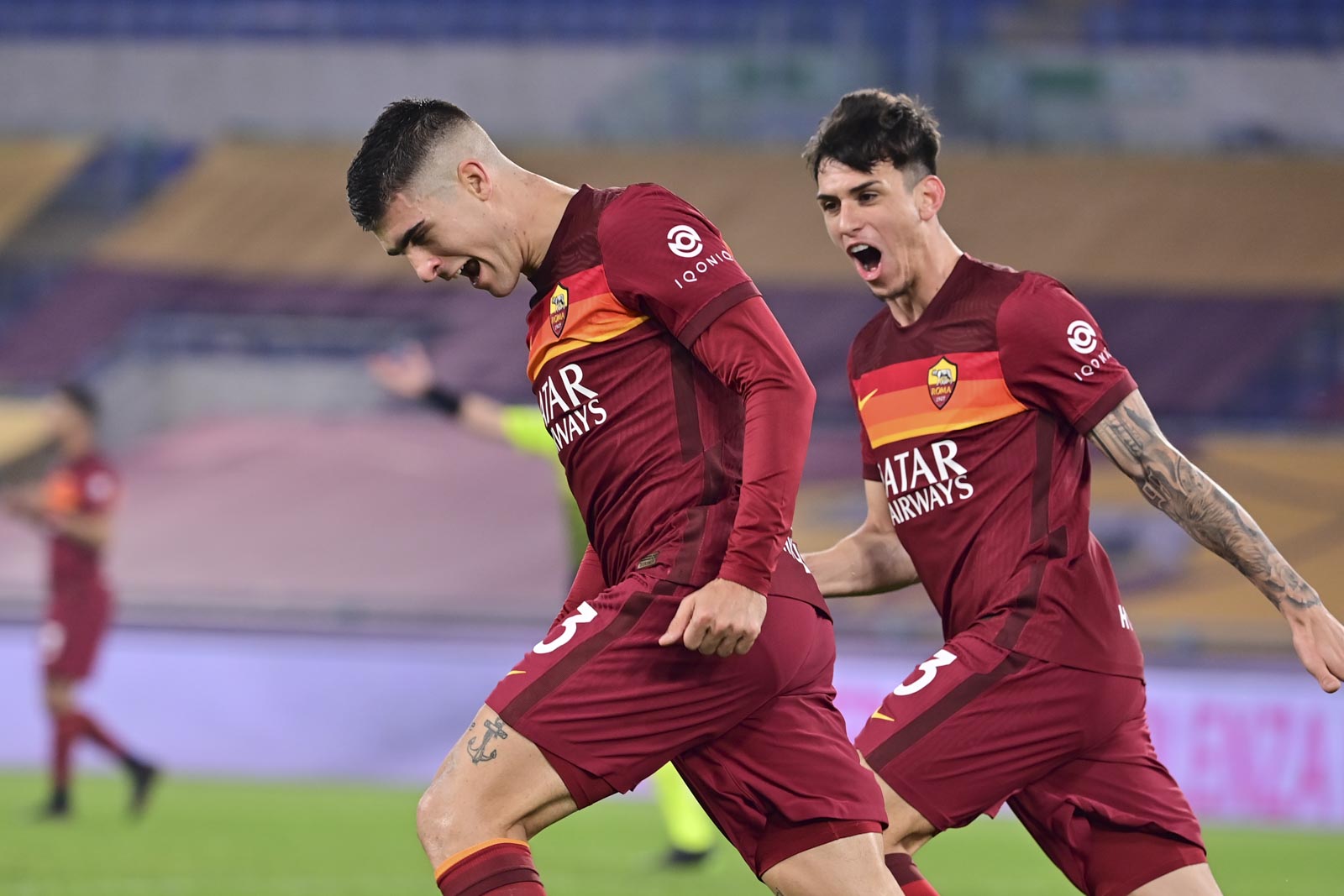 It certainly was a battle at the Stadio Olimpico last night. Roma did get the points in a very tough 3-2 victory against Cagliari. There's a lot to take away from what we saw from both sides of things. Cagliari came into this game without a win in the last five. I don't think anyone really considers them that much of a threat for Relegation; their team is far too good to amount to something so low. However, they were in horrible form, and we weren't sure what kind of game we were going to see from them. The scenarios were Endlessly aiming towards Roma beating them up, especially after the match Roma had last weekend that seems like a likely possibility. However, it turned out to be quite a battle. There was a slow start in terms of the action-packed portion of it, but Cagliari found a way to fight their way into it. They fell behind after only 11 minutes, and they felt a little bit desperate and tried to do too much. Once they got back into the game in the second half, they pressurized Roma, and we're really running on fumes. You can even argue the underlining circumstances could have ultimately led to them being in front of this game. Cagliari hit the crossbar a few minutes after the equalizer, and it was a tough go for a little bit for Roma for the next 15 minutes because they were operating so much momentum that they were trying to steal it from the Romans. Ultimately we know the rest of the story. Rick karsdorp squares up edin Dzeko Gianluca Mancini scores on a header coming off a corner, and Roma pops the balloon. Cagliari did get a penalty late in this game that Pedro converted, but for a portion of this game, they really made things difficult there were many times in this match where Roma wasn't sure that they would get the points. They certainly had the mental capacity last night, but Cagliari made it very difficult on them. Roma had the better team significantly, and after they came up big in the early moments of the game, you would have thought that Roma would have just maintained their course and got through to the end without difficulties. Cagliari made this a game, and it wasn't always easy for Roma in the end; they got the points, but it was the furthest thing from smooth sailing.
Roma in top three at Christmas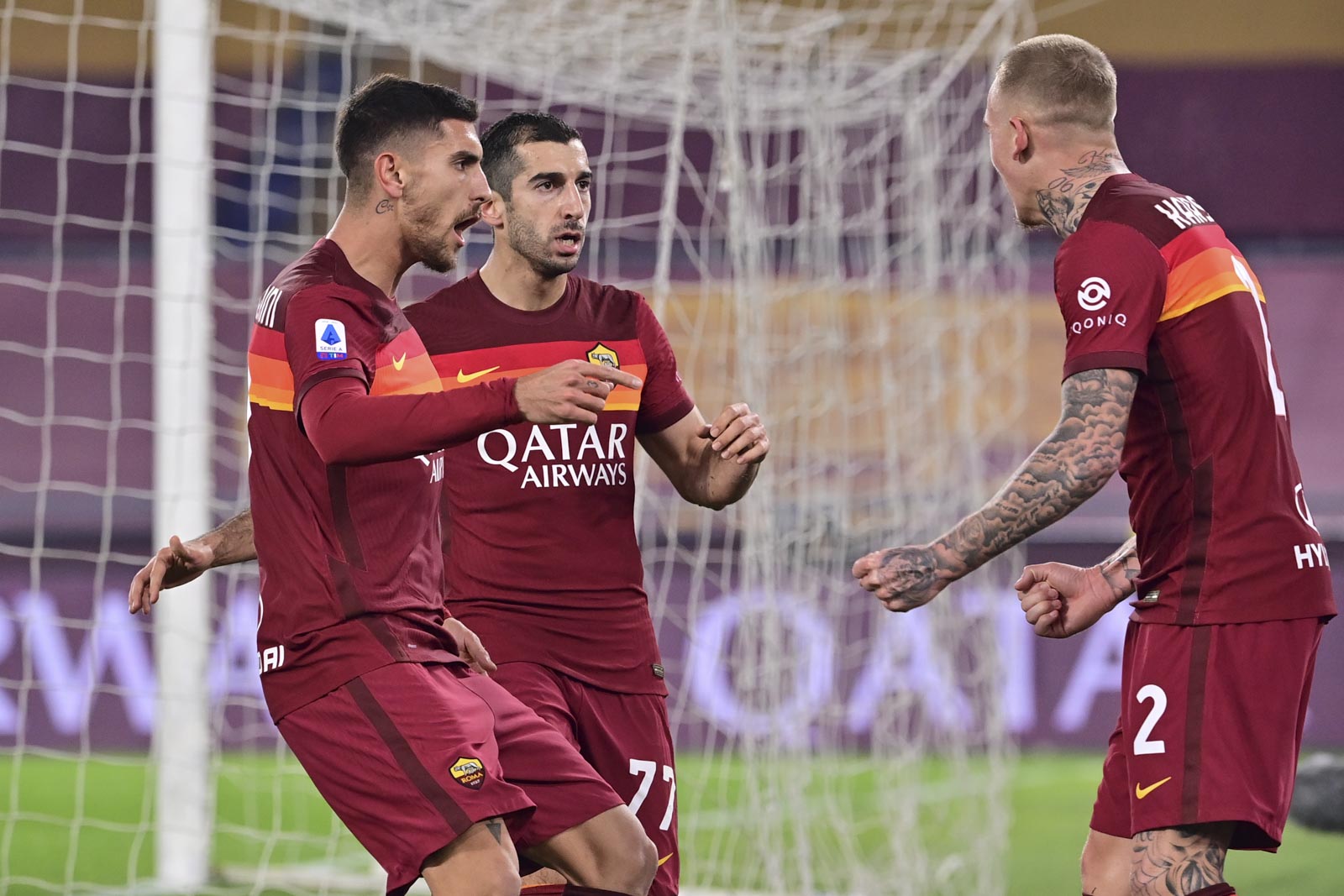 Roma is overshooting at their coverage already this season. Many people thought that this Roma team had some quality inside it but not enough to compete or return to the Champions League this season. Benevento has been the surprise package in Italian football this season, along with sassuolo. However, Roma has been a surprise contender for the champions league and maybe unlikely but maybe even the title race. Most people had Roma as a fifth-place team at best now it's looking like they're almost a shoo-in for the champions league if they continue to play the way they have. Winning some big games would even help more so. Roma ends the first half of the season in third place, only seven points from the top of the table while seven points in the Premier League may be massive for Italy and Germany, it's just different qualifications for that it is much more challenging to hang on to a lead like that an Italian football. I'm not even remotely suggesting that Roma somehow is going to overpower everyone and win the league. However, there were severe doubts about whether Roma would be involved. Outside of the losses to Napoli and Atalanta, Roma has been pretty close to Flawless. Their issue right now is winning the big games, but outside of that, they have been easily one of the best teams in the league. Not only that, they are one of the most pleasing teams to watch the tremendous attacking football and the fightback mentality as they can still turn around leads get the points. With the victory last night, Roma have put themselves in the top three an Italian football thanks to losses from Juventus and Napoli drawing point with Torino. The question is whether or not Roma can maintain. I honestly believe they are a shoo-in for the Champions League this season; after adding some pieces in the January transfer window, they certainly could make that move count. They have deserved their place and have proven so many people wrong so far this season. Not only are they are the third-best team in the league. They have a puncher's chance to get themselves in the title race. After this victory, a tough at that one that proves Roma has the character that they can bounce back after the losses and not let their momentum and confidence disappear. This is the first time in several years that Roma is a top-three team in the league by Christmas. Will Roma maintain this pace? Probably not, but do they have a legitimate shot to finish in the top three absolutely do. Great defensive option creativity in the Midfield and one of the best-attacking teams in the league. If their goalkeeping options were a little better, Roma would be in a much better position if they start winning the big games; who knows what can happen.
Cagliari May be in a rut but no need to PANIC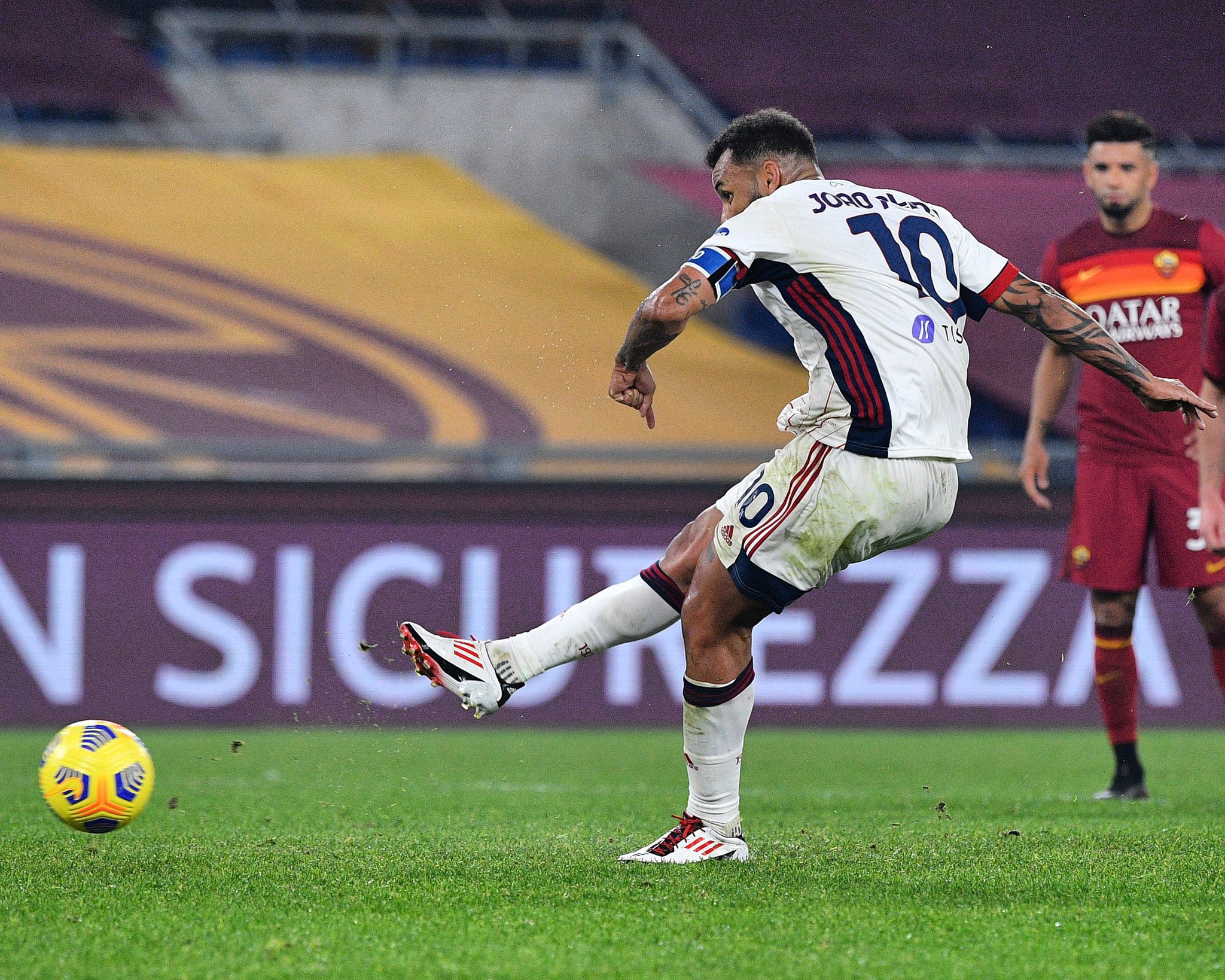 Unfortunately for Cagliari, after the loss last night, they Now find themselves in 15. Well, below where they expect to be this season. They are on a horrid run of form, continuing to be winless in their last five games. They've only tasted victory three times this season, underwhelming what many expected when DiFrancesco took over in the summer. However, last night was a real example of the qualities that they have. Cagliari made it really tough on Roma Wednesday night. They made them uncomfortable, although Joao Pedro had a quiet match outside of two moments. Cagliari didn't attack as well as they usually might and had limited chances, but again, if you look over that game, if Cagliari doesn't hit the bar and it goes in the back of the night, we could have had a different type of game, at least in the final 30 minutes. This team has the proper qualities to be a team that can push for the top 10. So far, it seems unlikely that they'll achieve that, but I think this team can still have a very productive season. Their biggest issue right now is winning close games. This season has several opportunities for them to pick up points from winning positions or just have not done well enough and those types of games. Cagliari should not be pleased because they are in 15th place; it is unsettling because it is really close to the danger zone. However, Cagliari has no reason to panic. They just need to relax and take it one game at a time. They need to come out firing during the second half of the season, at least in the first couple of games. Their attacking options are wonderful with Leonardo Pavoletti, Joao Pedro, and Giovanni Simeone, who wasted two golden opportunities last night. They have Razvan Marin in the Midfield that can be influential on his day, as well as several other key components that can be effective, discounting the fact that they have one of the best young goalkeepers in Italian football. They will probably lose Alessio cragno to Roma or someone else in the summer, but they have enough quality here to make that next jump get themselves back in a winning way, and push themselves into the top 12 where they belong. They're not playing well right now, but maybe a break is exactly what they need; they will give him the time to regroup and start doing better, but once everyone's on the same page and they get a little momentum, they should be picking up points on a more regular basis. Last night they tested Roma and lost, but there's enough from that performance to show that they're capable of turning this thing around.
Rick Karsdorp is a difference Maker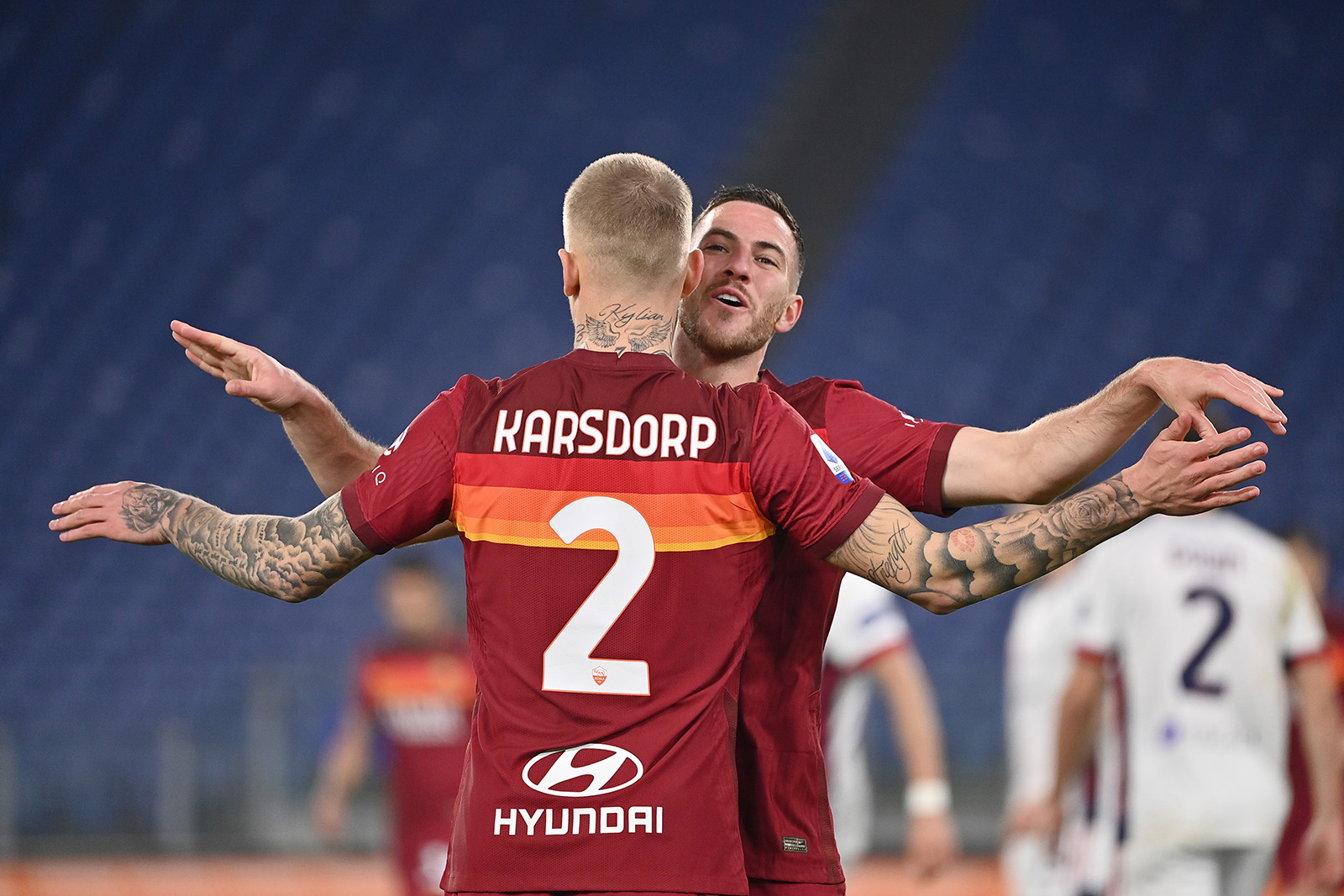 Rick karsdorp is slowly becoming one of the best players in the league this season. He has gone through so much with this club, and I think the growing belief was that most of us did not believe he had a future at Roma. He rejected a loan move in the summer because he wanted to try to fight his way into the team. In fairness to Rick, a lot of it had to do with injury concerns that he has had to deal with the last couple of years, but this season, he has not had those issues, and he has consistently been one of the best players in the wing-back position this season. Leo spinazzola, his wing-back counterpart, has been absolutely incredible; meanwhile, Rick karsdorp has someone flew under the radar this season as one of the best players this campaign. Both Rick karsdorp and Leo spinazzola are starting to look indispensable. Going into this season, another Wing back is something that Roma needed to address; now, it doesn't seem like that is the case. Roma needs more depth because Bruno isn't good enough, but despite that, Rick, karsdorp has been such a revelation this season. We know the story of what he's had to get through to come to this point. He had proven so much value in this team when no one was expecting it. Right now, Rick karsdorp is running on fumes and momentum. He has barely had a poor game all season and found he is being featured as my man of the match on numerous occasions so far. He has been Roma's best player in their last two games, and this is only going to intensify as the season goes on. Rick karsdorp is primarily looked at because of his athleticism and speed. This is what makes him so effective down the wing, largely why Roma paid 14 million for him back in 2017 before injuries took that from him. If Rick karsdorp stays healthy, he will be such an essential piece of this Roma the next couple of years. This has been his first season as a regular starter, and he has been so impressive for Roma. He's not the only reason, but he is largely contributed to why Roma find themselves in the top three at Christmas. Rick karsdorp has shown incredible growth in ability. It's not just the athleticism; it's everything else. Such an incredibly attacking-minded player can make those runs and have the vision to pick up passes for teammates. He was absolutely unreal this week. He registered two assists last night, a cross inside the box that found a Jordan veretout that gave Roma the opening goal. Then on Roma's second goal, he made a beautiful run up the wing Inside the Box before supplying a perfect ball at edin Dzeko's foot. A two-assist performance as he has been playing at this standard the majority of the season. Easily one of the best players this week, not just in time football but in Europe. The crazy thing about him is that; he came up with some huge tackles in big moments even beyond that. He has much more gifted in an offensive perspective been defensively, but he has the speed and ability to make tackles in essential moments. He has progressed so much it's night and day in comparison. I don't care what anybody says this season; the best wing-backs in the league play for Roma, Leo spinazzola, and Rick karsdorp have been legit. The Dutch wing-back is the truth; it's everything he provides and makes him almost irreplaceable in Roma starting 11. If he keeps this up, he will make it into my team of the season. Rick karsdorp has shown enough to deserve a new contract. I am not sure what Roma's plans are; they obviously want to keep him long-term, but he has Justified a new and improved contract. Obviously, Roma is going to extend Lorenzo Pellegrini first and foremost, but when that deal gets done, Roma should start working with Rick karsdorp on a new deal. Given what he went through to where he is now is truly impeccable. He has turned out to be such a critical piece of this Roma puzzle that he wants to get back into the Champions League next season. You can't watch his match and not be blown away from his performance.