Goalkeeping Struggles 
There's a lot of positives from the first half of the season, first and foremost; we have to talk about the things that didn't go well. Some of Roma's biggest concerns over the second half of the season will largely determine whether or not this is a title-contending team. The goalkeeping issues are unavoidable at this point. It is one of their most prominent reasons that Roma are not at the top of the table. If you look at this Roma team and the number of points they are picked up during the first half of the season, they really could be sitting at the top spot or at least within a couple of points of the top of the table. There are so many things going well for this Roma team, but the goalkeeping issues it's something that's not going to go away. It's going to be an issue until they fix the problem. Roma invested 30 million in Pau Lopez Last summer. Even though he had moments and situations of absolute brilliance, he has been way too inconsistent and lost his starting position to 37-year-old Antonio Mirante. The Serie A veteran can have a string of games in which he can be imposing. He has played over 300 games in Italian football and can get on a significant hot streak. He does lead the league in clean sheets this season; however, we shouldn't look too much into that. He has the best defensive options in front of him and has come up smaller than Mini-Me in Roma's biggest games this season. Meanwhile, Lopez is always mistake-prone. He has moments as we all do, but he doesn't have enough consistency in goal for Roma to feel comfortable with that. In the most significant games against Atalanta and Napoli, Roma conceded 8 goals, largely contributing to the poor goalkeeping by Antonia Mirante, who, by all stretches at this point, is a better goalkeeper than Lopez. Roma's defensive options are incredible, so the Roma keeper's job should be easy and not being the reason they are conceding. With a good goalkeeper, Roma would be in a much better position to really contend. On current form, Roma is almost a shoo-in for the Champions League, but with better goalkeeping, this team may have an outside chance of contending for the league title. AC Milan and Inter are in front of Roma, but the distance is Within Reach that's never going to happen with the goalkeeping inconsistently that Roma has been accustomed to. January will be an opportunity for Roma to fix this issue, but if things don't happen in the right way, that might be difficult to solve. If Roma unable to sign a goalkeeper before the transfer window closes, they're just going to have to put their Hope on two goalkeepers who have drastically underperformed this season. This is undoubtedly one of the biggest issues, and it's not going to go away until Roma makes a change.
Lack Of Depth 
Roma starting 11 may not be the most talented in the league or even the most skilled. However, the Roma's have made it work pretty regularly the season; they have come out big getting points against teams they usually would struggle against. There's a lot to like about what we've seen from Roma's team so far this season. However, its something that is slightly concerning is the lack of depth that Roma has. Now Roma's starters are strong enough to make the Champions League; they have many great players inside their team; they play great football and can take advantage of in-game situations. However, they do not have that second unit that can make a big difference when things start to go sour, or the starting 11 is struggling. Defensively Roma has depth and probably the best defensive options in Italian football. However, everywhere else, they do not have Surplus requirements. The wing-backs have been excellent, but when Spinazoola or Rick karsdorp cannot play, their options are David Santon, Bruno Peres, or Ricardo calafiori. Miserable choices calafiori is talented but is only 18 years old; if there are injury concerns, Roma put themselves in an uncomfortable position with the lack of help. Regarding Roma's Midfield, they have Gonzalo Villar, who has proved to be very valuable but outside of that, they have Diawara, who is likely to be sold in January. Then they have Bryan cristante, who has been more of a CB this season. Realistically speaking, Gonzalo Villar maybe they're the only Midfield option, but they can use it as a depth piece. Then in the attack, its relatively thin bojar mayoral coming in for edin Dzeko has done quite nicely. Still, Carles Perez has been not convincing enough to look at as an essential piece they can bring off the bench. Basically, put Roma in an uncomfortable position because henrikh Mkhitaryan and Pedro Rodriguez have played a bulk of games this season would not much rest time. Paulo Fonseca also has had to be creative with putting Lorenzo Pellegrini in a more attacking role. Roma has a serious lack of depth into really suggest that they can go out and get it. With a little bit more depth in the team, Roma can be one of the favorites going into next season because the lack of that is also something that has cut them short. January is an opportunity to try to add to that, but realistically speaking, that is something Roma will have to look at in the summer. Roma should have a couple of options in each of these positions and not have many options; most of the options they do have are underwhelming. Roma's starting 11 will do the job, but the lack of depth is really kind of concerning, especially in games in which Roma struggles and needs a boost of energy; they certainly don't have that right now.
Failure to win the BIG GAMES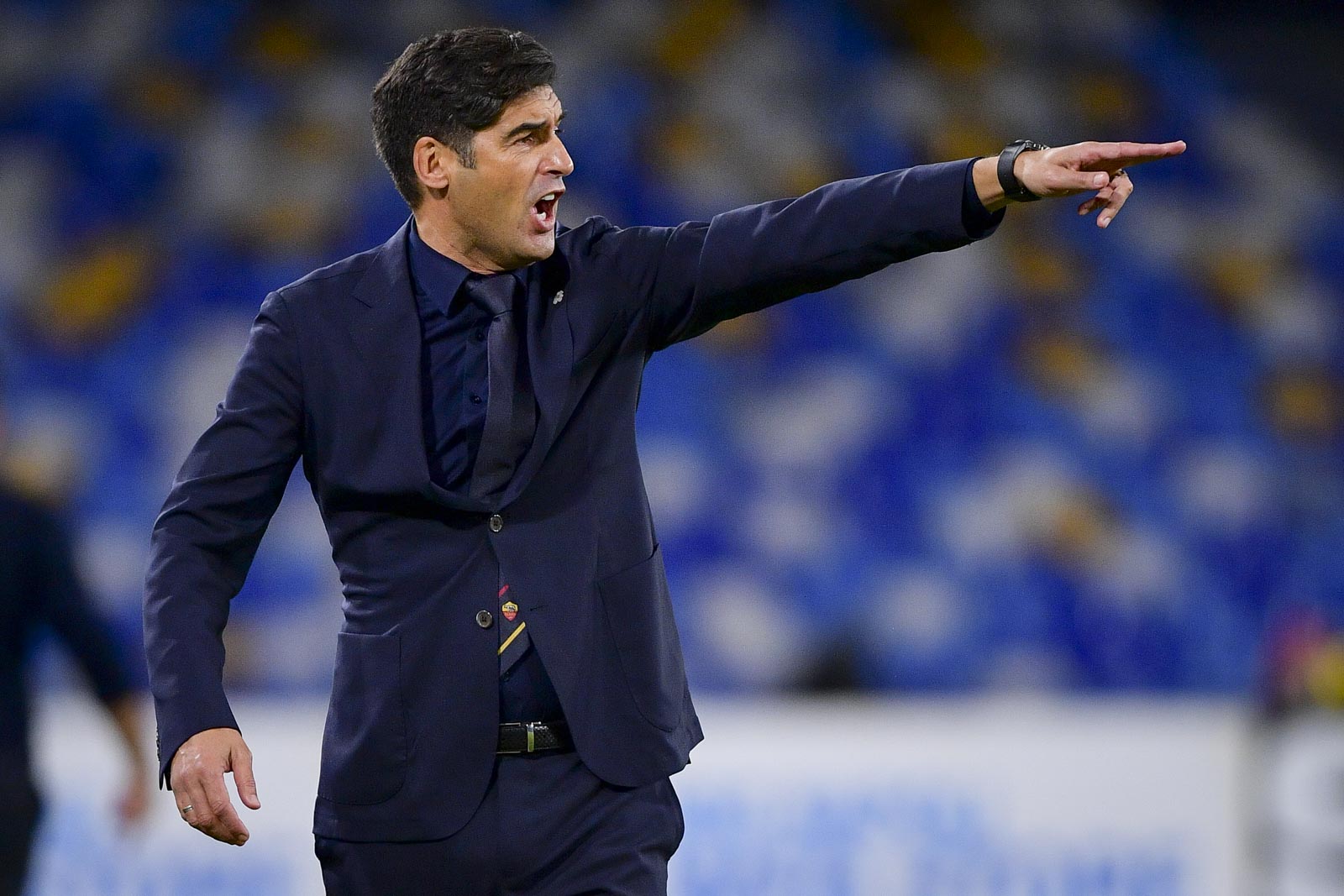 The goalkeeping issues and the lack of depth Roma have are big weaknesses right now. However, nothing is more important than the big games; the bigger the game, the bigger problem. Roma's inability to perform in the big games is very worrying. This will largely fall on whether Paulo Fonseca and be the man to take Roma to glory. In the past, he had picked up some significant victories in big games when he was at Shakhtar Donetsk he beat Manchester City and Napoli in the Champions League group stage and, on top of that one, a Portuguese cup with Braga. However, as good as that all sounds on paper, he is also struggling to in those bigger games and has carried in Italian football. He did beat AC Milan, Napoli and Juventus last season, but it just hasn't been enough to convince. Paulo Fonseca and no stretch of the imagination is on the hot seat whatsoever. Roma has been a surprise team this season. But if you're looking beyond this season, if he continues to fold in the big games, it's going to become a conversation that nobody wants to have at this point. Roma has only two losses this season on the pitch, not counting the forfeit against Hellas Verona that should have been reversed. Roma got ripped apart by Napoli the game following the death of Diego Maradona. His passing especially inspired Napoli during that match, but Roma's performance was horrific. Roma kept it somewhat close in the second half, but in the final 10 minutes of that game, Roma conceded twice in an eventful 4-0 loss. Then a few weeks ago against Atalanta, it was more of the same Roma that went up after 3 minutes to edin Dzeko; however, again, a collapse in the second half contributed to it. They conceded 4 goals in 25 minutes; the lack the creativity passed the 60th minute killed them. Paulo Fonseca got it wrong and did not adjust appropriately as an Atalanta Team without Papu Gomez ripped Roma to shreds. Roma has two games to start off the new year against inter and Lazio; how Roma performs in those games will primarily affect what Roma's second half of the season will look like and whether or not Paulo Fonseca has the capabilities of winning at Roma. He's done a tremendous job, but if they don't start winning the big games, his job security will heat up. This is the most crucial issue with this Roma team. If Roma starts winning the big games, a title Chase either this season or next season may not be out of the question; they have not dropped a single point to a team that's not in the top 8 if they get this right, this Roma team really can win something, but this must be corrected before anything can happen.