Score: Roma 1 Sampdoria 0FT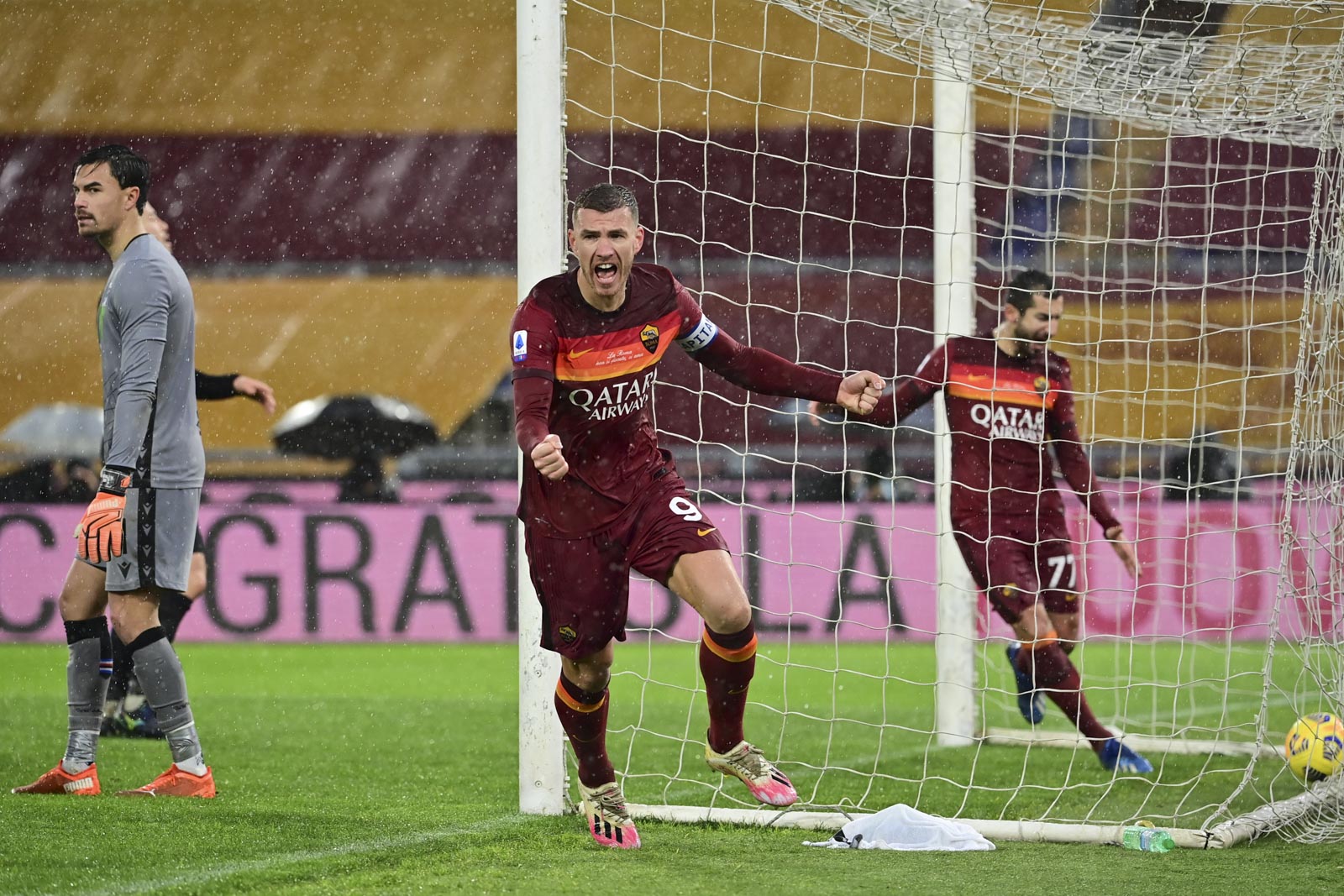 Roma, we're preparing to kick-off 2020 with a bang. They found themselves at the Midway point of the season in third place after victories against Torino and Caglalri. The Romans were looking only to build on that further when they hosted Sampdoria at the Stadio Olimpico in the first match of 2021. Sampdoria did manage to get a point off Roma last season despite Roma winning the season series. Roma has been red-hot the last couple of weeks while Sampdoria having only two victories in their last five matches. However, Sampdoria always seems to turn it on against the big teams. It was, and Incredibly wet pitch as Roma was sliding all over the place; the weather conditions were not mainly ideal could have influenced the game. It was a back-and-forth battle for most parts of the first half. Sampdoria did a good job of defending themselves against a counter-attacking Roma team that really could not get on the brake very often. Meanwhile, Sampdoria was only creating minimal chances, occasionally going forward and trying to take advantage. They didn't take too many risks and try to put themselves in position. Roma had some excellent opportunities to take the lead at many points in the first half, but it was a goalless affair. In the second half, and even became more of the battle. Roma, who didn't perform as well as they probably could have in the first half, got things going. Roma were Relentless in their attack. Even though it had to be more created in the way they were trying to break them down, it was very, useful and it seems like it was only going to be a matter of time before Roma found their moment. Chris Smalling hit the post, Rick karsdorp came close, and Mkhitaryan found space on multiple breakthrough opportunities. The moment finally arrived for Roma as Rick karsdorp picked out a pass for edin Dzeko, who lifted his strike into the back of the net as Roma would take a 1-0 lead. Sampdoria would try to come back but few opportunities in some big moments laid on, but Roma could deal with the situation Claudio Ranieri and his Sampdoria side we're very ambitious and played are solid game. Still, it wasn't enough as they were Shut Out by Roma thanks to a late winner from edin Dzeko, who collects the Romans points and kicks the new year by taking maximum points.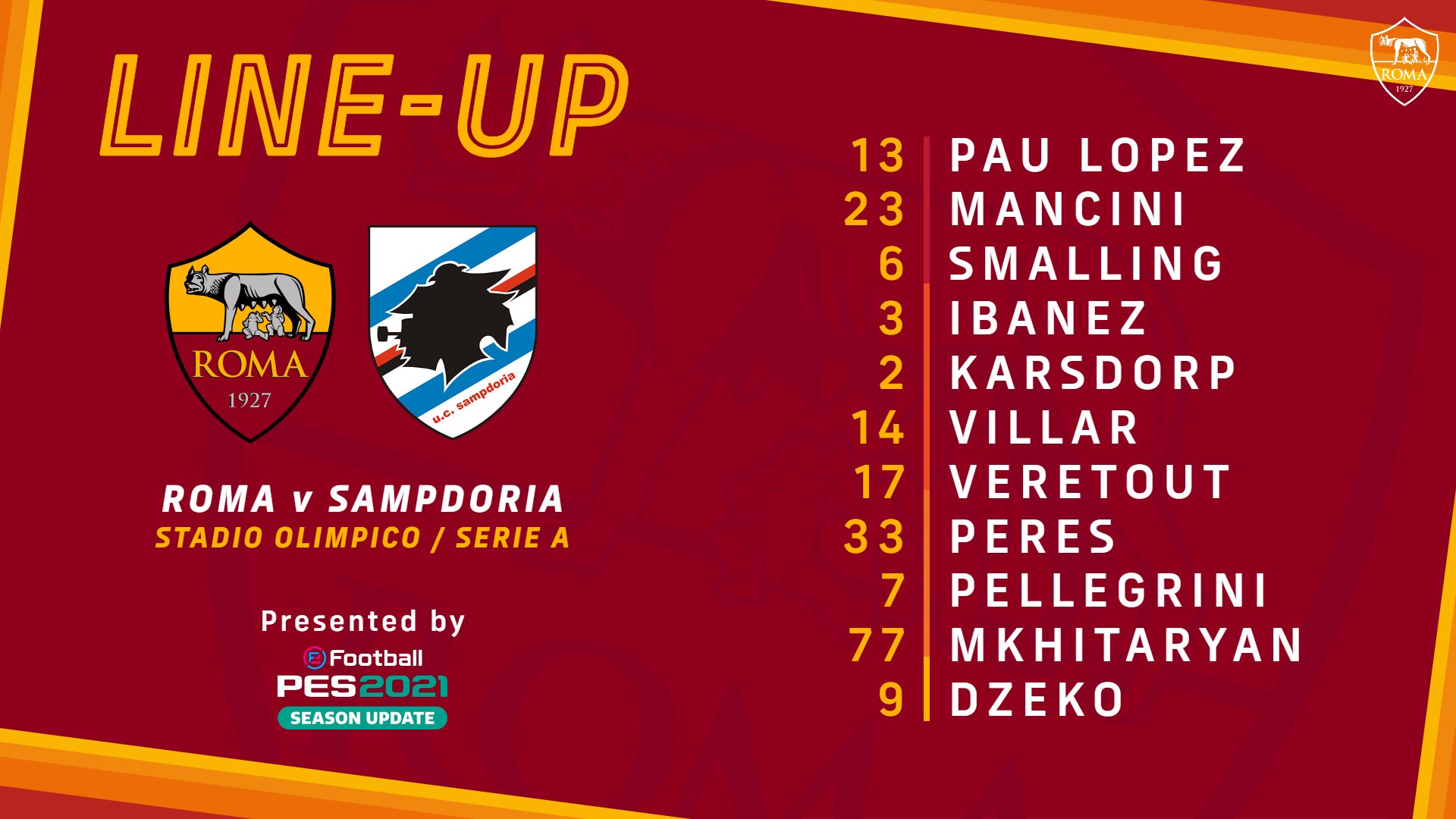 Paulo Fonseca would set his team out of the typical 3421 formations. In goal tonight would be Pau Lopez. The three center-backs would be Rodger Ibanez on the left, Gianluca Mancini on the right, and Chris Smalling centrally. In that left-wing back in for the injured Leo spinazzola would be Bruno Peres. Then on the opposite side as right-wing back would be Rick karsdorp. The defensive Midfield would be made up of Jordan veretout and Gonzalo Villar. As the left attacking midfielder, Upfront would be the Armenian henrikh Mkhitaryan on the opposite side as the right attacking midfielder would it be Lorenzo Pellegrini playing in a more attacking role. Then Upfront at the central Striker strong was third all-time leading goal scorer Roma Captain edin Dzeko. Roma would also have options Off the Bench if needed.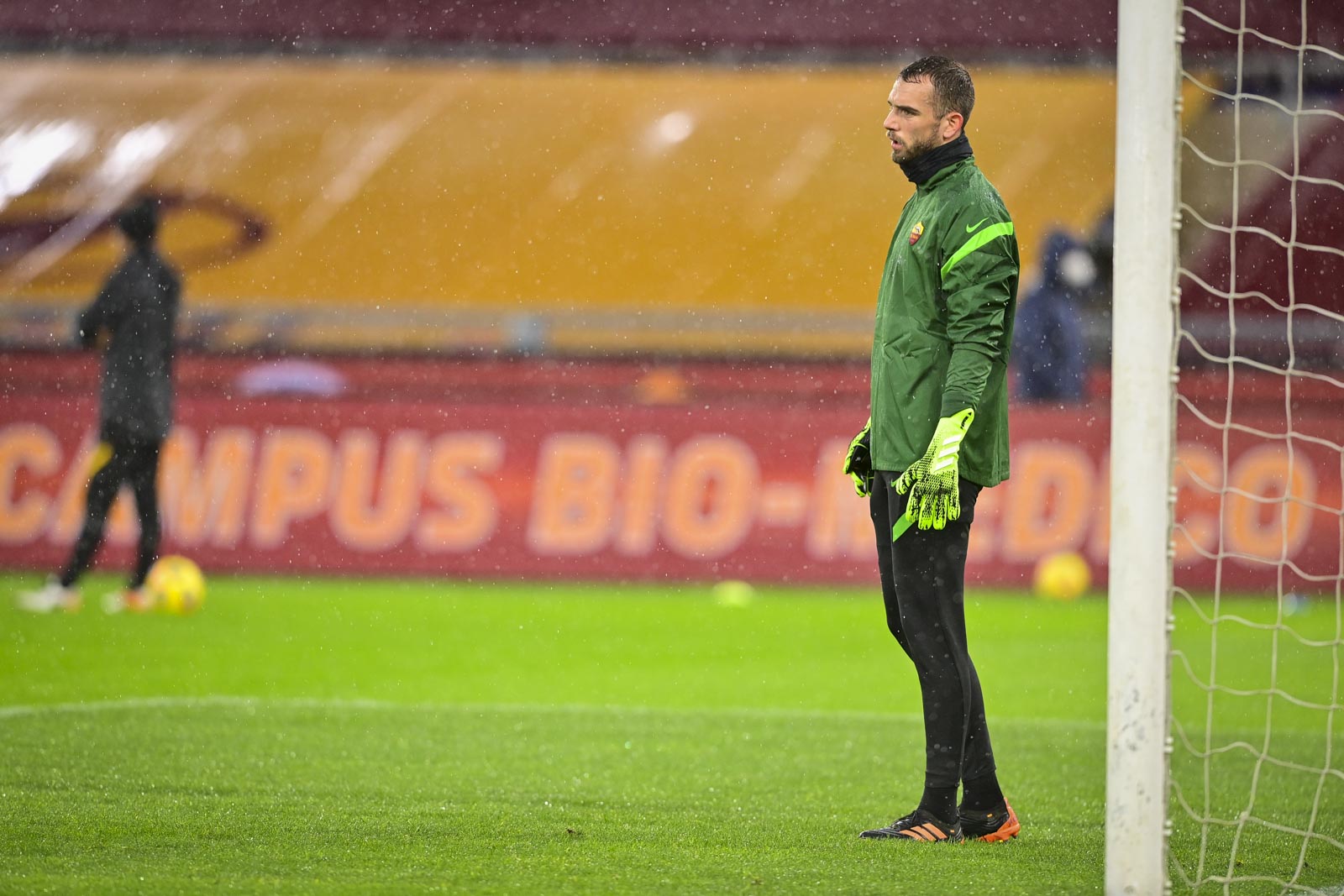 After preparations and predictions, the master underway at the Stadio Olimpico in Rome. On this particular Sunday afternoon, really nasty weather. Raining almost constantly wetness of the pitch and just ideal circumstances of a football match. However, Soldier on and play football. As you would expect, Roma had some early control, especially from a team playing with such good momentum right now. The conditions weren't ideal, but Roma still found that inch space early to test Sampdoria. Edin Dzeko got his head through a corner in the early couple of moments of the game. The Bosnian could not put the shot in the back of the net, but it was a very testy situation. not long after, Roma went for it again; this time, it was a Chris Smalling header that was a little bit off. Roma just seemed to be lacking that Finishing touch early. They had a significant amount of control, but there was just a certain level of frustration for them not finishing off their chances. Henrikh Mkhitaryan, a minute later, was denied from close range as Emil audero came up with a big save as the scores remained level. Roma relentlessly went forward and once again nearly breaking through when Pellegrini struck a really well-hit shot from outside the box as he slipped in the water on his release, but Emil audero made another save just getting enough on it to push the ball over. Sampdoria, we're doing a tremendous job defending, but we're not supplying all that much going forward. They couldn't because it was going to run the risk of Roma getting on the counter-attack. Near the end of the first half, Sampdoria nearly took the lead themselves. Antonio candreva ripped a really great strike from Deep Lopez made an outstanding save just getting enough on it; however, Sampdoria almost pulled one past Roma. That was the last chance of the first half as it was a stormy and complicated game with Roma seemingly having the momentum pushing it forward.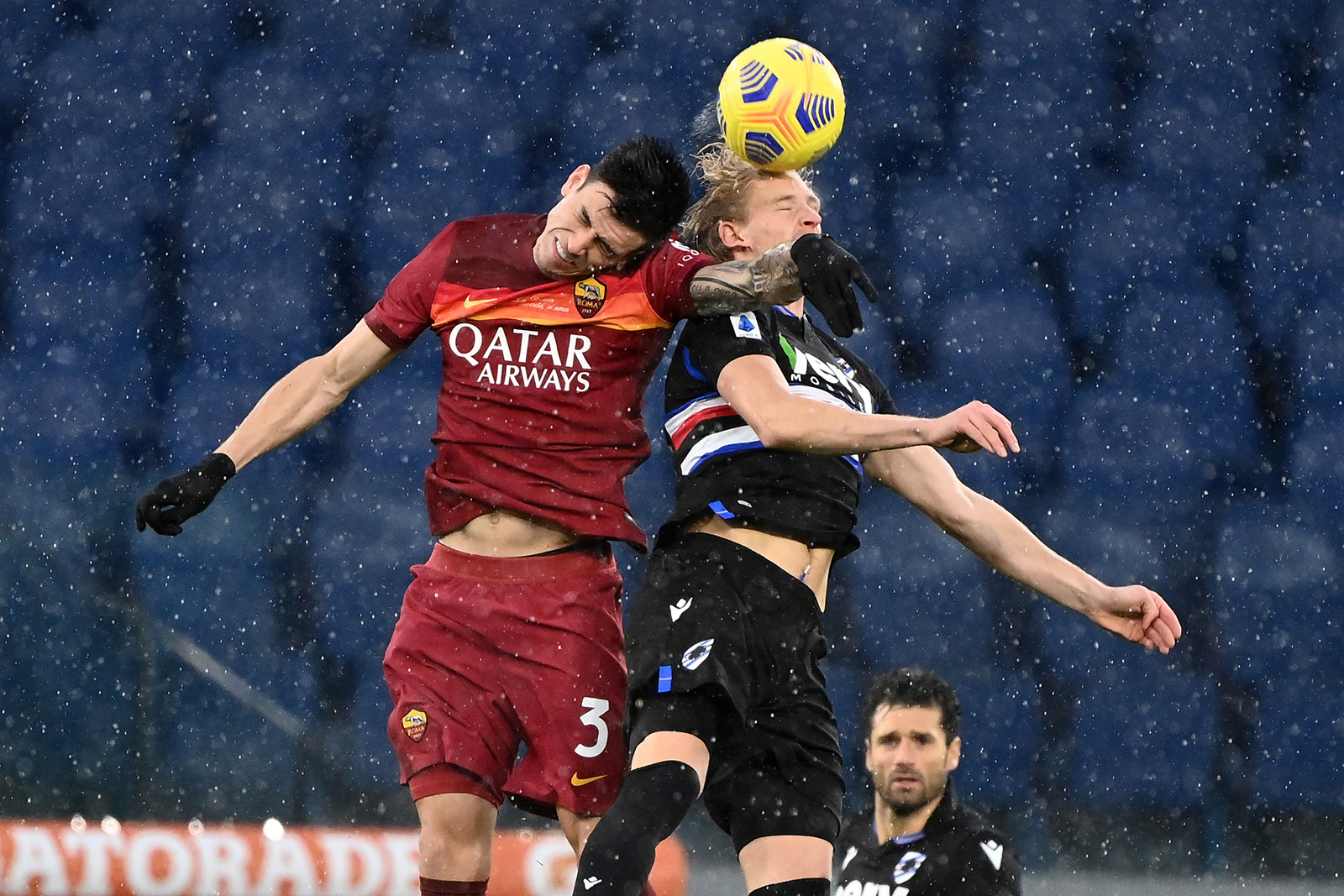 Roma ruthless battle with Samp in Rain storm remains scoreless in opening half 
After a goalless first half in which Roma had some chances but still lacked something to be desired. Roma had to have felt optimistic going into the second half regardless of the number of times they came close in the opening 45 minutes. The weather was becoming a serious problem; it was making things a little bit more complicated every time they ran, water came up from the ground. Just minutes into the second half, edin Dzeko was within inches of scoring, putting his head through delivery from Bruno, but his connection went a bit wide. Roma still felt very much in control of the game, and we're dominating the run a play; it seemed like it was going to be a game against the clock. The rainy conditions largely were going to influence the game's final result. If Roma created enough chances, they were going to be able to pull it off. Lorenzo Pellegrini had an outstanding day in the Midfield, largely embracing the attacking role he has had occasion in this team. Good ball movement took a dribble before trying to strike but didn't have the Finishing Touch required. You could feel the momentum very much, driving into Roma's favor. Even though Sampdoria did not create a lot of chances, and either half their defense was showing cracks. Not long after, Chris Smalling nearly gave Roma the winner; another ball from Lorenzo Pellegrini found the Englishmen the center supplied a perfectly hit header that beat the goalkeeper but hit the post, denying what could have been a go-ahead goal. Rick karsdorp then setup Gianluca Mancini who is dismissed by Emil audero again. Another goalkeeper would have conceded well before this. You could feel the tension Rising as Roma had a collection of a really close call. Lorenzo Pellegrini went around the goalkeeper trying to strike but just wide from the side of the post. Then minutes later a correctly hit ball into the air to find edin Dzeko as he put his head through it, but Emil audero again makes a jaw-dropping save, denying Roma. Roma brought on Bryan cristante in for Gonzalo Villar, making their first change. Lopez did have some work to do as Fabio threatened him and then made a brilliant save on Thorsby. Instead of trying to grab the ball given the rainy conditions, he just wanted the ball away. Then came Rick karsdorp coming close, ripping a strike that hit the side netting. It just felt like it was inevitable that it was coming; however, considering the rain, you just never know. The moment finally arrived in the 72nd minute. Rick karsdorp connected with edin Dzeko once again. The Dutch wingback on the wing hit a cross into the Bosnian captain before edin Dzeko takes a great first touch lifting the ball into the top corner as Roma takes a 1-0 lead with not much time remaining. It would be edin Dzeko's eighth goal of the season he has scored and four of his last six games. It also takes his tally to 114 Roma goals. He arrived at the right time. Impeccable timing on his part the pass was superb as Karsdorp and Dzeko team up again on a vital goal to put Roma into the lead. Three minutes later, Pellegrini setup Henrik Mkhitaryan but was denied once again by the goalkeeper. Late on, Carles Perez came in for Lorenzo Pellegrini, who put in a man-of-the-match performance, and then bojar mayoral came in for Edin Dzeko with not much time remaining. Roma has a few more chances at the end, but Sampdoria mentally broke after Edin Dzeko's goal. As Roma shutout Sampdoria in a battle of the rain, the Romans took all three points earning a 1-0 victory thanks to edin Dzeko rainy conditions and a tough match against a well-coached team. Paulo Fonseca's side get the job done in the rain at the Stadio Olimpico.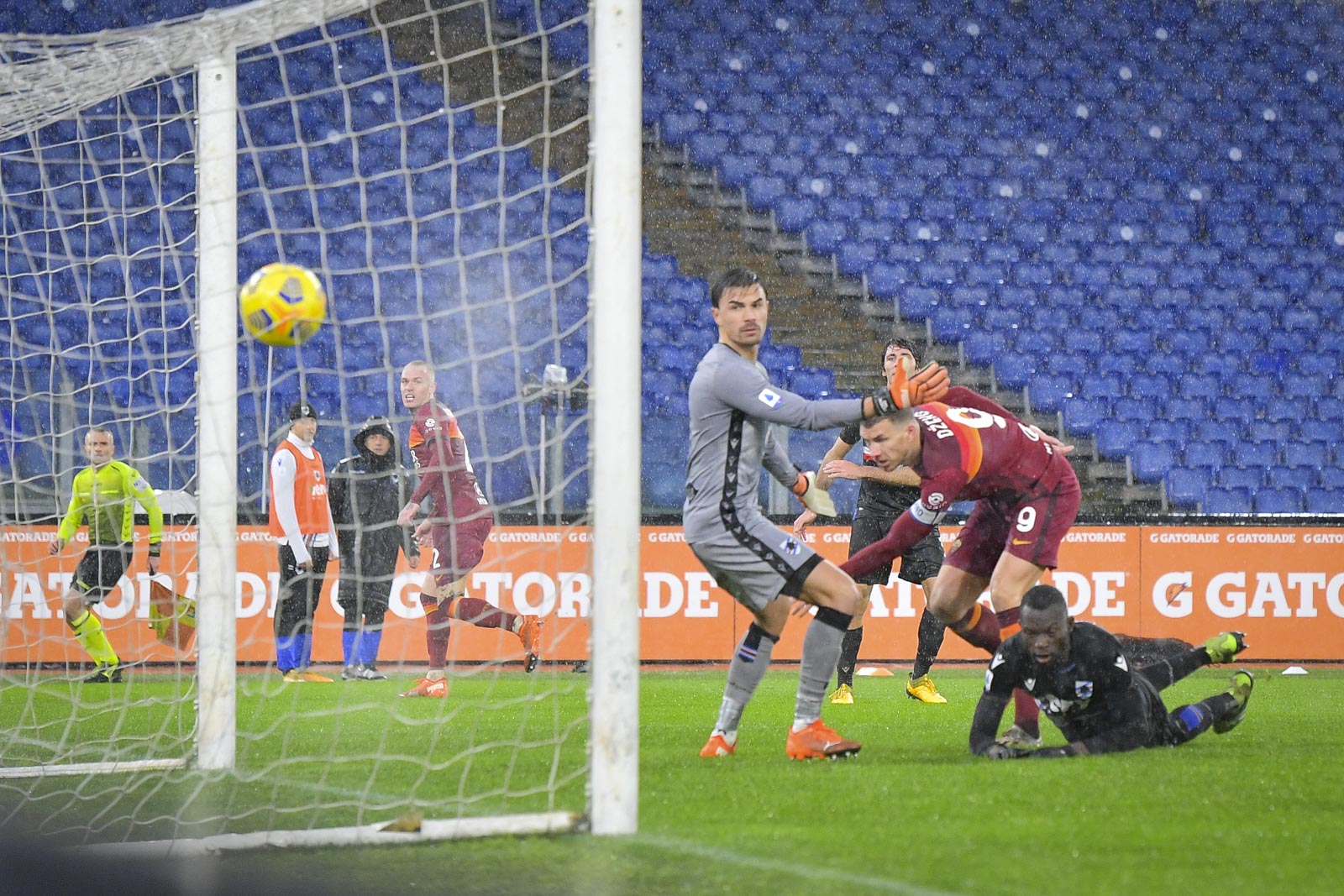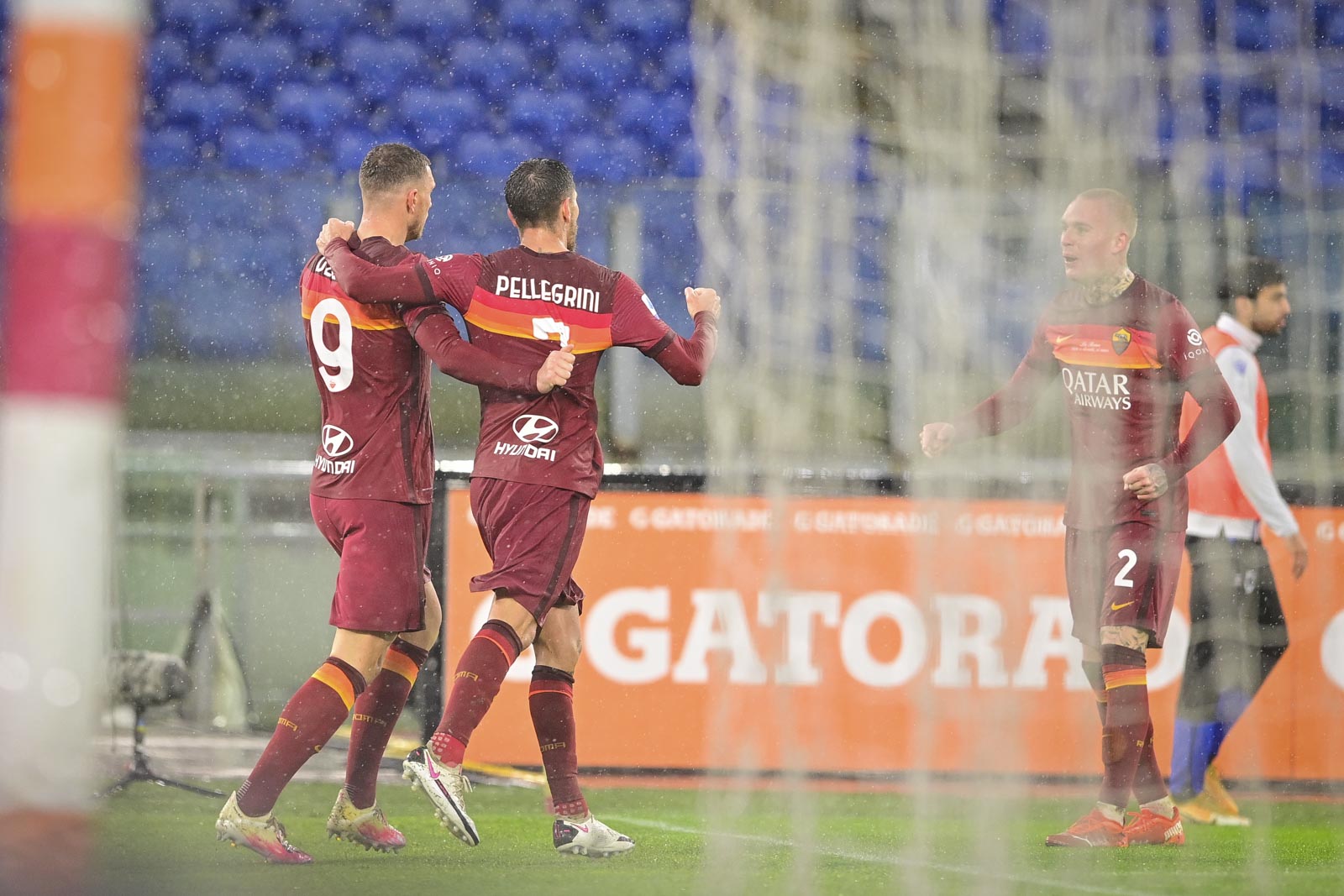 Rick Karsdorp and Edin Dzeko connect late as Dzeko provide Roma with winner.

Roma ended the year 2020 in fantastic form, pushing themselves into the top 3 with real questions of whether they might be able to put themselves into the title race. They continued right where they left off to end the first half of the season. It may not have been the easiest game it had its significant challenges. The first time Roma really had them opportunities to score but just lacked that Killer Instinct. Collectively the first half just wasn't up to stuff but had moments that feed into optimism. It was a wet pitch, and it rained most of the match. Making it quite a slippery game of football, which largely impacted goal scoring opportunities. Roma had a few chances in that first half but not much outside of that. In the second half, they completely dominated Roma; we're only tested just a few times. They were in total control of possession; they dominated the Midfield and controlled everything going for them. It took them a while to get to the results, but it was coming for quite a bit before they got there. If it were not for the rain, Roma probably would have put the game to bed much earlier. Gonzalo Villar was so dynamic in the Midfield when it came to controlling dribbling and just playing his role so well. He is starting to become almost a regular for Roma this season. He has improved significantly since he arrived last January. Rick Karsdorp also stepped up, supplying Edin Dzeko with Roman's only goal of the game. Great touch by the Roma captain as he stays in form, scoring once again. Only one goal in it; they left it late but got the job done, so many players really stepped up in a big way. Even the goalkeeping was pretty good today, it did take a while to get the results, but they got it done; they maintain their position as they remain in the top three. Roma still has two defining games of the season in a couple of weeks, but the important thing is we're all got the point and got the job done. The man of the match tonight, however, goes to Lorenzo Pellegrini. He has rotated between a defensive Midfield and an attacking Midfield. He does an outstanding job defensively and playing that position, but he has scored two goals this season as an attacking midfielder. It is difficult to adjust to that situation at times playing two positions that are very different. However, Lorenzo Pellegrini was outstanding, had some opportunities to score, and probably would have if it wasn't for the weather distributor the ball correctly and nearly set up edin Dzeko earlier goal. It was an all-around performance; he continues to be incredibly consistent. Aduro was excellent for Sampdoria and kept them in the game, but in the end, they were overpowered by a Roma team that was coming on strong as the Romans pick up the points and keep the momentum going.
MAN OF THE MATCH: Lorenzo Pellegrini