Score: A.S Roma 3 Crotone 1FT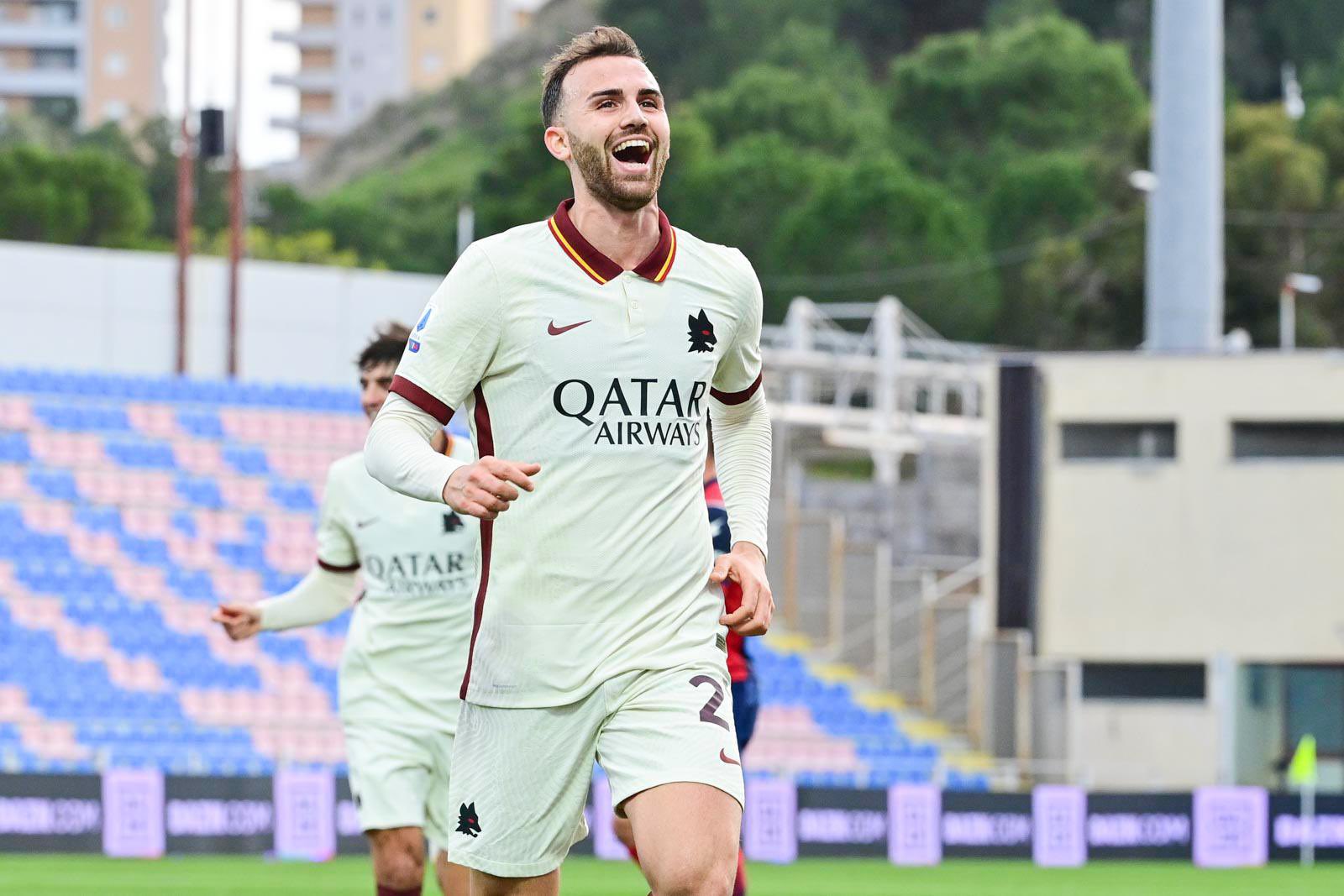 Roma came into this game following three successive victories against Cagliari, Torino, and a late at home against Sampdoria on the weekend. They went on the road on Wednesday afternoon to try to take down bottom-of-the-table Crotone, a team that just had lost 6-2 to Inter Milan. Crotone is a newly-promoted side of all the Italian football teams; no team has done better over the last five years against a newly-promoted team. Roma has a record of 23-0-0 against teams new to the top of Italian football. They haven't even dropped a single point, and this is the 6 years in a row they've already beaten Benevento. This is why Roma went into this game as massive favorites. Meanwhile, Crotone is already struggling without that as they sit at the bottom of the table, having conceded the most goals in the League. However, surprisingly they looked decent in the early part of they went forward got into attacking positions, but the finishing was just awful. Considering what was expected from them, I thought collectively it wasn't all that bad. Unfortunately, we knew where this game was going. Roma was playing without Edin Dzeko, but that didn't matter. Early in the first-half, Henrikh Mkhitaryan finds a perfect pass Inside the Box for Bojar mayoral the Striker follow through to give Roma a 1-0 lead. Roma was thriving without Edin Dzeko Bojar mayoral, a player they signed from Real Madrid in the summer, was just getting warmed up. A little past the half-hour, he showed up again, hitting a rocket from outside the box into the top corner to give Roma a 2-0 lead. Then minutes later, Bojar mayoral comes into the box is taken out as a penalty is given. Mkhitaryan steps up and converts, giving Roma a 3-0 lead. They were in complete control, and we're just seeing the game out in the second half. Not much on the counter-attack for Roma, but it wasn't required. Crotone did end up getting a goal back, converting on a header to minimize the deficit. Even though Roma killed off the game in the first half, Crotone did a lot better than expected; their finishing was atrocious, and he missed his opportunities in this game. However, even if they were sharper in front of goal, the red hot Romans weren't going to be denied as they increase their perfectious form against the newly-promoted team as Roma win their fourth game in a row, only intensifying the upcoming matchup against Inter Milan. Roma wins with Edin Dzeko, Lorenzo Pellegrini, and Jordan Veretout spending most of the game on the bench as it seems like the coming-out party for Bojar mayoral as Roma win again.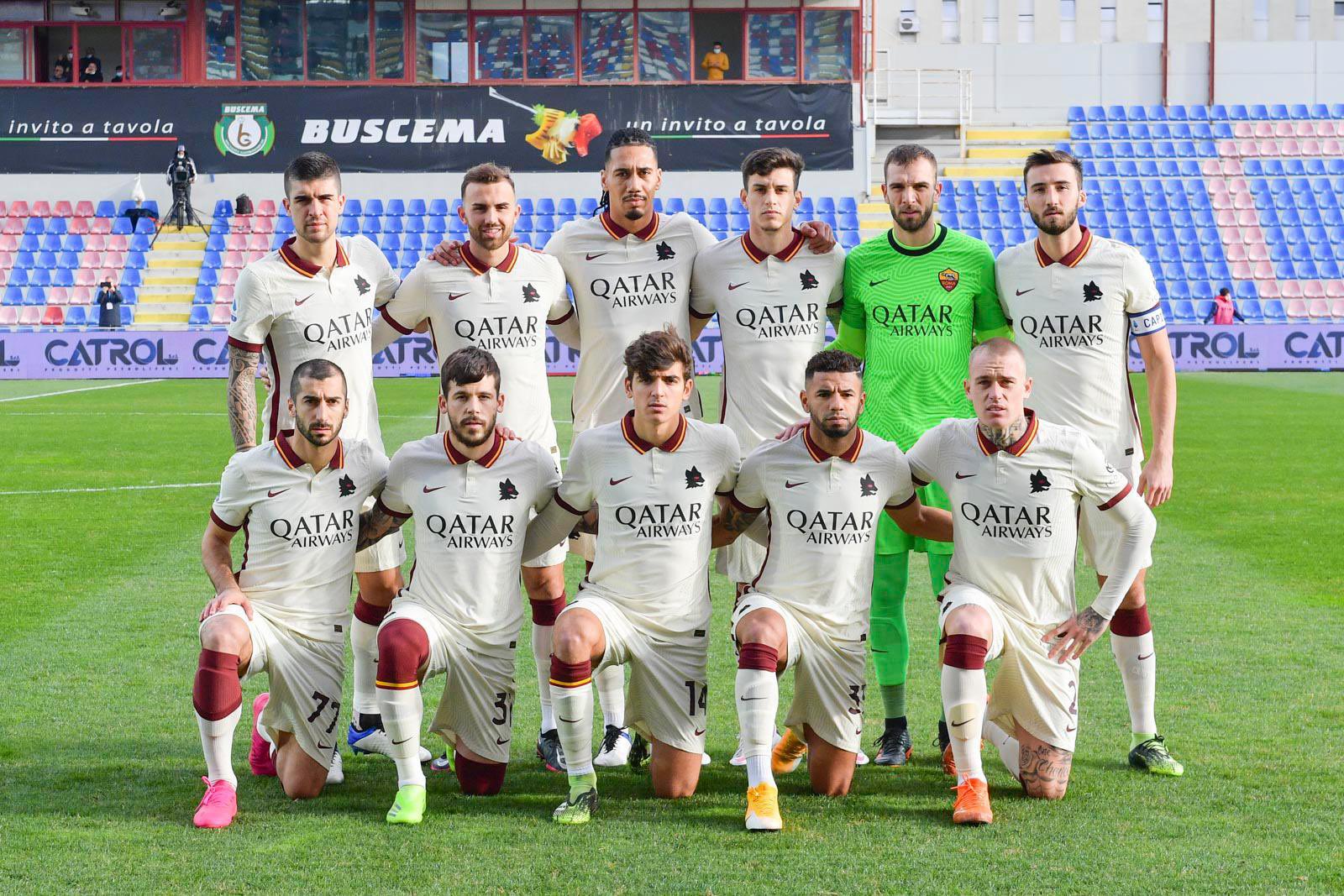 Roma operates out of the 3421 formation as always. Remaining in goal would be Pau Lopez. Filling out the backline would be Roma's through center-backs on the left would be Rodger Ibanez on the right will be Gianluca Mancini with Chris Smalling centrally. In that left-wing back for the injured Leo Spinazzola would be Bruno Peres. On the opposite side The in-form Flying Dutchman Rick Karsdorp. In the defensive Midfield, we would have the pairing of Bryan Cristante and Gonzalo Villar. In at the left attacking, the midfielder would be Henrikh Mkhitaryan on the opposite side as the right attacking midfielder would be Carles Peres getting a rare start. Then upfront as the central Striker would be Bojar mayoral getting only his second start in Serie A this season. It was heavily speculated that Edin Dzeko is out due to injury; he does not start the game but is on the bench and some other regulars.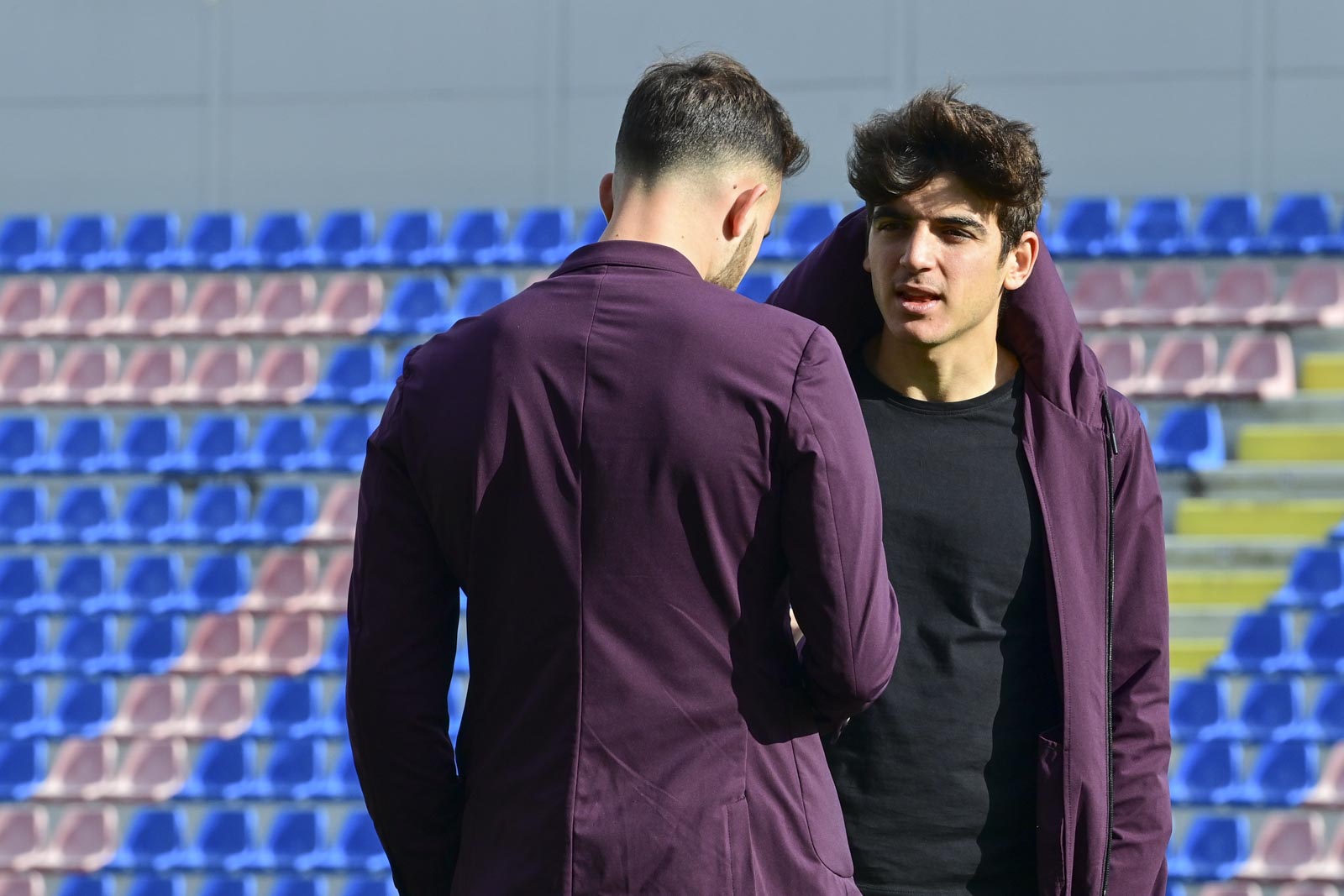 After preparations and predictions, the match was just about to get underway at the Stadio Enzio in Crotone. It would be a battle between a title Challengers in Roma and the relegation-threatened Crotone. With a really important match against Inter Milan on Sunday, Roma rested a good portion of their regulars. Crotone would love to take advantage of that, but that's easier said than done. Roma had control of the game from the very beginning. Even though Crotone did a surprisingly good job of getting forward and making some noise in the early parts of the game, Roma controlled possession and dictated the way the matches played. After a few Crotone, chances were dealt with by the Roma. Roma took the early advantage in the eighth minute the visitors took the lead. On a break, henrikh Mkhitaryan picked out a perfect pass inside a box for bojar mayoral Roma's young Striker made no mistake striking right down Main Street into the back of the net to give Roma a 1-0 lead. In just his third start in the League this season, he gets his second goal as he has scored five goals in all competitions. With Edin Dzeko on the bench, Roma has to be happy with seeing his back up deliver. Roma felt firmly in control. Crotone looks a lot better than most people expected. Especially coming off 4 goal defeat to Inter Milan, a match in which they conceded six, you would have expected to mainly focus on defending to try to preserve the onslaught that was likely coming. Crotone got forward but had a difficult time with the defense. They often got into the box, but the Romans defense made it difficult for the hosts to get anything concrete going. However, they did their very best to fight their way back after going down within 10 minutes. Simy tried to pull one past Lopez striking from outside the box but lacked that finishing touch as Lopez isn't challenged it whatsoever. Not long after Crotone came close, a header from inside the box put Roma on their back foot but lacked the accuracy going wide. Their biggest chance of the first half came not long after as Lopez made a great save but push the ball back into play to find Simy, who had an opportunity to draw thing level, but an atrocious finish ended the attack. They were in severe lack of finishing with better execution; they could have potentially got themselves back into the game before it became out of reach. One minute later, in the 29th minute. It would be Bojar mayoral once again. Bryan Cristante stole the ball from outside the box before supplying an accurate pass to Bojar mayoral, the Spanish Striker scored one of the goals of the season as he ripped off a screamer from well outside the bar that curled into the top corner to give Roma a 2-0 lead.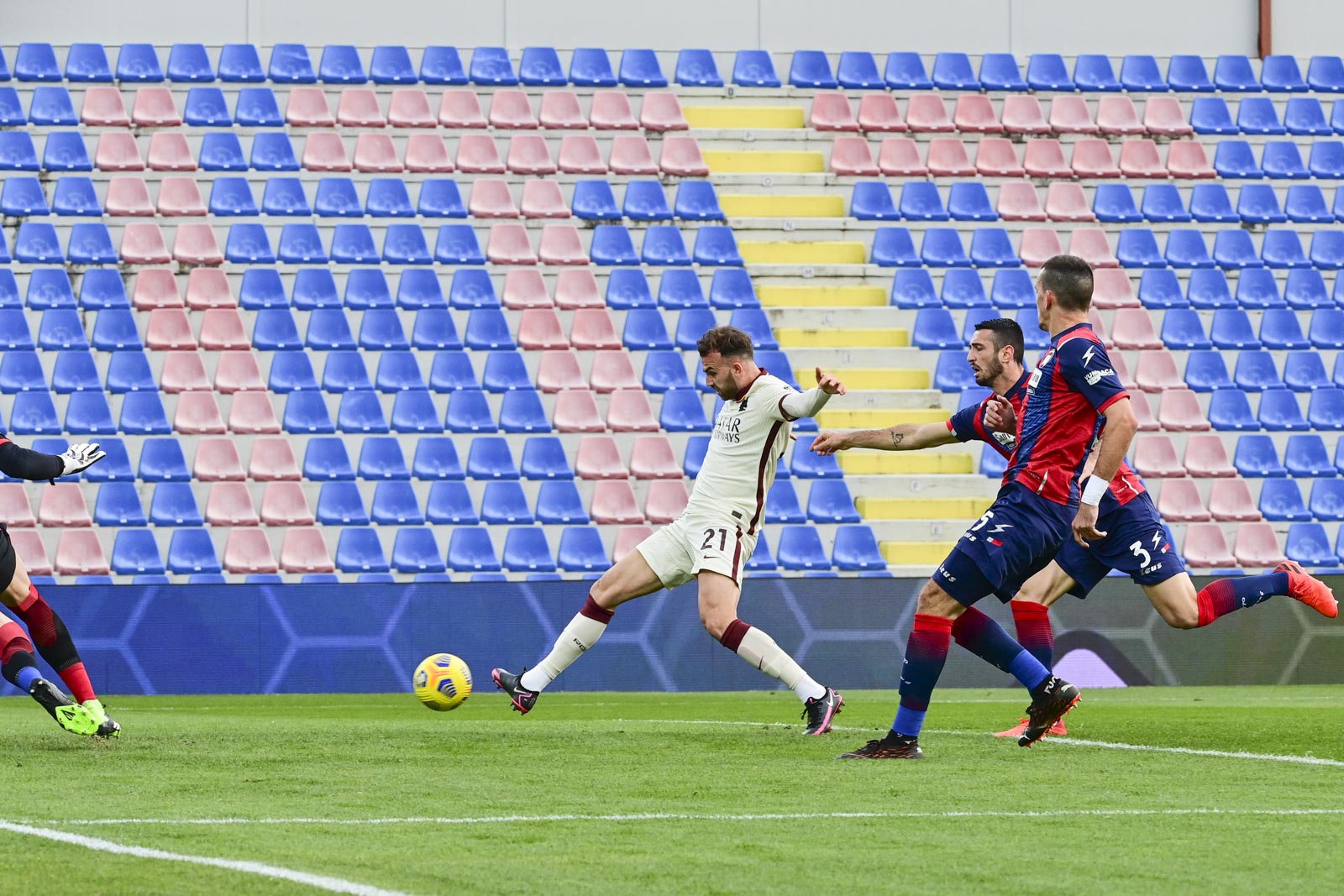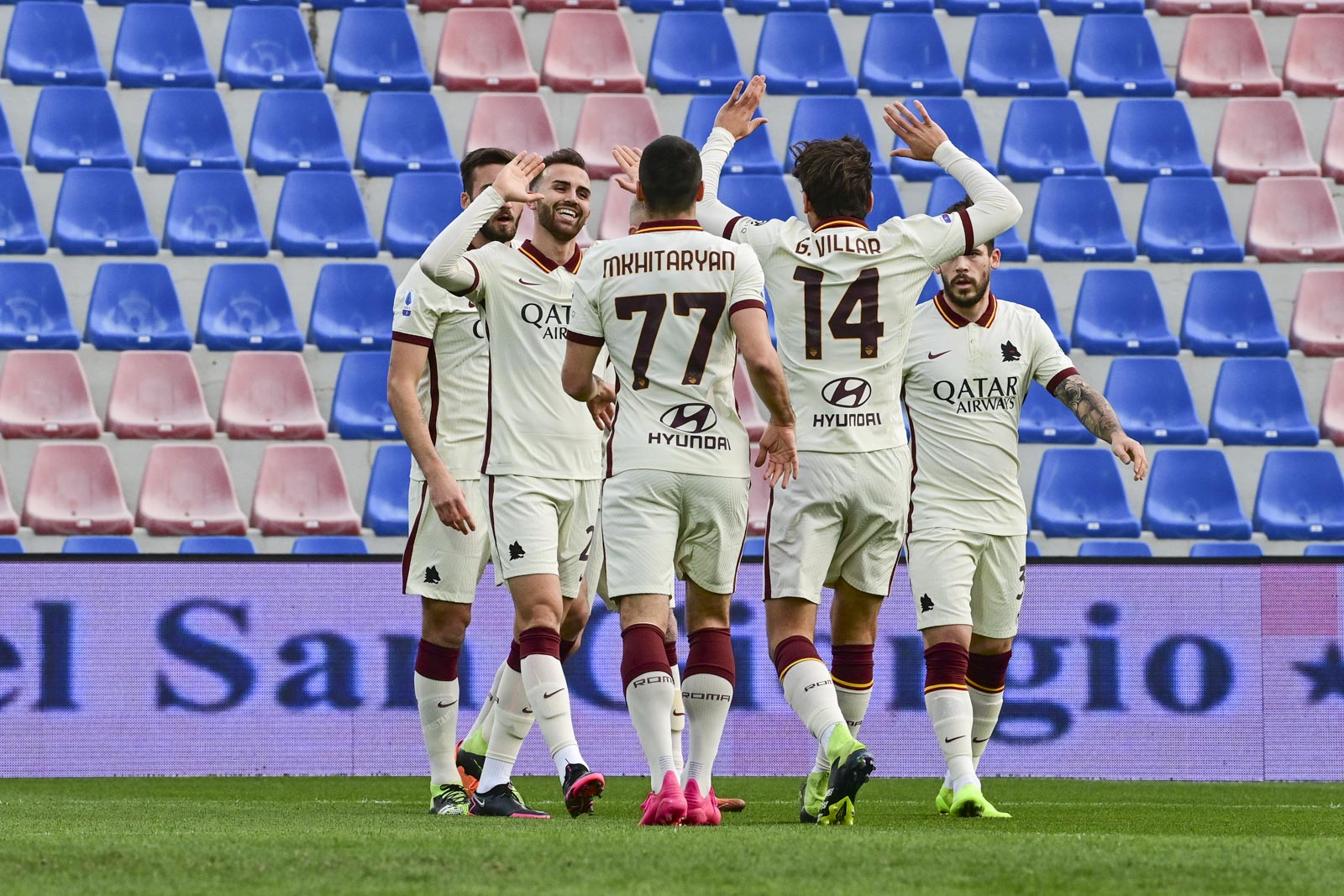 Mayoral has time of his life filling in for Dzeko the Spaniard scores twice including one of the strikes of the season 
Bojar mayoral comes in for Edin Dzeko and completes his brace inside the first half. He now has six goals this season, with three in the League and three in the Europa League. Seeming to be the perfect backup for Edin Dzeko, already outscoring Nikola Kalinic, The Back-up Striker from last season. Roma can get the deal done permanently for 15 million, and based on what he has done so far; it looks like it could be a bargain. A beautiful well-hit strike already makes it close to impossible for a comeback. Just 4 minutes later, Roma will put the game away once and for all. Once again, Bojar mayoral got into position inside the box as the defender took him out as the referee pointed to the spot with no hesitation. With Roma's primary penalty taker Jordan Veretout on the bench, Hendrik Mkhitaryan picked up the ball before sending a beautiful penalty from 12 yards out into the left side of the net as the goalkeeper guessed incorrectly. Roma would take a 3-0 lead after the Armenian converted from the spot. It would be his ninth goal of the season. That would round out the end of the first half as Roma take a 3-0 lead thanks to a brace by Bojar mayoral and a penalty from Henrikh Mkhitaryan.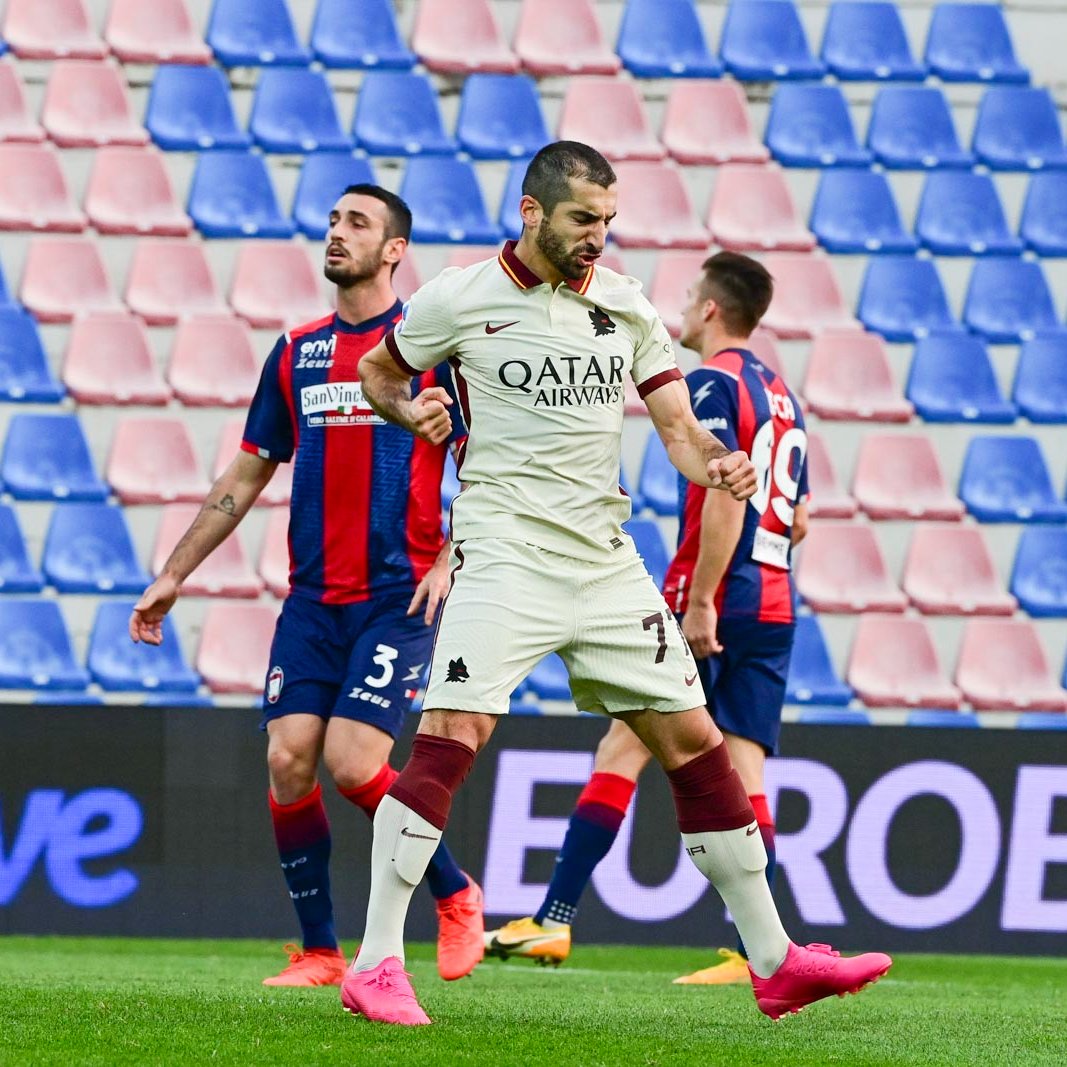 Roma's Mkhitaryan celebrates after converting from the spot in 3-goal first half.
Roma may not have been overwhelmingly dominant, but that wasn't necessary. They defended well they closed down most of the high-quality chances from Crotone, and most importantly, they converted her chances. We expected to see more of the same in the second half. Roma now had a firm position of the game and had enough quality in their team to just see out the game. Early in the second half, Rodger Ibanez tried converting a header coming off across as the accuracy was just a bit wide. Crotone continued to try and push the game, at least trying to get a goal back. Meanwhile, Roma defensive we're doing their job, making it as difficult as possible to concede. There weren't many chances in the second half of Roma's mentality to control the game and get to the points that they had justified in the first half. Roma would make their first chance of the game as Lorenzo Pellegrini came in for Henrikh Mkhitaryan. On a counter-attack just minutes after the change, Lorenzo Pellegrini nearly scores, searching for the top corner, but the goalkeeper makes a fantastic save. Max Kumbulla replaces Rodger Ibanez as Roma made their second change. With about 20 minutes to go, Crotone gets one back as Vladimir converts a beautifully orchestrated header leading Lopez into the top corner to minimize the deficit. There would be a pair of missed chances on both ends before Roma went to the bench once again as Bryan Cristante, who had a very productive afternoon, comes off for Jordan Veretout and Bojar mayoral coming off for Edin Dzeko as he gets his brace. Shortly after, Crotone had a fluid chance before, ultimately Roma pulled off a goal-line save. Then late in the game, Rick Karsdorp is sent through inside the box, but great defensive play by Crotone clears out the situation avoiding what indeed would have been a fourth goal. In stoppage time, Lopez's called into action one more time, making an outstanding save in the closing moments as Roma hold on to pick up another three points in a 3-1 win and thanks to Sampdoria beating Inter Milan, Roma have all the momentum in the world on their side as they go on the road and continue their spotless form against newly-promoted sides. Roma key players rested and still got the job done in the end; only put more stake on the game on Sunday.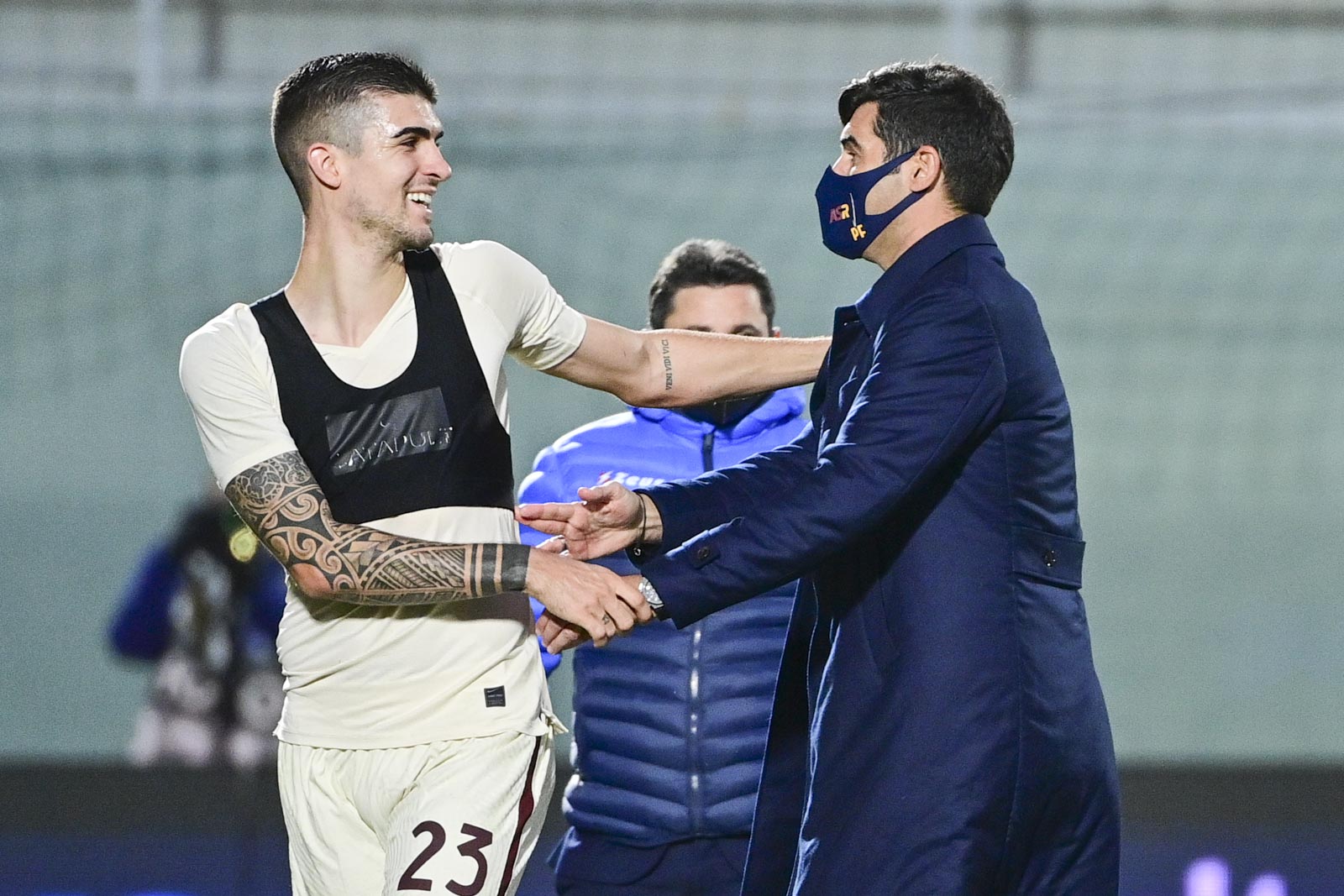 Roma win again as its all smiles from Paulo Foncesca's side 
Roma keeps their form as they win yet again. A match against Sunday against Inter Milan could determine the entire season. It is so vital that Roma play with confidence and momentum. Another good performance they were able to rest certain players keeps them fresh for a very enticing game on Sunday. Even with all that, Roma gets the three points largely due to the Brilliance of Bojar mayoral stepped in for Edin Dzeko scoring a brace without question the man of the match. Crotone did not play poorly, but missing those early chances came back to haunt them as Roma scored three goals in the opening 45 minutes to create enough separation to guarantee the point. The Midfield of Bryan Cristante and Gonzalo Villar played well together, not to mention the backline mutually didn't make a mistake the duration of the 90 minutes. Roma continues that incredible run of form against promotion sides, getting three points here and an opportunity to jump into second place with a Sunday victory. It may not have been a match that produced a million different storylines, but the point is Roma gets the job done and only build on what has made them great so far this season. Paulo Fonseca picks up the three-point away from home against A team desperate for points. A collective performance, this result was never in any doubt on top of that Inter Milan travel to Sampdoria and got beat, which plants so much more into the narrative that will be attached to the match on Sunday at the Stadio Olimpico. Tonight was a coming-out party of bojar mayoral scoring twice as well as winning a penalty. Meanwhile, henrikh Mkhitaryan was excellent again with a goal and assist, and back to front, Roma was fabulous doing precisely what they needed to do. Over the last two games, Roma needed not to take your eye off the ball and focused on what's at hand; now they can take all their energy into a defining match against Inter Milan. The Romans march on as they stay hot.
TOP OF TABLE
1. A.C Milan 11-4-1 37Pts
2. Inter 11-3-2 36Pts
3. A.S Roma 10-3-3 33Pts
4. Juventus 8-6-1 30Pts
5. Sassuolo 8-5-3 29Pts
6. Napoli 9-1-5 28Pts
BOTTOM OF TABLE
15. Cagliari 3-5-8 14Pts
16. Spezia 3-5-7 14Pts
17. Parma 2-6-8 10Pts
19. Genoa 2-5-9 12Pts
20. Crotone 2-3-11 9Pts
MAN OF THE MATCH: Bojar Mayoral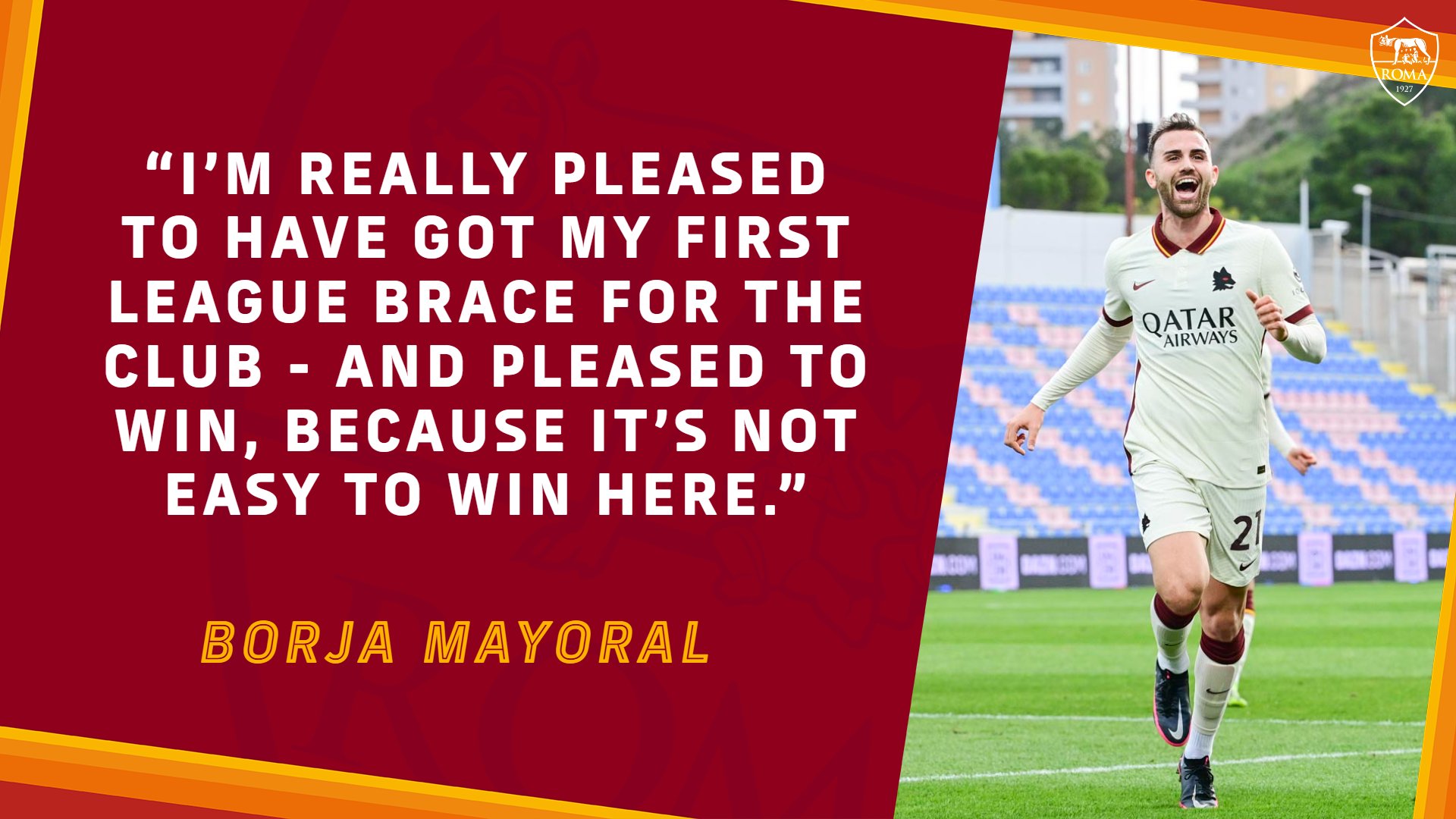 Next Match: vs Sampdoria Sunday January 10th @ Stadio Olompico