Juventus 3 Milan 1 FT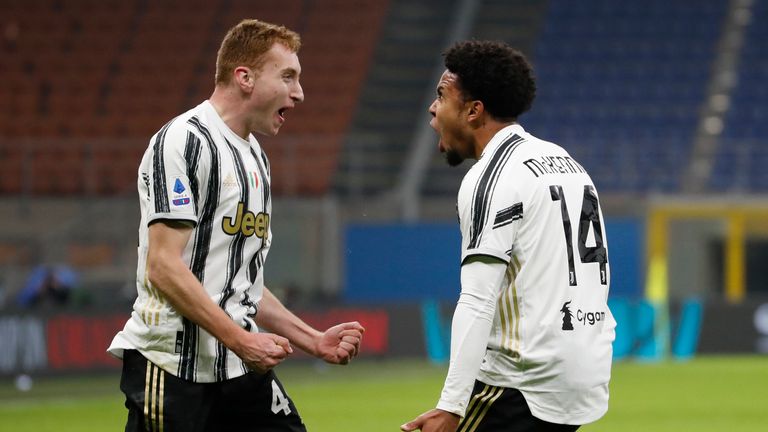 In one of the most critical matches so far this season, we saw Juventus take on AC Milan with everything on the line. It is essential to mention that AC Milan we're incredibly short-handed, missing many components of their team. However, they still had enough quality inside to get the job done against a Juventus team that has been incredibly inconsistent this season. Despite really looking outstanding in their last game, this Juventus team is not the dominant team of the past; they can be exposed and broken down. However, funny little thing Juventus always seem to rise to the occasion in moments like this. A loss the AC Milan would mutually end any bid at the title. They would be 13 points going to stop at a table with an AC Milan Victory; they had no choice; they had delivered, or it was lighthouse time. It turned out to be bad; even though both teams were missing essential pieces, they still had their opportunities to have a moment. Gigi donnarumma was exceptional early buy was Juventus that seemed to have that momentum pushing them. Federico Chiesa saw a well-hit shot on the bounce smash against the crossbar in what could have been the opening goal. Juventus had moments, but AC Milan did what they could to carry the momentum. Rafael leao misses a counterattack opportunity, but considering the situation, he was doing quite well. It was a little bit back and forth with both teams having their moments. Still, eventually, Juventus push themselves in front of incredible passing by Paulo Dybala released Federico Chiesa then from close range he found the bottom corner to give Juventus a 1-0 lead. At the very end of the half, they were some controversial circumstance as AC Milan equalized, but there was a foul in the build-up that was not called. The teams went into the first half with a 1-1 draw. Everything was still on the line, but the winning intangibles shown by Juventus Federico Chiesa would get his second one Paulo Dybala send a perfect ball just outside the box right near Theo Hernandez, who can be exposed defensively. Chiesa fit a strike just outside of Theo Hernandez's reach into the back of the net as Juventus took a 2-1 lead. Ronaldo was rather quiet in this match Paulo Dybala and Federico Chiesa were leading this performance. Chiesa steals the headlines, and rightfully so, but Paulo Dybala was really pulling strings. Weston mckennie enter the game and shortly after killed it off with a strike from close range as Juventus Propel themselves past short-handed Moline in a 3-1 victory. They still have quite a distance to make up and are unlikely to take the title, but this was a step in the right direction as they make up ground.
Spezia 2 Napoli 1FT
Napoli has been as inconsistent as any team in the league this season. Much like Inter Milan, they were shocked by a lower-ranked team in the league. Sometimes they come out and just look like the best team going, and then other times, they can't seem to string to pass together. Napoli could have buried Speiza; they had so many opportunities and repeatedly failed in front of goal one that was included in the opening minute when Lorenzo insigne scruffed something that should have been a routine goal. Spitfire is a recently promoted team playing in their first Serie A season in over a hundred years; this was an opportunity for them to get in historic Victory. It is unclear whether they will go down or not; regardless, beating Napoli would be something special. Napoli dominated this match with an avalanche of Chances with 73% possession, but they still were second-best most of the game. Spezia was really pushing them the majority of the game; even though they had barely any of the balls, they still managed to be antagonizing to a Napoli side that seems to be falling out of Champions League contention. Andrea petagna gave Napoli the lead in the second half, but they still did not play particularly well. Again they missed so many chances from Back to Front. They could have buried them, but they're indecisiveness kill them. Ten minutes later, Speiza will get a penalty they converted from the spot getting the Equalizer. Then Speiza was reduced to 10 men. Napoli now had a man advantage with about 13 minutes to go. With the disadvantage, Spezia scored within 5 minutes as Pogeba in front as they took a 2-1 lead with nine minutes to go. Despite Napoli's efforts, they dramatically fell on their face as they seem to be drifting out of contention.
Sampdoria 2 Inter 1FT
Inter Milan has an essential match this weekend against Roma, one that could be incredibly important. All they needed to do midweek is find a way to collect points against Sampdoria to put them in the best position in terms of momentum and confidence. They were an incredible form with eight straight victories on the bounce; they were a team that was really playing with house money, and on the verge of overtaking the top of the table. They were right there, ready to be a significant figure in the title race in a much more substantial way, and they have already. However, Sampdoria had other ideas. Inter Milan went into this game and nearly took the lead inside 10 minutes. Inter Milan, we're giving a penalty up stepped Alexis Sanchez but was denied from the spot then Ashley Young saw his strike hit off the post on the rebound. The momentum was sucked out of Inter as Sampdoria was Finding ways to make Inter Milan uncomfortable. Playing Sampdoria at home is very difficult, and inter were about to find out. Late in the second half Sampdoria struck gold and then got a second helping. Sampdoria was given a penalty, and former Inter Milan player Antonio candreva converted giving Sampdoria a 1-0 lead. Then a little while later, Keita, another former Inter Milan player, gave Sampdoria their second. Sampdoria held a 2-0 lead going into the second half. Inter Milan had climbed back many games this season after being down however, unlike those performances were playing poorly and lacked desire ambition and then some. Samir handanovic did a horrible job on Sampdoria's second goal. There was just no energy or Desire with this team. In the second half, Stefan de vrij scored a set-piece to minimize the difference. Inter Milan tried to push in the second half, but they were repeatedly denied by Emil audero. The young Sampdoria keeper made every save he possibly could have made. Inter Milan are pushed hard very late, but it just wasn't going to happen. Sampdoria shock Inter Milan as Sampdoria wins 2 to 1. Inter Milan will now go into the Roma game with low on confidence; they have to go to the Stadio Olimpico and takedown red hot Roma; this is exactly what they didn't need.