Score: A.S Roma 2 Inter 2FT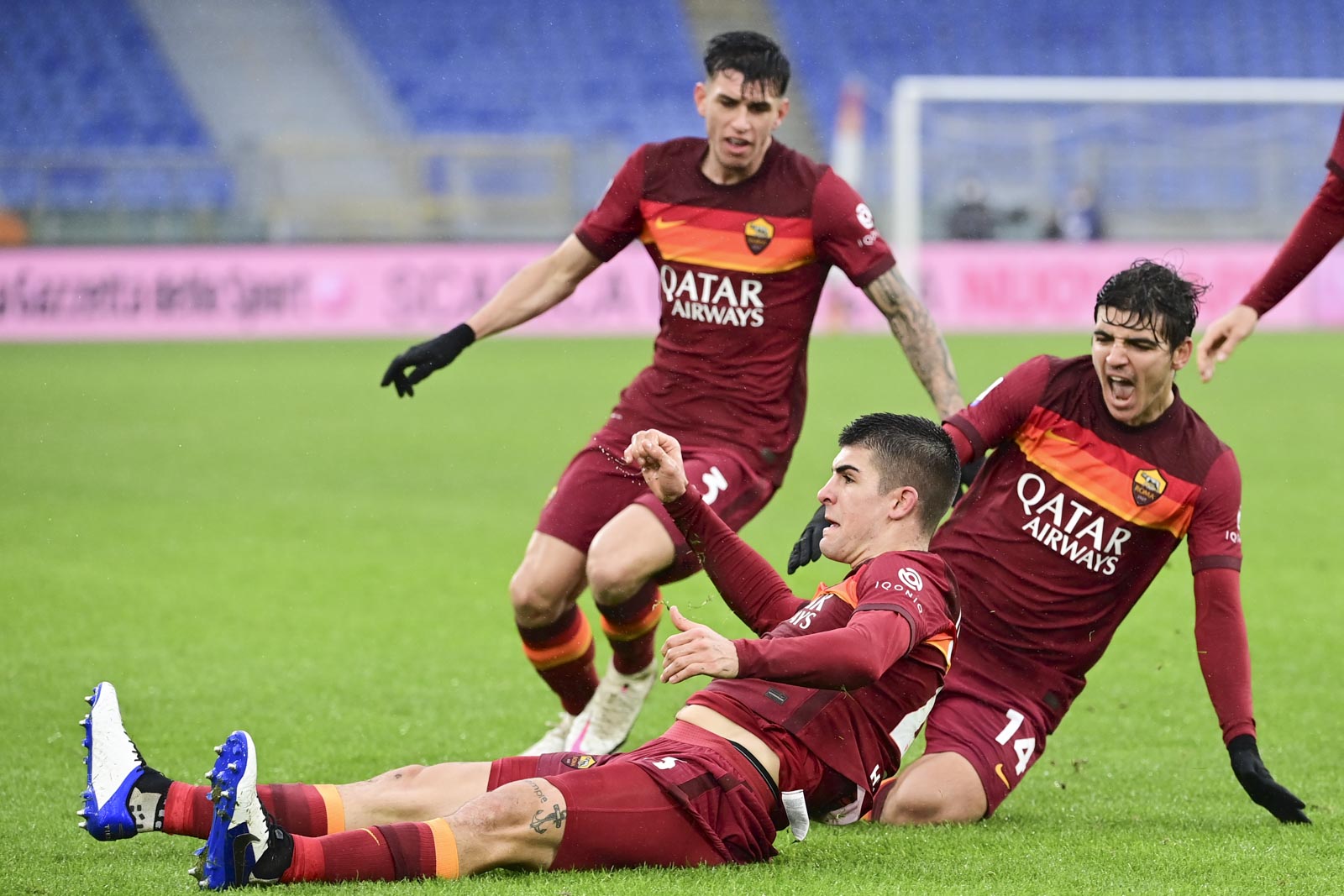 Roma kept their winning streak going with a victory away from home against Crotone a perfectly setting up a match we have been anticipating for the last couple of weeks. A tremendous opportunity for Roma to make a dent in the title race. On a Sunday morning at the Stadio Olimpico in Rome, they would host Inter Milan, standing three points in front of Rome as they'll have an opportunity to pass them up. Sampdoria recently beat Inter Milan, shaking things up dramatically. Roma and Inter Milan very rarely have had the upper hand on one another over the last few seasons. In their previous five games against each other, all five have been drawn. Putting absolute pressure on these teams to take the upper hand. There was a lot of anticipation on a match that could mean so much. It lived up to the hype and the billing. We were treated to an absolute show on Sunday morning in Rome. It ended up being a back-and-forth battle throughout the game; they exchanged different spurts of momentum as each team tries to carry their performance over the other. Inter Milan have a better team on paper, but Roma is in better form right now. This Roma side has struggled to pick up points against the big teams. This was the platform for them to prove otherwise; meanwhile, Inter Milan, we're looking to avoid a January slump. For a good portion of the first half, Roma looked like the slightly more dangerous team despite having less of the ball. They got the ball forward, they occasionally got on the break, they had some dictation in the Midfield, and we're finding gaps to be a threat. It was mixes of several different things Roma were pushing very early to push themselves in the lead. Meanwhile, Pau Lopez was on his game, denying several Inter Milan chances early. Eventually, Roma got out on the break from the Midfield into the box edin Dzeko to Mkhitaryan landing on Pellegrini's foot, striking into the bottom corner as Roma took a 1-0 lead. They continued to get into that space effectively, and even though Inter Milan was very much involved in the game, Roma looked like be much more discipline and communicative team in the first half. Inter Milan had some chances, but Roma took a 1-0 lead into the second half. Inter Milan found their footing, and despite Pau Lopez's best efforts, they found just enough space on a set-piece to get back into it. Milan skriniar converts on a corner, and then not long after, Hakimi hit one of the strikes of the season, a malicious strike as Inter turn it around, taking a 2-1 lead getting hot for 20 minutes. However, eventually, Roma got the momentum going really started push late, and at the very end of the game, with not much time remaining, Gonzalo Villar picked out a perfect cross inside to Gianluca Mancini, who put his head through it getting the equalizer. It is split points between Roma and inter at the Stadio Olimpico.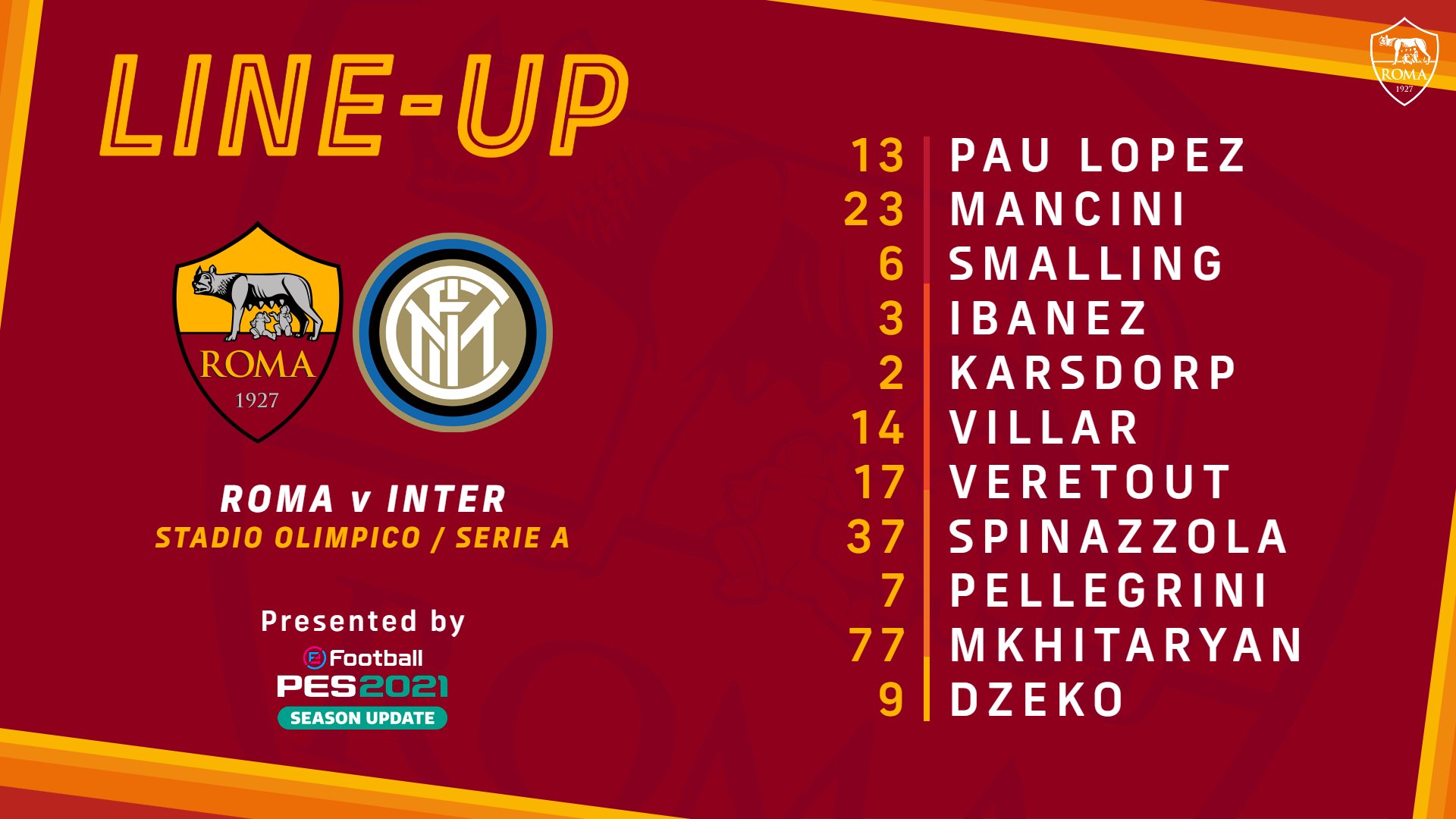 Paulo Fonseca Roma, as expected, operated out of the 3421 formations. In goal between the sticks would be the Spaniard Pau Lopez. The back three would consist of Rodger Ibanez on the left, Gianluca Mancini on the right, and Chris Smalling centrally. In the left-wing back position returning from injury would be Leo spinazzola. Then on the opposite side at right wing-back would be Rick karsdorp. We would see the defensive Midfield Duo of Jordan veretout and Gonzalo Villar. As the left attacking midfielder would be the Armenian henrikh Mkhitaryan, then on the opposite side at the right attacking midfielder playing in a more attacking position would be Lorenzo Pellegrini. Then upfront at the Central Striker would be edin Dzeko. Bryan cristante and bojar mayoral both on the bench as options.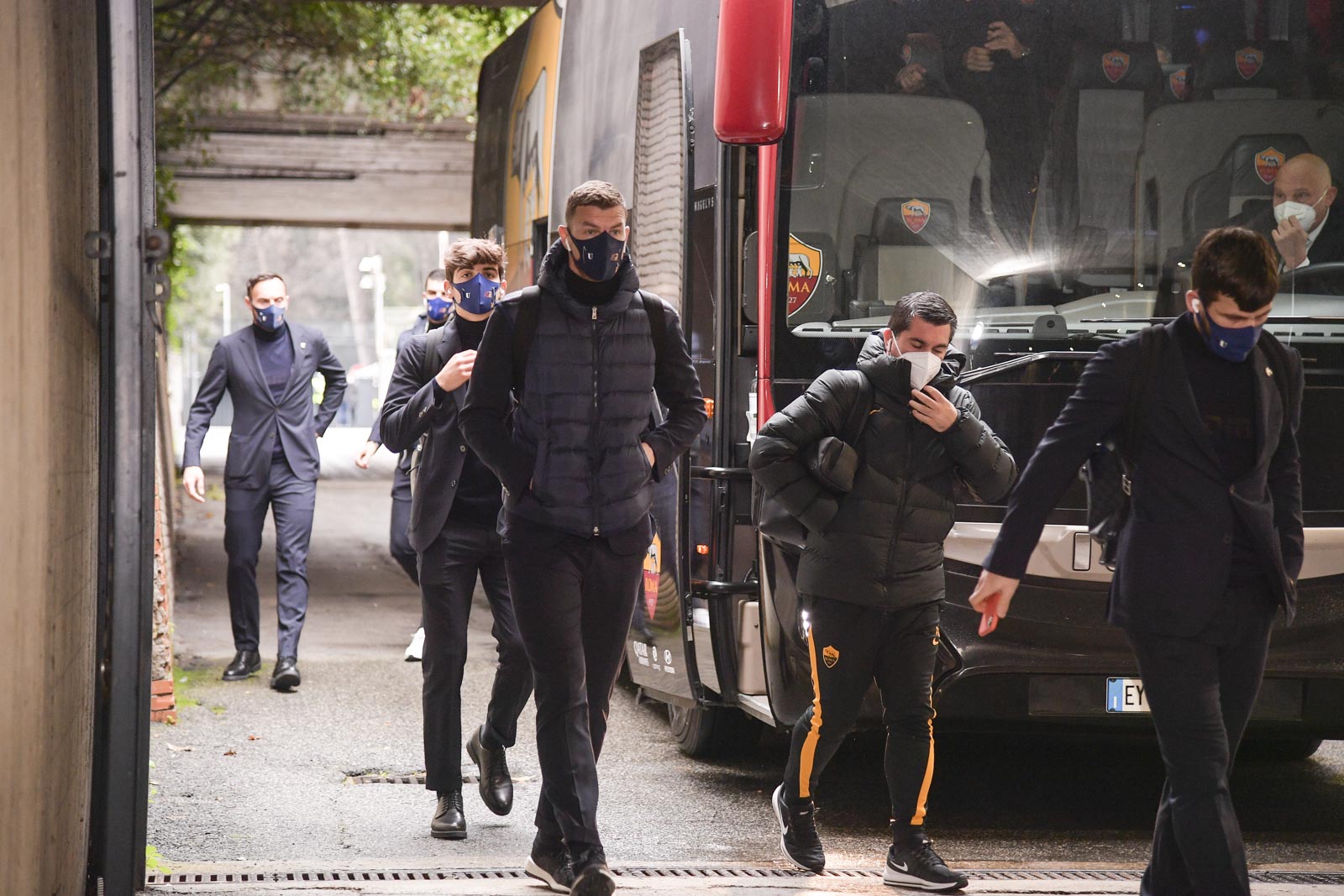 It was finally time to kick off at the Stadio Olimpico, a match Italian football has had its eye on for the last couple of weeks it was time to get ready to rumble. A Very early kick-off on a Sunday morning. It was a very evenly matched early in this one, but Roma tried to put their superiority on it as they played with energy in early goings. These two teams have drawn their last five games. Was this the one that was going to break that finally? We'd have to find out. Within 10 minutes, Rick karsdorp found himself in a dangerous position as Lorenzo Pellegrini set up. The Flying Dutchman struck with power at Samir handanovic, but the Inter Milan Captain makes the save. Minutes later, Inter Milan got their first crack with Hakimi and Martinez hooking up the Argentine he tried to strike at a difficult angle, but Lopez was right there to kick off the game. As we expected, Inter Milan had possession control, but Roma set up was proving to be difficult for Inter Milan at times despite not having as much of the ball. Romelu Lukaku was in for Inter Milan, but Lopez made a diving save pushing his header over. Roma's goalkeeping has been an issue this season. Lopez has certainly been on his game; lately, a great save on one of Italy's best strikers. One minute later, Lukaku tried to break through once again, but his finishing was poor. Inter Milan had a few strong chances, but Roma looked like a team hungry for a result. Coming through and putting themselves in position to get in front, Roma opened up the scoring. In the 17th minute, Roma got on the counter-attack from the Midfield into the dangerous areas. Jordan veretout made a tackle on Nicolo Barella that released Hendrik Mkhitaryan at the Armenian a push the ball forward, handing it off edin Dzeko; the Roma Captain send a cross back into the Armenian who supplies one touch in perfect space for Lorenzo Pellegrini who strikes from outside the box taking a slight deflection finding that bottom corner as Roma take a 1-0 lead. Lorenzo Pellegrini is thriving in a more attacking role as he scores his third goal of the season. Roma started stealing that early momentum not long after Jordan veretout challenges Samir handanovic, then henrikh Mkhitaryan launches a deep strike. Still, once again, Samir handanovic was there to deal with it. Inter Milan tried to respond with Arturo Vidal; the Chilean midfielder gets a well-hit strike that just missed wide. Roma was riding on their momentum push, having the lead and not really giving anything away defensively once again; Roma was brilliant. Late in the first half, Inter tries to level things. Still, chances for Martinez and Lukaku didn't threaten the goalkeeper as Roma take a 1-0 lead into the second half following an opener from Lorenzo Pellegrini.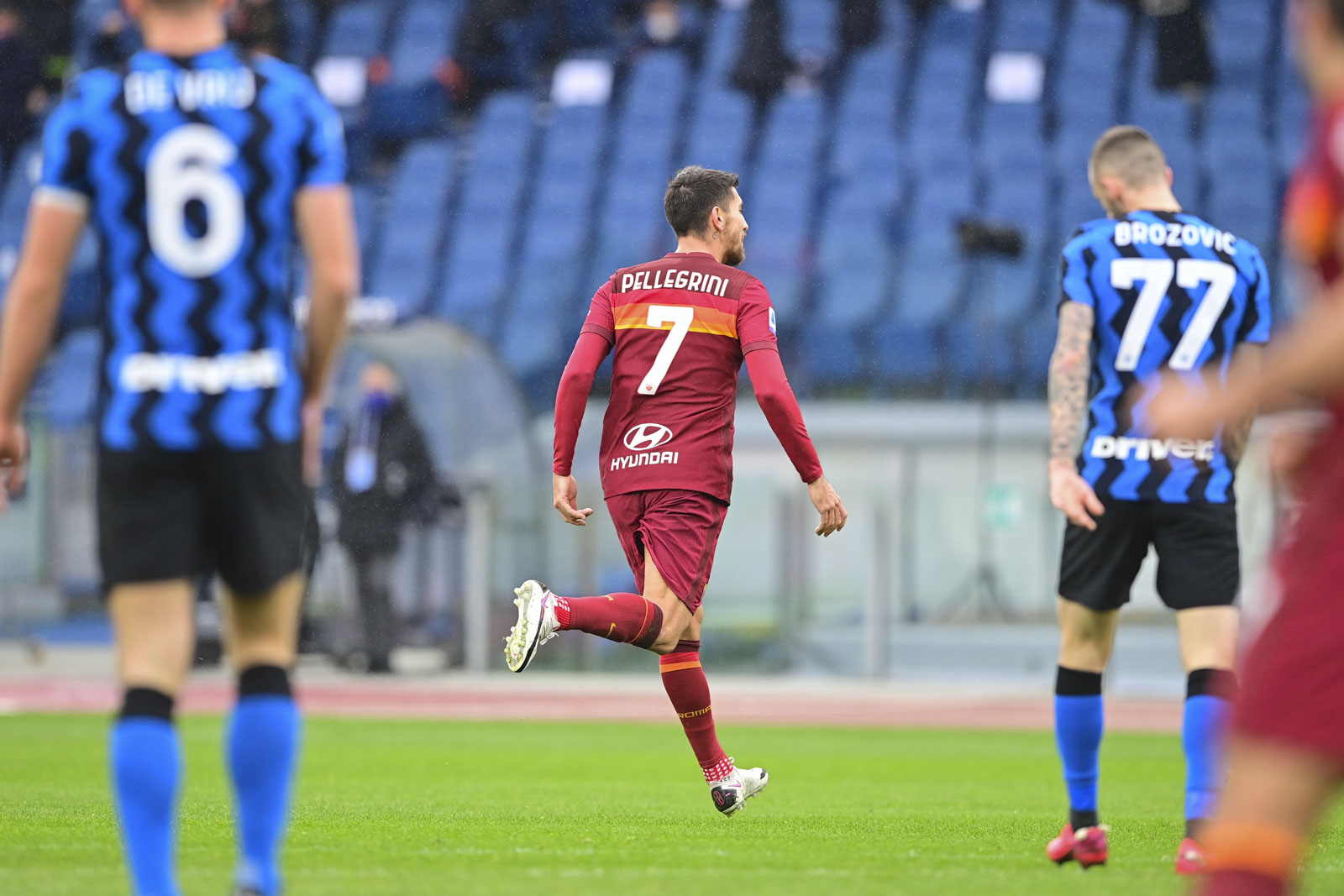 Lorenzo Pellagrini's strike is the differnce as Roma held 1-0 lead in opening half 
Roma outplayed Inter Milan even though they were bailed out a couple of times by brilliant goalkeeping play. Inter Milan was pushing at the end there, but Roma was the better of the sides. Inter came out with a lot of aggression and energy; they came out firing romelu Lukaku came close just minutes into the 2nd half seeing his strike just miss. They were starting to reiterate their control as Arturo Vidal misfire and Lopez denied Martinez. As good as Roma were in the first half, Inter were on the brink of a breakthrough. In the 56th minute, Inter Milan leveled off of corner Milan skriniar connected on a bullet of a header out of Lopez's reach. It was undoubtedly coming for Inter Milan but quite harsh given how well Lopez had played. The game was undoubtedly open now. Roma defensively did very well in this game, but their marking of the corner was poor, allowing the Slovenia Center back to give Inter Milan a lifeline. It just kept coming as Roma were finding it difficult to grab that momentum that they had. Hakimi was denied, and Arturo Vidal hit a wild shot nowhere near the goal. Roma barely registered a shot; the most significant thing was an edin Dzeko mishap on a break with a poor touch ending any chance of an opportunity. Roma, with finding a difficult to get any kind of energy, lacked aggression. Then in the 63rd minute, Roma was on the wrong end of a superb strike. Hakimi found an into space and hit an outrageous curler into the top corner hitting the bar before crossing the line. His Wonder strike gave Inter Milan a 2-1 lead. Roma, somewhat collapsing after a really strong first half, could not get anything going, but Inter only ran wild for a small amount of time. Roma slowly starting getting back into the game, came forward with much more confidence, and the game started to open up. Roma would make their first chance in the game as Bruno came in from Leo spinazzola. A minute later, henrikh Mkhitaryan came close from close range, but his shot was a little wide. Minutes later, Roma were in again as Rick karsdorp was denied by Samir handanovic. Even though they could not score on that opportunity Roma restarting to break down Inter Milan, it was starting to shift into their favor. Roma went to the bench again in a bizarre decision. Bryan cristante replaced Jordan veretout. The French midfielder was fresh and energized, just kind of an appalling decision by Fonseca. During the last stretch of the game, it was all Roma. Chris Smalling got a shot blocked inside the box before Bryan cristante hit a ball at on Samir handanovic, stinging his hands; they were running out of time. If Roma was going to find an equalizer, it was going to have to happen soon. Bryan cristante misfire from close range, then Gianluca Mancini came dangerously close. The moment arrived in the 86th minute Gonzalo Villar a player that was bossing in the Midfield despite his defensive issues in this game, picked out a perfect pass for Gianluca Mancini; the cross came into the box into the center back that was being marked by Milan skriniar. Mancini propelled himself before putting his head through the cross as his header landed in the top corner to equalize for Roma. He exploded with ecstasy as he gets his equalizer scoring his second goal of the season. 2 minutes later, bojar mayoral came in for edin Dzeko; he probably should have been replaced earlier. Roma continues to push later on with some late opportunities, but time ran out after dominating the last 25 minutes as Roma split with Inter Milan in a 2-2 draw, a statement game. Roma fightback late the performance itself doesn't necessarily justify themselves in the title race, but they show resiliency to earn a hard-fought point.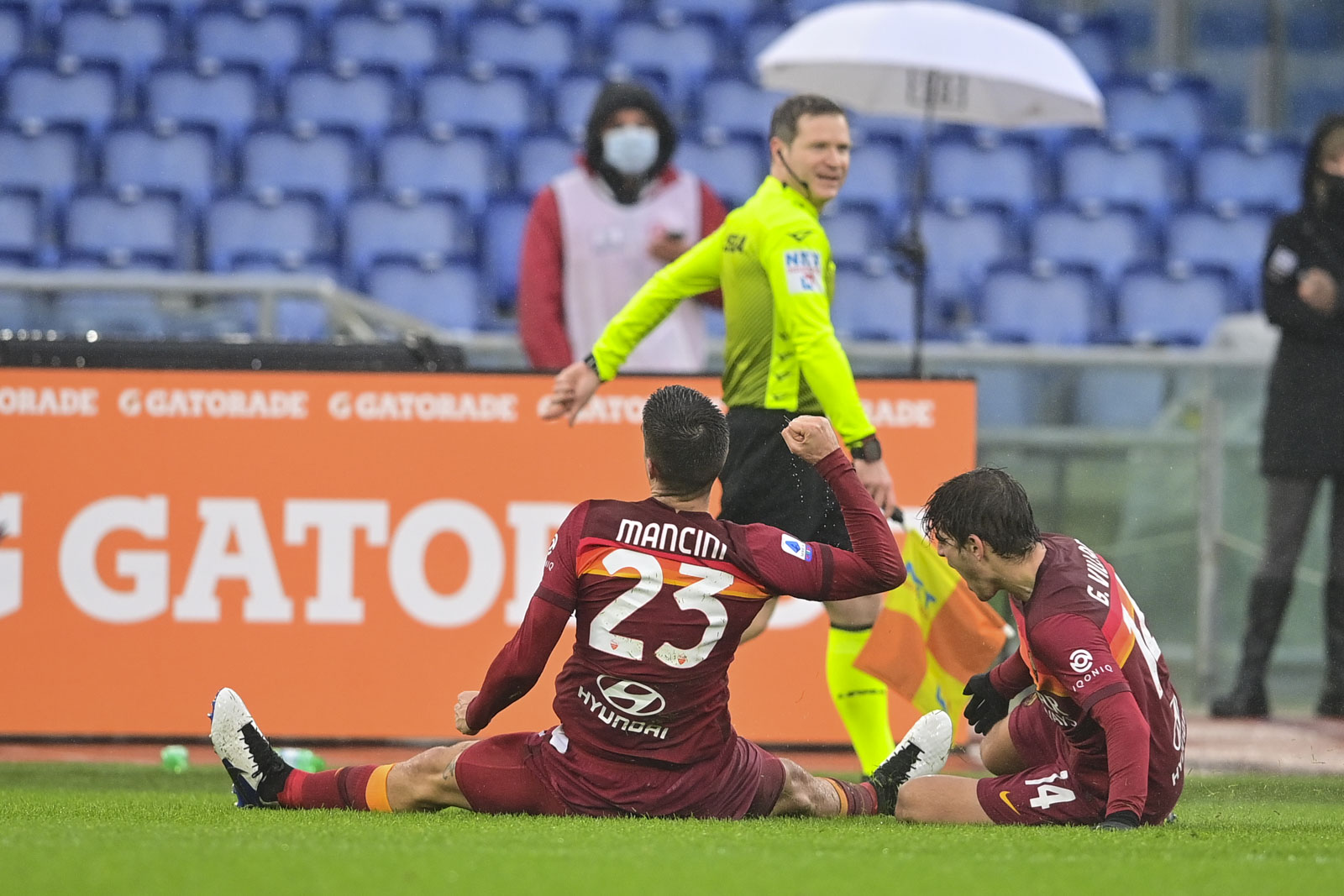 Villar connects with Mancini and Roma's centre back steals point late 
The criticisms of this Roma team this season has been their inability to perform in the big games.  Everyone had their eyes on this matchup for the last couple of weeks; a match against Inter Milan would prove whether Roma is in fact, in the title race. We saw a real fight from this Roma team; it's still unclear whether or not they are contending. This is the Champions League team certainly, but that's not the question at hand; there's no definitive answer to that question yet.  They certainly showed something. Roma showed their ability to bounce back in previous losses; they have lost their energy and fight after conceding. This match was different. Roma was the better team the majority of the game. Inter Milan hit back with two early goals in the second half; it just looked like it was trending towards a victory for Inter Milan.  Roma grabbed that momentum late and dominated the last 20 minutes finding that goal to earn points. Defensively Roma made Inter Milan uncomfortable. Roma should have done better on Inter Milan's first goal. Roma was outplayed for about 20 minutes. Outside of that, they were slightly the better team throughout Roma probably could have won this game. They didn't create as many chances as they normally would but still pushed into dangerous areas. Inter did the same for different stretches, but they were able to stay packed in those situations. The attack did very well, especially on the opening goal; great communication between several components led it to Lorenzo Pellegrini's opener. They couldn't carry into the second half; Roma couldn't handle it. They need to improve on things, but they were, and they fought back after being behind.. It is slightly disappointing because they could have won this. The character and mentality show Improvement. Taking out Jordan veretout and keeping edin Dzeko in the game as long as they did were mistakes.  However, this wasn't a negative display outside of a 20-minute stretch; Roma was better. Roma put themselves in position. Gonzalo Villar did a great job in the Midfield creating but struggled defensively. All things considered, a team played very well together. The man of the match tonight is Pau Lopez; in the last couple of games he has played, he's been outstanding for today. He was absolutely world-class, keeping inter at arm's length. If he can continue to play like this, maybe Roma doesn't need another goalkeeper after all. Overall it was a strong performance against a team like this; even though Roma could have gone to second, they have to feel optimistic about their willingness to compete throughout the entire game. They kept Lukaku and Martinez quiet, and if it wasn't for a freak goal, they could have picked up the points. This will only fuel them in their derby Friday. Inter Milan is one of the best teams in this league and only seemed in control for about 20 minutes. Roma got that response they were looking for after failing in their last two games of magnitude; it's unclear whether or not they can become a part of the title race from a mental standpoint it certainly proves they could be.
MAN OF THE MATCH: Pau Lopez