Lorenzo Pellagrini's Exelleing Role giving Flexability in the Midfield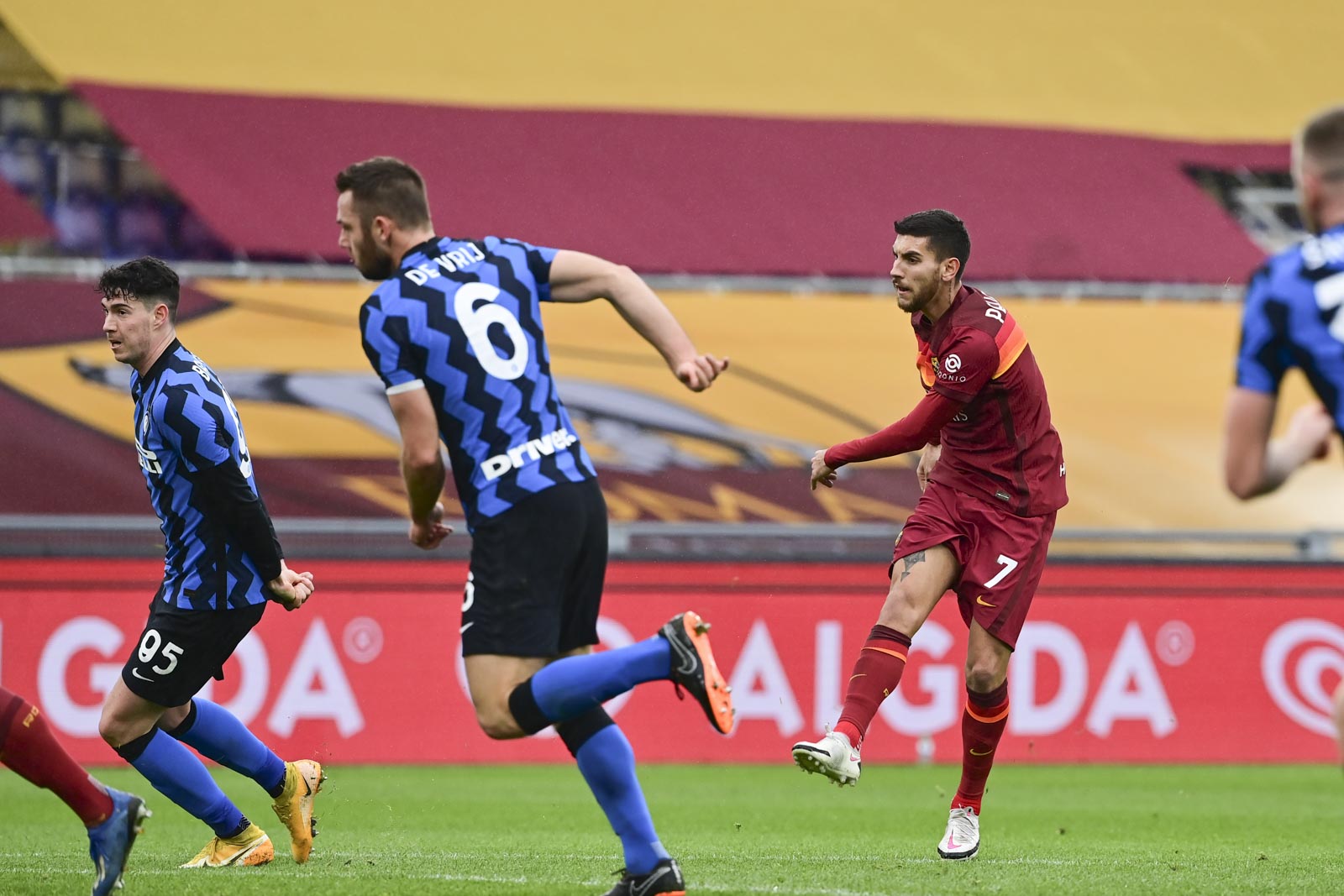 Lorenzo Pellegrini has been one of them is most consistent players this season. Largely because of his versatility and adaptability in a slightly modified role in this Roma team this season. Lorenzo Pellegrini is Roman born player that is largely expected to be Roma's new captain when edin Dzeko ultimately departs. One of the things he has struggled with has been his ability to perform in the big games. Even though he displays consistency and versatility and has a specific value within this team, he hasn't been as influential in the big games. Pellegrini is expected to be an essential part of the future that this Roma team is starting to build momentum in the title race, and hopefully, one day, they will be able to win the scudetto. Lorenzo Pellegrini will largely be part of that. Since his backheel against Lazio, he hasn't had a memorable performance in a massive game. Last night he opened up the scoring in a massive match against Inter Milan. He scored; this is already the third time he has scored this season. The dynamic and creative midfielder has rotated between the defensive Midfield and central midfield. He is only really occasionally played in the attacking Midfield. When Roma went to a back three, Paulo Fonseca experimented with it. It didn't work last season, but he has continued to adapt in that. The defensive Midfield is his primary position. However, injury concerns to Pedro Rodriguez and Gonzalo Villar's development have opened things up for Pellegrini in that role. It's somewhat of a conundrum because, defensively, he's solid in that area. Something that Villar lacks, Pellegrini excels with Lorenzo Pellegrini playing in the attacking Midfield; it allows Gonzalo Villar to play big minutes in the defensive Midfield. He's done well Jordan veretout there. Not only that, Lorenzo Pellegrini is starting to excel in that position. it would be hard-pressed to give his position up even when Pedro returns. This change has allowed flexibility in the Midfield while being to play in a more attacking-minded situation. Lorenzo Pellegrini is a capable goal scorer, but it has not been required from him in the past. Now Lorenzo Pellegrini can score goals and have the space to allow him to supply in a creative role. Lorenzo Pellegrini's impact in the defensive Midfield at times was missed, but he's starting to thrive in his new position and yesterday was a prime example of that. He was outstanding against a strong Inter Milan team that are in a title race; not only did he score the opening goal, but he was very involved in Roma's counter-attacking play; it is clear that Lorenzo Pellegrini finally has a position in which he is comfortable allowing him to facilitate and score while allowing Gonzalo Villar to continue to play a dynamic role and develop his skills in the Midfield. It has taken some adjusting, but it has indeed worked out for both the Midfield and the attack.
Pau Lopez may be the Answer In Goal afterall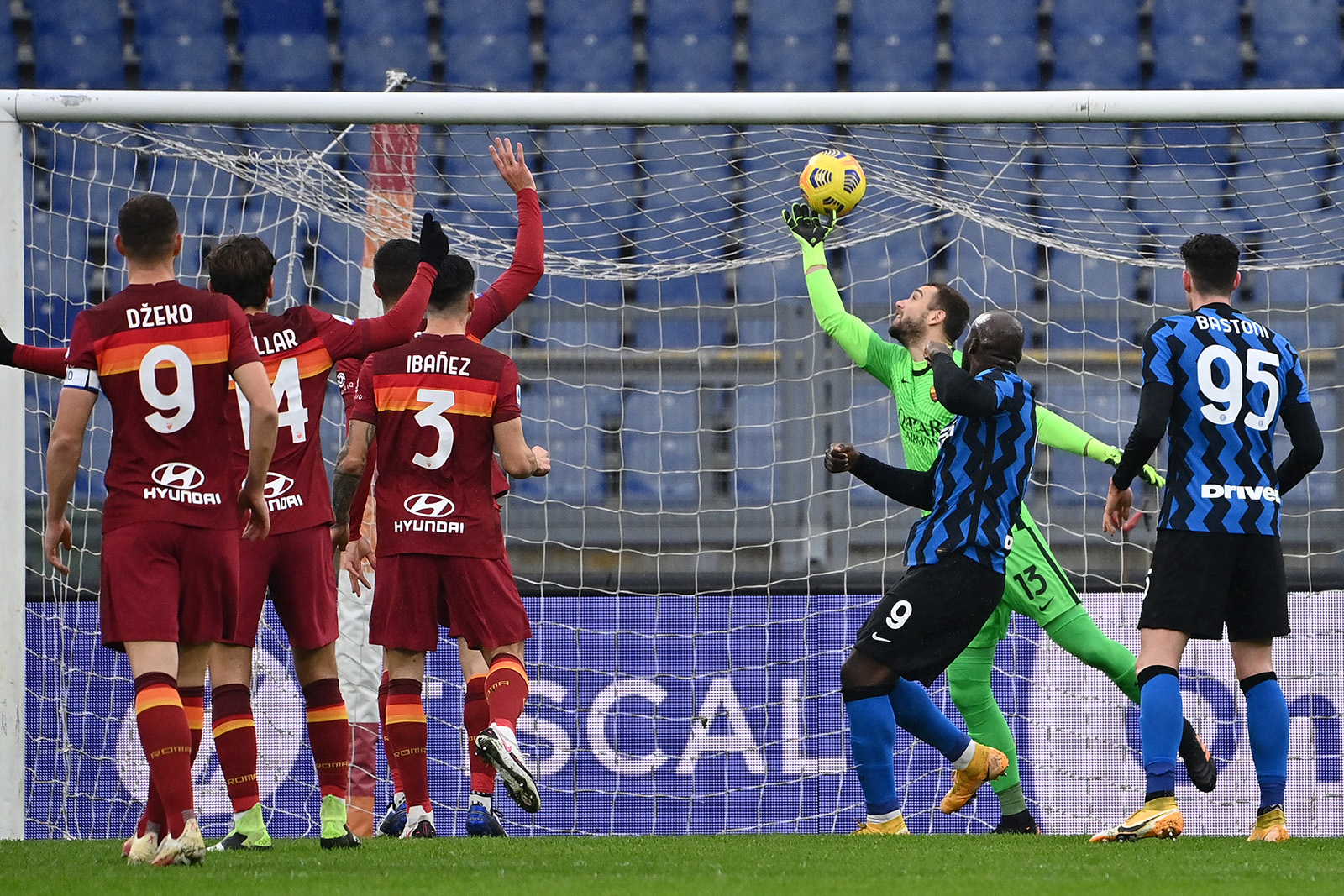 Pau Lopez may cause Roma to throw away their keeper's search. Roma's goalkeeping issues have been well documented so far this season. It appeared that Roma was going to maybe cut bait with record signing Pau Lopez and look for reinforcements at the position. This was talked about both in January and the summer. The idea was to send Lopez on loan or find a buyer then spend on a goalkeeper. However, things have changed. Now it's still unclear what Roma will do in the summer, but at the moment, Roma should put this hunt for a goalkeeper on hold. Pau Lopez over the last three games has been incredibly consistent. He has not made a mistake, and it's starting to command his energy and his place in the net. Inter Milan came into the game with the opportunity to put even more pressure on AC Milan. This was not only important for Inter Milan, but it was also for Roma; a strong performance against a team like that would undoubtedly have solidified some belief and Lopez turning this around and being able to regain his spot and the holding they're goalkeeping needs on hold. Against Inter Milan, he was nothing short of world-class, without question one of the weekend's best goalkeeping performances. Roma outplayed Inter Milan for the majority of the match, but that's not to say Inter Milan didn't have their chances to come out and hit Roma on several different opportunities. He denied practically every savable shot and even made some saves on a few chances that really looked like they were unsavable. Even though Lopez did concede two, it was a bullet header off a set-piece and a freak goal that not even Manuel Neuer would have saved. He was without question man of the match. Inter Milan frequently came forward and attacked the Roma goal. Lopez showed incredible shot-stopping ability. The likes of romelu Lukaku and Martinez, and many others Inter came forward and tried to take advantage as much as possible. The defense played an incredible role, but Lopez came up with big saves and big moments. If Lopez isn't in goal, Inter Milan, in all likelihood, would have picked up all the points. Roma did outplay them for most of their match, but Inter Milan had many chances to score in this game, and Lopez denied them repeatedly. It wasn't just his ability to preach the shots; he was very active in using his legs as well, especially on a good saves in the second half where he was mutually taking to the ground to make an outrageous save that kept Roma in the game at that point. Lopez is now in a fascinating situation vs Inter Milan; he was nothing short of world-class, and in his last two games, he's been pretty unbelievable. If Lopez can perform on Friday in the derby against Lazio, all Roma's plans to buy a goalkeeper will get thrown in the trash. He has gone through quite a bit of undesired circumstances the season with not being the starter at first. Still, with a top performance against Lazio, he will more or less a lot of fight himself as the future in goal for Roma; he has improved massively since the start of the season, and a world-class breathtaking display against Inter Milan certainly solidifies it given the investment that Roma already made in him it is everyone preference that he can earn his place he's on pace to do that one of the best performers at any position this week he was just on another level and just is one performance away from sorting out his future if he balls out against Lazio they won't be any questions about his stability in goal any longer. He has been excellent as of late seems to be getting his Groove Back.
Hakimi 40 Million Bargin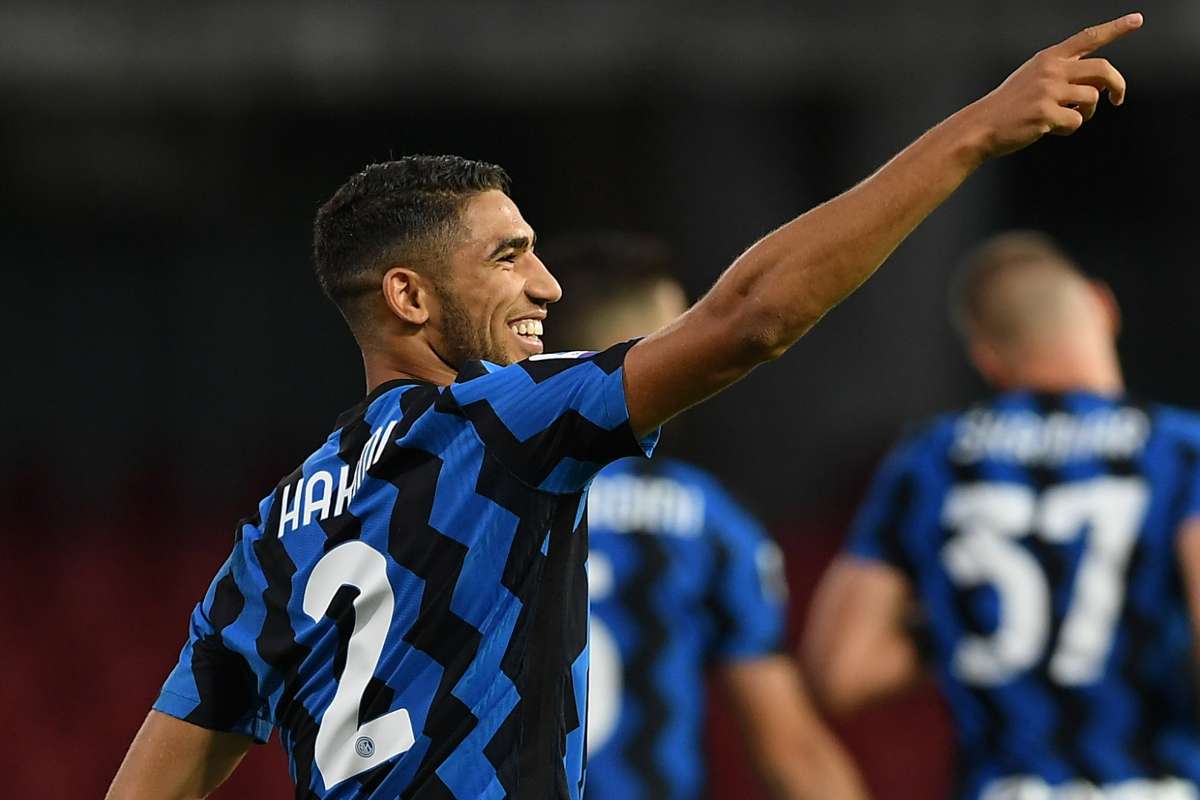 Inter Milan should be incredibly disappointed in the way they have played against Roma were the better team for the majority of the match, not counting a 20-minute stretch in which Inter Milan score twice. However, Inter Milan has something special with Hakimi; the right-back/ wide midfielder is proving to be one of the bargains of the transfer window. He arrived in the summer or just 40 million after bossing it at Dortmund for the last two years and being one of the reasons that Inter Milan did not qualify for the last year's knockout stage of the Champions League. He single-handedly led them back from an early deficit the ended up being the big difference in that year's group stage. Over the last couple of years, he has been one of the most consistent players at his position in the Bundesliga and in Europe. For Inter Milan to get this deal done for only 40 million is absolutely outrageous. He scored an absolute stunner to put Inter Milan in front, hitting a rocket into the top corner out of Pau Lopez's reach, who had such a game. This season, he already has six goals, equalling him with Macion at the highest-scoring defender in a single season. I'm not sure he really qualifies as a Defender, but how good he is this early in the season is absolutely tremendous. He has been such a fined for Inter Milan, one of their most important players and arguably one of the only players to show up against a strong Roma defense that neutralized Lukaku Martinez and Nicolo Barella. This Inter Milan team has many components to it, but Hakimi maybe one of the best signings they have made, especially at that position in several years. It's looking like a daylight robbery at 40 million a fantastic goal, and the game changed once he was subbed off was mostly responsible for the 20-minute stretch that Inter Milan went on.
Paulo Fonseca vs Conte and Roma's Fighting Sprit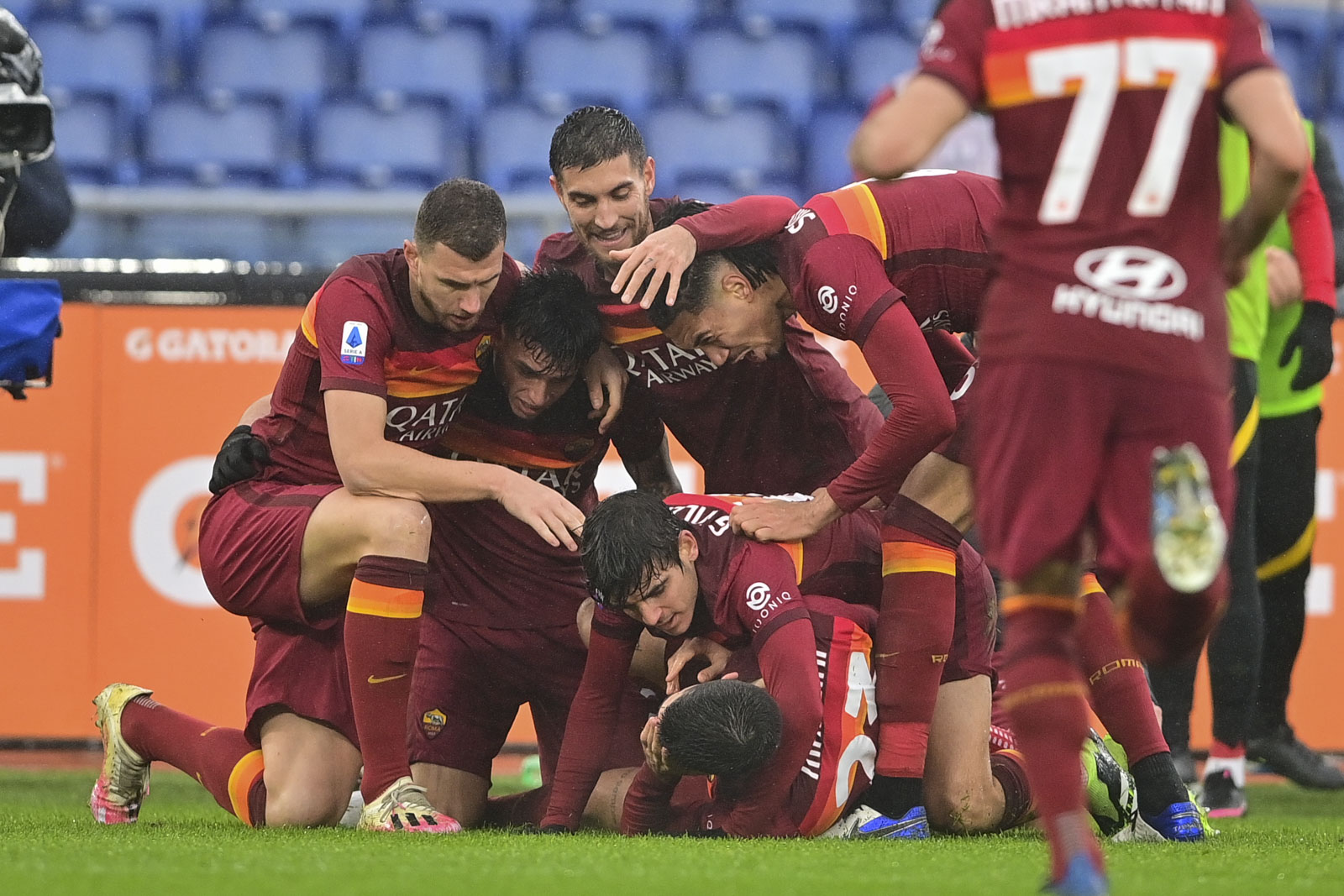 Paulo Fonseca has been a revelation in this Roma team, especially during the back half the last season into this season. He has this Roma team arguably on the verge of breaking into a title race. His biggest criticism since being in the Eternal City has been the inability to perform in the big games this season; they have fallen to Napoli and Atalanta. Once the result was more or less confirmed, this Roma team lost its fight in both those games. Didn't have that mentality late in the game to go and get them a result, even if it's just the point. This is something that will determine whether or not Paulo Fonseca is the man to lead Roma to a trophy for the first time since 2008. His record against big teams going into The Inter Milan match was not all that good. Last season he beat Napoli and AC Milan and a weekend Juventus, and this season the only games Roma has dropped have been to the bigger teams. However, whatever it is, Paulo Fonseca does seem to have the upper hand against the Antonio contact. On paper, Inter Milan is a better team with all the ingredients to win the league title this season. In consideration of everything, Inter Milan should have beaten Roma in both matches last season and yesterday. Paulo Fonseca outclassed Antonio Conte. He set his team up exactly right, and Roma mentally did not play with any fear whatsoever; they went right at Inter Milan and scored in the opening 20 minutes through Lorenzo Pellegrini; everything was going Roma's they completely outplayed Inter Milan was not involved whatsoever in that first half they may have had some chances for Pau Lopez was called into action. Still, from just a performance standpoint, Roma was far superior. He set up his team the right way will Antonio Conte was reeling a little bit after that first half. In the second half, Antonio Conte and Inter Milan got hot for 20 minutes Milan skriniar scores to a corner, and Hakimi scored a scorcher. Inter Milan a just like that, found themselves in front. Paulo Fonseca team shows fight and determination, something they have lacked in the past big games. After Inter scored their second goal Roma had complete control of it, and even though inter did have their chances, Roma we're dictating the game, and it just seemed like they were going to find a way to put themselves back into it. Roma outplayed Inter Milan for 70 minutes; they weren't going to lose this game. They were picking up steam late on Paulo Fonseca made a fundamental change as Bryan cristante entered the game you wouldn't have thought that this was going to be life-changing. Still, it was Roma in so much better position after the change was made. Roma gets into that space to be effective. Chris Smalling Gianluca Mancini and Rodger Ibanez made things very uncomfortable for The Inter Milan attack, especially Chris Smalling's job on Lukaku, who did nothing. Antonio Conte made some atrocious substitutions that allowed Roma to get back in business. With eight minutes to go, Antonio Conte took out his man-of-the-match Hakimi and brought in 35-year-old Alex Kolarov, who has significantly less pace. That's not the only mistake was made leaving Nicolo Barella in this game was atrocious; he mutually did nothing all game and was having to be bailed out by Marcelo brozovic gagliardini ultimately prevented Roma from completing a Counterattack; he should have taken out the young midfielder instead of leaving him on as he was being bullied in this game. Gonzalo Villar sends in a perfect cross into Gianluca Mancini, who converted on a header that gave them the point. The entire Roma team erupted, scoring late against a rival in a big game like that, a game in which they probably should have won the game having outplayed Inter Milan for as long as they did, but getting the point in a game like that shows the fighting spirit all this Roma team. Previously in big games, they would have sold it in this situation; they showed that spirit and that willingness to fight until the very end, and they even had some chances at the very end of this game to potentially Take the Lead. Paulo Fonseca out-duel Antonio Conte again. Lukaku was neutralized. Roma created extremely well through Gonzalo Villar and the Midfield; they may not have got on the attack very often. Still, the one time they did, they converted, and just from my mental standpoint, they fought until the very end and earned that point again; it's not quite time to say that Roma is in a title race. Still, they outperformed one of the favorites to win it; they haven't got those three points against a big team yet, but this was a really important step as they outplay Inter and earn a hard-fought point coming from behind and getting it late.