Score: A.S Roma 3 Napoli CF 2FT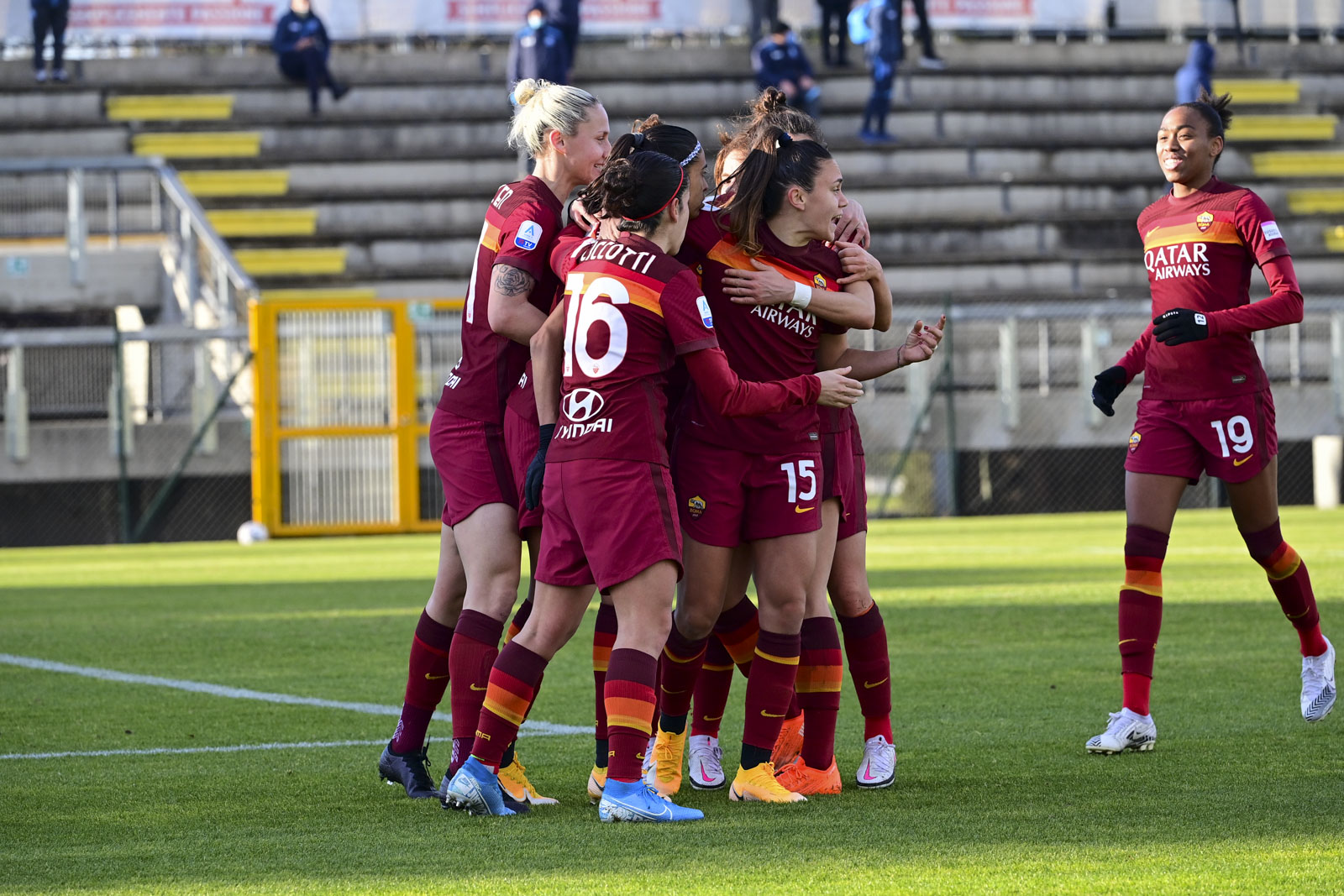 The Roman women, despite lofty expectations, have had a very underwhelming season through this point. They seem largely expected to challenge for the league title at a very minimum achieve Champions League football. This has been trial by fire as they came into the game in 6th Place in Italian football. Their ambitious finishing in the top three is very unlikely as they have struggled with form a good portion of the season. It is clear from watching this team that changes are needed some with the team, and even potentially, a coaching change could be exactly what this team needs. I don't know enough about women's football managers to make an assumption of who that could be but based on how the season has gone. It has been slightly underwhelming, especially considering how talented this team is. Weirdly, they kind of remind me of Fiorentina in men's Serie A incredibly talented team that always seems to underperform. To make matters worse, Andrine Hegerberg has torn her ACL and will miss the rest of the season; she wasn't necessarily a vital piece, but she's a valuable component to bring Off the Bench helped Roma and many of their games this season. Going into this game against bottom-of-the-table Napoli, Roma were winless in their last five and on current form for one of the bottom couple teams in the league going into this game. However, it would be a joyous occasion not because of the results but because it was the first-ever Derby Del Sol in Serie A Roma, and Napoli had never played in the league before this week. Derby Del Sol is in a typical Derby; it's better known as the Derby of the sun, which represents the hot climate in that part of Italy. Napoli has just one point this season with a -15 goal difference and having only scored four goals all season going into this match. Roma has struggled this season, but there was a certain amount of Hope in their Coppa Italia loss to top of the table Juventus a few weeks ago. They took them into extra-time before Roma ultimately fell. Before the game, Roma attempted to strengthen as they signed Bordeaux Defender Elena Linari, who had terminated her contract with the French side before joining Roma for free a couple of days ago. She is one of the best defenders in the world, having won La Liga with Atletico, which is perfect for a Roma team that has issues in that area. So even though it has been a struggle this season, there was some optimism. In a game against the bottom of the table, Roma should have had no difficulty getting to the points, but as it has proven this season, it's never been that simple. In fact, it started off as poorly as it could have.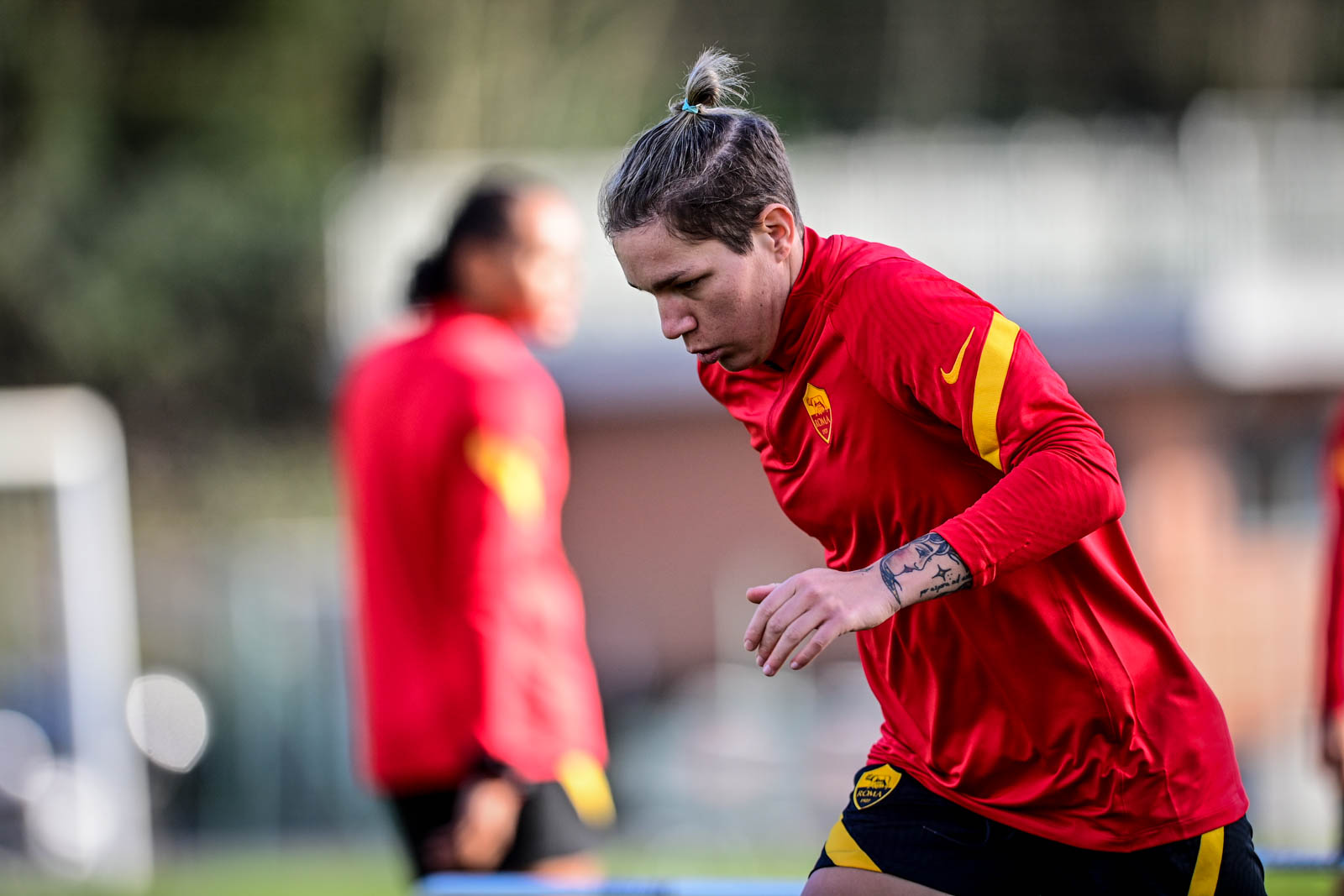 On the first chance of the game for either team, Napoli took the lead on a set-piece coming off a corner. Napoli supplied a header that ended up in the back of the net as the big underdogs, after just 15 minutes, A team that doesn't score goals breached the Roma defense. Napoli took a 1-0 lead; it's still somewhat confusing why Camila Caesar has not been given more starts this season in goal. Rome's current goalkeeper has moments but doesn't have Caesar's Athletic ability, which makes her less inclined to make diving saves. Roma tried to respond almost immediately; a prominent defensive clearance denied Pamela Lazzaro on a cross-range effort. A few minutes later, Roma hit from a distance, But Napoli's goalkeeper made a diving save to refute them. An instant later, Roma got back on level terms, a scramble in the box that was laid off to Annamaria Serturini. Roma's most consistent player this season hit an ambitious curler into the top corner to level the game.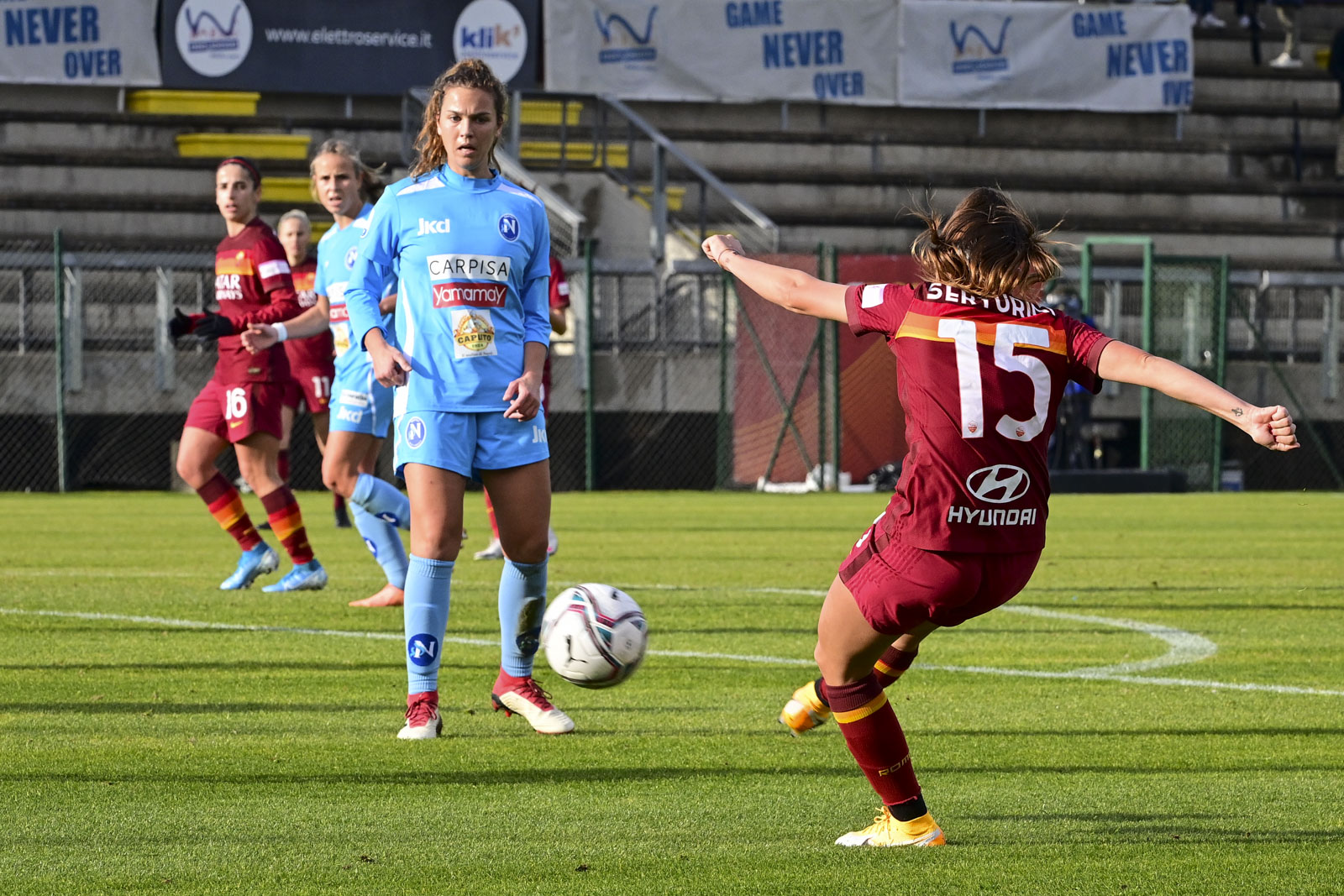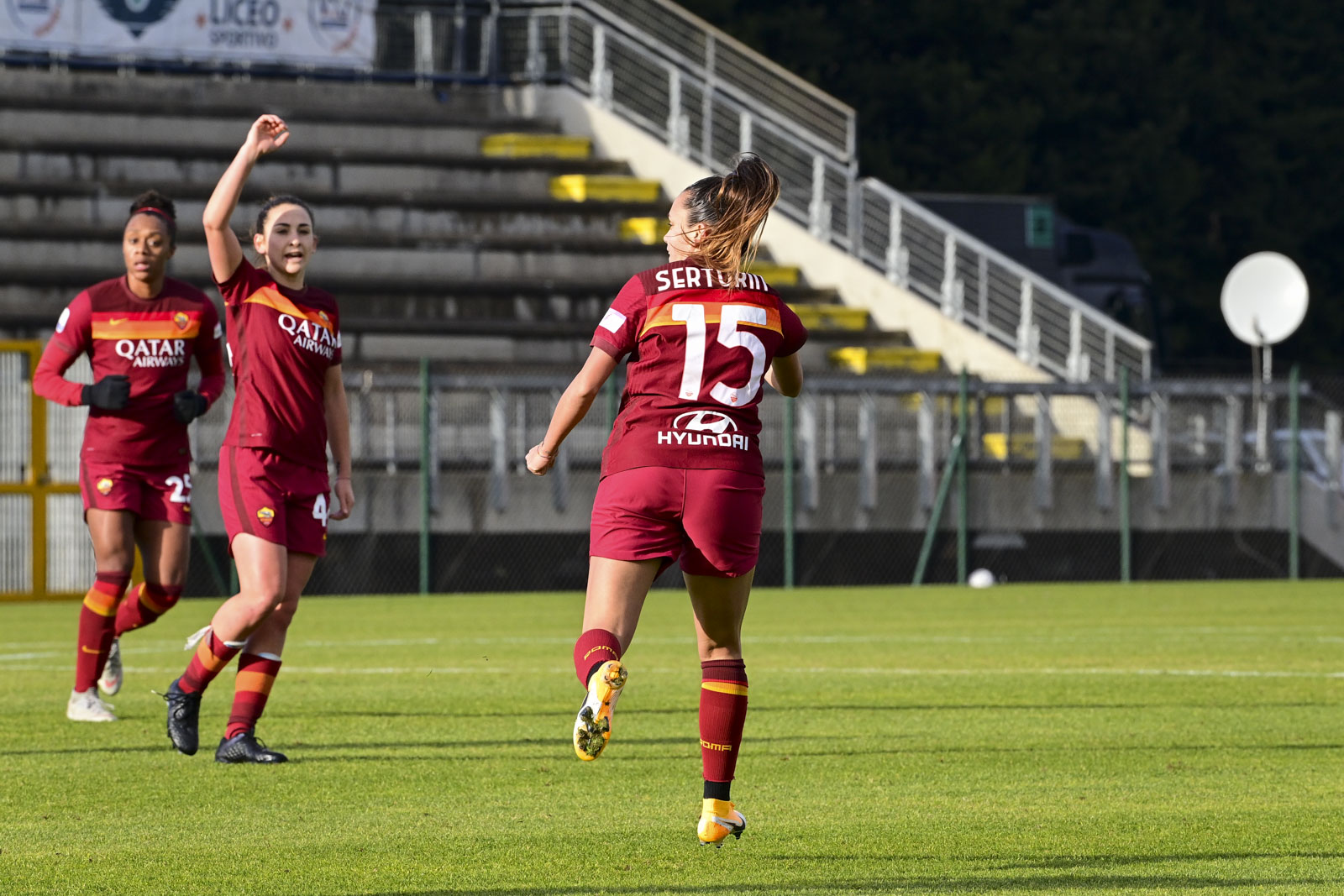 It would be her 7th goal of the season. Truly a superb finish from one of the best players in the league, as this Roma team really only goes as far as she takes them. When she doesn't play well, the team underperforms, and most of the time, she's involved in the goal contribution in one way or another. a little over 10 minutes later, Roma got an occasion to push themselves in front from the spot coming off a free-kick hit by a Manuela Giuliano a handball was called inside the box giving Roma the penalty. Andressa Alves stepped up and beat the keeper from 12 yards out as Roma take a 2-1 lead. Just like that, Within a short amount of time, Roma would turn the game on its head with two goals in what seems like back-to-back chances. Roma continues to try to drive that momentum to score another before the end of the half. On a late Counter-attack in the closing moments of the first half, Lindsay Thomas came close, hitting the side netting on a breakaway. after the opening 45 minutes, Roma had a 2-1 lead thanks to Annamaria Serturini and Andressa Alves.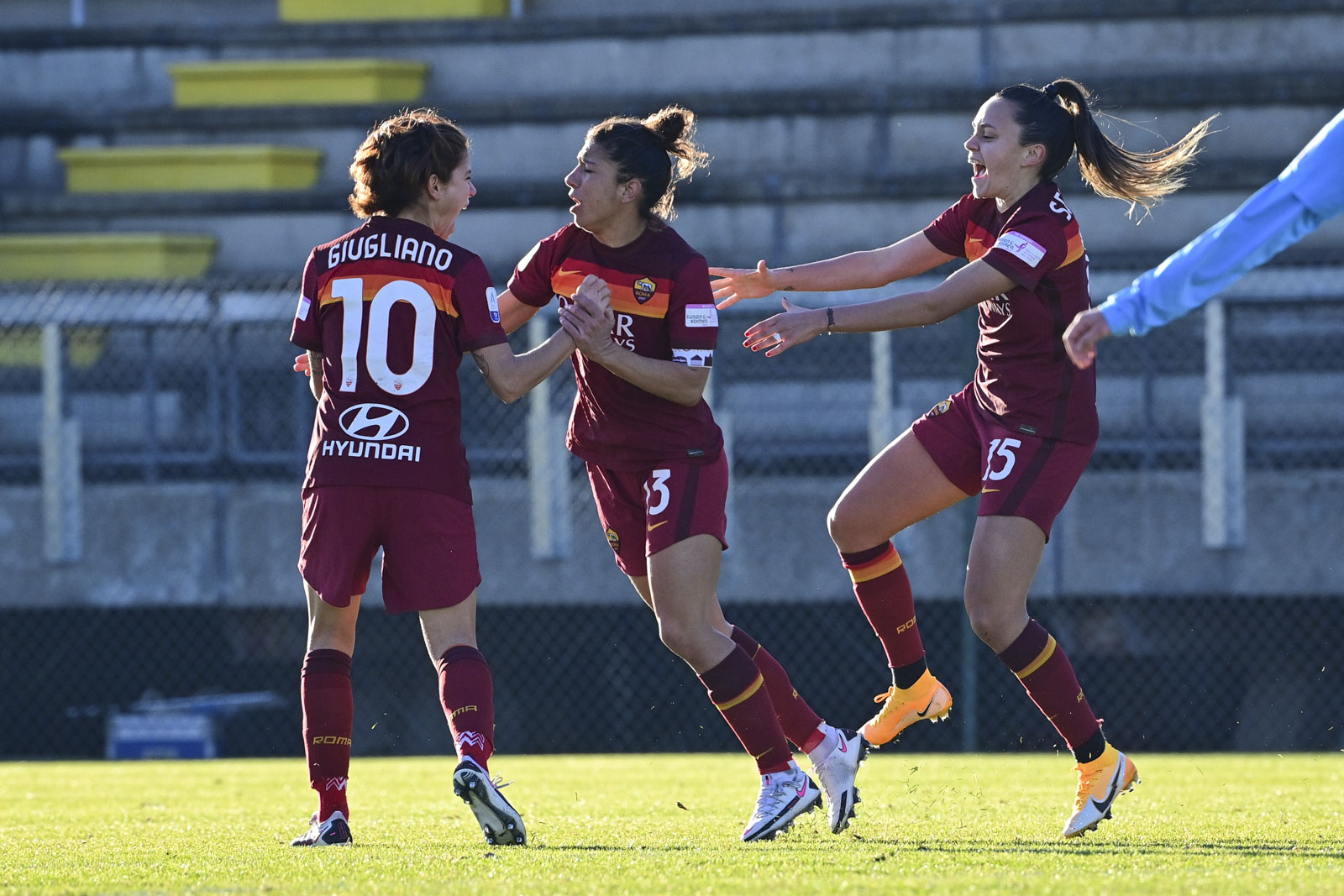 Roma was significantly exceeding Napoli in the Derby Del Sol; they had a moment to put the game away for good, but this Roma team is as inconsistent as any, so there was always a chance of a comeback. Minutes into the second half Roma had that chance a strike from outside the box front Andressa Alves nearly gave Roma the winner, but her strike claimed off the bar. A very fortunate situation for Napoli, who was starting to fall apart in the game. Roma came forward again this time Lazaro tested the goalkeeper are coming in numbers, and they were coming off counter-attacking play but was having some issues finishing off their chances. Annamaria Serturini nearly got her second a few minutes later a well-hit strike from outside the box that just went a little bit wide. However, rotten luck would give Napoli a lifeline when they were given a penalty after a Napoli attacker was being taken out inside the box. They converted as they got their equalizer. it wasn't a goal that they necessarily deserved, but Roma had earlier chances to put the game out of reach, just a sentiment of how this Roma team has looked this season. There was still enough time to get that winner, but they were making this way too difficult on themselves. Less than 10 minutes later, Roma got themselves back and front across and into the box inside to Roma captain Bartoli she connected on a header that hit the post across the line, giving Roma a 3-2 lead. Despite Napoli's best-effort, Roma managed to see out the game as they confirm a victory at last. They still are out of reach of a Champions League spot, but a top-four finish is achievable. Roma made this far too difficult on themselves, but they managed to get the job done, taking the points, which is very important to start the second half of the season. Annamaria Serturini is the woman of the match scoring yet again. As the success and failure of this team largely depend on her performance, she rises to the occasion as Roma wins at last Maybe it's just the performance they need To turn this thing around even if it did take longer than it should.