Following a humiliating loss in the derby and elimination in the Coppa, Italia Roma will try to get back on track this Saturday. This game can be very defining for Paulo Fonseca that is on the hot seat. They host Spezia, a team that just knocked Roma out of the Coppa Italia. Roma must find a way to win this game despite losing on Tuesday; they come into this game as big favorites a primarily because of the events that took place a couple of days ago. Spezia is a newly promoted team but has done well in the last couple of games. History suggests that even though they lost on Tuesday, Roma should find a way to get a significant victory. Roma owns newly promoted teams against freshly promoted teams; they have the best form in Italian football with a record of 23-0 despite this. Spezia just beat them a couple of days ago, so it will be really interesting to see what will happen on Saturday afternoon. Will Roma get back on track after two subpar performances, or will Spezia have something up their sleeve? We will find out all that and more when they go to battle on Saturday afternoon.
A.S Roma Form and Lineup LDWWW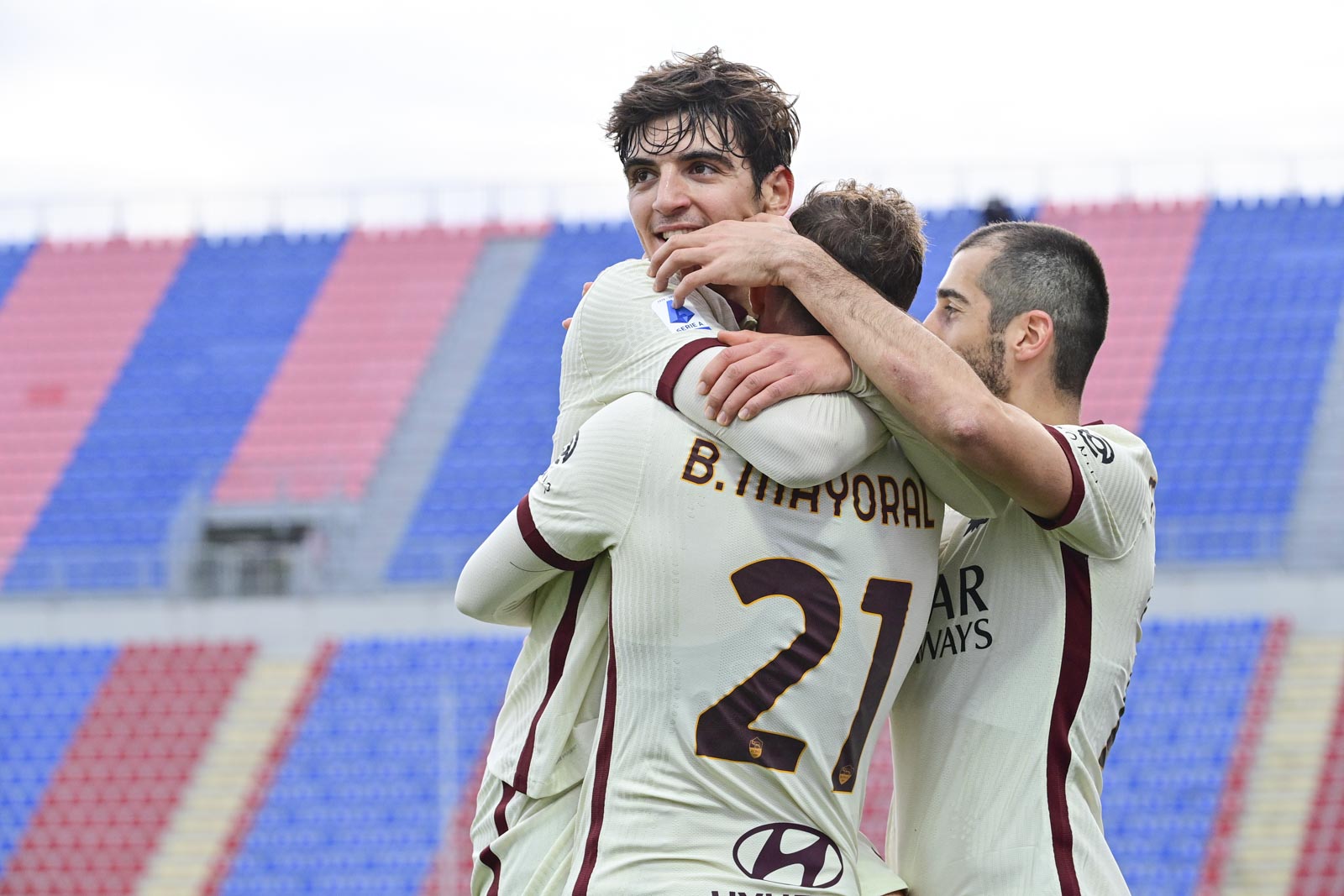 Roma are largely expected to operate out of their usual formation ahead of this critical matchup. In goal, we can expect the Spaniard Pau Lopez, who remains in good form despite his red card in the Coppa Italia. The back three should consist of Rodger Ibanez on the left, Gianluca Mancini on the right, and Chris Smalling in the middle. Their defense has been one of their most robust components but has struggled over the last couple of games; hopefully, they get it back. In at left wing-back, we should expect to see Leo spinazzola and the opposite side as the right wing-back should be Rick karsdorp. In the defensive Midfield, we could see the pairing of Jordan veretout and Gonzalo Villar. in the attacking Midfield underneath, the striker should be henrikh Mkhitaryan, then on the opposite side as the other attacking midfielder is expected to be Lorenzo Pellegrini. Upfront as Roma Central Striker should be edin Dzeko.
Manager: Paulo Fonseca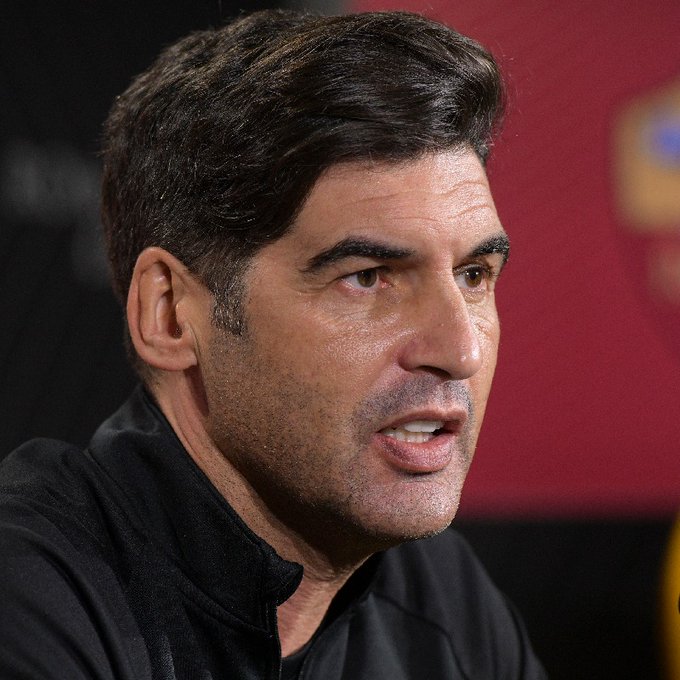 AS Roma (3-4-2-1): Pau Lopez; Gianluca Mancini, Chris Smalling, Roger Ibanez; Rick Karsdorp, Gianluca Villar, Jordan Veretout, Leonardo Spinazzola; Lorenzo Pellegrini, Henrikh Mkhitaryan; Edin Dzeko.
Spezia Form and Lineups DWWLL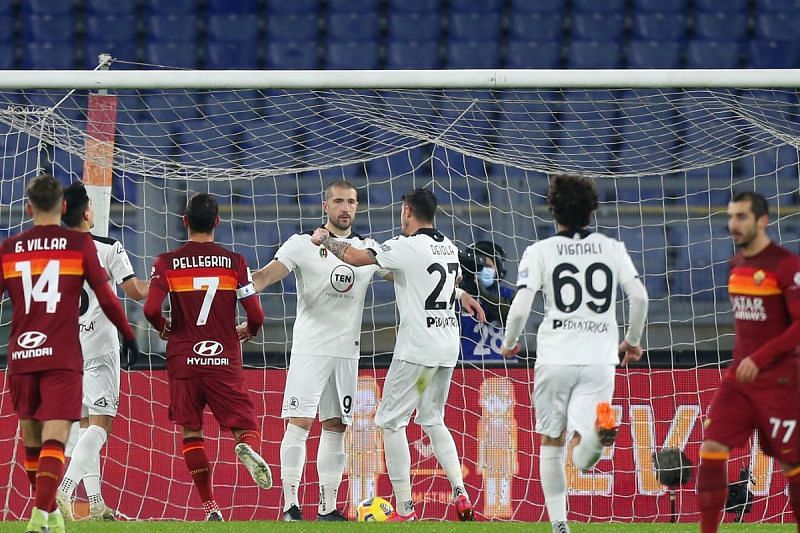 Spezia has turned out to be somewhat of a surprise in Italian football this season. This is a team that was primarily expected to be one of the teams fighting just to survive the season. Spezia returns to Italian football for the first time in over 100 years; they qualified through winning the playoff to get themselves promoted in the league. Initially, the team struggled to earn points and was near the relegation Zone a good portion of the season so far. However, things have started to change as they have picked up a good running form and really look like a team that can make it through the season. They play out of the 4-3-3 formation, and it has been somewhat useful at least recently. This team is filled with many rejects, but they have made it work with the likes of saponara and Daniele Verde. However, the creative Mastermind in the Midfield has been Tommaso Pobega; he has been one of the best-attacking midfielders in the League this season and seems to only get it better with each game. He is a player that has become something special this season, certainly one of the best midfielders in the league during this campaign. He has gained interest from a lot of the bigger teams in Italian football and likely will be departing after the season. Considering how poorly they started, they have to like where they are right now, and beating Roma in the Coppa Italia a couple of days ago will give them some confidence. They haven't registered a loss in the last three games and are getting hot at precisely the right time. They find themselves in 13th Place; even though they are just four points away from the relegation zone, they have picked up some big points over the last couple weeks, and even though they will be big underdogs yet again in this game, they have shown this season that they do belong in Italian football.
Manager: Vincenzo Italiano
Spezia (4-3-3): Titas Krapikas; Jacopo Sala, Ardian Ismajli, Martin Erlic, Juan Ramos; Alessandro Deiola, Tommaso Pobega, Giulio Maggiore; Kevin Agudelo, Andrey Galabinov, Nzola.
Keys to the Game 
Spezia
Get Pobega going 
Keep Momentum 
Use Possession Wisely  
Spezia will have a decent chance in this game; considering what has happened with Roma over the last two games, their confidence seems to be broken. They need to do whatever it takes to carry their momentum from their performance against Roma in the Coppa Italia into the league. Roma will come out with aggression and anger after the frustration. The big thing for Spezia is trying to take that momentum and continuing to play well into this game. It will be a very different environment; there's a big difference between Coppa Italia and the league. In the League, Roma beat every promotion team they face. So they must maintain their confidence and energy ahead of this one. Roma, in all likelihood, will have an advantage in The possession battle. Meaning Spezia will have to take advantage of The possession that they have. They did an outstanding job of this in the Copa Italia; if they can do that and convert their chances, they're always going to have a shot in this game. Again it won't be easy considering the situation, but it will give them a good chance to get at least some results on a Saturday morning. Finally, it is vital that Spezia can get to Tommaso Pobega going if he can have an outstanding performance and really start to show he's capable of he can really make it difficult on a Roma defense that has struggled over the last couple weeks. If they do all these things, I'm not confident that they can win this game especially given The fact that Roma will be much more determined. But I can see a situation that Spezia takes the right approach; they could get a point and end Roma's hot streak against newly-promoted teams.
A.S Roma
Neturalize Ciro  
Finish chances 
Avoid Defensive Mistakes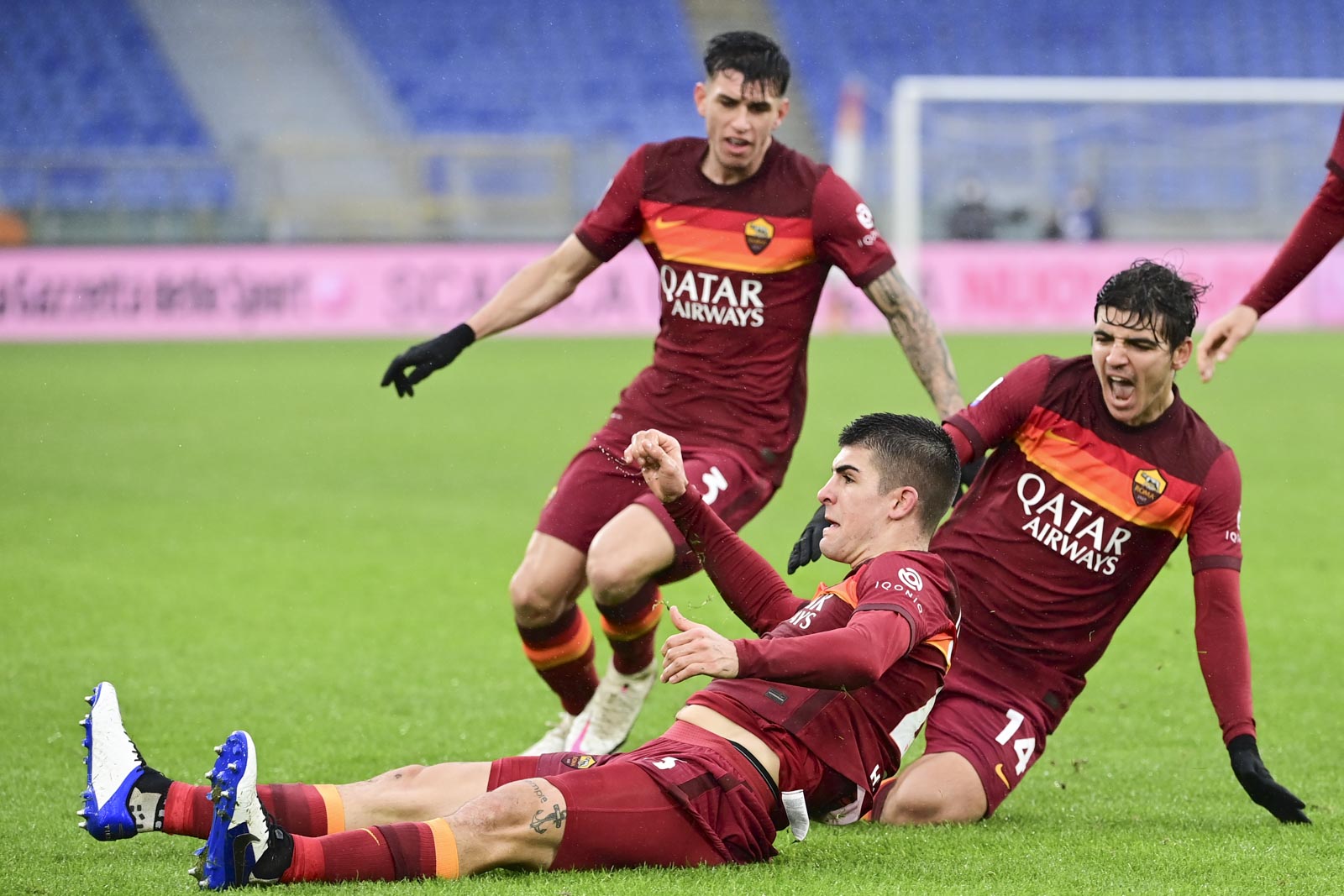 Roma is coming into this game following two horrible performances, humiliation in the derby and a collapse in the Coppa Italia on Tuesday. Roma doesn't have any sense of confidence or momentum going for them in this moment; they need to do whatever it takes to get that back. Having another shot against Spezia a few days after being eliminated from the Coppa Italia will give them a sense of determination. First things first, Roma absolutely must come out with aggressive energy and playing with courage. They struggled with their aggressive nature in the last two performances, and it is largely why they struggled so much. They must come out with the right mentality they must go after it and be determined to get the points. Roma still is in 4th Place still in the driver's seat for Champions League football, but that could slowly fade if Roma doesn't get it together. Secondly, they must finish off their chances. They cannot waste the chances and especially because they will likely have the bulk of the possession. Roma must put themselves in the best position to convert in front of goal. Roma is a counter-attacking team that is going to create opportunities for themselves; the key is going to be putting those opportunities to bed. Then finally and arguably the most important, they cannot make defensive mistakes. Lopez made an egregious mistake on the red card but outside of that, he has been incredibly consistent Roma should not worry about what they have in goal; what they should worry about is the defensive mistakes that have been made over the last two games. Roma must eliminate them as soon as possible and can't put themselves in harm's way. If Spezia even gets the point, Paulo Fonseca will lose his job. How they perform defensively will largely determine whether or not this team can get into the Champions League next season. In terms of defensive personal, they have one of the best units in the league, but they have been underperforming over the last couple games, and they mustn't make a mistake that leads to a goal. Strong defensive performance is absolutely required, or they will fall flat again. If they can have a defensive master class or even a reliable performance defensively, then Roma all likelihood will win this game, but it's going to come down to them not making mistakes doesn't make things easier for the opposition the necessary. Play with confidence, aggressiveness and defensiveness show that is still one of their strengths and show the last two games was just a blimp. At home, especially after losing in the Coppa Italia.
Players to Watch 
Henrik Mkhitaryan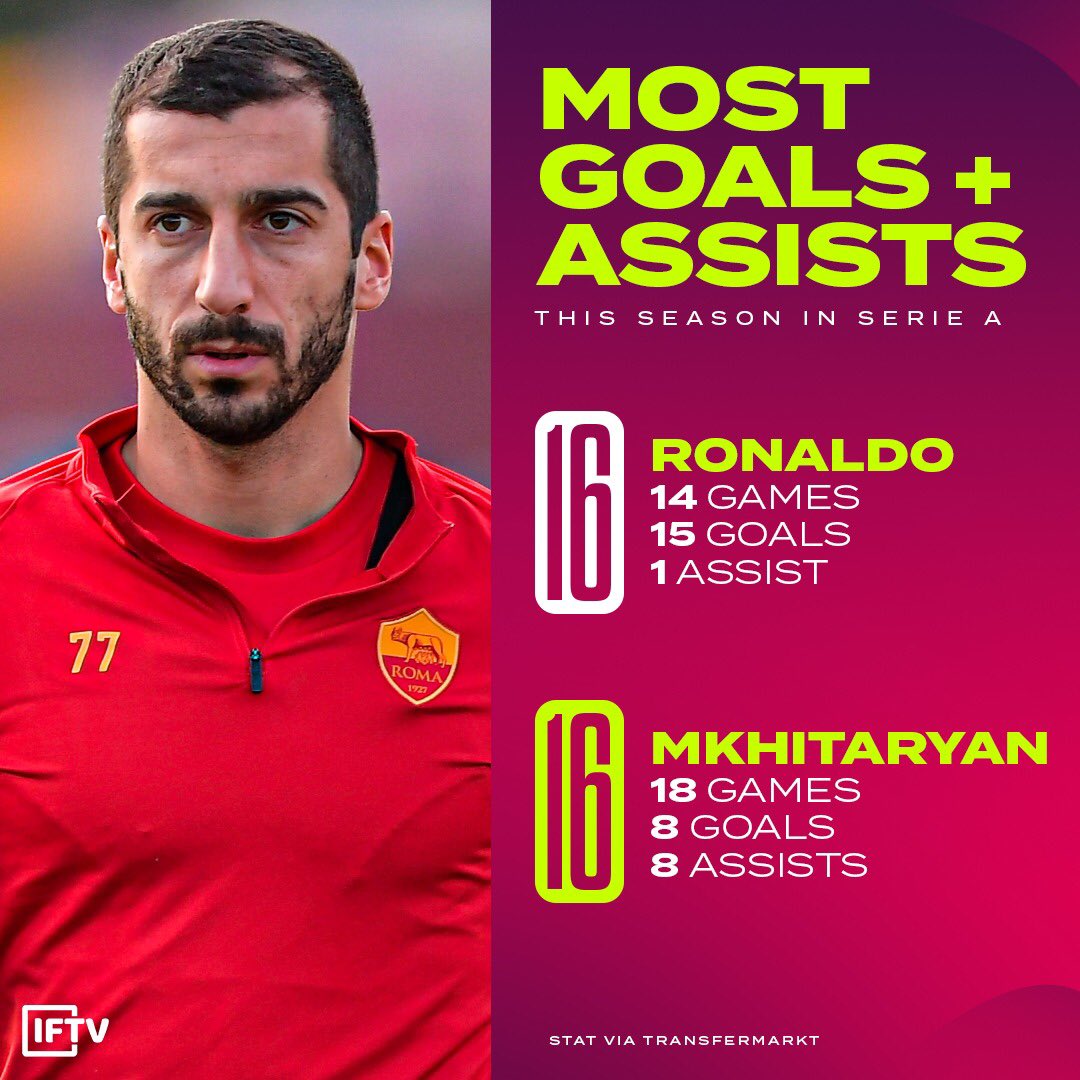 Tommaso Pobega
Prediction: I see Roma winning this game 2-1, but it won't be an easy task. Spezia will give them everything they got.
Match Details
Date: Sunday, January 122nd 2021
Venue: Stadio Olompico
Kickoff: 8:00AM (USA) 2:00PM (ENG), 3:00PM (ITA)
TV Broadcast: Sky Italia, ESPN+