Score: A.S Roma 3 Hellas Verona 2FT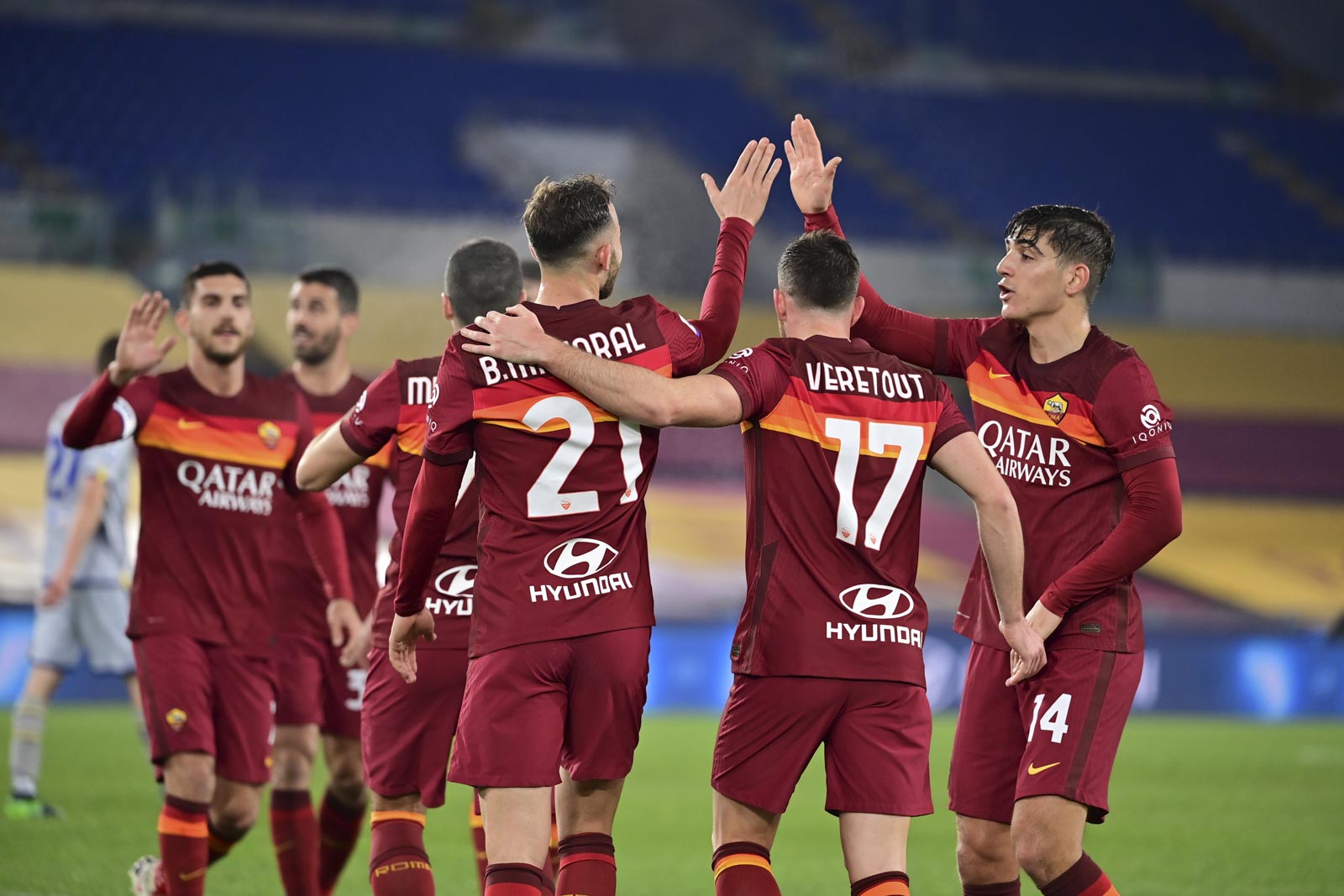 Following a dramatic 4-3 Victory against Spezia over the weekend, Roma tries to keep things going against Hellas Verona. Roma remains in the top three as they have a massive match against Juventus upcoming this was going to be quite a test as Hellas Verona is a very strong team. In the reverse fixture Roma played out a 0-0 draw with Verona, but the match wrongfully given as a 3-0 forfeit because of an accident on mistake this was an opportunity not only for Roma to try to amend that mistake and get a big three points against Verona but potentially could give them that votes momentum and confidence ahead of a big match against Juventus next weekend. It took a little while for the match to get some life; unfortunately, the Roma Chris Smalling had to leave the game because of injury. However, the game grabbed some life following the Englishmen being taken out. Coming off a set-piece Gianluca Mancini connected on a header that gave Roma a 1-0 lead. Minutes later, Roma got themselves another one. Bojar mayoral caused the goalkeeper to come out of the box. The Spanish Striker, instead of trying to score himself, supplied an excellent pass outside the box to henrikh Mkhitaryan; the Armenian struck from Deep as he gave Roma a 2-0 lead follow his bullet strike. Then yet again, Roma scores this time. It was bojar mayoral who found the back of the net after Marco di Silvestri made a save on Lorenzo Pellegrini. Mayoral picked up the scraps as Roma took a 3-0 lead. It was a completely one-sided first half as Verona only registered one shot during the opening 45 minutes. In the second half, it was more of the same, at least initially. Hellas Verona played much better, trying to put themselves in the best situations possible. Even though Roma did have the advantage and was the better team throughout this match, Verona wasn't going to go down without a fight. They were looking for the right moment. Roma was defensively looking much better as it seemed as they made improvements. However, they did have a moment of weakness as Colley came through mutually by himself. He supplied a header that Lopez was unable to deal with as Verona minimized the deficit. Outside of that one chance, Hellas Verona didn't show all that much. It was their only shot on goal the entire game. They had some opportunities they should have done better with; they didn't threaten all that much outside of that chance, even though they played significantly better in the second half. Roma had already built up a big lead, and on this occasion, Hellas Verona didn't have enough to come back. If it wasn't for Marco di Silvestri, it honestly could have been even worse; he was on his game; if he weren't, Roma probably would have scored more goals. They came close on numerous of opportunities in the second half as well in what was a more or less dominating display from Roma. With Juventus a week away, this is precisely the type of performance that Paula Fonseca's side required. With Stephan El Shaarawy and Brian Reynolds joining the team officially starting next week, they were in need of an emphatic performance and they got one. Roma outplays Hellas Verona in a 3-1 victory for Paulo Fonseca's side. Even without edin Dzeko, Roma answers the Bell and delivers with a much-needed performance; they continued their unbeaten run at the Stadio Olimpico. a challenge awaits, but Roma took care of business in a dominating fashion, all smiles at the Stadio Olimpico.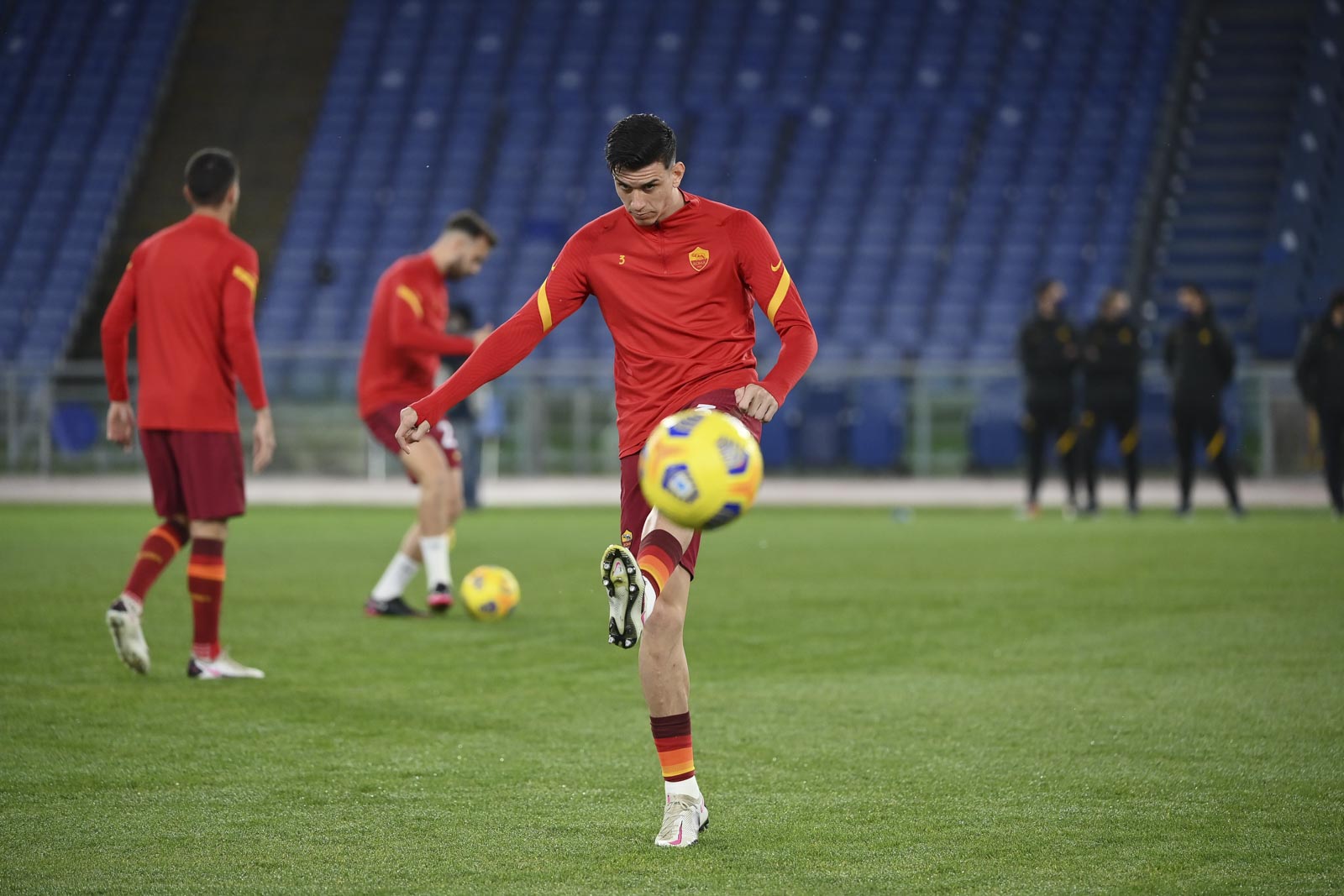 Paulo Fonseca would set up his Roma team out of the typical 3421 formation. Remaining in between the sticks would be Pau Lopez. The three center-backs would consist of Rodger Ibanez on the left, Gianluca Mancini on the right, and Chris Smalling centrally. At left wing-back would be Leo spinazzola on the opposite side, at right wing-back would be Rick karsdorp. In the defensive Midfield, we would see the pairing of Jordan veretout and Gonzalo Villar. In the attacking Midfield, on the left would be Hendrik Mkhitaryan, then on the opposite side on the right would be Roma Captain Lorenzo Pellegrini. Then upfront, as the central Striker coming off a two-goal performance last week would be a Boja mayoral. Roma would have options off the bench if needed.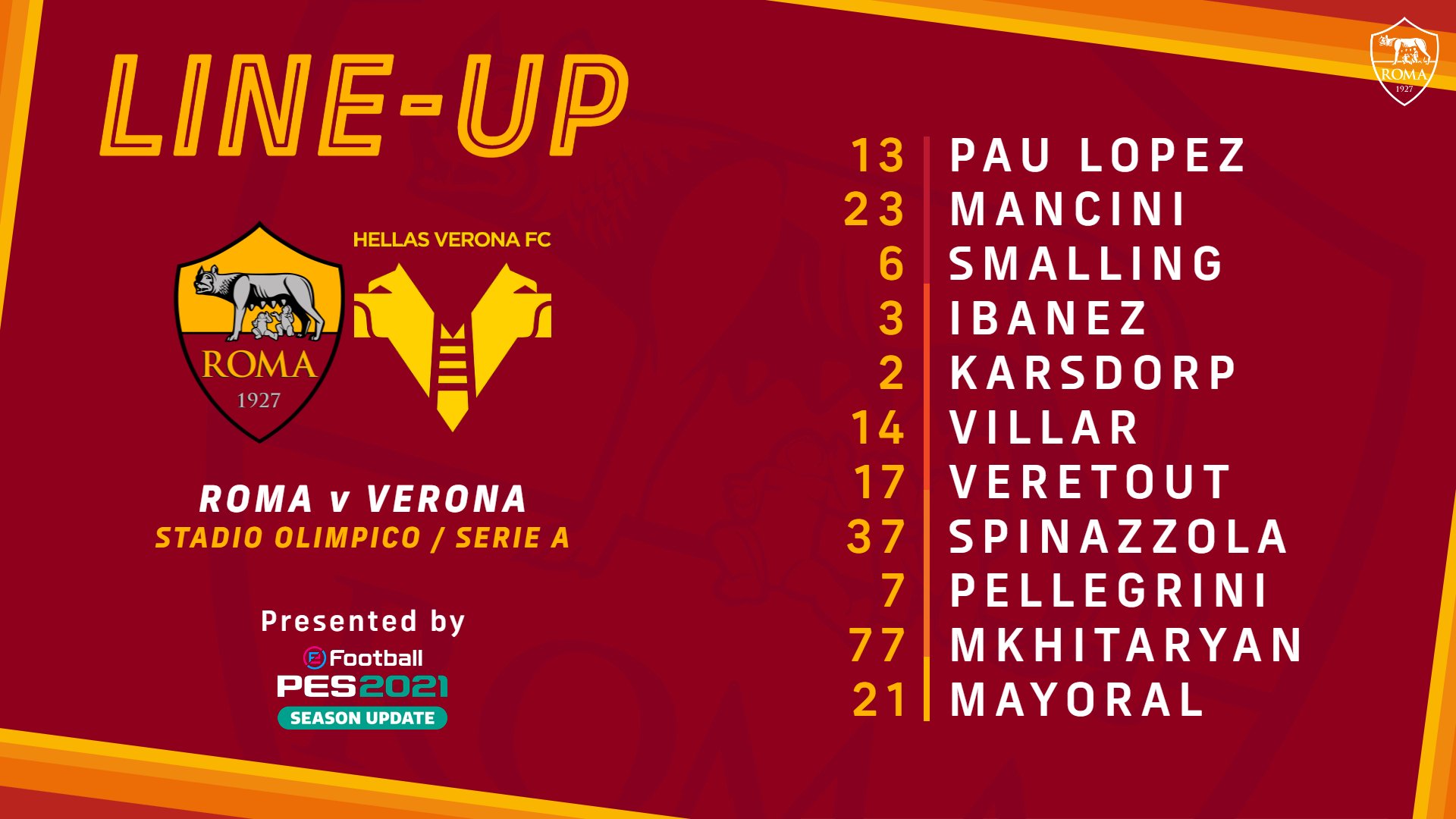 After preparations and predictions, the match was just about getting underway at the Stadio Olimpico against Hellas Verona. A team in which they lost a forfeit to in The Opening match of the Season. It was Roma's opportunity to get revenge on them and continue to push themselves towards the top of the table. The game didn't have much life, at least at the beginning of the first half. No real significant chances early in the game. Unfortunately, Chris Smalling would pick up an injury forcing Max Kumbulla into action. Not long after Roma's first change of the match, Roma got that opportunity they were looking for, and they converted on it. In the 20th minute following a corner Gianluca Mancini connected on the header as his ball was untouched finding the back of the net to give Roma a 1-0 lead. 2 minutes later Roma hit again in the 22nd minute following an incredible through ball inside to Boja Mayoral the keeper came out the box the Spanish Striker made the right decision instead of trying to go for goal while the goalkeeper was out of position he cut over supplying a pass into henrikh Mkhitaryan who hit a missile from Deep into the back of the net to give Roma a 2-0 lead. It would be henrikh Mkhitaryan's 10th goal of the season. Then, believe it or not, they would hit again for the third time inside of 10 minutes. In the 29th minute, Lorenzo Pellegrini hit a vicious strike at the goalkeeper di Silvestri made the save. Still, it landed at the foot of Boja Mayoral, who controlled before hitting the strike into the back of the net to give Roma a 3-0 lead. It would be his ninth goal of the season as Roma were on fire. The most dominant first-half performance since the bologna game. A couple of minutes later, Roma tries to Extend even further when henrikh Mkhitaryan miss-timed his strike from the middle of the box. Roma would play out the remainder of the first half. Still, after 45 minutes, it was a 3-0 lead for Roma, a truly dominant display with the goals coming from henrikh Mkhitaryan, Gianluca Mancini, and bojar mayoral.
Mancini, Miki and Mayoral all score as Roma scored 3 times in 10 minutes as Roma run out to 3-0 lead.
It was a first-half dominated by Roma, who scored three goals in a span of 10 minutes. Hellas Verona ended up going to the bench as they brought on new signing Kevin lasagna, and they try to get themselves back into it. However, as far as I'm concerned, in the opening parts of the second half, that wasn't really effective. Roma ripped off three chances immediately. Bojar mayoral header from close range just narrowly missing. Followed by Leo spinazzola striking from the side of the box and Jordan veretout not having the accuracy necessary from his strike from close range. Verona was doing what they could to try to at least get some energy back into their team. It seemed more of the same as Marco di Silvestri makes a great save on Leo spinazzola just a few minutes later. Hellas Verona didn't get very many opportunities in the second half, but when one arrived, Colley wasn't going to be denied. The Verona midfielder was unmarked as a cross came into the box; he got on the end of it, converting a header past Lopez. Roma defensively was much better defensively the may have been the last couple of games, but unfortunately, there was a lapse in that area at that moment. However, it didn't necessarily become a momentum shift as Roma, by all accounts, still looks like the superior team. Jordan veretout nearly scored but found it challenging to beat Marco di Silvestri the Verona goalkeeper came up big to prevent an onslaught of Roma chances. With about 20 minutes ago, Bryan cristante entered the game in replacing Gonzalo Villar. Late on, Kevin lasagna, in what seemed like their last legitimate chance to score, missed. Carles Perez, Bruno, and Diawara all entered the game in the closing moments as mayoral, Rick karsdorp, and Jordan veretout make way. Verona had a late chance at the very end, but the attempted shot was blocked and dealt with by Rick karsdorp as the game ends with Roma coming away as 3-1 winners. Precisely what the doctor ordered as a Roma put together a dominating display against a very strong team just a week before a game against Juventus. Lorenzo Pellegrini will miss that game due to suspension, which is unfortunate, and Chris Smalling did get injured, but outside of that, it was an awe-inspiring Roma performance.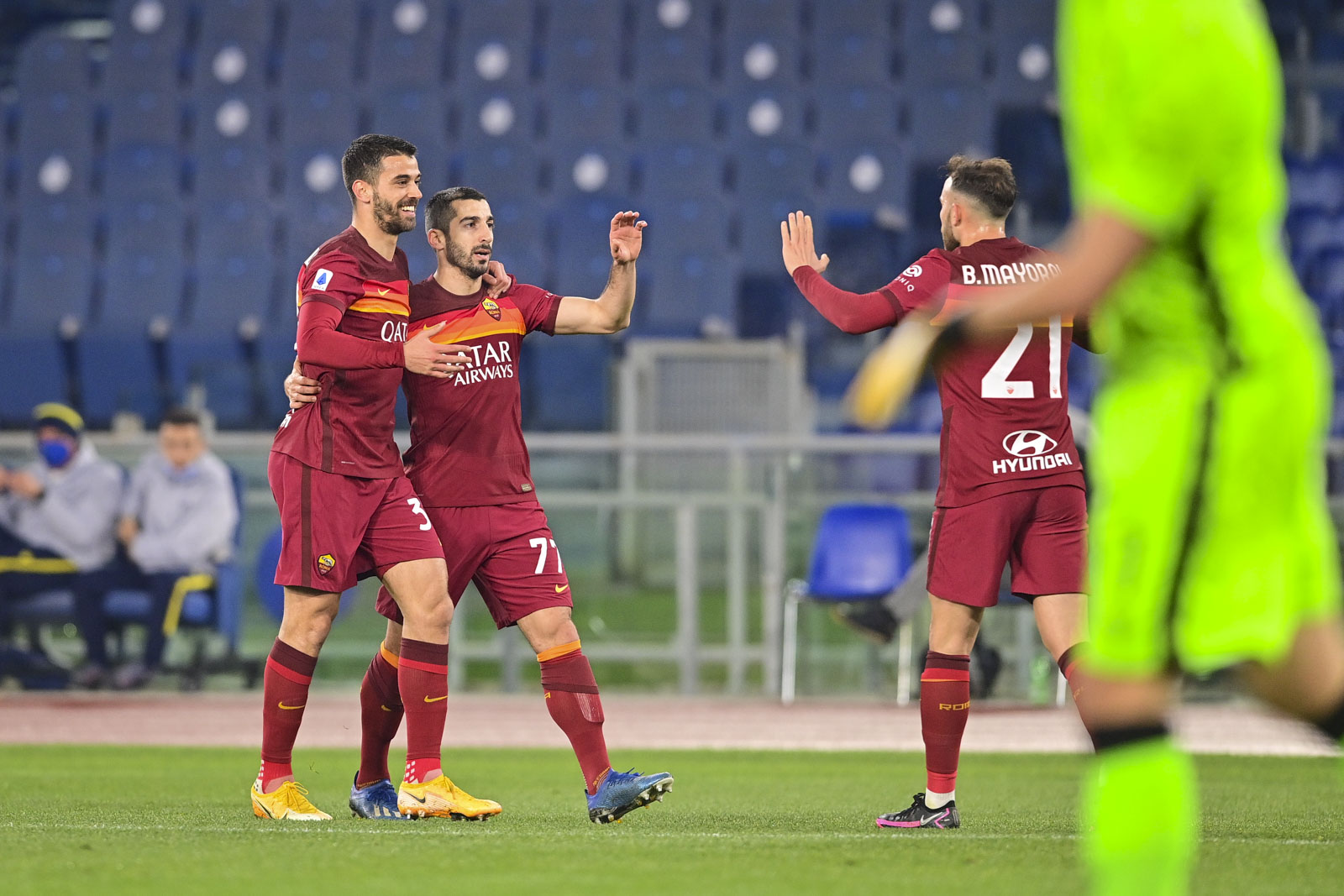 Roma glide to the three points as Roma win back to back 
Roma got the collective performance that they needed. after a less-than-stellar run of form in the cup and the Derby against Lazio and to a certain extent of their Victory from a week ago. Roma put together an excellent performance against a very strong Verona team that has given several teams this season some issues, including Roma. Roma has a big game against Juventus and needed an inspirational performance to provide them with some confidence. We all know Roma does not have excellent form against the top teams in the league, but to give them their best chance of that game and they needed a performance to hang their hat on, and they indeed went out and did that. With everything that's going on with edin Dzeko, Roma wanted to prove that they can win without him because whether he gets or move or not this season, it's unlikely he will wear the Roma Jersey ever again. Boja Mayoral is my man of the match, yet also showing his quality in this team. Without edin Dzeko, the Spanish International comes up big yet again. he has now scored in mutually every start he has made in the League this season. He bagged his sixth goal in the league; the dream may not have been beautiful; he was just in the right place at the right time. However, in addition to all that, his assist to set up Mkhitaryan was a moment of pure intelligence; a beautiful pass set him up outside the box, providing a one-on-one mutually. De Silverstri comes outside the box to try to deal with it; he has by himself with him in the goalkeeper instead of trying to shoot from a very acrobatic angle, he sees his teammate open from outside the box, and the Spaniard made the right play finding the Armenian which ultimately led to the second goal. Another outstanding performance from him is proving that he is capable of being the starting Striker this season. He already has nine Roma goals in all competitions, which is astounding considering the number of minutes he has played this season. Roma has found a bargain with his kid, and he's proven that over the last couple of games. When he has played, he has been excellent outside of the cup game. The Midfield played well together that feeding into the attack, Mancini did well to get that goal, and other than the one goal, Roma performed very well defensively. The only downsides to Performance unquestionably come down to Lorenzo Pellegrini's Yellowcard that will keep him out of the game against Juventus and Chris Smalling's uncertainty, who had to leave the game after 10 minutes. Against Juventus, it will be a different type of task but getting that winning feeling against a good team certainly gives the team some momentum. There's no denying that there's a challenge ahead, but that is precisely the type of performance that was needed to provide themselves with the confidence and momentum to go against Juventus and hoping to get something from the game. after all the criticism and the toxic stuff that has gone on lately, the Roma team has a sense of belief about them. Hellas Verona is no pushovers; they beat Napoli, Lazio and have taken points from AC Milan. Tonight at the Stadio Olimpico, Roma completely dominated them as Roma made them look mediocre. If it wasn't for the goalkeeping display from Di Silvestri, it could have gotten a lot worse. Roma makes a statement here whether or not this Victory will follow an excellent performance against Juventus will have to wait and see. Still, Roma keep their unbeaten run at home going, and with the additions they have made in the last 48 hours, they will only push them to put up a real fight against Juventus Roma step up and get the points following a 3-1 Victory against Hellas Verona.
TOP OF TABLE
1. A.C Milan 14-4-2 46Pts
2. Inter 13-5-2 44Pts
3. A.S Roma 12-4-4 40Pts
4. Juventus 11-6-2 39Pts
5. Napoli 12-1-6 37Pts
6. Lazio 11-4-5 37Pts
BOTTOM OF TABLE
15. Genoa 5-5-10 20Pts
16. Spezia 4-6-10 18Pts
17. Torino 2-9-9 15Pts
19. Parma 2-7-11 13Pts
20. Crotone 3-3-14 12Pts
MAN OF THE MATCH: Boja Mayoral 

Next Game: @ Juventus Saturday February 6th