Lorenzo Pellegrini OUT for Juve and Chris Smalling Injured 
It was a terrific Roma performance. There's not much and negativity to take from this game whatsoever; however, there are some concerns regarding what could happen on Saturday. Lorenzo Pellegrini has recently been given the armband; he is the captain of the club. It was yet another encouraging performance from him last night, but sadly, he will not be able to take part in a very defining match against Juventus. Roma and Juventus are only separated by a minimal amount of points. We know how good Juventus have been at the Allianz Stadium. Roma will go into this game as massive underdogs, not to mention the fact that they have struggled in big games. Lorenzo Pellegrini picked up a yellow card, making him unavailable as he is suspended for that match. Fortunately, Stephan El Shaarawy will likely fill in for him, making his Second Debut after rejoining Roma this week. Stephan El Shaarawy has not played competitive football in several months. Roma makes an excellent signing in getting him to the Stadio Olimpico, but it is to be seen if he will be able to do on Saturday against Juventus; if he doesn't start, then Pedro Rodriguez will come in for him. Pedro started the season in really good form. Still, his form has dipped slightly over the last couple of games, so hopefully, whatever they do, they may not be able to contribute what Lorenzo Pellegrini can. Still, at least it can be enough to provide attacking options on the right-wing. Another thing Chris Smalling arguably Roma, the best center back, may miss the game because of injury. He had to leave the game yesterday; after 10 minutes, he was replaced by Max kumbulla, who played really well; however, it seems unlikely Chris Smalling will be able to play against Juventus. Rome has strong defensive options but they have not played well the last couple of games; even though they performed pretty well yesterday, it will be slightly risky, especially because they're facing Cristiano Ronaldo. The best player on Juventus is Weston mckennie by quite a distance, but from a physical standpoint, Ronaldo can be a problem for them. It's Roma collapse defensively with Smalling out it will make the game significantly more difficult. Roma can get points off of them, but the absence of Lorenzo Pellegrini and Chris Smalling could be broadly impactful on the performance we see from the Romans on Saturday. The performance itself should drive them at least to play well and give themselves a chance in this game, but you cannot swipe it under the rug Lorenzo Pellegrini and Chris Smalling are massive losses; everyone else is going to have to step up if Roma is going to get the result in the end.
Dreadful Verona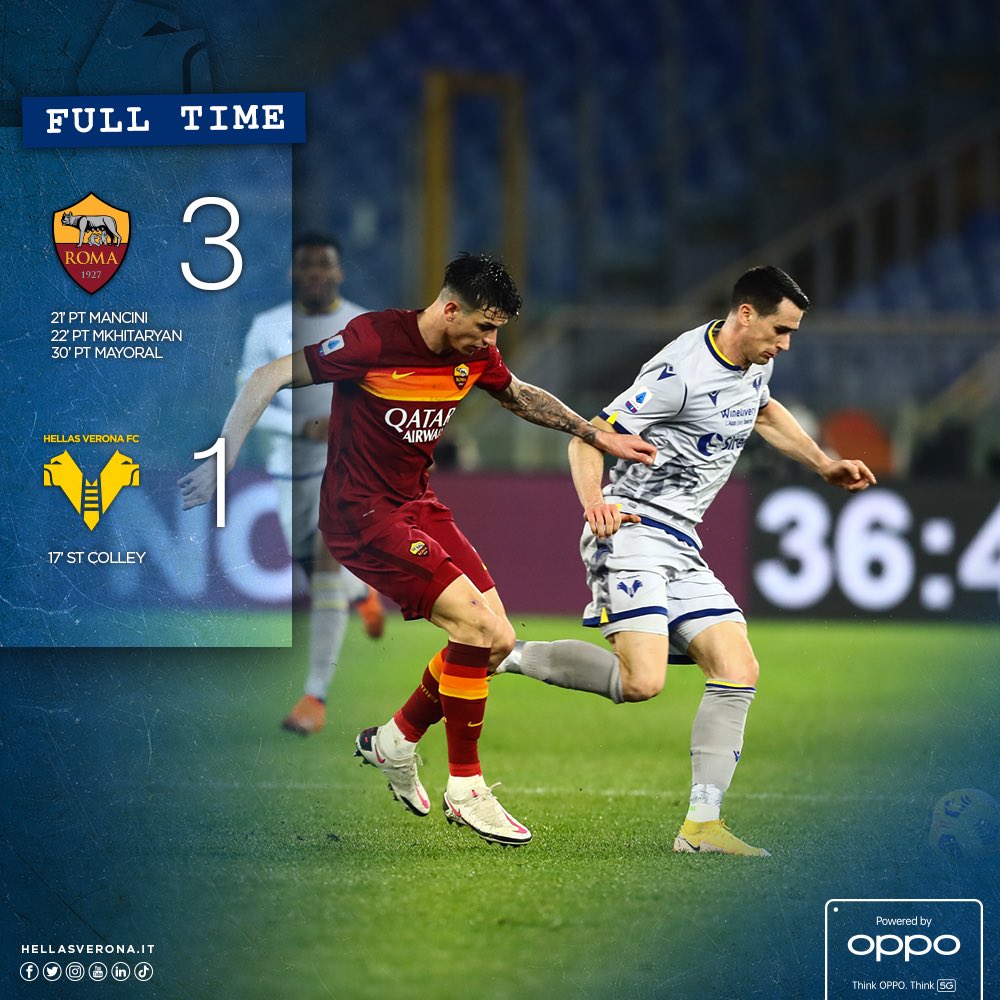 Hellas Verona, yet again, has been one of the surprises of the season. This is a team that has consistently performed over the last two seasons. They went from promotion last season to a team threatening Europe at some point during the last campaign. This season even though they're unlikely to make European football, they have been very impressive considering the fact that they lost three of their best players in the transfer market. Hellas Verona this season has even been able to show up against some of the bigger teams. They have taken points off AC Milan and Roma in the first meeting and even beat Lazio and Napoli. Against a Roma team that seems to have struggled in the crucial matches, this was set up for Hellas Verona, at least to put up somewhat of a performance. It was utterly disastrous in a 10 minutes span; they can see the three goals would basically put the game on Ice before the second half. It was atrocious they did not put anything together in the attack; they only had one opportunity to score, and fortunately, they were able to convert, but they did nothing outside of that. They had a few changes here and there that maybe they could have done better with, but from start to finish, they were incredibly underwhelming in actuality; they are fortunate that it wasn't worse than it ended up being. Marco di Silvestri played out of his mind against Roma. Roma attacked played with connectivity and belief it made things very difficult on the Verona backline that was going into the game had the best defense in Italian football Roma ripped it to shreds. Verona may not have an attacker that can provide them with a large number of goals, but they have enough in their team to at least put up a fight against Roma, and the reason I say that is because we've seen it in many big games this season in which they have performed. Roma put together an awe-inspiring performance Hellas Verona has enough quality to at least have made that a challenge to Roma that match was easy. It was one of the most dominating displays of the entire Roma season. Marco di Silvestri made many big saves vital moments if it wasn't for the goalkeeping display, the match could have been a lot worse than it was. This isn't necessarily a cause for concern for Verona, but it is an incredibly bad look especially considering coming into the game they had the best defense in the league.
Edin Dzeko not needed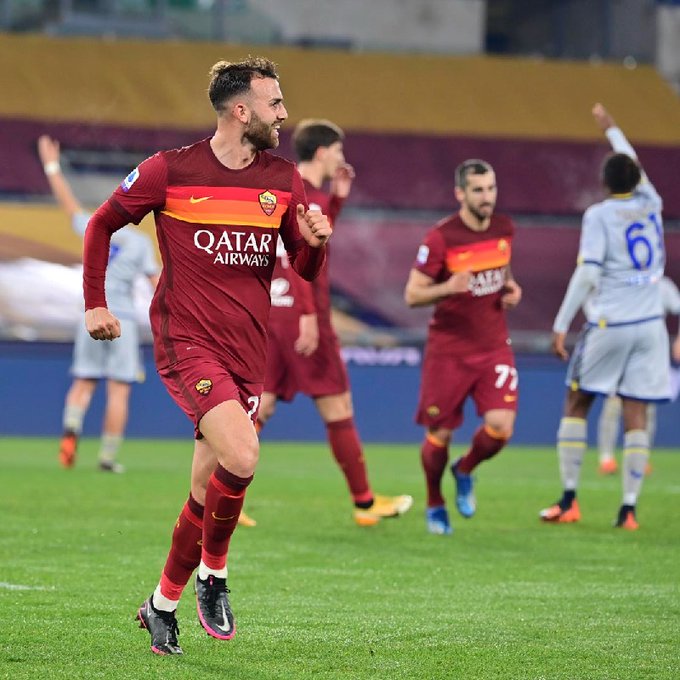 Roma's performance last night at the Stadio Olimpico was nearly perfect. A gritty, collected performance against a very strong team. Hellas Verona may not have the reputation of a massive Club. Although they have picked up some pretty big results this season and last season, they have put up a fighting display even in the games they have lost. However, last night's performance of near perfection. It's well aware of the rift between Paulo Fonseca and edin Dzeko Roman try to move him before the transfer window closed. Still, they were unable to; with this being said, it has seemed unlikely that he will play again this season given the situation; however, this performance proved that he is not as necessary as it may have seemed. Bojar mayoral was initially brought in to be a backup Striker to edin Dzeko; given the situation he has more or less become Roma starting Striker as we can expect that he will maintain his post for the rest of the season. Coming into this game, he had five League goals this season, most of which came against the bottom of the table. This was a real platform for the young Spaniard to perform at a high level. As I said, he has had a better season than edin Dzeko; so far they bought him from Real Madrid for 15 million, now it's starting to look like one of the bargains of the season. He has nine goals and six assists this season; his goal to game ratio is incredible, and his goal contribution is incredibly impressive considering the number of minutes he has played this season. He has proven over the last couple of games that he can be a starting Striker for Roma. What happenes next year, we'll have to wait and see, but he has earned the right to be heavily involved not only this year but in the years to come. Yesterday he found the back of that again, and on top of that, he's got an assist to Mkhitaryan was the play of the game. Causing the goalkeeper to come out of his box instead of scoring himself, he used his intelligence, ultimately giving a pass to The Armenian, who scored Roma's second goal. The young Striker is a capable goal scorer, and his only seems to get better each game he plays against a strong Hellas Verona side; he proves his value in this team; the kid has something special all he needed was proper game time to show it. On top of his performance, the entire team collectively played well together. This was precisely what they need especially with a game against Juventus coming up. There was some inconsistency over the last few games before their Victory yesterday. They needed an infusion of momentum in confidence. After dismantling a strong Hellas Verona side as easily as they did, they certainly have reasons to believe that they can go to Juventus and take them out. It was a collective performance from all areas, arguably one of their best performances of the entire season. This team should not and does not need to rely on edin Dzeko; they have a striker capable of filling in that role, and quality player throughout the squad was Stephan El Shaarawy coming in as well as Bryan Reynolds; this team can do something special the second half of the season and the way they played against a strong team like that we're only even more so give the team confidence and momentum that was needed. The edin Dzeko situation is truly unfortunate,, but as it showed yesterday,, he's not needed,. This team is capable of achieving their goals and Ambition without him involved whatsoever. The performance was exceptional, and it only gives them an infusion of momentum and confidence at precisely the right time will they take down Juventus will have to wait and see, but that's exactly what this team needed.