Filp Kostic vs Hoffenheim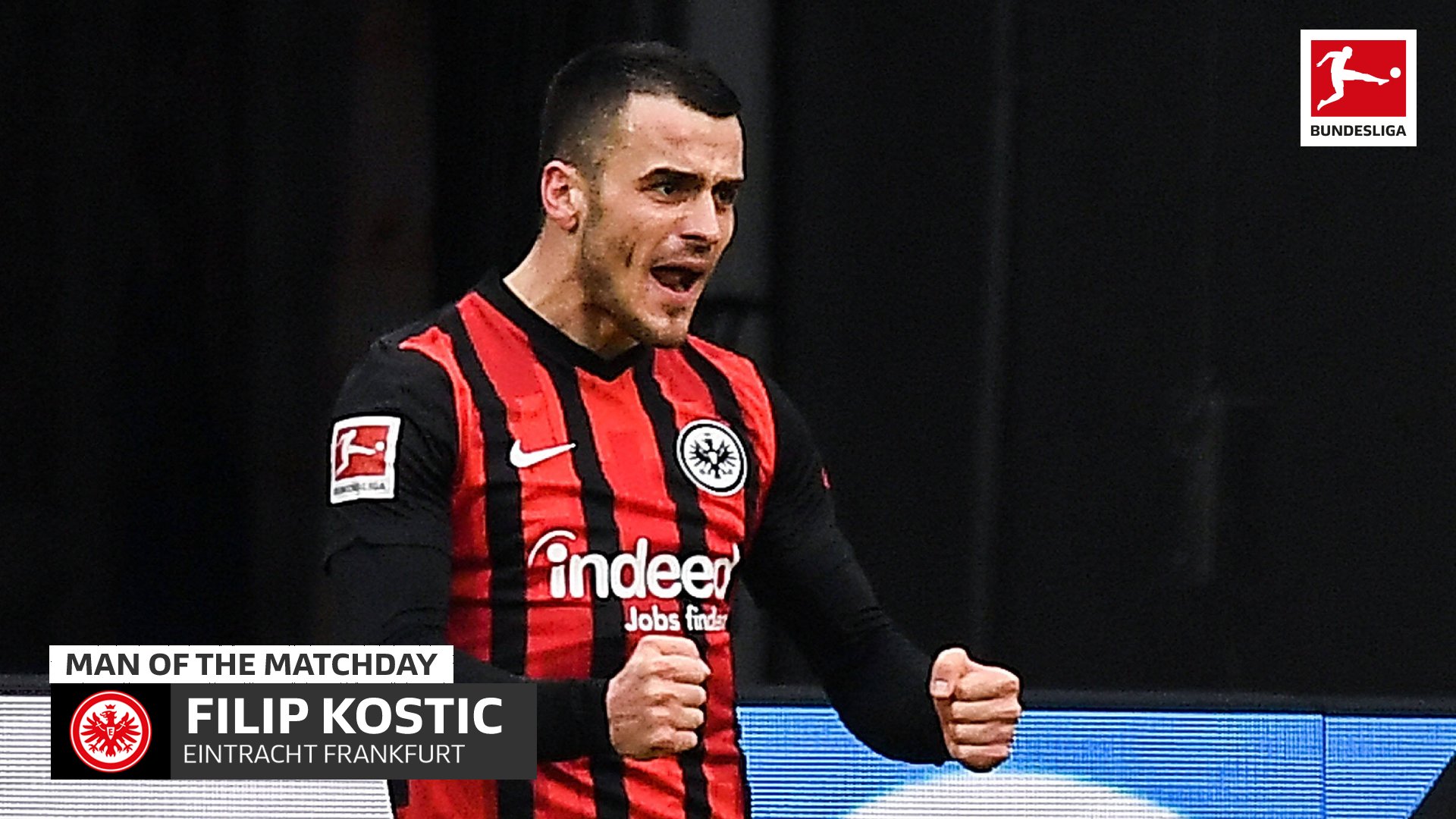 Frankfurt has been one of Germany's most in-form teams since the start of the new year. They are team that looks like they're chasing down Champions League football obviously competition with Wolfsburg and Bayern Leverkusen for that fourth and final Champions League spot. Frankfurt obviously is being led by Andre Silva who is having the best season of his career not only that he is one of the best strikers in European football this season. Alongside Luka jovic that since joining Frankfurt on loan from Real Madrid has shown his qualities in this team. The credit and the admiration a lot of time is going towards Andre Silva. In all fairness he deserves everything that's been thrown his way as he has redefined himself in Germany after failing to deliver at AC Milan. He deserves all the credit in the world and has been the second best player at the striker position in the Bundesliga. As far as Frankfurt as a team the credit that he gets sometimes undercuts some of the unsung heroes who are equally as important to Frankfort as on face over even if you want to say not equally there are other players that are delivering weekend and week out and don't get discussed in the same light very off however this week against hoffenheim no one is going to ignore him anymore. If you watch the Bundesliga you know exactly who I'm talkin about. Filip kostic one of the most underrated players in the entire league. He had an up-and-down start to the season for once he felt his comfort with this team he has been one of their best players. Andre Silva scores the goals and comes up in big moments and he deserve the credit that we give him but Filip kostic has been incredibly influential in Andre Silva having such a good campaign. He's not the sole reason under silver is a bad MF but a lot of his service comes from Filip kostic. Easily one of the most underappreciated players in German Football. He doesn't put up the most enormous numbers and I think as a whole football has become too stats obsessed. Largely why a player like Filip kostic doesn't get the praise that he probably deserves. needless to say his individual performance I can't oppenheim in Frankfurt 3-1 victory might be one of the most singly impressive individual performances of the entire Bundesliga season. Filip kostic was somewhat responsible in all three of the goals scored and under other circumstances could have even had more goal contribution then he ended up happening. Frankfurt are back in a Champions League place and filled caustic is a big reason why. Arguably the best performance in Europe this week. Not only with the outstanding but he also satisfies the statistical argument. A goal and two assists being supplied with the most influential performance of the weekend. Filip kostic is extremely athletic and may have the best cross of the ball in Germany outside of Joshua kimmich. He sees the field exceptionally well incredibly intelligent young player that can do a lot of really incredible things with the ball. He operates at a high function at level with the ball and was out of the book his movement is pretty outstanding maybe not to the Joe Felix level but in terms of Bundesliga his footwork and movement are certainly among the best. The game that truly kicked off when Filip kostic put together an incredible counter-attack. This is one of the things that happened this week he kept on getting Frankfurt and counter-attacking situations and more times than not they threatened in a very dangerous way. he kicks off the mats counter-attacking football Inside the Box deep strike finding that bottom corner perfectly picked out as he gave Frankfurt the lead in that game. That was the one sequence in which he attacked himself the rest of his performance was based on facilitating for his teammates. especially dangerous on set-pieces a lot of well hit balls into the box essentially trying to make things simple for his teammates. Andre Silva is the team's best player but the impact of Filip kostic should not go ignored his play not just in this game but in the majority of the games this season is very contributive and how the team can attack and exploit their opponents. Filip kostic supplied a beautifully hit ball on a free kick a deep cross into the box that ended up on the head of his teammates before converting that into the back of the net. That'll was outstanding with the most impressive part about that sequence was the distance in which the ball came from very few people can hit the ball from so far out so accurately placing it perfectly he placed that ball exactly where he wanted it and his teammate took care of the rest. Filip kostic then hooked up with Andre Silva late in the game to finish off hoffenheim. On another counter attack he got the ball into the box is it the way she when it looked like he was going to shoot and then he turned hit a beautiful cross at a very difficult space in for Andre Silva. They have connected on a multitude of times this season in similar situations which is why they looked on the same page throughout the sequence. They don't pull that off Without chemistry because Filip kostic hit that in a very tight window. Almost on the verge of going out of bounds Andre Silva rose up in the air connected on the perfectly located ball that ended up with Andre Silva connecting a brilliant header into the back of the net that officially killed off the game. Phil caustic had one goal and to assist in what was an outstanding performance. A lot of credit has to go to Andre Silva on that final goal because that is a very difficult ball to connect on really highlighting his qualities as he scores yet again. However even though Andre Silva stays hot the performance that stuck out the most in the Bundesliga weekend was Filip kostic who orchestrated a lot of what Frankfurt did on the attack as well as scoring himself which does not happen very often. the wing back has two goals and six assists this season may not be the best stats but this weekend he showed how influential that he can be for this Frankfort team that continues to chase down Champions League football.
Wout Weghorst vs Augsburg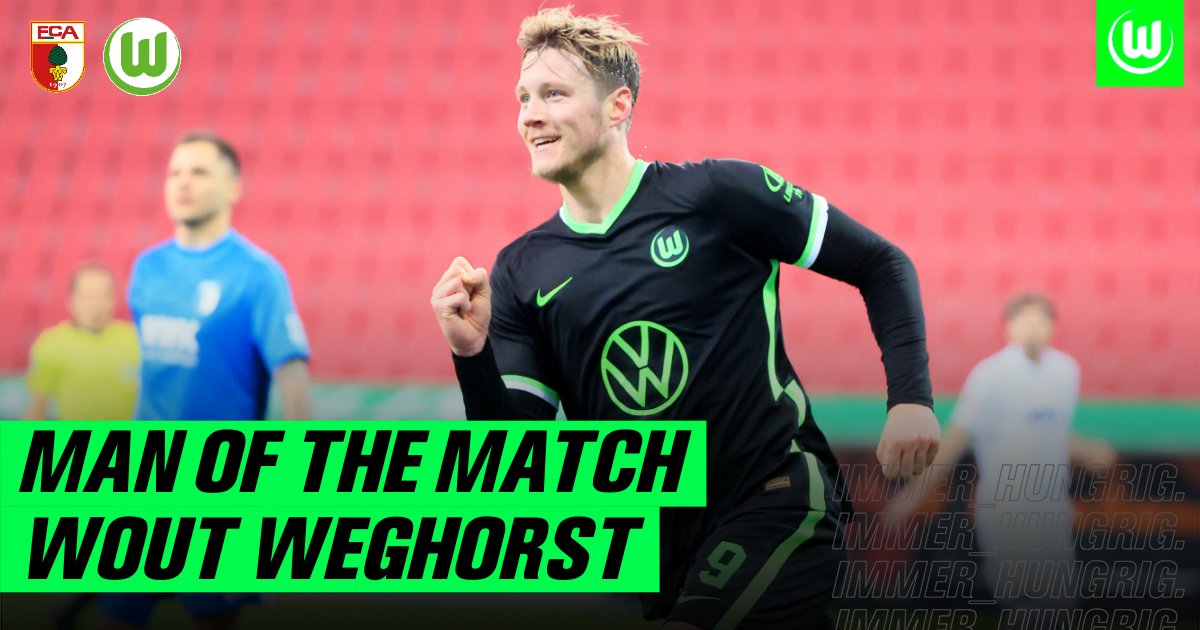 Wolfsburg is one of the most in-form teams in the Bundesliga over the last month they are absolutely on fire. Not only that they're pushing champions league as well. I have a certain feeling that either Wolfsburg or Frankfort will make the champions league and maybe even both. They're actually in a certain sense very similar to Frankfurt. Andre Silva has had a very under radar season with 20 goals this campaign second in the league in scoring. Wolfsburg also happen to have an incredibly in-form Striker in weghorst. Wolfsburg have a chance to get back into the champions league for the first time since they made the quarter-finals and had Real Madrid on a chokehold many years ago. Weghorst has been nothing short of world-class this season and continues to perform at an incredibly high level. Weghorst has been as consistent as practically any player that position. The Dutch International is looking to get a spot on the Euro 2020 Squad this summer and based on the season he is having he certainly should. He is having the best season of his career with 19 goals already this season. During his last two seasons at Wolfsburg which by the way I also have flown under the radar he had 18 goals last year and 19 goes the year before. With half the season to go he has 19 goals in all competitions already and is on Pace to score at least 25 goals this season and probably might even be able to score 30. If you're talking about value there's very few that are more valuable to their team this season then weghorst. It highlights why weghorst and Andre Silva deserve a lot more credit than they have gotten this season. They have been praised but not nearly enough. Erling haaland at Dortmund seems to be failing to get his team into the Champions League despite the fact he's surrounded with much better players than Silva has at Frankfurt or weghorst has at Wolfsburg. Weghorst just continue to be such a dominant player this season for Wolfsburg. Not only that he has his team playing their best football this season this weekend they won their fourth Bundesliga match in a row. Very influential in their 2-0 victory over osberg. He is now a third in scoring in the Bundesliga behind the best striker in the world and Robert levandowski and Andre Silva. he scored a couple goals in the cup last midweek and then only continued his form against Augsburg. Not to mention he scored in his previous Bundesliga game as well he is just playing out of this skin this season and this performance in particular was extraordinary special. I should have recognized him long before this week has he has been consistent the majority of the Season he is quietly putting together some season. He opened up the scoring against Augsburg and one of the best goals of the Season as he cut into the box before chipping the goalkeeper from Deep In The Box as the ball landed in the back of the net to give Wolfsburg their first lead of the game. it was only a 21% goal probability when he scored it. He contributed extensively in the attack even though it was only goal of the game he came within inches a couple of times really proving to be the main reason for the success Wolfsburg are having this season. He was truly an outstanding performer in the Bundesliga this week and even though it came with just one goal that is just a testament of how good he has been. Wolfsburg are very much in the Champions League picture and it's largely down to the individual Brilliance of weghorst he just been something special this season and there's no reason to believe that he is slowing down.
Phil Foden vs Liverpool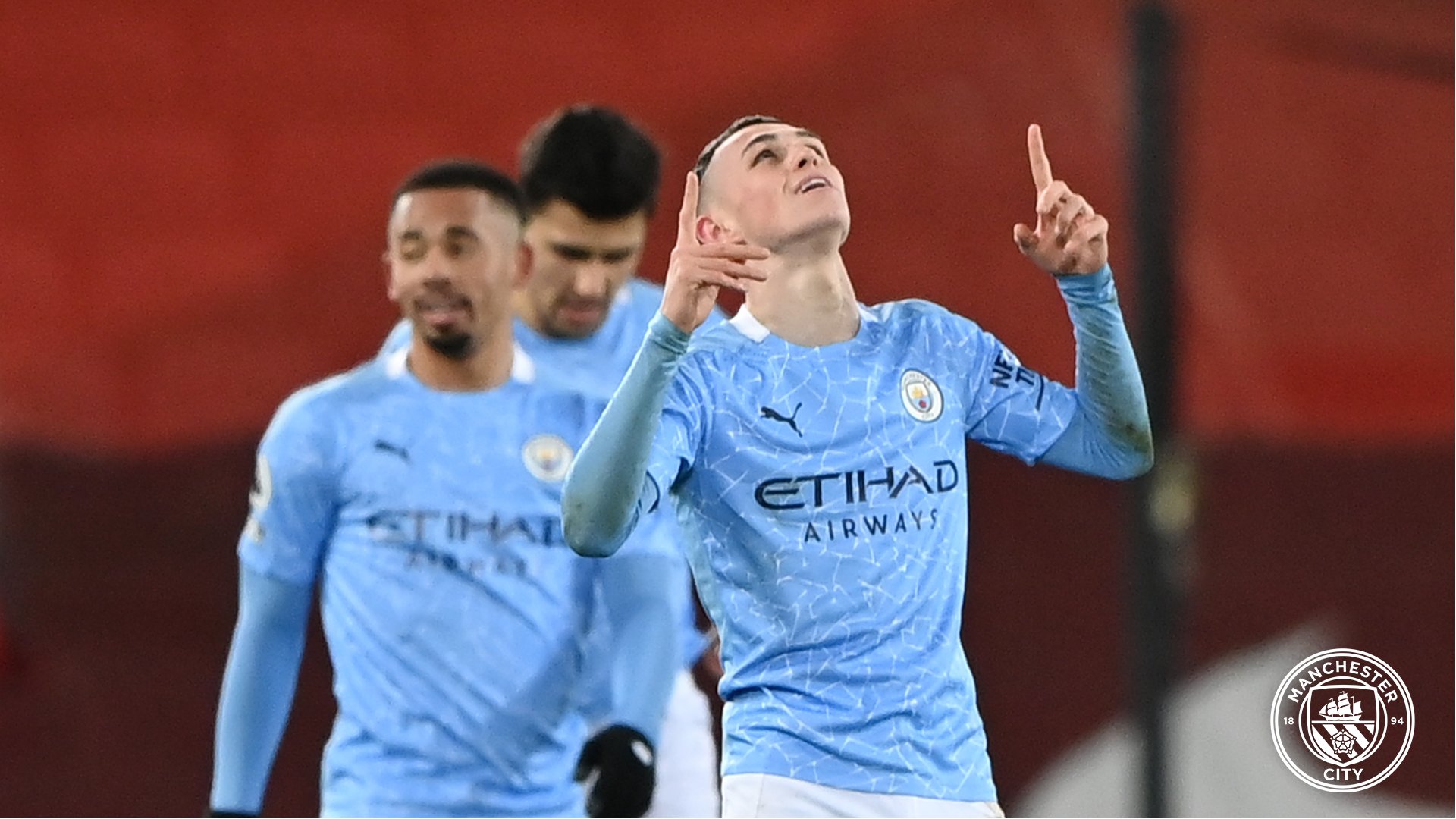 Phil foden is one of the best young talents in European football. He is one of the few youngsters that have gone through the academy at Man City that had become a vital part of what Pep Guardiola has done in terms of building culture. Manchester city is a club that spends a lot of money and signs Big Time Players Phil foden is a player that has gone through the academy into the first-team and has gotten the green light from Pep Guardiola. He is already a two-time Premier League winner looking to make it third this season. Typically I don't recognize a lot of players in the Premier League. Most of my selections come from Serie A La Liga and the Bundesliga. The reason is to a certain extent I feel the Premier League is a little watered down it has become a one or two team League especially when you have teams like West Ham and Leicester city in European places the Premier League just isn't feeling its greatest moment still the third best league in the world but at the same time I find it sometimes difficult to recognize someone from the league not because it doesn't have quality but circumstances apply more so in the Bundesliga Italy specifically because top-to-bottom they are much stronger. This is only the second time a player from the premier league has made it into my player-of-the-week selections so with that being said you know an outstanding performance is required to break into my choices. I recognized Harry Kane in September Phil foden is without question one of the best performers of the week with an incredibly influential display against Liverpool that essentially have won them the title already. He deserves to be discussed in the top-tier of young Talent. Joao Felix is the best young talent in European football with erling haaland and Killian mbappe not far behind but outside of those three I think Phil foden has a case that he's not that far behind along with Alphonso Davies as well but the Manchester City youngster has proven this season that he is incredibly valuable to a Manchester City team that is loaded from top to bottom. The fact that he's playing like this in the Premier League and being one of the best midfielders in England after 20 years old shows the type of heights that he is a reaching under Pep Guardiola. I've been very impressed with him all season and he is one of the most exciting young players in England to watch. Man City ripped apart labor pool in a 4-1 defeat. Phil foden had something to do with three of the goals that Manchester City scored. Phil foden tested Allison with a gripping shot at the keeper blank ended up scoring on the rebound but the velocity in which the shot was hit allowed Man City to score the Tappan. Then on top of that a brilliant run down the side ultimately contributed an outstanding goal a perfect first touched that put the ball on a plate for Man City to score another easy goal then on top of that the young Englishman hit a world-class strike into the roof of the net from a very difficult angle in what was a nearly Flawless performance. Exceptional athleticism has the pace on them driven liability and has shown this season that he has all the qualities of a world-class player now while he hasn't reached that level yet he is on the verge of breaking into it. Only 20 years old he is proving to be an exceptional talent in English football primarily one of the only super talents that they have at the moment as most of those players are coming from Germany and Italy. Phil foden has eight goals and five assists in all competitions and has it been a integral part of why Manchester City are on the verge of going 13 points clear at the top of the Premier League's. Manchester City have something special with Phil foden the best talent in English football by far. He comes up in a big game like that really showing his important. You can argue there are more important players inside this Manchester City team but the youngster offers a specific component that highlights his involvement. In a big game like this against Manchester City he was nothing short of Sensational selfishly I'd love to see him challenge himself any differently considering the lack of qualities that exist in the Premier League but he has been perfect for Manchester city and what Pep Guardiola has done very few Academy graduates make it into the Manchester City team it takes something special to break into that especially with Pep Guardiola in charge the fact that he is a regular at Manchester City through the academy That just shows how special of a player he is.