Score: A.S Roma 3 Udinese 0FT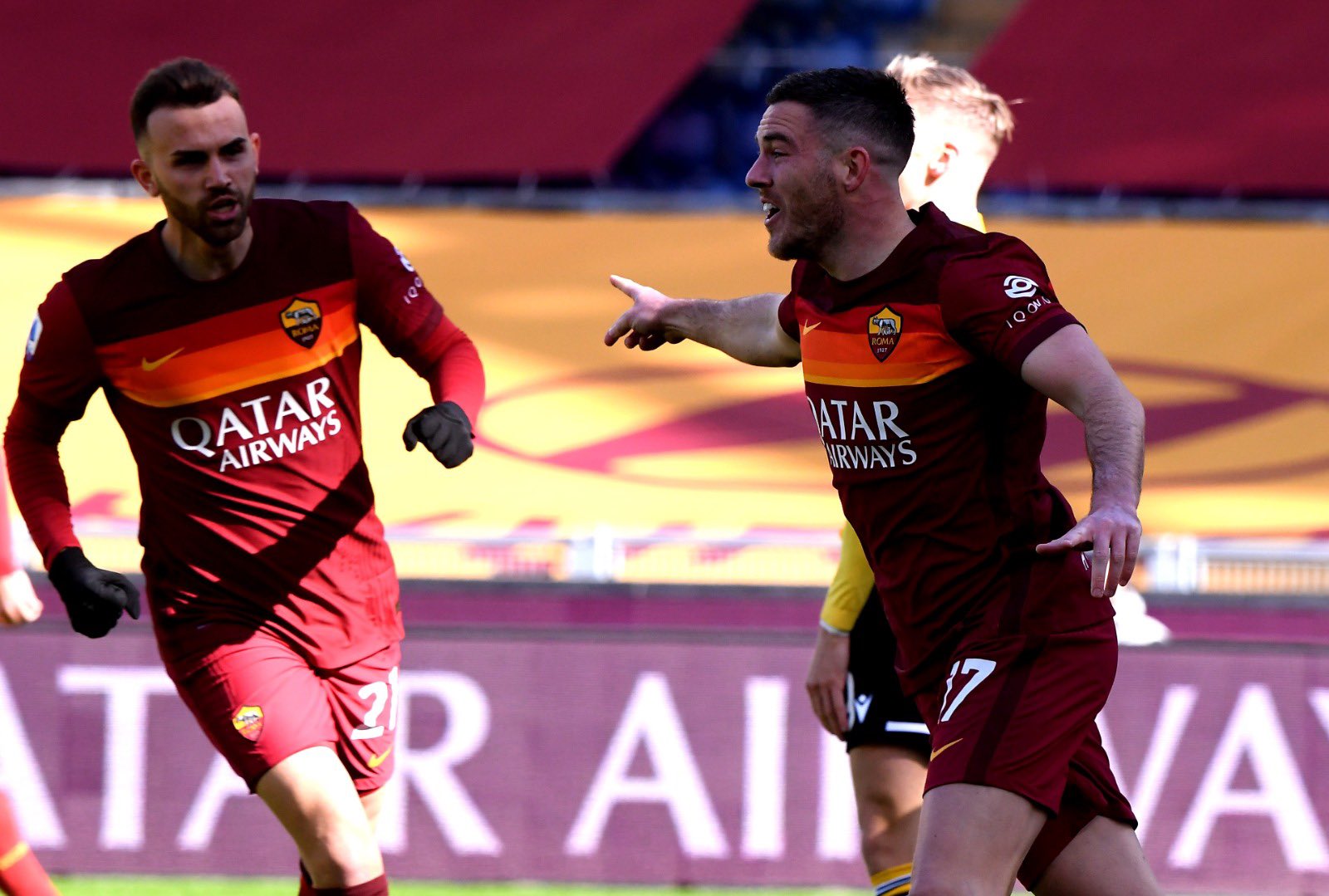 Following a 2-0 loss to Juventus at the Allianz Stadium last weekend as Roma temporarily fell out of the top three yet again falling in a big match. The Romans look to put that behind them in hopes of securing a massive three points with the opportunity to get back into the top three after Napoli beat Juventus. They would host udinese at the Stadio Olimpico in Rome on Sunday morning. Despite not having the best track record against Roma, Udinese has a beaten Roma in the last two years. In the first meeting, Roma secured a 1-0 victory thanks to Pedro's second-half goal. Things have significantly changed since they played them the first time udinese came into the game in fantastic form, only a couple of points outside of the top 10; it would be a tough match that was expected. However, Roma made this match, in particular, look easy. Roma had complete control in the first half and made a statement early. Jordan veretout got his head on the end of a cross to give Roma a 1-0 lead. The French midfielder would get a second just a little later as he converted from the penalty spot as Roma opened up a 2-0 lead. Late in the first half, Lorenzo Pellegrini found the back of the net, but unfortunately, the VAR intervened and took the goal away. Nonetheless, udinese were suffocated by a great defense, and they did not register a shot in the first half. It was a dominating first-half by Roma in the second half; they had some issues continuing that. Udinese had a couple of chances to get themselves back in the game, and surprisingly Roma had incredible production from the goalkeeper, and the defense continuing to contribute. Roma did not play very well during the last 45 minutes of the game, but udinese didn't provide enough chances to really get themselves back into the game in the closing moments of the match Pedro Rodriguez came off the bench and scored a late goal in stoppage time after a disappointing performance last week against Juventus Roma are back in winning ways as they get the clean sheet completing a 3-0 victory over udinese they kept Rodrigo de Paul silent all game long and gathered that momentum and confidence back they may have lost as Roma's win propels them back into the top three in the table.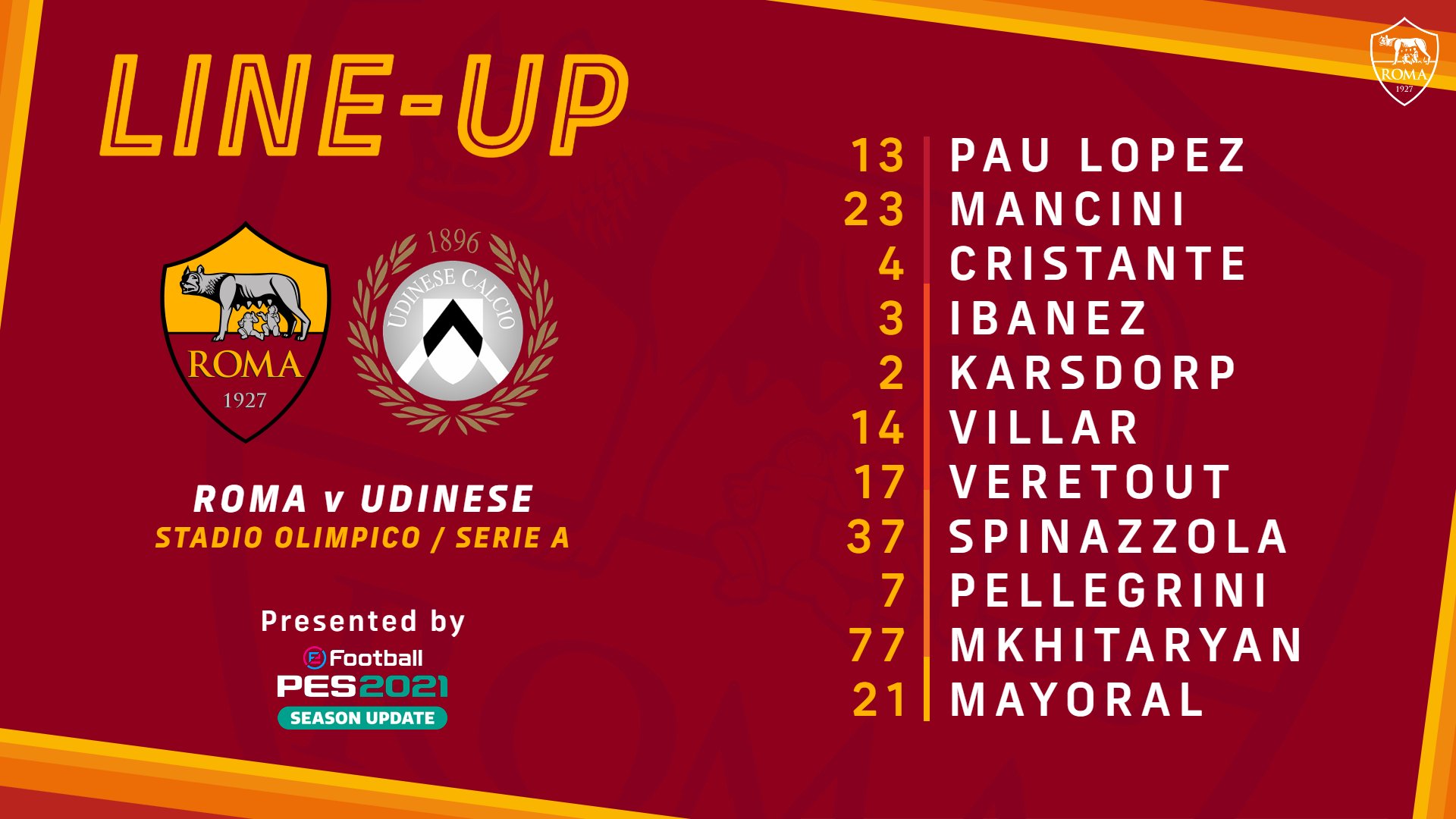 Roma would operate out of their typical 3421 formation, only a couple of changes as it was a very similar team that we saw last weekend. In goal by default would be Pau Lopez, who would be looking for a much-improved performance. The back three would consist of Rodger Ibanez on the left, Gianluca Mancini on the right, and Bryan cristante centrally. Max Kumbulla was expected to start but picked up a minor knock. Roma's wing-backs would stay the same with Leo Spinazzola on the left and Rick Karsdorp on the right. The defensive Midfield would be the typical Duo of Jordan Veretout and Gonzalo Villar. The left attacking midfielder would be Hendrik Mkhitaryan then as the right attacking midfielder would be Roma Captain Lorenzo Pellegrini. Upfront as Roma's Central Striker would be bojar mayoral.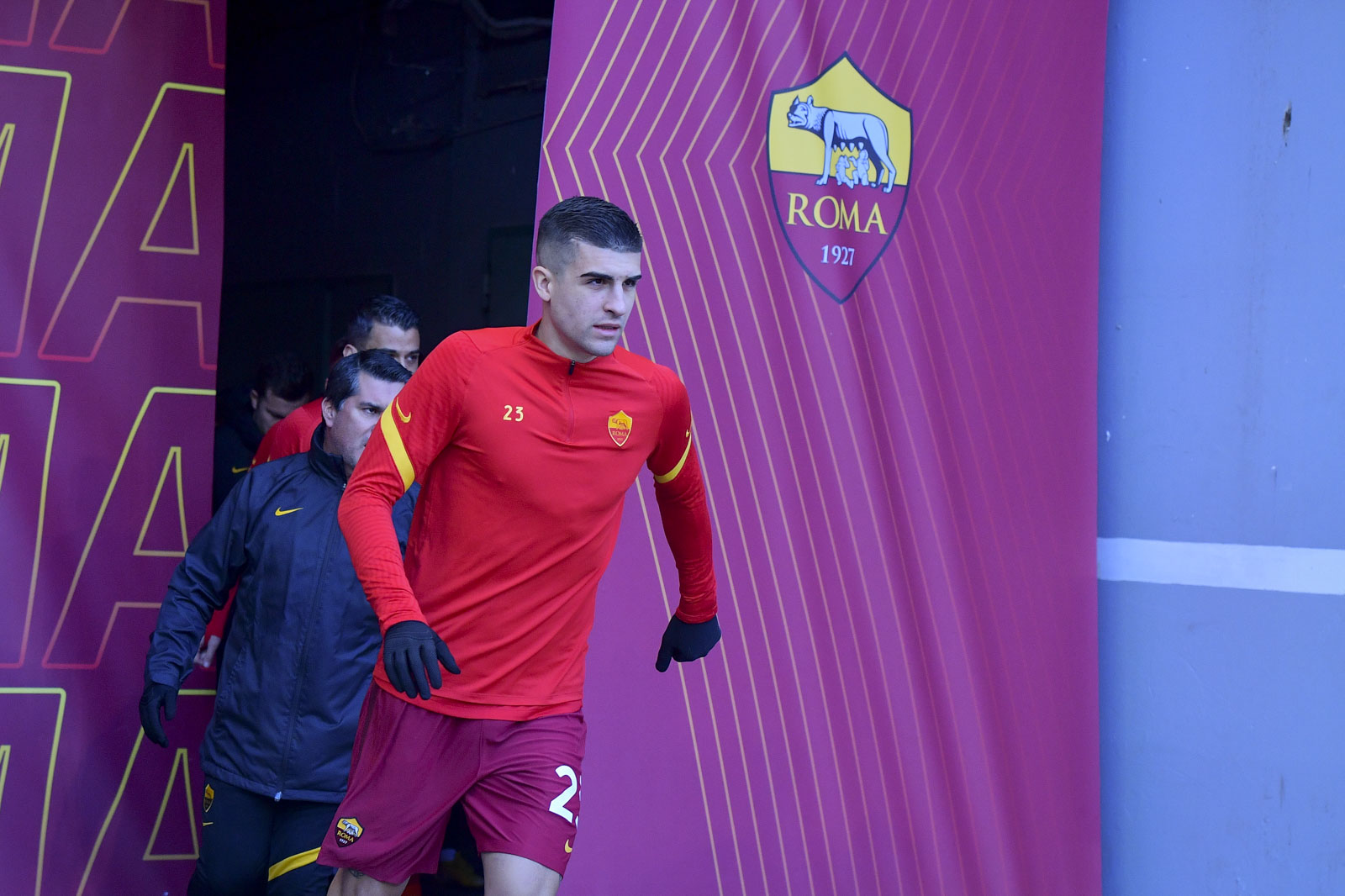 After preparations and predictions, the match was about to get underway at the Stadio Olimpico in Rome on a Sunday morning as things kicked off in the Eternal City. Roma was dominant from the very first kick of the ball. it only took Roma 5 minutes to make the Breakthrough. Gianluca Mancini had the ball near the wing in the fifth minute, getting a beautifully hit cross into the box to find Jordan Veretout the midfielder was pushing forward and found his moment as he connected with the header to give Roma a 1-0 lead. A quick-fire start for Roma as Jordan Veretout scores his seventh goal of the season. Not long after, Jordan Veretout tested Udinese once again as he hit a strike from inside the box searching for the top corner But ultimately was denied by Juan Musso. Udinese, they were just getting ripped apart. Roma was in complete control dictating the entire game with the possession advantage, and took advantage of their opportunities as quickly and as often as possible. Even after that first goal, there was just a growing belief that Roma had enough going for them that it would not be all that long before Roma have another opportunity to increase their lead. Henrikh Mkhitaryan ran into the box before being slightly clipped by one Musso. As controversial as a decision as it may be, Roma was given a penalty. In the 25th minute, Jordan Veretout picked up the ball, placed it on the spot, and hit a rocket into the top Corner as Roma ran out to a 2-0 lead. It would be Jordan Veretout eighth goal of the season; even though four of his goals have come from the penalty spot, he has shown the ability to convert from open Play as Roma continued to dominate. Udinese did not create that much, and every time they came into the box, Gianluca Mancini was neutralized, who was absolutely unbelievable in the match. Udinese really struggled to find the space to even try to strike. In the 29th minute, it looked like Roma we're going to increase the lead even further. Jordan Veretout supplied a perfect ball into Pellegrini, who struck it into the back of the net. However, there was an alleged foul in the play's lead-up as the referee took the goal away. It was a harsh decision, but given how Roma played up to that point, there was just a feeling they would have other opportunities. Roma continues to contribute to the attack late in the first half Bryan Cristante had a chance that missed to the left, and Rodger Ibanez had a late chance at also misfired. That would wrap up the opening 45 minutes as Roma We're Riding High with a 2-0 lead thanks to Jordan Veretout getting a first-half brace.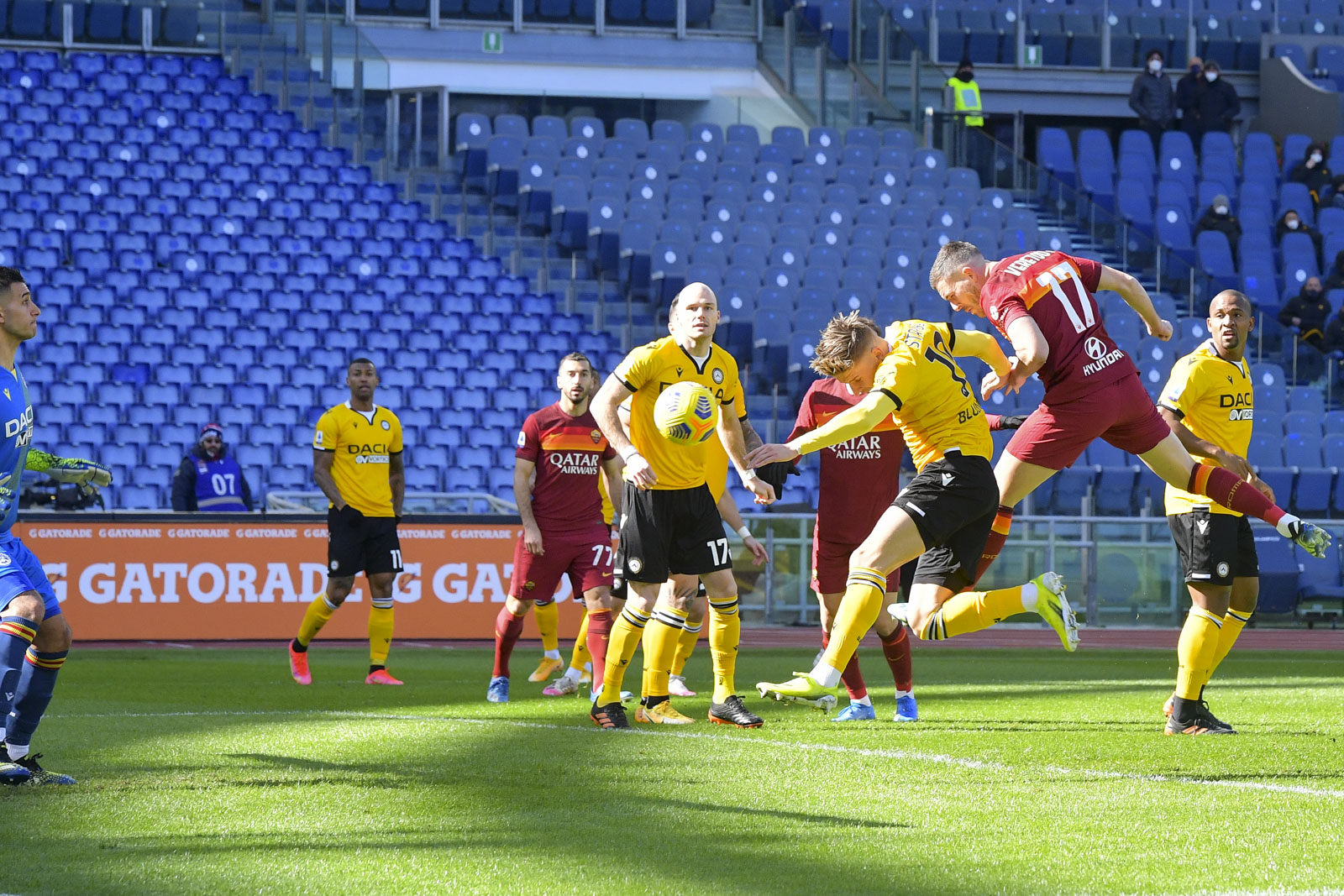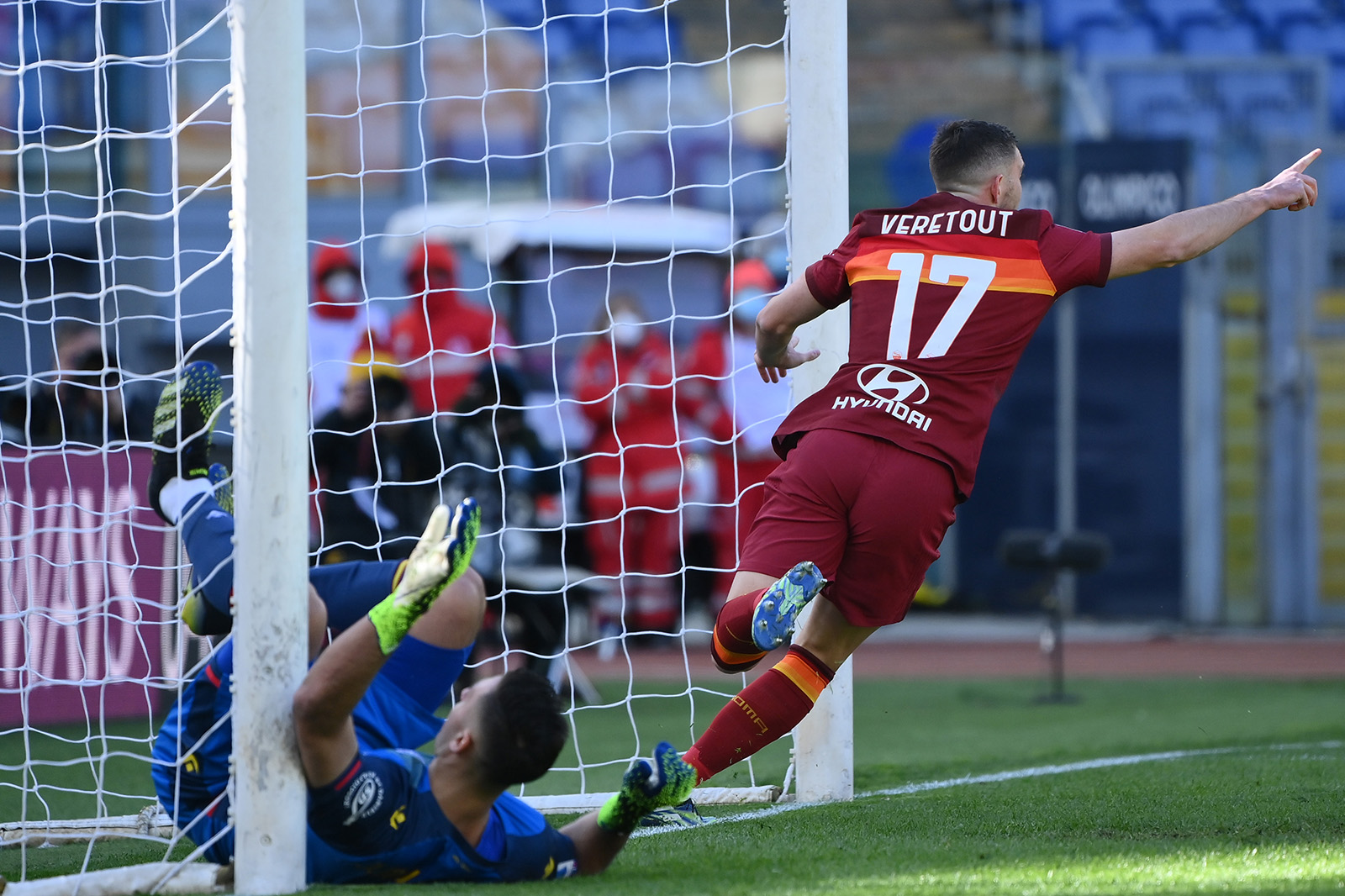 It was a nearly perfect first half from Roma barely put a foot wrong really seemed like they were Reviving and playing with that confidence and momentum they lacked last weekend. They also built themselves a good cushion; the points were practically in the bag already. Udinese came out much more aggressive in the second half. They did continue to struggle, but they had some moments where they were very close to breaking through. Rodrigo de Paul tries to stretch a strike from outside that didn't have its accuracy as Lopez was not tested. Couple of minutes later, Udinese was stopped from the point-blank range. Those were the first two shots of the game for Udinese; they seem to start at least to come alive to a certain extent. To a certain extent, Roma took their foot off the gas and did not play with the same desperation as they saw the first half. The second half of Roma wasn't all that impressive, but luckily they built their lead, so it wasn't entirely necessary. The match continued to get later and later on as Lorenzo Pellegrini came dangerously close coming off a header, the intent was a little wide. With 20 minutes to go Edin Dzeko replaced bojar mayoral wasn't a great performance but wasn't bad either. A few minutes later, Udinese came within inches of scoring in a one-on-one against Lopez; the Spanish keeper managed to get his hands to it pushing it away a world-class moment from Lopez even though it is infrequent to see that was brilliant from him. Not long after Udinese, we're looking at an opening goal; after drawing Lopez out, they try to take advantage of that but yet again, Gianluca Mancini, who is having a terrific match, stood in the way of them getting a goal back. With a little more than 10 minutes to go, Pedro Rodriguez entered the game. Both teams played out the last 10 minutes until Roma had one more chance in the 93rd minute has Pedro Rodriguez down the ball at his foot after Edin Dzeko mistimed a pass the Spanish Winger hit it right outside the box into the top corner to give Roma a 3-0 lead. It would be his fourth goal of the season. That would signify the end of the game time ran out. Roma picked up the points, got back in business with a victory, and take the momentum and confidence into midweek as the Europa League round of 32 kicks off; this was exactly what Roma needed to get back on track Roma with the victory catapult into the top three once again as it's all smiles at the Stadio Olimpico.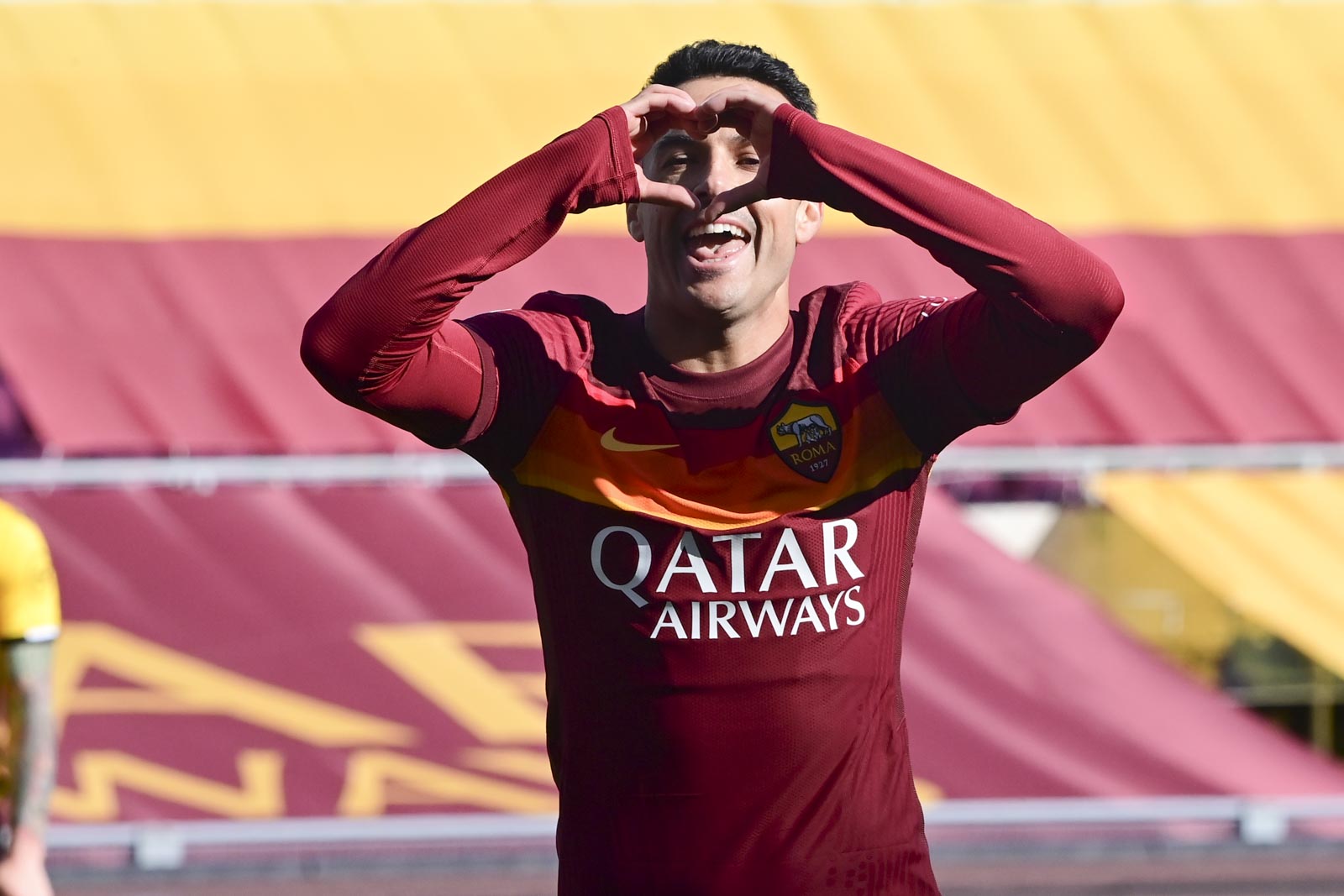 This was the type of performance they needed, at least the way they played in the first half. There's been a lot of criticism today about Roma's performance in the second half, and I understand this isn't the most gracious Roma performance, but the first half was nearly perfect; it just seemed like Roma kind of took their foot off the gas in the second half. Lorenzo Pellegrini and Hendrick Mkhitaryan didn't play well, but it's just one game, and I don't think it's all that concerning. However, with that Roma dominated the first have quite convincingly they could have scored even more goals than they did. Jordan Veretout obviously contributed his brace in 25 minutes, and then a Lorenzo Pellegrini and goal took away due to a foul in the build-up. They were in complete control this game from start to finish did not play all that well in the second half but didn't really need to. Lopez looks pretty decent and made some big saves even though he was not asked to make them very often then; on the other, the defense played tremendously. Gianluca Mancini with the man of the match tonight really showed something special, preventing a couple of goals and just kind of neutralizing Rodrigo de Paul, who was going into this game with the biggest threat. Udinese did not provide any real sense of creativity, didn't have a shot on goal in the first half, and only a few shots in totality in this game. That wasn't to say that Udinese players aren't good; they were in excellent form going to this game, which is why this victory, in particular, is significant obviously clear Roma need to do much better with the bigger teams. Still, those are the only teams that Roma have dropped to any points against, and that's something that Roma should feel good about. however, a team like Udinese is capable a beating some big teens and at least giving them problems in tonight's match they didn't provide Roma any issues whatsoever and Roma handle them quite easily. Obviously, certain things can be better and individual performances need to improve slightly, but I don't think Roma should have anything to complain about right now. After losing to Juventus last week, they were Team without the confidence and momentum required, and now and against a tough Udinese team that had barely dropped any games in the last five, Roma made it look easy. With the round of 32, Europa League tie on Thursday against Braga upcoming Roma now can feel they have that momentum and confidence to go into that game in High Spirits after dealing with Udinese without too many issues. Outside of Gianluca Mancini's heroic defensive performance, Jordan Veretout showed his brilliance in that first half, and then it's always nice to have someone come off the bench and score a goal, and after a couple of months that have been great to Pedro, he gets that goal to put him back in High Spirits. Roma jump Juventus as they go up to third in the table, and this is a team that has their energy back and will be ready for the Europa League on Thursday; this may not have been the most critical results, but against a team, in great form, they handle Udinese and got maximum points, and you can't really ask them to do more than that.
TOP OF TABLE
1. Inter 15-5-2 50Pts
2. AC Milan 15-4-3 49Pts
3. A.S Roma 13-4-5 43Pts
4. Juventus 12-6-3 42Pts
5. Napoli 13-1-7 40Pts
6. Lazio 11-7-4 40Pts
BOTTOM OF TABLE
15. Fiorentina 5-7-10 20Pts
16. Torino 2-11-9 17Pts
17. Cagliari 3-6-13 15Pts
19. Parma 2-7-12 13Pts
20. Crotone 3-3-16 12Pts
MAN OF THE MATCH: Gianluca Mancini