Score: A.S Roma 3 Braga 1FT (5-1 On Aggregate)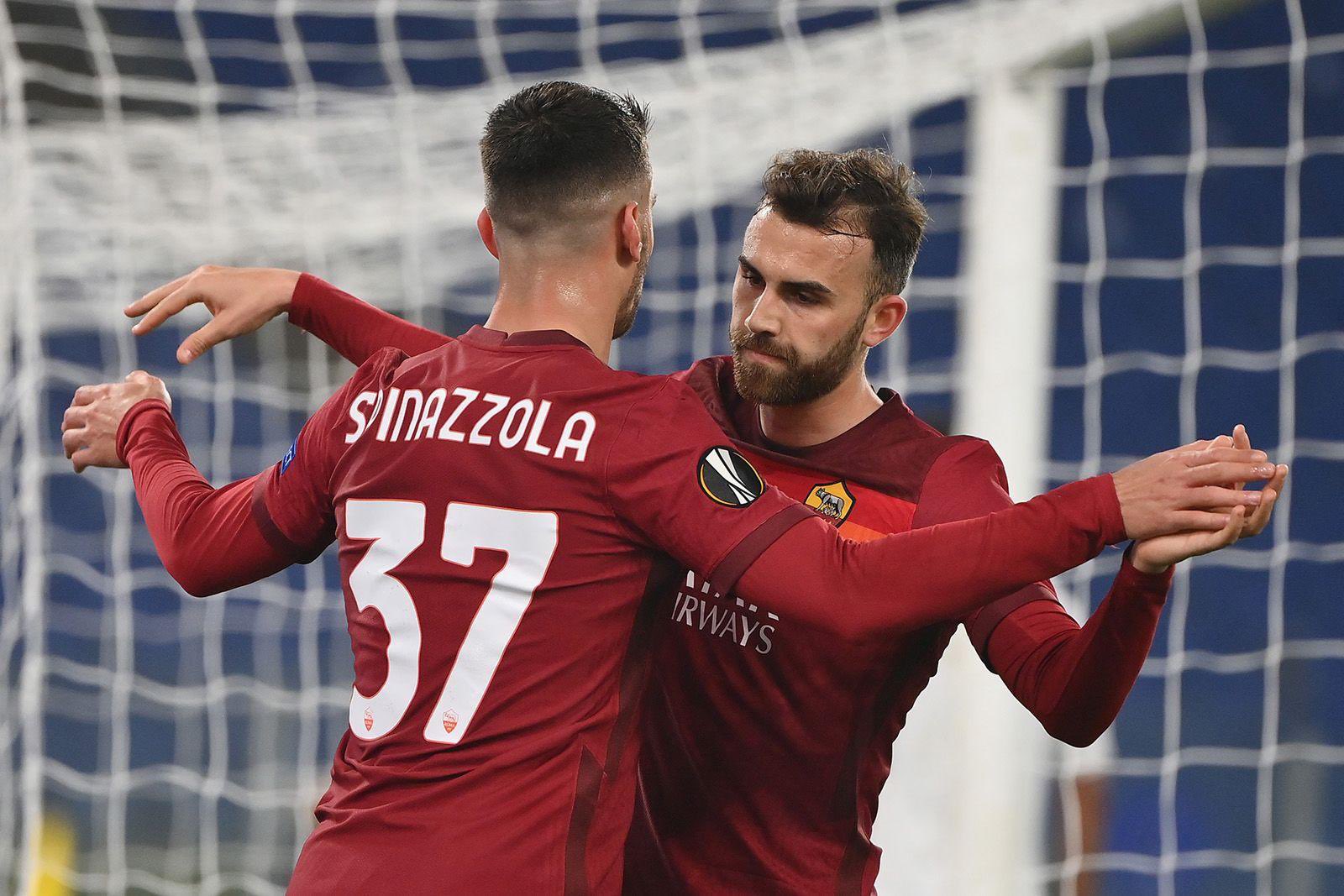 Following a tough 0-0 draw against Benevento, Roma would look to get back in business trying to close the deal against Braga in the round of 32 of the Europa League. Last week Roma secured a 2-0 victory in Portugal as they gained two critical away goals. Roma had all the momentum and confidence to close the deal at home at the Stadio Olimpico and a place in which Roma has not lost this season. With a place in the round of 16 up for grabs, this was a massive opportunity not only for Roma the results, but they could rest a couple of their important players. Roma starts the game similarly to the way it went in the first leg. Edin Dzeko opens the scoring to give Roma the 1-0 lead. Making it almost insurmountable for Braga to come back as a Roma already had the advantage and just increased it even further. It stayed as a one-goal game until late in the second half as the game got some more life. Shortly after Lorenzo Pellegrini missed a penalty substitute, Carlos Perez found the back of the net to give Roma their second. Then, later on, more drama intensified with three minutes to go. Bryan cristante gave Braga an away goal as he put the ball in the back of his own. Braga got one back only temporarily though, in the 90th minute, bojar mayoral came off the bench again and stuck a strike in the back of the net to ultimately give Roma a3-1 victory. They eliminate Braga 5-1 on aggregate as they've earned a place in the round of 16 with Bayern Leverkusen and Leicester city leave the competition all of a sudden Roma look like the favorites if they can keep this going there are no limitations and what they can accomplish in this competition and Roma were able to rest important pieces for a big game against AC Milan on the weekend. Roma delivered in what they were supposed to do they are through after a victory at the Olimpico.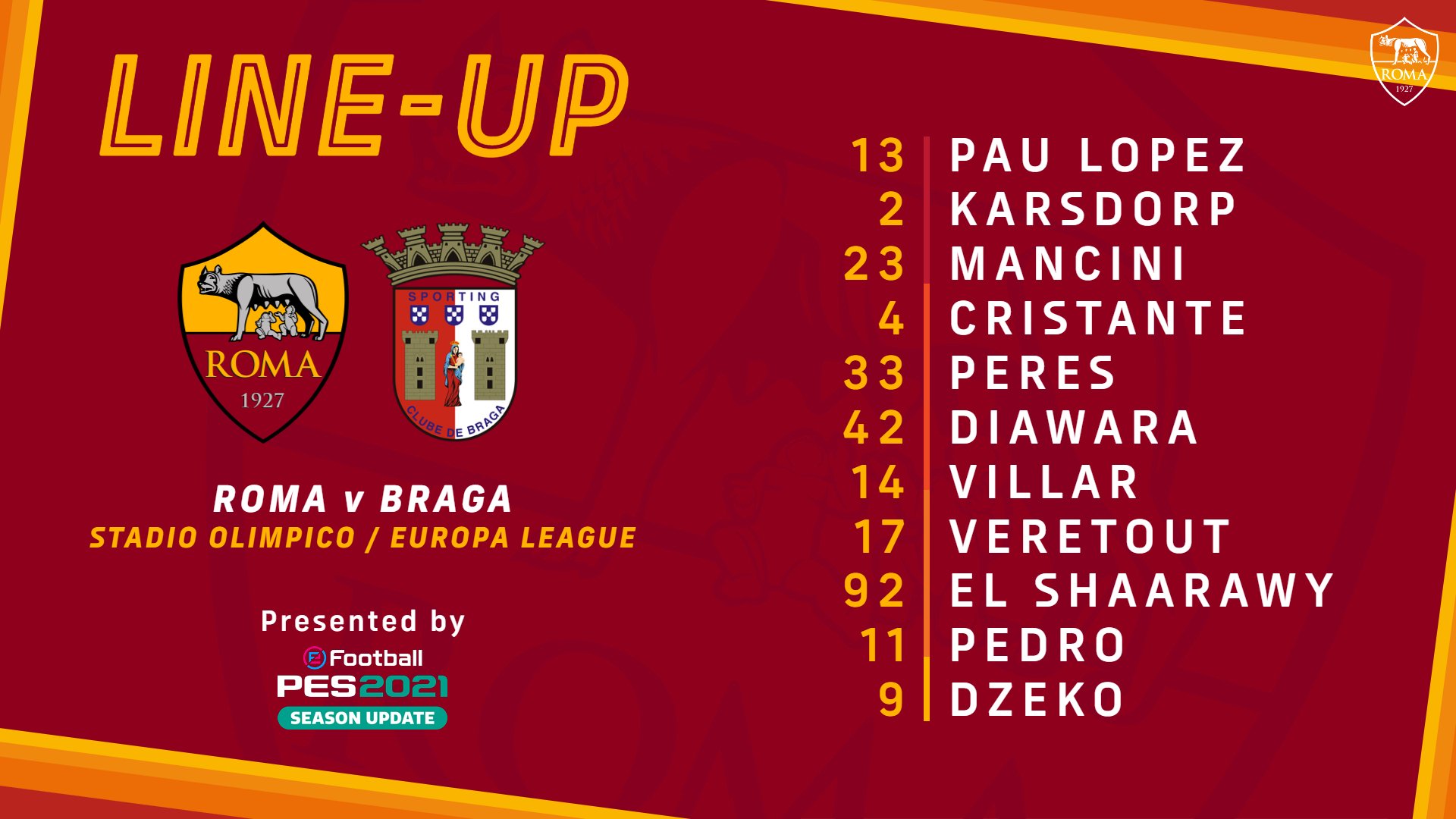 Paulo Fonseca would make slight modifications ahead of this Europa League second-leg against SC Braga. In goal, there would be no changes as it would be Paul Lopez again. Roma would operate out of the 4-3-3 formation. Changing that the dynamic at least temporarily for this match. In at left-back would be Bruno Peres on the opposite side at the right-back will be Rick karsdorp, then we would see a center-back partnership of Gianluca Mancini and Bryan cristante. Roma set up out of a three-man Midfield Diawara sitting right in front of the backline with a Jordan veretout and Gonzolo Villar pushing a little higher up. Then we would have a front three of Stephan El Shaarawy on the left-wing, Pedro Rodriguez on the right-wing, and edin Dzeko as Roma as a central Striker. Roma would have a bunch of regulars Off the Bench if needed.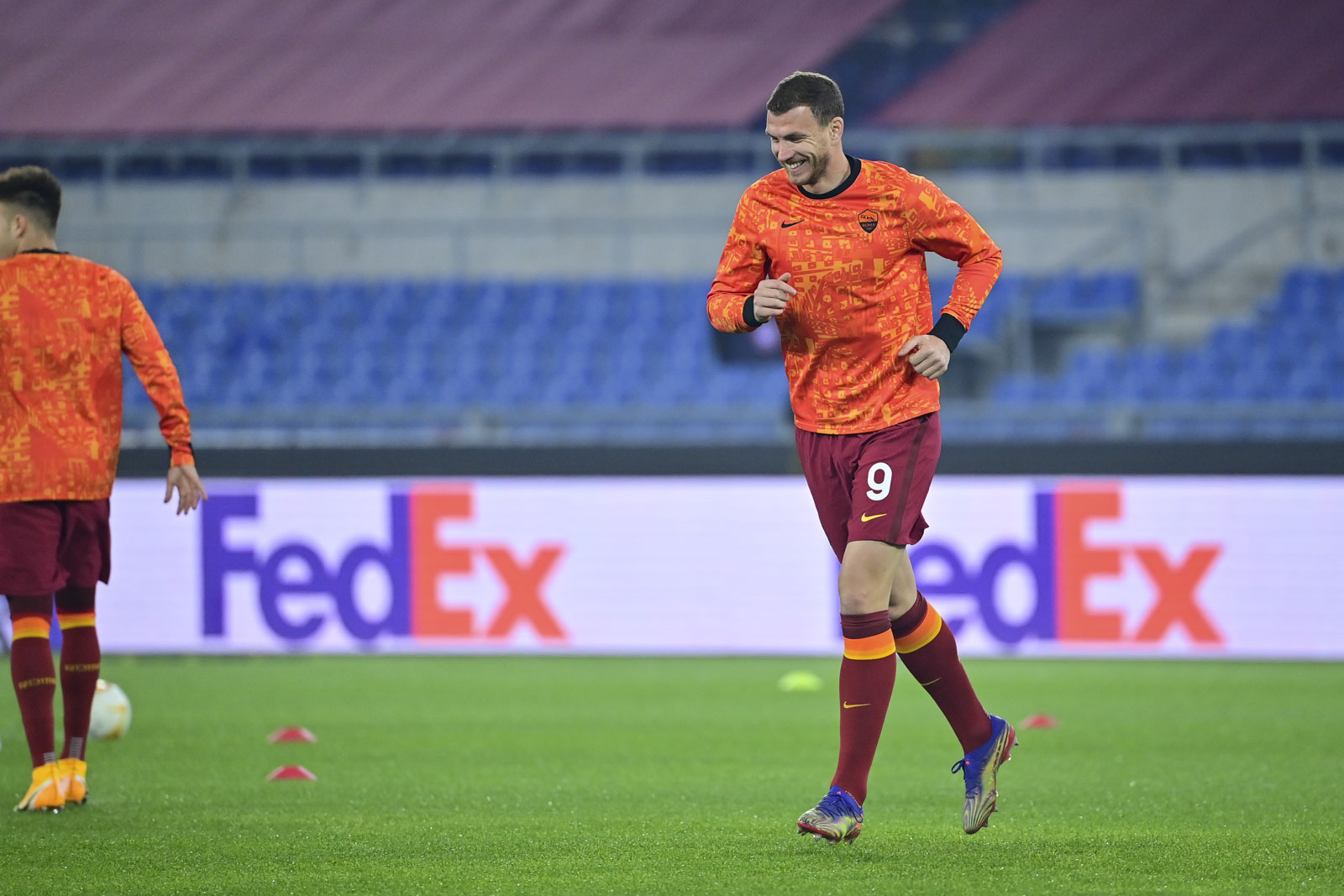 Following preparations and predictions, the match got underway at the Stadio Olimpico in Rome for the second leg of the Round of 32 in the Europa League. Roma basically through already; they just needed to perform to see this thing out. Paulo Fonseca didn't make a slight change to the formation; it was going to be interesting to see how this is going to work. Much like the first game, there were not many chances in the first half El Shaarawy came close, firing a strike from outside the box to put some pressure on the visitors in 23rd minute as edin dzeko converted from close range after El Shaarawy hit the bar to give Roma a 1-0 lead. The Bosnian scores in his second consecutive Europa League game as Roma put themselves firmly in control. Braga were much more ambitious in this game as Lucas piazon had a pair of chances but didn't have accuracy coming inside the box and another from Deep that tested Lopez. Late in the first half, Roma nearly increased when Stephan El Shaarawy sent in a cross for Pedro Rodriguez the Spaniard connected, but his strike clanged off the post. Roma had a 1-0 lead going into the second half, thanks to Edin Dzeko.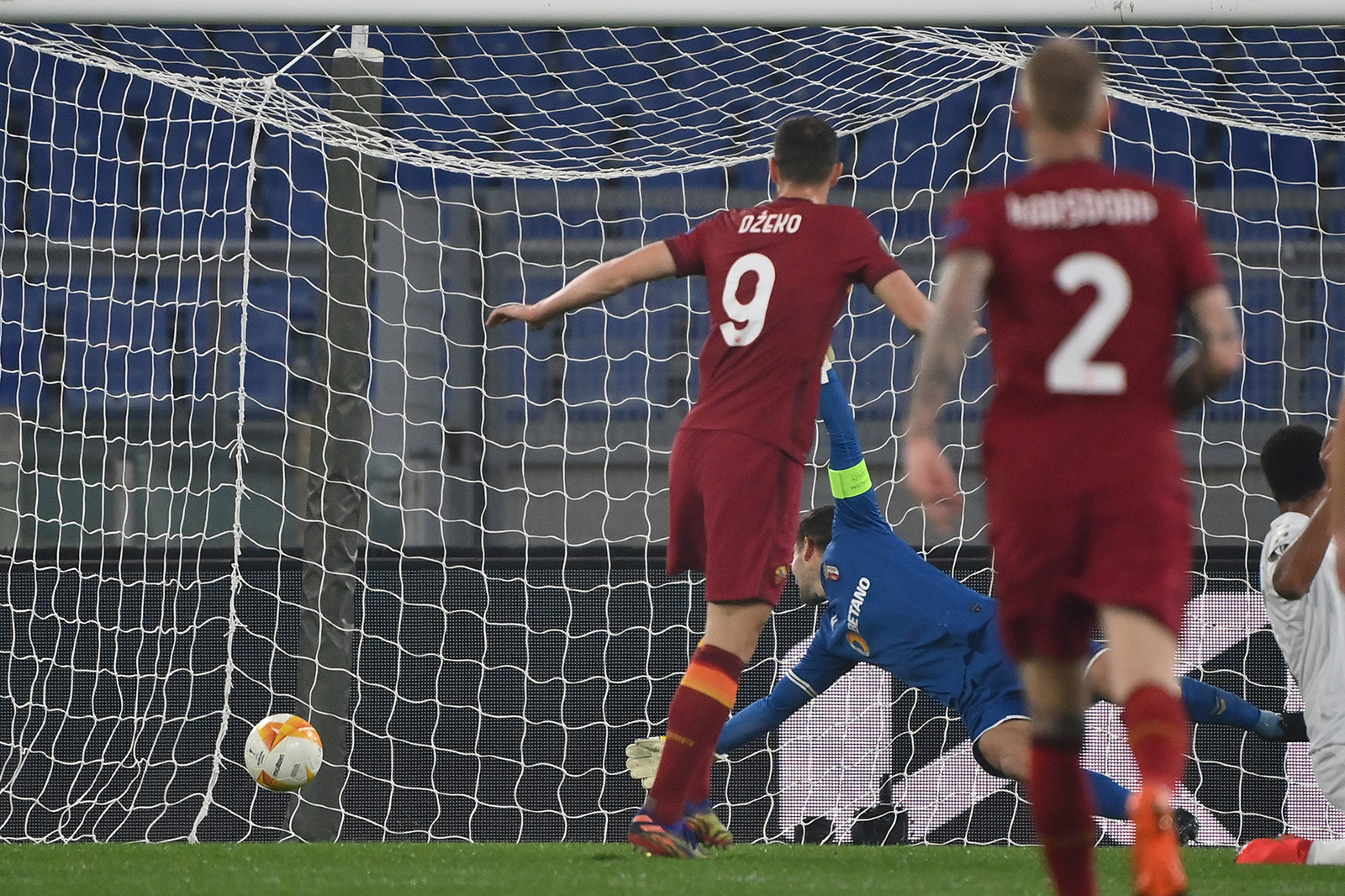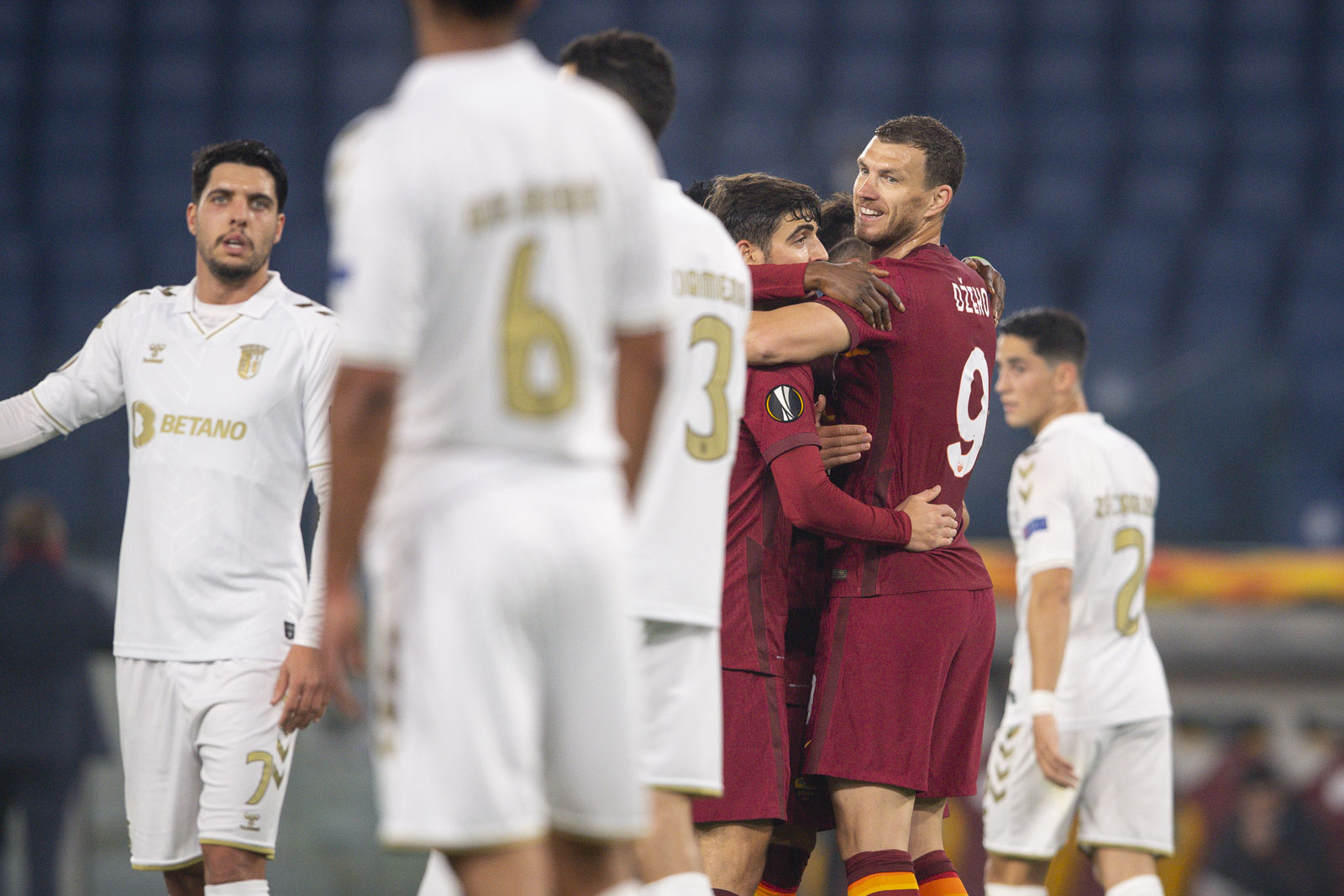 It was a strong first-half from Roma didn't necessarily need to dominate, having the two away goals already. All they really need to do a score another goal to ice the game, and they were able to do that Midway through the first half. Lorenzo Pellegrini entered the game in the second half. Braga tried to push with enthusiasm, just trying to get themselves back into the picture. Early in the second-half, Ronaldo put his head through a ball coming from the wing but misfired. Roma would make a change as Carles Perez would replace Stephan El Shaarawy and Leo spinazzola came in for Jordan veretout. A couple of minutes later, edin Dzeko came close, but his header was a little high. Braga tried to respond with Ruiz and Horta but was denied as Ruiz was saved by Lopez and Horta missing the target. Remember to go to the bench again as edin Dzeko seemed to pick up a minor knock. Has he made room for mayoral to enter the game. Roma had a chance to extend the lead even further a penalty was given. Lorenzo Pellegrini stepped up, but he missed horribly, denying Roma the opportunity to extend the lead further. Luckily two minutes later, in the 74th minute Carles Perez a player that barely gets any minutes in the team, converted from close range as Roma took a 2-0 lead. Mkhitaryan replaced Pedro as Roma made their final change of the evening. Braga did get a goal back late when Bryan cristante accidentally scored an own goal in the 87th minute. However, three minutes later, in the 90th minute, bojar mayoral converted his strike from the side of the box as Roma ran out to a 3-1 lead; it would be bojar mayoral 11th goal of the season, the highest of his career and his sixth in the Europa League as he is currently the second-highest scorer in the competition. His late strike would signal the end of the game as Roma becomes away as 3-1 winner winning 5-1 on aggregate. Roma theme as they are now the favorites or at least one of them to win the Europa League with the elimination of Bayern Leverkusen and Leicester City; it now seems a two-horse race between Manchester United and Roma as Roma get their confidence back and get some help from young boys.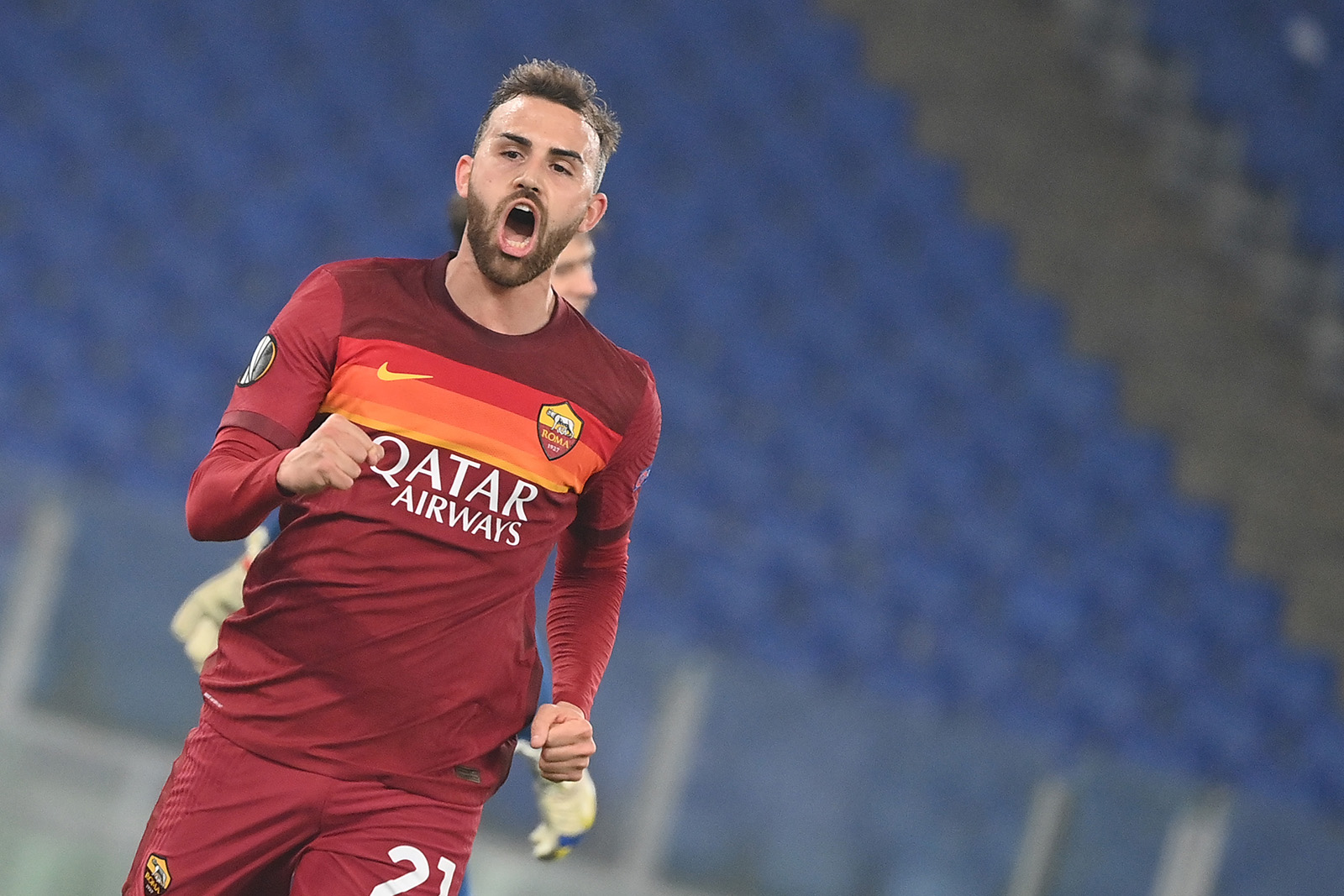 Roma came into this game already having two away goals intact. Roma didn't need to do too much other than to see out the game. That's exactly what they did. It wasn't the most dominating performance, to put it plainly, they did well enough to extend the lead getting another three goals and ultimately earning themselves a place in the round of 16; they have done a good job in this competition and continue to be one of the favorites to win especially now that some of their biggest competitors have exited the competition prematurely. Over two legs, they more or less were able to handle Braga pretty well; they got goal production out of Edin Dzeko once again, who has lost his starting position in the league but still has been able to contribute in this competition, getting a goal once again for only give him confidence as Roma have a legitimate shot at winning the entire thing especially the way he has played so far since starting once again mayoral comes off the bench scores just like you did in the first game Roma get the three goals. They move on; the only goal Braga got in this game came from an own goal from Bryan cristante; they weren't pressurized all too much and did not really struggle at all over the two games. The man of the match tonight goes to Rick Karsodrp giving Roma a spark showing he can be a very vital part of the closing stretches of the season. Roma gets the job done, getting through without much difficulty; that's all you can ask for.
MAN OF THE MATCH: Rick Karsdorp