Robert Lewandowski (3)vs Dortmund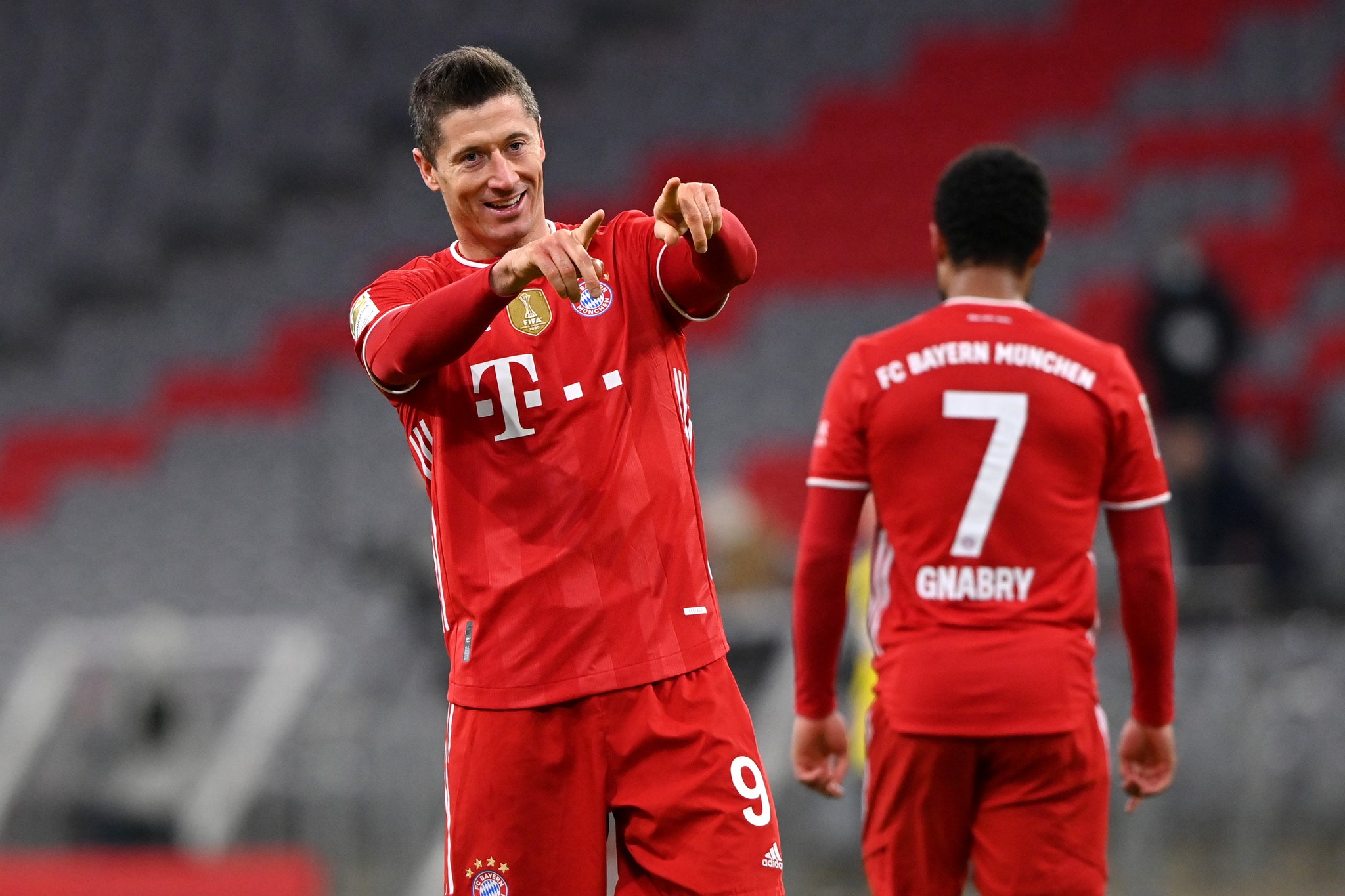 Robert Lewandowski proves and shows that he is one of the best players in the world and undoubtably the best Striker with no realistic comparison or argument against it. We all respect Harry Kane, Erling Haaland Romeu Lukaku, and others, but Robert is just built differently. This year, he is most likely to win the Ballon d'Or, something that he has deserved for many years. It is the one thing that has eluded him now that he conquered Champions League Glory last season. It was a historic season for Robert Lewandowski last year with 55 goals and 10 assists. This season he already has 37 goals and seven assists. He could be on Pace for an even greater season than he had in his Champions League-winning season. From this a skill standpoint, Robert Lewandowski is far superior to his counterparts; however, it has to be looked at it a little differently because that's not why he's the best player in the world. His finishing ability is better than anybody; he has the size-speed athleticism ability to hit on counter-attacks and to score goals out of thin air. Robert Lewandowski is so good and so highly regarded because of his ability to show up when it counts the most. To a certain extent, there has been a little stigma against him in the Champions League in this regard, but still, he is the competition's third all-time leading goal scorer. Robert Lewandowski may never be as good as dead Muller, but he is certainly one of the best strikers in football history; based on the way he is playing, there are no signs of slowing down. He is 32 years old and seems to be playing like he's in the middle of his Prime with many years to go. Bayern Munich has been such a problem to take down not only because of Robert Lewandowski but also because this team is almost unbearable. He has taken down the biggest giants in the biggest games. Going into this weekend, he had 33 goals to his name. As Erling Haaland and Robert Lewandowski aligned in the Der Clasica Bayern Munich and Dortmund. Very high implications a Dortmund victory would allow RB Leipzig to stay at the top of the league. Erling Haaland scores twice in the first 9 minutes. Bayern was in the hole. Robert Lewandowski got them out of it. A well-orchestrated chance by Leroy Sane into Robert Lewandowski was his first; he got in the right place at the right time, kept themselves on the side, and hitting the back of the net Leroy Sane did do the dirty work, but someone has to be there to convert it. Lewandowski then converted from the spot to score his second of the game, which would equalize the score. Late in the game, Bayern Munich officially pulled away as Robert Lewandowski finished off his afternoon with an incredible hat trick with a strike outside the box. He does so many amazing things he is an all-around Striker with so many different skills, but the reason he is highly regarded is games like this against Dortmund he rose to the occasion, showing there is still a significant superiority over erling Haaland. Taking Bayern back to the top of the league and he continues to chase history. Gerd Muller has the record for Bundesliga goals in a season with 40. Robert Lewandowski has 31 already this season. He certainly will get this record by the end of the season as he continues to make more history with Bayern Munich. Some believe that Bayern Munich is not strong enough defensively to retain the Champions League trophy. I say nonsense; no team in the world has three top-five players the way Bayern Munich does. As long as Robert Lewandowski continues to play like this, it will be incredibly hard to stop them at any rate; even Man City and PSG don't have a shot in the dark against a Robert Lewandowski lead Bayern Munich. The Polish Striker has 30 goals from open Play of his 37 and all competitions. Robert Lewandowski proved that on the biggest stage, Robert Lewandowski is just on another level. Robert Lewandowski is on Pace for another 50-goal season; simply put, in sporting terms, he is Thanos no one even comes close against one of the best strikers in the world; it's still is very clear that the distance between himself and everybody else is the Pacific Ocean.
Harry Kane vs Crystal Palace (2)
Harry Kane has been unbelievably special this season. There are no two ways about it. He has just been on a different type of level, especially considering how consistently he has been in the goal-scoring Department; seeing him add passing ability has seen him become such a different type of player. He has become more than just a goal-scorer; now he used to be somewhat of a poacher, a dangerous goal-scorer who could do it at a very high level but never really got the credit he deserved, at least at different points in time. He has now become much more complete; now he isn't on the level Robert Lewandowski nobody really is. He is undoubtedly a top-three striker in the world. Harry Kane, at least right now, given his experience and what he has brought to Spurs this season, may even rank a little higher than Erling Haaland. Erling Haaland is a machine in an animal, and you could argue he scores more great goals but considering Harry Kane and what he has done not only as a goal scorer as a supplier as well certainly gives him denied for the time being. Spurs have been a little hit-and-miss this season; they looked like they were in a title race at least at the start of the season against Liverpool; ironically, Both of those teams have been replaced by Manchester United and Manchester City, but nonetheless, his individual output and performances have been nothing short of special. If you have read my contact in the past, do you know that I do not recognize players from the Premier League all that often? I do recognize it is a solid league with a lot of capabilities; however, in my viewpoint, it just doesn't Stack Up with the Bundesliga Serie A and La Liga in this season, even the French league has been better. It is a league that, at some point, we'll be Revitalize It is no longer even in the conversation as being the best leave in the world however that doesn't mean I don't appreciate the players that they have. If there's one player that seduces me into watching Premier League, it's Harry Kane. He has everything physical stature goal-scoring ability, and now he's become an elite passer. If he continues to operate at this level, he certainly deserves a move at a bigger Club. The interesting thing about this is is often viewed as a stigma against Premier League players when they go into Europe and try to flourish. He deserves to play with a Real Madrid or Barcelona or PSG for that matter. I just feel bad for him that he is in a situation at a team that doesn't not win trophies. He has done everything that's supposed asked of him; at some point he needs to step out of that and go after the top clubs. Against Crystal Palace was just another example of what kind of level of Genius he actually is He is one of the most gifted goal-scorers I've seen in the Premier League in the last decade; he has that touch. in the Crystal Palace game, he had goal contributions. He either scored or assisted on all four goals. He left that game with two goals and two assists that are wildly more impressive than a hat-trick. He picked out a perfect cross into Gareth Bale to score on a great run into the box, then he connected with Gareth Bale again before hitting a super strike from outside the box and then ultimately getting his brace with a header from close range. He has been truly extraordinary this season with 23 goals and 16 assists; it's just the next level. He deserves every bit of recognition. This is only the fourth time this season I have recognized a player from the Premier League Harry Kane has been recognized twice, just showing how good he has been this season; with still a chunk of the season to go, he could be in for a 30-goal 20 assists he has been hidden at mediocre Spurs, but he is operating better than anyone in the world not named Robert Lewandowski.
Erling Haaland (4) vs Bayern/Sevilla
Erling Haaland, simply put is just built different. The meteoric rise of the Norwegian Superstar has catapulted Dortmund to the Champions League quarter-finals. This is only truly his second campaign in which he has been a massive name. We all know the story he burst onto the scene last year with RB Salzburg, eventually moving to Dortmund in the middle of the Season. Bagging a 42 goal season at such a young age. He only continues to show how special he actually is. In hindsight, that de classica against Bayern Munich showed that he still has a bit of distance between himself and Robert Lewandowski but still showed incredible qualities this week and both the Bundesliga and the Champions League. There has been a constant debate over who the best youngster in the game is, whether its Erling Haaland or Killian Mbappe. Both exceptional players I'm not necessarily trying to pick one over the other, but at this point, Erling Haaland has separated himself from all the other young players in World football. Given his physical size and stature, it makes him such a problematic issue for defense has both on the ground and in the air. Yet he contemplates rapid Pace alongside it. Considering his size, it is very uncommon to see a player of his body type have speed like Mohamed Salah for Raheem Sterling. Erling Haaland has simply put a scoring machine. He is still very young, and it's only truly been a figure for to season this year being his third. When he was in Norway, he had a 16 goal season, then his pit stop in Austria with RB Salzburg he was a scoring machine Champions League hat-tricks in his very first campaign. Moving to Dortmund Midway through last season, scoring twice in their round of 16 matchups against PSG only being taken down by the world's best player, Neymar. From the jump, he is never struggled to live up to the hype both in the Bundesliga and in the Champions League, as we have seen. He is scoring at a pace that is unlike anything we've seen, especially in his age group. I'm not suggesting he's going to be on the level of Cristiano Ronaldo and Lionel Messi, but there's no doubt in my mind that he is generational. His ability to score almost seemed natural times. And it's beyond his finishing ability is physicality, his speed, it's his ball placement as well he always seems to make those runs getting in the right positions to be the most dangerous. There are very few things that can even be used as criticism. His hold-up play could use some work if he Masters that part of his game how we've seen Robert Lewandowski, and Luis Suarez, and other players at that position do it. There's mutually nothing that can stop him. He has a 75 million release clause that activates next season at Dortmund, but Dortmund will not let this one fly. I assume by the end of the season, he will have a new contract without that Clause attached in his contract. Erling Haaland has 31 goals this season, not quite to Robert Lewandowski's level, but he operates at a higher level than almost anybody else. He became the fastest player ever to get to 25 Bundesliga goals, and this week he continues to set records. He was absolutely Sensational this week in both of the games that he had played. In the de classica against Bayern Munich, he put Dortmund into the driver seat after 9 Minutes. Scoring twice on to counter-attacks being in the right place. However, they were playing the best team in the world, and classic Dortmund did not make the right adjustments, and ultimately Bayern Munich not only turned it around before the start of the second half and ended up winning 4-2 I don't normally recognize players that lost their games, but he was the only reason they were ever in it. Then in another tough match in the Champions League round of 16, Sevilla gave them a lot, nonetheless erling Haaland Rose to the occasion once again. Scoring a great goal to put Dortmund even further in the driver seat and converting a rare penalty. He is scoring so many incredible goals from open play and this week just was another reminder of how special he is. He has already scored 18 goals in the Champions League in his career. More than many football greats such as Totti, Ronaldinho, Zidane, R9, Adriano, Tevez, Falcao, and Lukaku. Even go further, it took Cristiano Ronaldo and Leo Messi twice as many games to reach 18 goals Erling Haaland is just showing up in the Champions League and scores in practically every game; he has more goals than an appearances at this stage of his career which is truly mind-boggling. The future of football is in great hands with Erling Haaland he is just another level of special, especially at the striker position; Robert Lewandowski it's still number one, and considering Harry Kane's passing ability, Harry Kane may still have the edge over Erling Haaland, but no make no mistake Erling Haaland is coming for everyone.