Score: A.S Roma 2 San Marino 0FT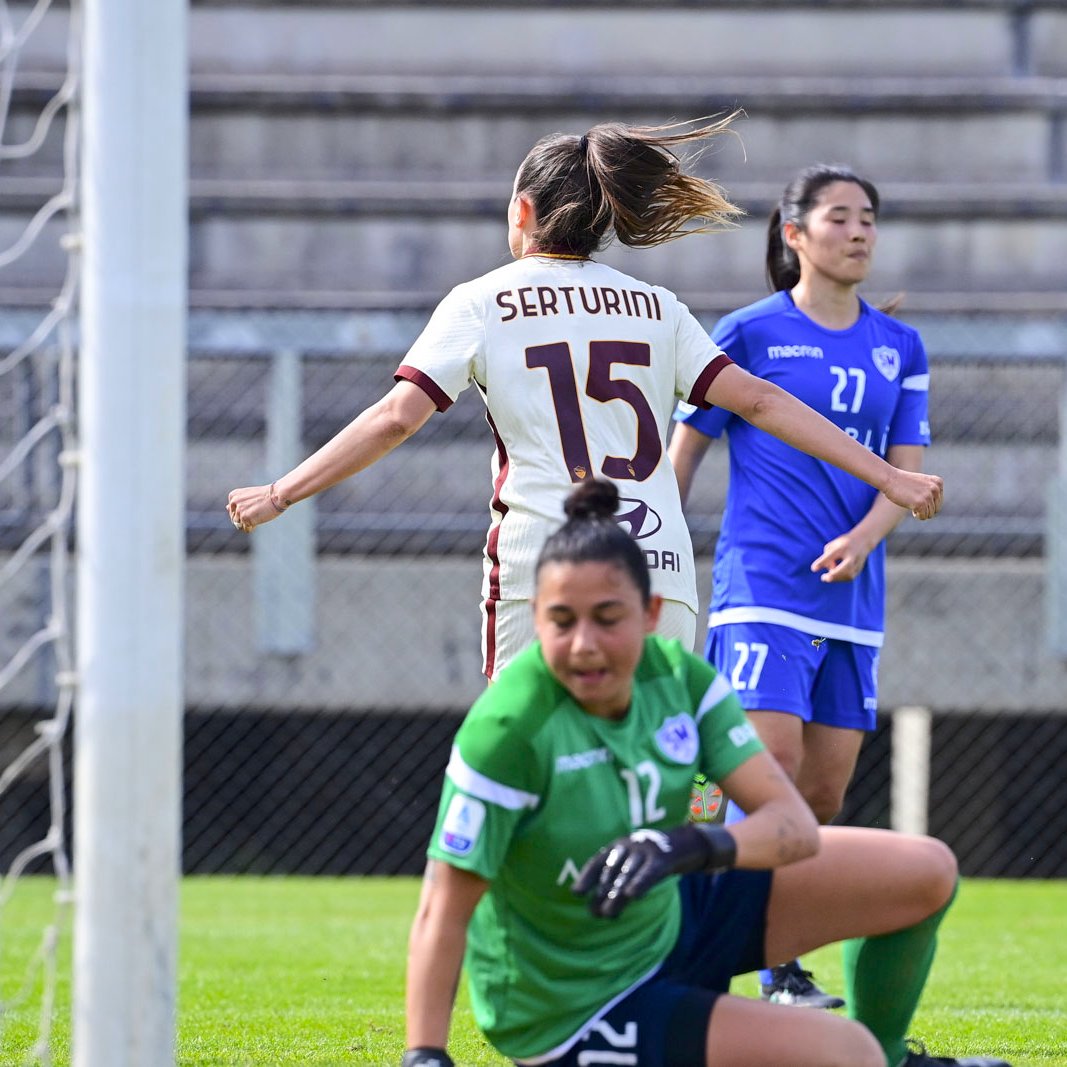 The Roma women are on the verge of concluding the season. Just a few games left in the campaign to continue to take their momentum until the end. The Champions League dream is more or less over. But still will likely obtain a top-four finish this season. Only the top two in the women's Serie A make the UEFA Champions League. Women's football has not yet started Europa League either I imagine they will eventually but at the current time, it does not appear this team will be operating in European football next season. That was their alternate goal this campaign; they have fallen short of achieving that, but their second half of the season has been overwhelmingly positive. Roma is one of the hottest teams in the league right now and will continue to drive their momentum through the last couple of season games. It's not all lost if Roma can get through Juventus in the Coppa Italia second-leg, they will have an opportunity to win their first trophy in club history. Last weekend was just another game in an attempt to push them in the right direction. Roma had recently beaten Inter Milan 4-3 in a crazy game, and it was one of their best goal-scoring performances of the season. Despite the scoreline that they dominated throughout. Roma prepared to battle the bottom of the table. Could they keep their hot streak going? They have only lost one game in their last five and are playing some of their best football of the season. The Roma women wanted to see that continued Roma still have to play AC Milan, Fiorentina, and Juventus to close out the year before finishing with Napoli and games like this. Roma needed to make their presence felt; that's exactly what they did.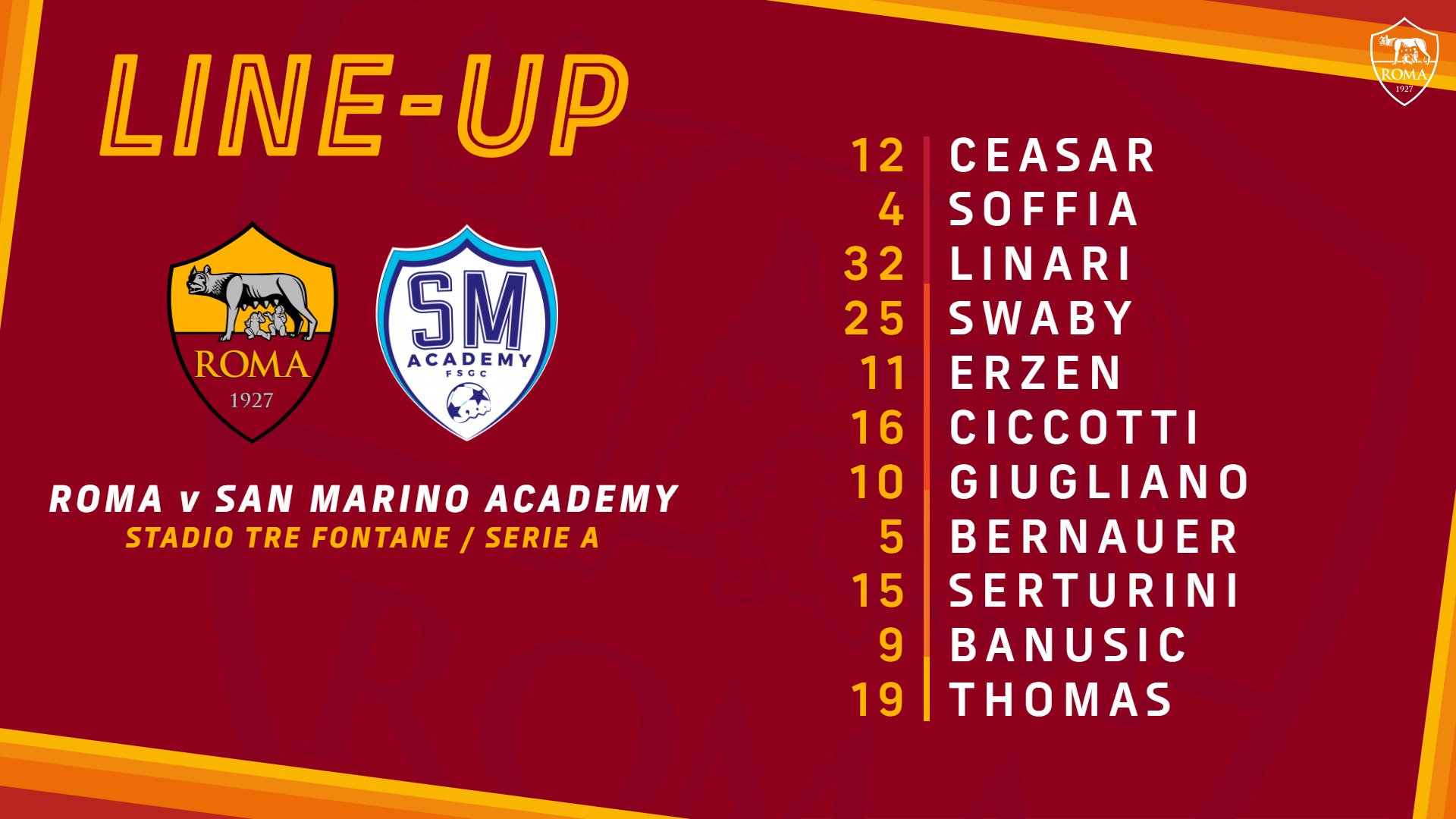 Roma came into this game in tremendous form as they had their eye on maximum points last Saturday; as long as they played together as a team, there shouldn't have been many issues getting the points in the end. They were playing San Marino, a team at the very bottom of the table on the verge of relegation. With only two wins this season and not a victory in their last five games, they were in horrible form, and there was just a sense that they were going to struggle against a Roma team that is playing some of their best football of the season. Roma tries to make their difference in the opening couple of minutes of the game in which they had some really good opportunities to score. Marija Banusic early shot brushed aside a potent strike at the goalkeeper, but she got her fingertips on to it; Manuela Giuliano try to secure a strike into the bottom corner, but the goalkeeper made another great save as it remained at level. Despite that, Roma dominated possession and was the better team. Occasionally San Marino had their chances, but Roma more or less was in control. They did not have to wait very long to push themselves in front. Lindsay Thomas running down the wing, picked out a perfect pass for Annamaria Serturini, who followed through to score her ninth goal of the season as Roma took a 1-0 lead. Late in the first half, Roma had a few opportunities to increase it even further. Manuela Giuliano did a tremendous job finding her space inside the box, but her strike on goal went miles wide a poor finish from Roma's number 10. San Marino tries to test the Roma goalkeeper just two minutes later, hitting a strike from outside the box but doesn't really challenge Camelia Ceasar. Just minutes before the halftime break Pamela Lazaro on a corner, tried patrolling her header into the back met, but she messed at the far post. That would end the first half with Roma holding on to a 1-0 lead.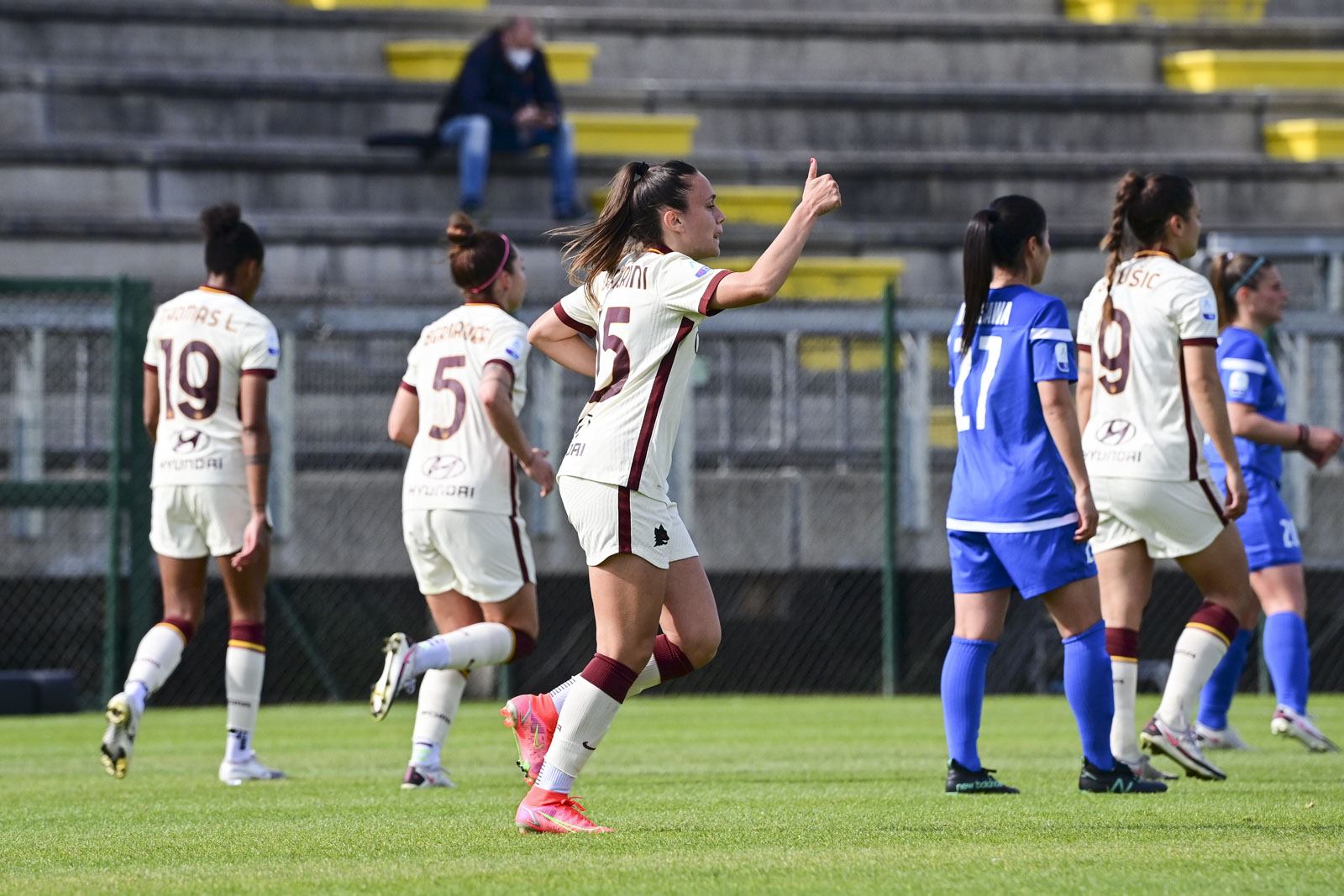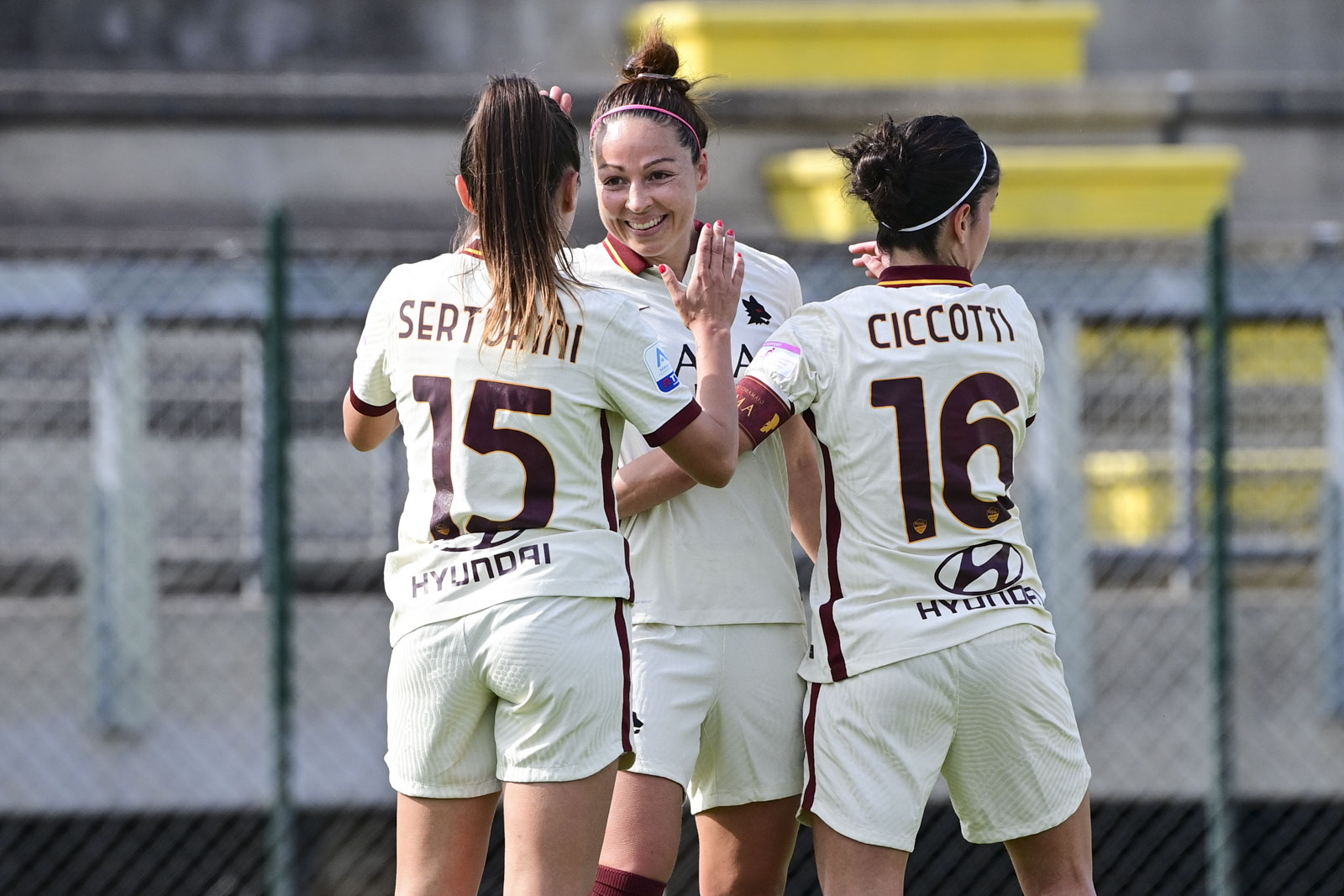 Annamaria Serturini close-range strike provides Roma with a 1-0 lead.
Roma found themselves more or less in control throughout the first half. However, some missed chances were a little discouraging, especially against a San Marino team that didn't have the resources to test them. Missing opportunities like that may not matter against San Marino but they certainly could against teams like Juventus or AC Milan. Early in the second half, Annamaria Serturini tried setting up Erzen but a horrible finish from close-range yet another strike that didn't even remotely reach the target. Roma has to do better on occasions like that. When a goalkeeper makes a great save, that's one thing, but when you are in a distance of scoring, and your attempt doesn't even threaten the goalkeeper at all, you have a problem. Remember, this is one of the worst teams in the league. Roma was finding it far too difficult. San Marino tries to take advantage of that with an audacious strike on the break but once again misfired. San Marino may not have waited long enough as the striker made her choice far too quickly without looking at the other options. Roma continued to have control yet only had a one-goal lead. Roma had yet another chance to double their advantage when Annamaria Serturini set a beautiful cross inside the box to find Manuela Guliano. Perfectly timed finished right in front of the goal, but the goalkeeper got in the way making the save. Manuela Giuliano hit the ground in frustration as she felt that she should have scored. A couple of minutes later, San Marino tried to hit back, going for the inside of the post instead of trying to curl it hitting the side of the net. As little of the ball as San Marino had, they did create some decent opportunities in the game; they were just let down by the squad's lack of talent. with eight minutes remaining, Andressa Alves sends through Anna, who was staring at a one-on-one hitting a very well time strike trying to look for that top corner the goalkeeper managed to get a hand on it making the safe. Anna is their best player and was absolutely sensational in the game, but she surely should have scored at that moment. One minute later, San Marino made another ridiculous save as Anna was inches from scoring once again. Then finally, in stoppage-time, Agnes Bonfantini killed off the game once and for all as she got forward on a counter-attack finishing it off by sliding the ball underneath the keeper into the back of the net to give Roma a 2-0 lead. Agnes Bonfantini hasn't had her best season, but there's no doubt she's extremely talented; if they can get her going more regularly next season, certainly Roma could go on an even deeper run and potentially challenge for the title. Roma, hold on to stay in-form and on fire with another victory even if it took them longer than it should have to kill off the game. As Roma security point in a 2-0 win. Annamaria Serturini is the woman of the match; even though she only scored one goal, she was constantly and giving San Marino a headache with her explosiveness and honestly probably could have scored a few more goals.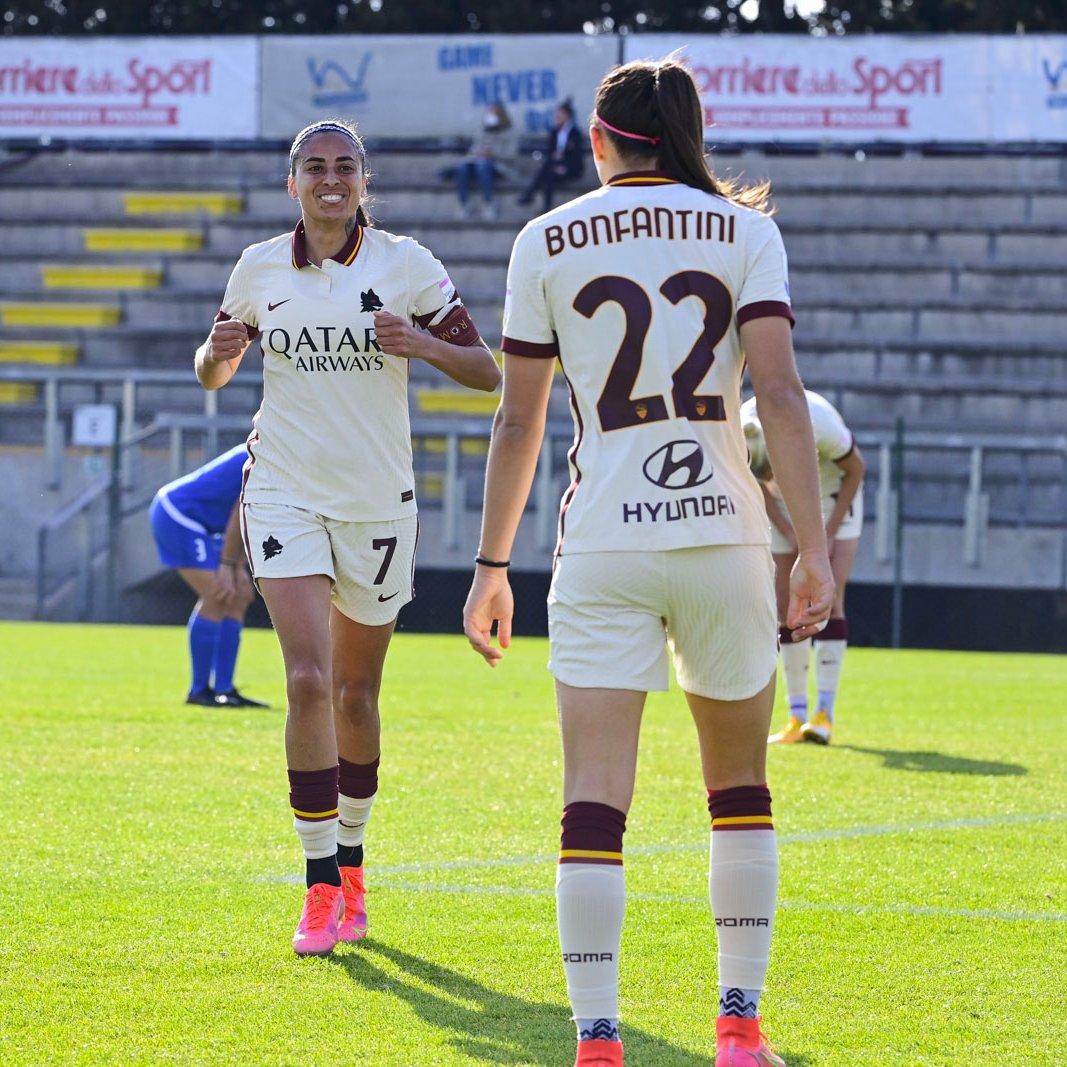 Bonfantini kills off game with beautiful finish on Counter as Roma win 2-0.
The Roma women continue to play extraordinary well during the second half of the season. I don't know how this happened, but they were as inconsistent as any team in the league this season up until January, and then they flipped a switch and got after it. Since the start of the second half of the season, they have been on fire, barely dropping any games whatsoever. Only one loss in the last four games and operating at an extremely high level. They became less dependent on Anna Maria, and Pamela Lazaro as the team became more connected together, and you see the progress by the way they have been playing lately. Roma will have to face Fiorentina, AC Milan's and Juventus twice then Napoli to end the season, but a Coppa Italia Glory could be on the cards for Roma, who are searching for their first trophy since becoming a club just a few years ago. The most considerable criticism for my end is that they missed too many chances as they showed flaws in front of the goal during certain situations in this match. Roma probably should have scored about 4 to 5 goals in the Victory, and they only scored two against one of the worst teams in the league. The fear is if they play like that against a stronger team, they will make him pay for it. Roma needs to finish more precisely in front of the goal, but overall, Roma should be satisfied with a performance even though they should have won by a more considerable margin. Roma will take on a big test again Fiorentina next time out, who said just one place behind them in the table, but there's no doubt that the Roma team we have seen lately is playing at a much higher level than early in the season they are on fire with yet another victory against San Marino as their confidence will only go up as the final weeks' progress.
WOTM: Annamaria Serturini

1Valentina Giacinti AC Milan 16 Goals

2Daniela Sabatino, Fiorentina 12 Goals

3Paloma Lazaro, Roma 10 Goals

4. Annamaria Serturini, Roma 9 Goals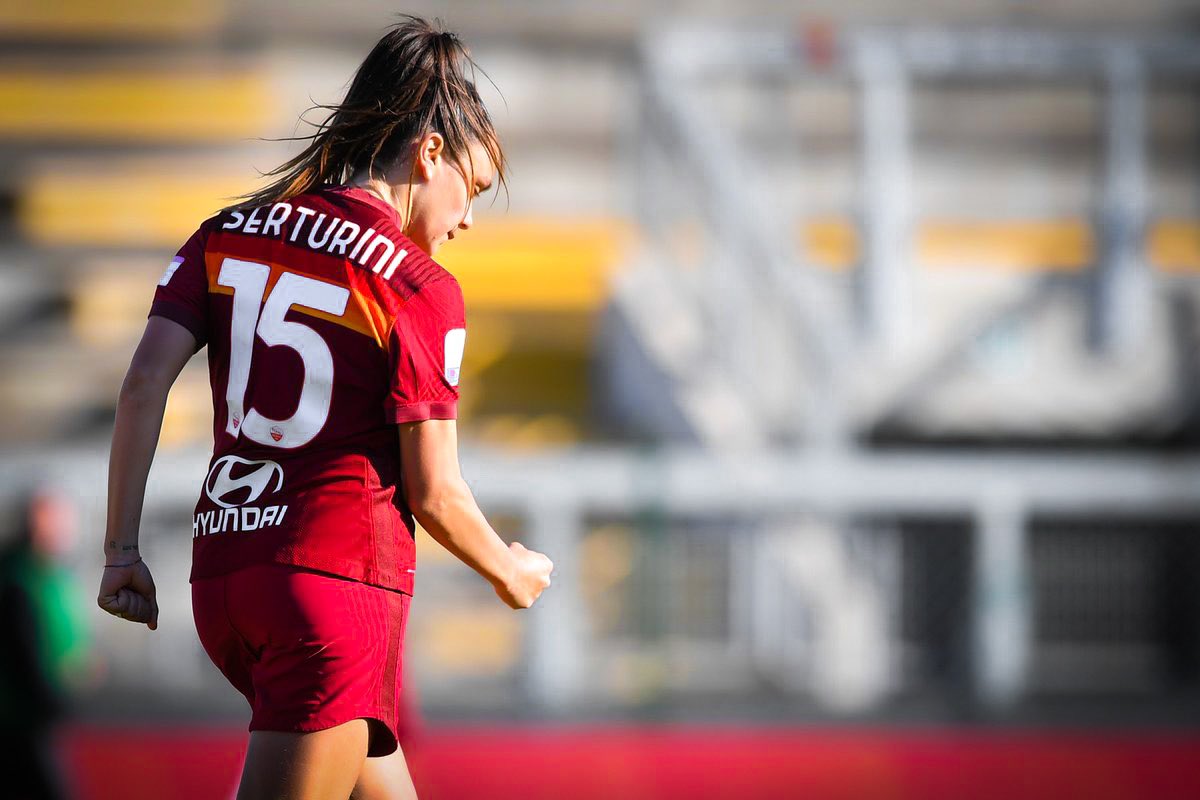 4Natasha Dowie AC Milan 8 Goals

5Valeria Pirone, Sassuolo 8 Goals

T5thKamila Dubcova, Sassuolo 8Goals

T5th Raffaella Barbieri, San Marino 8Goals

T5th Elisa Polli, Empoli 8Goals