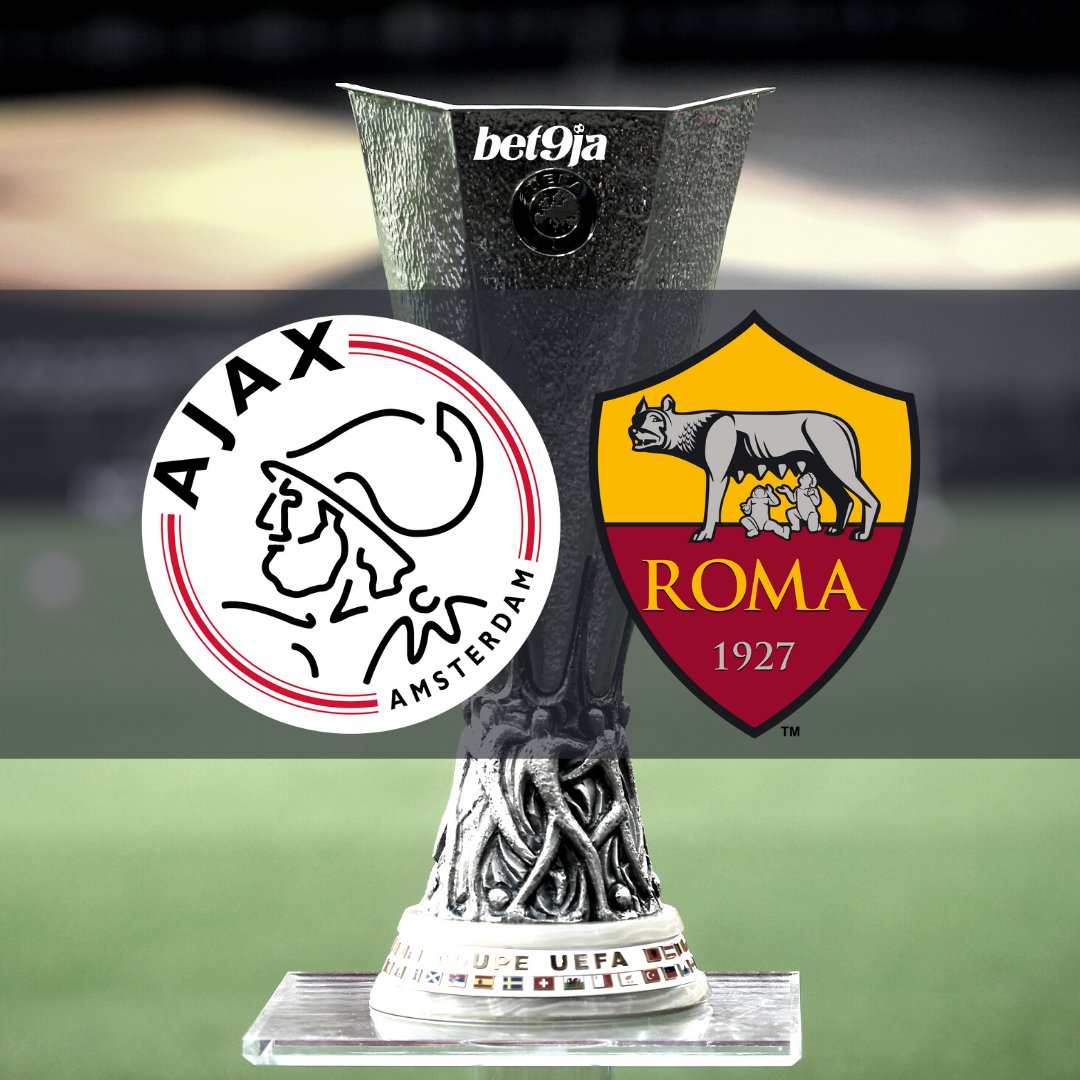 Roma is coming off a 2-2 draw against sassuolo as they prepare for the Europa League quarterfinal against Dutch Giants Ajax. Roma is not in good form in the league and has dealt with some significant injuries, and are certainly not playing well. This game away from home and Amsterdam will be as difficult as any game they play this season. Regardless of what anybody says, Ajax is the best team left in the Europa League; they are better than Man United; even if many people believe that they are the favorites, they are certainly not the favorite Ajax is a team that is tailor-made to rip Roma apart. It will be a Monumental challenge because of the sizable Talent difference and because Roma has not played well for several weeks, and this is a match-up that will test them in more ways than they can think of. Going to Amsterdam and getting the results will be close to improbable but not impossible. There's a slight chance Roma can pull off the upset, but I'm certainly not counting on it. Will Ajax rip Roma part in Amsterdam?, or somehow someway can the Italians stay alive in a match-up and leave the Netherlands with the quarterfinals in balance?. We will find all that out anymore when Roma heads to the Johan Cruyff Arena to take on the Europa League's Juggernaut.
Lineup and Form WWWWW
Ajax has had a very formidable European season so far. in the league they are running away with as they have a chokehold on the title race in Holland. They are in all likelihood going to concur that without too many issues mathematically, they are just a few weeks away from winning another League title as they have an 11-point lead on PSV domestically. In European football, they still have done tremendously well despite not getting out of the Champions League. They were in a complex group with Liverpool and Atalanta. When they were dropped down to the Europa League, they were highly expected to be one of the Europa League titles' favorites; they have proven and justify that with their performances. They dealt with French title contenders Lille and Switzerland underdogs young boys. They have only conceded two goals in the round of 32 and the round of 16. They are a tailor-made team to rip the heart out of their opponents; they have so many players that can damage you. There's not one player that looks like a factor; they have six or seven players who can be a key part of making the semi-final. For this match-up, though, I would look at Anthony his athleticism and attacking mentality and be very overwhelming. Roma has to deal with him, which is no easy task. The scary thing is he's not their only threat, so even trying to stop him will not solve their problems. Ajax operates out of a very attacking-minded formation; the Dutch typically go with a 4-3-3 formation; their entire mentality is to attack, which is why they've had so much success in Europe this season; not to mention they have won thier last 5 games it shows they fear no one.
Manager:  Erik ten Hag
Ajax possible starting lineup: (4-3-3)Scherpen; Tagliafico, Alvarez, Martinez, Timber; Gravenberch, Klaassen, Rensch; Antony, Tadic, Neres
A.S Roma lineup DLWLW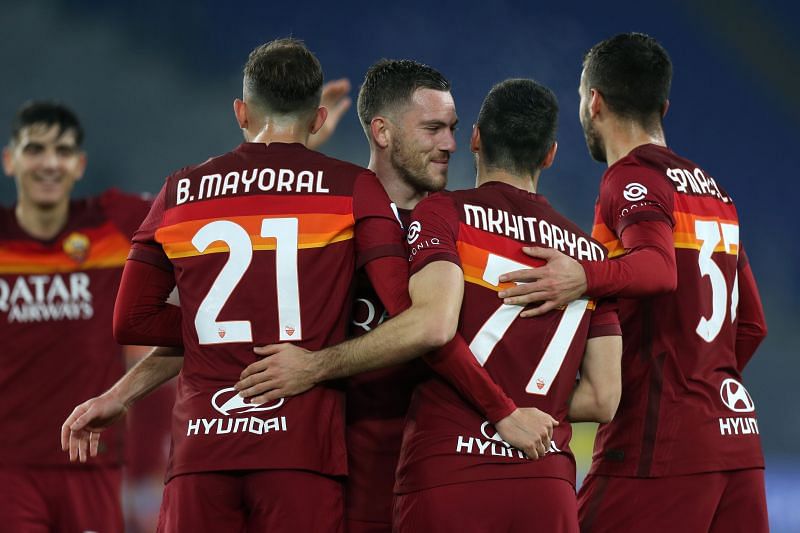 Roma typically operates out of the 3421 formation. It is what they have used the majority of the season. However, if Roma plays out of a back three, they will be ripped to pieces. Against a counter-attacking, very athletic and quick team like Ajax, keeping a similar formation is an extremely bad idea. Roma must experiment with a back four. Roma should operate out of a 4-4-2 formation; this gives them the best chance To stay alive in this game. In goal as always, we should see Paula Lopez. The back for should consist of Leo spinazzola at left-back, Rick karsdorp at right-back, and a center-back partnership of Gianluca Mancini and Bryan cristante. In central Midfield, we should see Jordan veretout and Lorenzo Pellegrini. With Pedro Rodriguez and Carles Perez on the outside. Then up front, Roma should try to play bojar mayoral and edin Dzeko together. It may be an experiment, but it's something that would be worth doing because Roma can not operate with a back three. It's far too risky. If Roma wanted to do a 4-5-1 instead, that would work whatever they decide, it has to be a back for, or the entire thing will collapse in a Roma will embarrass themselves. Against a different type of opponent, maybe Roma could keep the same formation, but against Ajax, it would be idiotic to play a back three.
Manager: Paulo Fonseca 
Roma Predicted XI (4-2-2:) Pau Lopez (GK); Gianluca Mancini, Bryan Cristante, Rick Karsdorp, Leo Spinnazolla, Jordan Veretout, Lorenzo Pellegrini, Carles Perez, Edin Dzeko; Borja Mayoral
Keys to the Games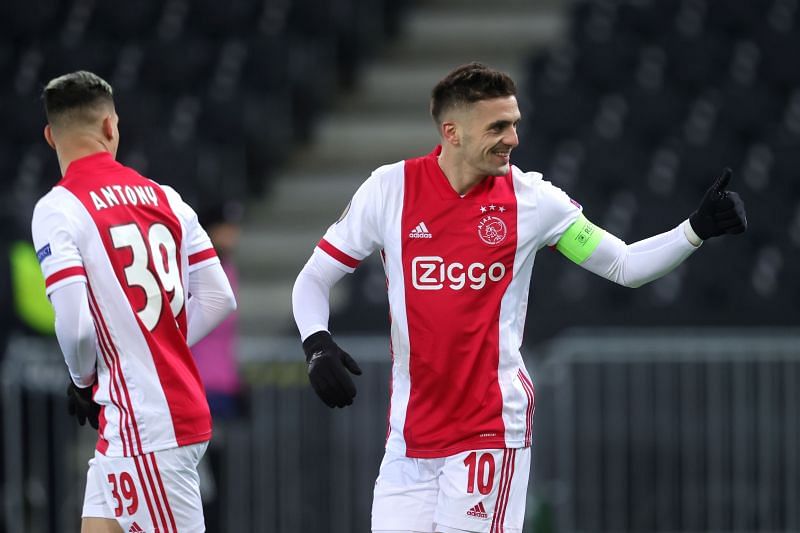 Play Through Ryan Gravenberch
Use their athletes to attack
Push Forward Wingers /Antony and Nerves are Critical
Supply service for Tadic
Ajax path to Victory, especially at home it's quite simple. The short answer is to play their game, and they will get the result they are looking for. However, if you want to expand on why they will be such a problem, here's what they can do to guarantee themselves a spot in the semi-finals. Ajax has a team full of athletes that can wreak havoc when they have space and time to operate. Getting on the counter-attack, it's something that will frustrate a Roma defense that has had its cracks this season. They have weapons that they will not have answers for, such as David Neres, Antony, Davy Klaassen, Mohammed Kudus. Not to mention their Elite finisher Dustin Tadic, who has 22 goals this season. If they get on the break, they have the speed, athleticism, and passing intelligence to break Roma down. Another component is the Wingers Neves, and Antony provides so many potential problems for Roma; using them to attack and expose a breakable Roma defense will put them in a great position to get in front early. If Antony gets into the box with space Roma is in trouble. Using the Wingers and playing through a strong Midfield could be the key to it. The fact is, and they are too athletic to be stopped. Another component is domination in the Midfield. They must play through Ryan Gravenberch he is intelligent, calm, and composed, and that is where the attack is going to start. If he can control the game through the Midfield, they're going to have success because not only can he get his team on the attack, but he can also slow the game down, allowing them to dictate everything. If Ajax controls the game, there is very little that will be able to be done. As a backline that can push into the attack, Ajax will still be able to be formidable defensively; this is another component that will keep Ajax on the front foot all game. As much as I'd like to be optimistic about Roma, I don't think they have a chance.
Play with a Back four
Control Possession
Finish the Chances
No Silly Mistakes
Have Dzeko control hold up play push Mayoral forward
Roma will be fighting a losing battle in this match-up. To make this still winnable in the second leg, they need to be almost perfect. As I said, they must change their formation. Playing with a back three is a bad idea the back four is exactly what they need right now. Against a different team, maybe this would be different, but against this team, starting a back 3 is signing away elimination in the competition. In Amsterdam, I don't know how many chances or at least high-quality chances that Roma will get; because of this, the Roma Strikers need to finish when they are presented with legitimate scoring chances. Getting an away goal is everything in this Tie if they fail to do so, it will be too much to overcome. Roma doesn't have much of a chance anyway, but if they're able to grab an away goal, it could do a lot for them going forward. Secondly, do not take any calculated risks; playing it safe, doing too much, or playing risky football in the Netherlands against this team will only end in embarrassment for Roma. They must play mistake-free football and don't take too many big risks. In the second leg, they can do that if it's still in the balance, but trying to do too much or risking things will make this game turn into a blowout. Finally, dominate possession. Roma cannot let Ajax have total control at home if Roma has an advantage in The Possession, they can dictate the way the game is played. Maybe one more Point here is to give mayoral as much service as possible he is the top scorer in the Europa League and has been on the mark. In this competition, I suspect edin Dzeko should play as well. Still, you use edin Dzeko to operate with his hold-up play, and then you push mayoral forward to try to take advantage of all the goalscoring opportunities they can get.
Prediction: Ajax 4-1
There certainly is a route in which Roma can do some damage on Ajax. They have the capabilities. However, as much as I want to be optimistic and I think playing edin Dzeko and mayoral together through different roles could be very effective. Unfortunately, I have to be a realist here. I have to evaluate what I see in front of me and give an honest perception. Roma may have a chance to go through and at least keep this close going into the second leg I just don't see it happening. Ajax is at home, has too many weapons, and will be lethal if they get forward. Defensively Roma just are not strong enough to deal with what Ajax can throw at them, not to mention this is an away game, and the Dutch Champions are just in better form and have sizable advantages in other areas. Bojar mayoral will find the back of the net in this game, but Ajax will score for as I see Ajax dealing with Roma in this quarterfinal match-up with a 4-1 victory.
A.S Roma's Boja Mayoral 
Ajax Antony 
Match Details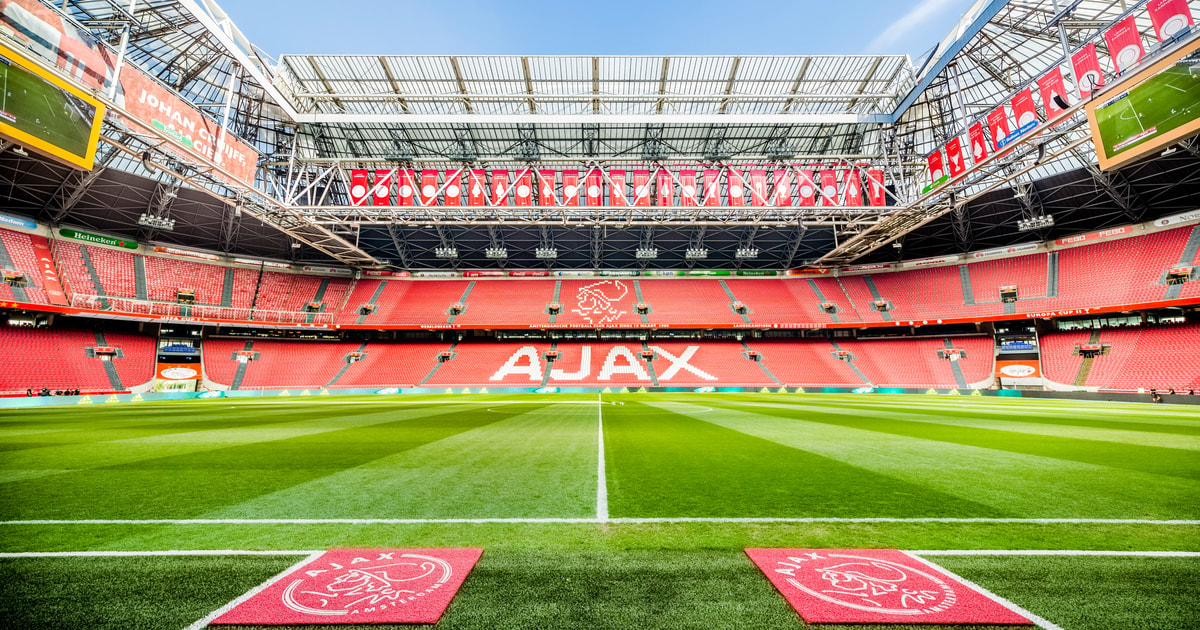 Venue: Johan Cryuff Arena 
Date: April 8th
Kickoff: 2:00PM (USA) 8:00PM (ENG), 9:00PM (ITA)
TV Broadcast: CBS ALL EXCESS