Score: Wolfsburg 2 RB Leipzig 2FT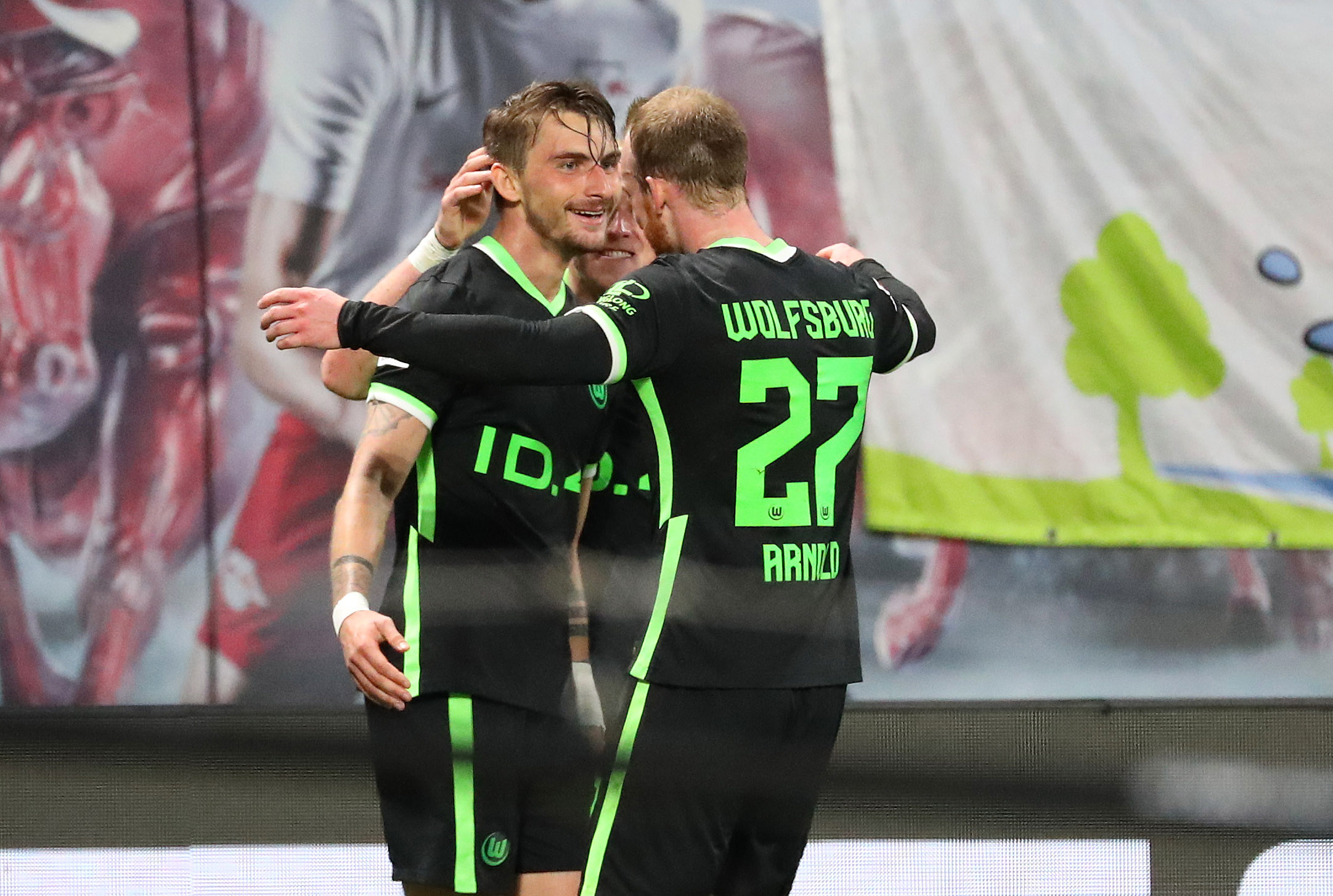 Following a 3-0 victory over Union Berlin behind a Josip brekalo hat trick, the Wolves only needed one point on Sunday night to accomplish their goal of making the champions league as we saw another shocking result from Frankfurt as they went down to relegated schalke in a 4-3 defeat. Wolfsburg went on the road to face RB Leipzig, who would be vibing for their highest finish in club history. It was a 2-2 draw between teams on a very similar wavelength in the first meeting. It turned out to be one of the most exciting and fascinating matchups of the season. A story of two halves. With Dortmund winning against Mainz there champions league position is more or less secure, with Wolfsburg trying to be next to confirm. It would be a very climatic matchup; it was a battle between two teams that really had some things on the line ahead of this game. Wolfsburg would be without Josip brekalo that did not make the trip due to injury. It was wout Weghorst and the crew to deliver against a tough RB Leipzig side playing their last home game under Julian nagelsmann; both teams had a reason to be up for it; that's exactly what we saw. Wolfsburg had a few very early chances in the opening 10 minutes in which they probably should have taken the lead; both teams had those opportunities but it was Wolfsburg that struck first as Maximilian Philip hit a beautiful strike in the back of the net as Wolfsburg took a 1-0 lead it was very back and forth as our be like sick at tact and attacked, but incredible defensive display from Wolfsburg kept things in balance than at the very end of the first half Maximilian Philipp scored again as Wolfsburg ran out to a 2-0 Lead With Champions League football more or less in their grasp scored again as Wolfsburg ran out to a 2-0 Lead With Champions League football more or less in their grasp. In the second half, it was an attacking Clinic against a defensive masterclass. Wolfsburg had minimal chances to score in the second half as a lot of it they were sitting back and dealing with the attacking prowess of RB Leipzig. The hosts ended up getting one back through on the loan Winger Justin kluivert a minimize the deficit. The mentality of RB Leipzig only would continue, but Wolfsburg refused to give up an inch as they dealt with almost everything that came in their way; another defendant could not have handled that situation the way Wolfsburg did. Late in the game, RB Leipzig was awarded a ridiculous penalty that ultimately leads to Marcel Sabitzer converting from the spot to get the equalizer. Not only was it not a penalty, it wasn't even a foul, a truly outrageous decision but none the less Wolfsburg could still achieve what they wanted with a draw. Wolfsburg was able to get forward late in the game and had some excellent opportunities to perhaps breakthrough a couple of late attacks from RB Leipzig trying to look for a winner, but ultimately he was unsuccessful as Wolfsburg held on to earn a 2-2 draw with RB Leipzig Wolfsburg Champions League dream became a reality at the point was enough to confirm their Champions League status for next Seasons the wolves are back in Europe's elite competition following a 2-2 draw against the Bundesliga's runners-up.
Oliver Glasner keeps his Wolfsburg team out of the 4-2-3-1 formation even with the absence of Josip brekalo was nursing an injury. In goal would be the Belgium shot-stopper Keon Casteels; the back four would be made up of Paulo Otavio at left-back on the opposite side at right-back would be mbabu then the center-back partnership would be the League's best American John Brooks alongside Maxine Lacroix. The defensive Midfield would be made up of Maximilian Arnold alongside Xaver Schlager in the Centre of Midfield would be Maximilian Philipp to his left would be Yannick Gerhardt, and then the on the opposite side on the right would be Rideau Baku then up top as Wolfsburg Central Striker would be the number 3 goal scorer in the Bundesliga and Wolfsburg fourth all-time leading scorer wout Weghorst.
After preparations and predictions, the match got underway at the Red Bull Arena in Leipzig in Julian nagelsmann last home game in charge of Leipzig, with Wolfsburg trying to make a Charged towards the Champions League. There was a lot on the line for both teams, which made this match so exhilarating, especially in the early part of the game. Countless amount of storyline in just this game. Wolfsburg came out aggressively, at least in the opening 10 minutes, where they looked to have the ball moving very precisely and got themselves in dangerous positions. Just minutes into the game, Maximilian Philipp struck at close range, ultimately the goalkeeper getting his hands to it; the cross should have probably come in earlier as Wout Weghorst was in an excellent position, but the ball didn't; come in quick enough.. A minute later, riddle Baku had a magnificent opportunity to break through the box on the counter-attack, putting RB Leipzig in a vulnerable position; he looked for the bottom corner but missed-timed the situation as his strike missed the goal. In hindsight, wout Weghorst was open and should have made the extra pass in what could have been an open goal. Wolfsburg to put themselves in those positions very early in. Wolfsburg got into a dangerous position again, this time off a set piece as Kevin mbabu converted on a header from Maximilian Arnold cross, but the finish was off Target. Wolfsburg, in all honesty, we're making things look very easy, but it seemed like it wasn't going to last forever, but while they were pushing the ball forward, they had to take advantage of an opportunity that moment arrived for Wolfsburg the 12th minute. Wolfsburg was pushing into the box Max Arnold picked out a pass for Maximilian Philipp, who lifted the ball up before hitting a rocket into the top corner giving Wolfsburg a 1-0 lead. The on-loan attacking midfielder from Dynamo Moscow scores his fourth goal of the season. It may not sound like a lot, but he's been very impressive for the role he plays within the team, and I'd be shocked if Wolfsburg doesn't attempt to make the move permanent. RB Leipzig was being outplayed; they try to flip a switch after the goal was scored for Wolfsburg. Konrad Laimer was close when he put his head through, and Emil Forsberg crosses, but he fired wide. A few minutes later, Yosef Poulsen got his head through another cross, once again not finding the target. Wolfsburg got back on the offensive. Keenan Casteels ran outside of his box to make the save before launching an excellent through-ball separating the play into Riedel Baku, who laid it off to Wolfsburg number one target wout Weghorst; he controls the ball, took one dribble, and then fired a really well hit strike that paid off the post just showing his efficiency as a goal scorer. The Dutch International doesn't need a lot of space to create something out of nothing. However, this time the post denied what could have been another goal. Kenon Casteels made a tremendous save on Christopher Nkunku, who was extremely dangerous at the half-hour mark before the Belgium goalkeeper settled it. Leipzig was really kind of stamping their foot on it; a minute later, Justin kluivert hit a very powerful shot that was close once again it seemed like it was coming. The game switched, and then Wolfsburg pushes forward and try to add to their lead after dealing with an onslaught from Leipzig. Xaver schlager misfires from Deep, then Max Arnold getting a well-hit strike from outside the box, but the goalkeeper managed to get a hand on it. There was only given a minute of stoppage time, but Wolfsburg took full advantage of that they put on the accelerator and found the space in the 45th minute Yannick Gerhardt had the ball near Midfield pushing forward went through the defender's legs before whipping a ball on the wing to Baku the young Talent can you cross into the box this time connecting with the Maximilian Philipp tapping the ball into the bottom corner as Wolfsburg took a 2-0 lead it would be a brace for Max Philipp going his fifth goal of the season.
Wolfsburg looked like they locked up Champions League football already, but we expected some adjustments from RB Leipzig. Angeliño and haidara were brought on for the hosts. Julian nagelsmann had a plan and approach to dictate the situation. It did not take very long for Leipzig the goal for the throat early in the second half. John Brooks had an early chance for Wolfsburg, but outside of that, it attacked football against defensive football. Justin kluivert, in the 51st minute, cut into the box with all the momentum inside, dropping the defender and ultimately finding enough space to beat the very difficult Conan Casteels as RB Leipzig minimized the deficit. You would have thought perhaps this would Inspire Wolfsburg to push forward and try to get on the offensive, but Leipzig was not going to allow that to happen; it became a bloodthirsty attack against an extremely compacted defensive backline of Wolfsburg. 2 minutes later, Justin kluivert hit an excellent cross inside a to Willie Oban came very close to scoring. Still, immense defensive pressure from Wolfsburg dealt with the situation even if it was only temporary. Coming off another corner just minutes later, this time Lucas Klosterman connected on a header that was a bit wide. This is only the beginning; the majority of the second half would played on the Wolfsburg side. Throughout the next almost 20 minutes, it was a true masterpiece coming from the Wolfsburg defense. RB Leipzig could not get through and find a legitimate chance on goal; the Wolfsburg defense continued to come up big and held them off as much as they could; they put themselves in dangerous positions almost regularly woofer just for a step ahead and kept things at arm's length even with the amount of pressure that they insisted inside. Leipzig elected to take out just in Kluivert a strange decision considering he was inflicting the most damage out of any Leipzig player on a one-on-one situation. Konan Casteels made an outrageous safe with his foot in a one-on-one situation both the goalkeeper and the backline were just up and could deal with whatever Leipzig attempted to throw at them. It was truly a battle of attacking football and defensive brilliance. In the 75th minute, RB Leipzig had a chance to draw level in what turned out to be a ridiculous penalty decision. Haidara fell Inside the Box; he first contacted the ball with the Wolfsburg Defender connecting with his foot late, one of the strangest decisions I've seen in the Bundesliga this season. It wasn't even a foul in a game like this; it was an outrageous decision to make. Marcel Sabitzer stepped upconverted as Leipzig got their equalizer despite the controversial circumstances surrounding it. A minute later, Casteels made a great save on Wolfsburg linked Hwang hee Chan. Wolfsburg got sword late in this game and had a few opportunities to find enough space to get themselves a late winner potentially; it alternately didn't come, but it didn't come for RB Leipzig either they fought back late, but the defense of MasterClass by like cig held off a late Onslaught from RB Leipzig as the final whistle blew in a 2-2 draw. Wolfsburg to earn enough points to confirm Champions League football for next season as the wolves are back meanwhile RB Leipzig securing their greatest ever finish in the Bundesliga Wolfsburg controls first-half getting two goals and then we see an onslaught of attacking from Leipzig against a stone wall defense in the final 45 minutes in what was a beautiful match of football ending in a very fascinating 2-2 draw.
Wolfsburg has been improbable Champions League participants. They have officially qualified for next year's Champion's League making the competition for the first time in five years. Wolfsburg, after losing Kevin De bruyne, went through some really harsh times, almost being relegated. They have officially confirmed their spot for next year. Oliver Glasner has taken this team to an incredible level; they're only going to get better with this as they improve their team in the summer and trying to keep everyone together. The productivity from the entire backline has kept Wolfsburg unscathed defensively during the important parts of the season and not to mentions their attack led by wout Weghorst that has made Wolfsburg history being the highest scoring player since edin Dzeko, one of the best strikers and most underrated Strikers in all of Europe and the Bundesliga who will likely finish the season as the third top scorer in German Football. Not to mention all the other contributing parts that have led to this very moment. This was going to be a challenging game against an RB Leipzig team that they have drawn with early in the season with a potential of achieving their highest ever finished in club history, while Wolfsburg just needing a point to get to the end of the game. It was one of the fascinating games of the weekend, an actual battle between two great teams. Maximilian Philipp scoring two goals in the first half as Wolfsburg had a 2-0 lead despite the aggressiveness and chances by RB Leipzig; a great Wolfsburg defense held on and try to deny them as much as possible. it was an offensive explosion for RB Leipzig in the second half; eventually, they were broken down; the defending from Wolfsburg was just next level It was a valid defense of Master Class in the second half was the difference in this game one of the best Bundesliga games in several weeks at two teams battled in a perfect mono e mono match up a nearly perfect match of football from both sides the man of the match tonight go to Keenan Casteel that came up with some big saves in huge moments as the main objective was achieved here.
MAN OF THE MATCH: Maximilian Philipp