TEAM OF THE SEASON BENCH
Winger: Moussa Diaby, Bayer Leverkusen

On the bench, as my first substitute, I went with Bayern Leverkusen, player of the Season Moussa Diaby. He has been a long admirer of many of Europe's top clubs and has been Bayern Leverkusen's most important player. The winger is incredibly special not only because of his athleticism, intelligence, and movement but his ability to put teammates in the right positions. In the end, that's a big reason why he makes this list. He is constantly deferring and creating and supplying chances for the attackers to score goals. It wasn't necessarily an excellent season for Bayern Leverkusen; even though they were top of the League at Christmas, a loss to Bayern Munich at the death to derail the entire season, they still managed to finish in the top six. They will be in the Europa League once again. Even though it's been a lot of inconsistency with this team, Moussa Diaby has kept him afloat mostly because of his passing efficiency. Moussa Diaby scored four goals as supplying 10 assists this season in the Bundesliga. She also ranked number 3 in the Bundesliga in two categories chance creation with 63 opportunities and key passes with 53. He is one of the big reasons why Jadon Sancho doesn't even make the bench; we have to remember this list is about Bundesliga performance only, and in the Bundesliga, Moussa Diaby was one of the best Wingers in the league. Bayern Leverkusen needs to try to hold on to him and Leon Bailey; if they're going to make a run at the Champions League next season, he will undoubtedly be a big part of that. This season he has been absolutely phenomenal; he's kind of flown under the radar because he doesn't have a massive name, but there are teams throughout Europe very interested in the services of the explosive Winger that Bayern Leverkusen half. His Pace athleticism and movement is a big reason why he's got into those keyspaces, not to mention his cross is deadly; he doesn't need a lot of space to find teammates whether or not his teammates scores; another issue clinical finishing has been a slight problem this season even though I think Patrik Schick did an outstanding job this year but collectively Bayern Leverkusen need to be converting more especially considering the service that they are regularly getting from Moussa Diaby.
Winger: Leon Bailey, Bayer Leverkusen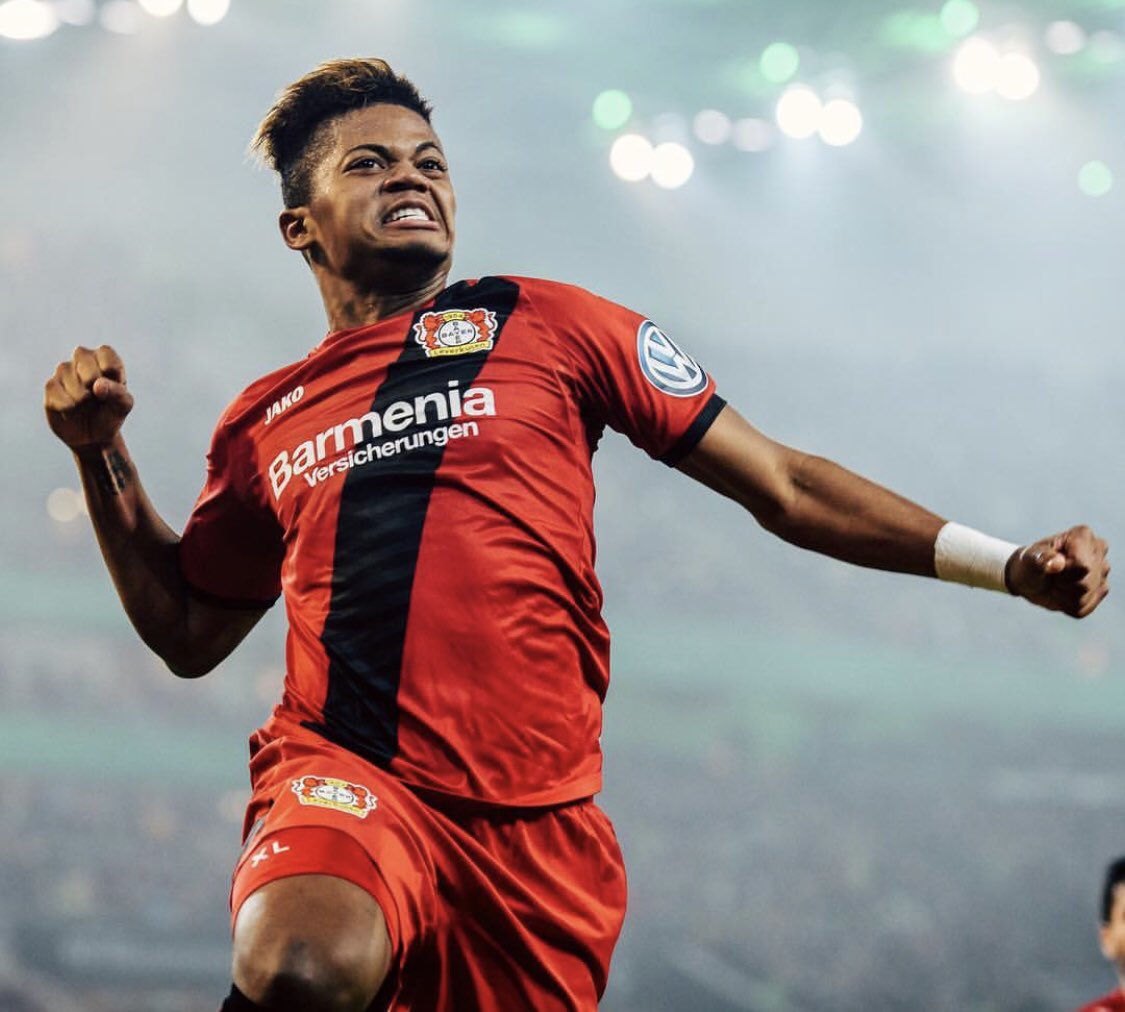 Joining Moussa Diaby on the bench would be his teammate Leon Bailey. The Jamaican winger has not been as good, but he hasn't been far off showing his explosiveness throughout this season. Leon Bailey scored arguably the goal of the Season against Gladbach with a rocket from outside the box curling into the top corner. His numbers may not make you think that he has been one of the league's best, but he certainly has; he has supplied and scored his fair share of goals; his teammate on the other side Moussa Diaby has served on a multitude of occasions would be the goal-scoring Winger on Leverkusen is Leon Bailey. In all competitions, he has 10 plus goals and assists, but this is only talking about the in the league he has nine goals and eight assists; even though that may not sound like ridiculous numbers considering how well he has played so often, he definitely deserves a spot on the bench this team has been very inconsistent. Still, Leon Bailey, for the most part, has shown up to every game with high-level performance. He will only take it up a level next season as I see the young winger getting even better. And it isn't all that he ended up completing 54 tackles which is a big number for a player at his position, and supplied 223 passes into the box showing his ability to pick out the pass for the teammates the combination of Moussa Diaby on One Wing and Leon Bailey on another has been phenomenal the combine stats of the Leverkusen's to winger's is one of the three best Duos in the Bundesliga there was no way I was leaving either one of them off this list.
Winger: Filip Kostic, Frankfurt

Joining Andre Silva on the team of the season on the bench is Frankfurt team made and right-hand man Filip Kostic. There's a strong argument that perhaps he could have made the starting XI even. I slightly suede for Marco Reus mainly because of his influence inside Dortmund. However, Filip Kostic becomes the second Frankfurt player on this list as he makes the bench. Filip Kostic has been one of the best passers in European football, not just the Bundesliga; much like Moussa Diaby, he doesn't have a lot of goal-scoring prowess this season; he never really has that's not really been part of his game. His game is about facilitating opportunities for his teammates and putting the attacking players in the best position possible. The cross that he hits from the wing maybe one of the most perfectious things I've seen in the Bundesliga this season. The way he has been able to supply Andre Silva Right On Target on so many opportunities is another reason why I have been so impressed with him. Just four goals this season but added 15 assists this campaign. He just continues to be one of the best facilitators in Germany. He may not be the most responsible, but he played a big role in Frankfurt, nearly making the Champions League this season. He ranked number two in the league in assists and number one in key passes with 77 8 more than Thomas Muller, just showing how incredible he has been this campaign. To Cap all that off, he even registered 77 tackles which is an obscene and number of tackles for a player in a very attacking Center position; he has been flying under the radar for the last couple of Seasons, but that certainly isn't the case anymore the connection on the correlation between himself and Andre Silva is a big reason behind their historic season. He has been as deserving of a spot in this team as anybody else; he's really been a little bit of everything for a Frankfurt side that was so fascinating to watch this season; the Serbian provided everything for Frankfurt.
Attacking Midfielder Dachi Kamada, Frankfurt
With Andre Silva already in the starting 11 for the Season and Filip Kostic team filling out the bench, it's time to add yet another Frankfurt player. This time the Japanese flavor Dashi Kamada. The Japanese International has been one of the most underappreciated players in the league for many seasons. Frankfurt had a lot of players that were very impactful and influential this campaign, but the creativity that we saw from Daichi Kamada in the Midfield not only opened up the place for the entire team but got Filip Kostic the ball in dangerous positions but also continuously fed through balls into Andre Silva who let the league on fire this season he would have had success regardless but the impact of Dashi Kamada in the team allowed him to go wild. The attacking midfielder finished the season with five goals and 12 assists in the league, which is number three in the league for assists, and on top of that, he also ranks 8th in the league in chance creation with 50. He continuously put his team in a position to win games. He scored when he was asked to, and he supplied his teammates constantly. Yet another player very influential in Frankfurt nearly making the Champions League. Frankfurt, we're unable to do that, but if the team can keep their 3 together, they can have a good run at it again next season. Dashi Kamada seems to be finally getting the respect he deserves coming off a really remarkable campaign.