Signing of the Season: Federico Chiesa 
The signing of the season was contention between three players. Federico Chiesa joining Juventus from Fiorentina, Weston mckennie joining Juventus from schalke, and Razvan Marin joining Cagliari from Ajax. All three of these players significantly impacted their first season at their new clubs; however, even though it was quite close, one stands tall over the others. The signing of the season goes to Federico Chiesa. The attacking midfielder joining from Florence was a late addition to the squad as he played two games for Fiorentina before ultimately making the switch. It was an initial loan with a mandatory by attached to it worth 40 million. Federico Chiesa consistently had been one of the best young talents in Italian football during his time in Fiorentina. However, he was often played out of position and was not a very likable character in the past; he had been kind of a diva and never really lived up to the hype as the best player, you would have thought he could have had a bigger impact on the situation. He went to Juventus, accepted his role, and thrived under the microscope. It was unclear what we were going to see from him. Following the deal, it was heavily criticized as they brought the problem child to Juventus; that was the expectation and the reputation that he had in the leak and extreme Talent they did seem like a mistake. It turned out to be quite the contrary; not only did he hit the ground running, he was one of the best players in the league. It was a masterful performance against AC Milan when they were top of the league. He exposed Theo Hernandez in a huge victory for Juventus that could turn their season around here. It wasn't an excellent season for Juventus as a whole, but Federico Chiesa didn't disappoint. He scored 15 goals with 11 assists; this is largely contributing to the Champions League, especially the two games against Porto; even though they did get eliminated, there's no doubt without Federico Chiesa, they would have drowned. He has been one of the most explosive and impressive players at his position this season, so in the end, he gets the edge at the signing of the season; they did pay a good amount for him, but his values twice that now. Not only that he is almost a shoo-in in everybody's team of the season something no one really expected all those years is that Florence never made my team of the season once; this was a very different season for him in a better environment with all the negativity that surrounded him evaporated the entire team is a mess with Federico Chiesa was one of the bright spots this season. In what was an otherwise hugely underwhelming season for Juventus.
Young Player of the Year: Dusan Vlahovic
There was certainly a lot of talk about who should win the young player of the year. It wasn't an easy conversation considering the seasons that some of these guys have had this campaign. Alessandro Bastoni playing a very instrumental part in Inter Milan scudetto winning season. Then down in Juventus, Weston mckennie was highly impressive in his first Serie A season and countless others, including Dusan vlahovic from Fiorentina. Ultimately was the one I picked for the young player of the Year in Italian football. As always, Fiorentina was incredibly underwhelming, thanks to Rocco commisso continuing to talk nonsense about what his team would or wouldn't do in the upcoming season. They have underwhelmed and then the most significant disappointment over the last three seasons in which there's been a whole lot of talking and not a lot of doing. Over the last couple years, they have not even finished in the top 10 one time. They are the biggest frauds in Italian football and will continue to be, so maybe they get it together next season with Gattuso being appointed, but I just don't live up to expectations. However, the youngster being Striker, just 21 years of age, lit the league on fire. Dusan vlahovic became one of the best strikers in the league, a Stone Cold killer turning into a scoring machine. There was a reason there are so many big clubs interested in signing the 21-year-old; he has been the most impressive young player in the league this season. In only his second season in the league, he scored 21 goals that are an extremely high number for such a young player; very few of those goals came from the penalty spot. His single-handedly influencing a Fiorentina team to stay alive in the league. It never seemed that they were even in a relegation fight, even though they hovered near the bottom of the table at times. Dusan vlahovic was such a factor this season; scored multiple goals on numerous occasions. There are many good young players in this league for this season; no player quite hit the marks of Dusan vlahovic, who is looking like he is an extreme Talent showing up for Fiorentina that isn't very talented good. At just 21 years old, for him to have a season as he did was just truly remarkable he kept them from a rather embarrassing season as I feel in the end he was the obvious choice for young player of the season. It's unclear whether he will be back in Florence. Could see him become one of the top scorers in the league; even more so, with better players around him, he will become almost Unstoppable given his size, speed, and finishing ability. He already has all the tools to be the next big thing in Italian football.
Manager Of the Season: Antonio Conte
The manager of the season was more or less a no-brainer as Antonio Conte took Inter Milan to their first title since 2010. There were many expectations for the tactician to deliver after falling out of the title race way too early last season. He put together this team and had some of the best players in the league behind him. Inter Milan had a tough opening match against Fiorentina in which they almost fail to win; a tough loss to Sampdoria and a heartbreaking draw with Roma; the season was not free of flaws or anything like that they had some challenging moments as I've just said there but outside of that Antonio Conte was in cruise control all season. With the team that he put together starting to click, they were not going to be denied, and they came up in the biggest game beating AC Milan twice, knocking them out of the Cobra Talia quarter-final and humiliating them in the derby of Milan in a 3-0 victory it only set their title bid on fire as they seemed undeniable rest of the season. Romelu Lukaku was at his very best they were instrumental in the Midfield with Nicolo Barella and others, and defensively they did and in tremendous job closing them out, especially with Bastoni becoming an even more significant Factor this season. Top-to-bottom inter has the best squad, and he got the best out of it. The Champions League failure was embarrassing that's well-documented finishing bottom of the group because I could not finish Shakhtar Donetsk that would later be getting knocked out in the Europa League round of 16 by a Roma team on a 5-1 the same Roma team that they were able to deal with this season. Once they got that groove, there was no stopping them; they were relentless from start to finish and would pick up wins and some massive games, especially against Juventus and Napoli. This was Antonio Conte Inter Milan; his formation is set up his everything worked to perfection winning the title was Inter Milan for the first time in over a decade he was hired to deliver them the scudetto he did that. Unfortunately, since he won the title, Antonio Conte has resigned, and they have appointed Simone Inzaghi as Antonio Conte closes in on the Real Madrid job. It doesn't take away from the time he spent in inter; he did what he was supposed to do. Win the title; he is the manager of the season; we don't need to worry about Dark Times ahead quite yet has Inter Milan should still celebrate the title that Antonio Conte gave them.
Most Improved: Rick Karsdorp 
The most improved player this season goes to Rome has Rick karsdorp. The Flying Dutchman arrived in Roma a few seasons ago after it leading Faye to a Dutch championship. He arrived with a fee of 13.5 million, which was a Hyatt number for a right back at the time. However, injuries ended up preventing him from reaching the heights that he maybe could have. He had a brilliant debut a couple of years ago, only for him to tear his ACL and be sidelined the rest of the season; he continues to deal with injury problems. Outside of that, he never really seemed to impress in the capital. He was sent back to Holland on loan before returning to Roma. Genoa, Torino, and Fiorentina were all interested in taking him on loan. They had an agreement with Genoa but needed the right-backs approval. The Flying Dutchman rejected a move as he wanted to fight for his place in the Roma team. You could argue that that is a highly risky move if things don't go his way, but It ultimately paid off. Rick karsdorp was a regular in Paulo Fonseca 3421 formation; he operated heavily as a wing-back and became one of the best defenders in the league. This season record or contributed extensively in the attack has one of the most assists in the league at his position and had enough pace and athleticism to contribute defensively and a true marksman, someone that was playing at a level that we hadn't seen from him before, when Roma switch to the 4-2-3-1 the last couple games of the season he still as consistent as any player at that position in the league. Rick Karsdorp and Bounds above and beyond what anyone thought he would be capable of, so much so he learned a new contract at the club after seeing his deal nearly expire at the end of last season. This has been his first full season in the Roma colors despite having been contracted with the club for the last couple of years, and he is had as good as a season as anyone in the league. He took the game to another level and was so explosive both defensively and in the attack he certainly should be involved in Jose Mourinho's plans because he's too good of a player if you just see the improvements that he made under Paulo Fonseca imagine what he can make under Jose Mourinho he deserves to be a Roma regular again he is a team of the season candidate and rightfully so no player in Italian football made more improvements then the Flying Dutchman Rick karsdorp.
Player of the Season: Romelu Lukaku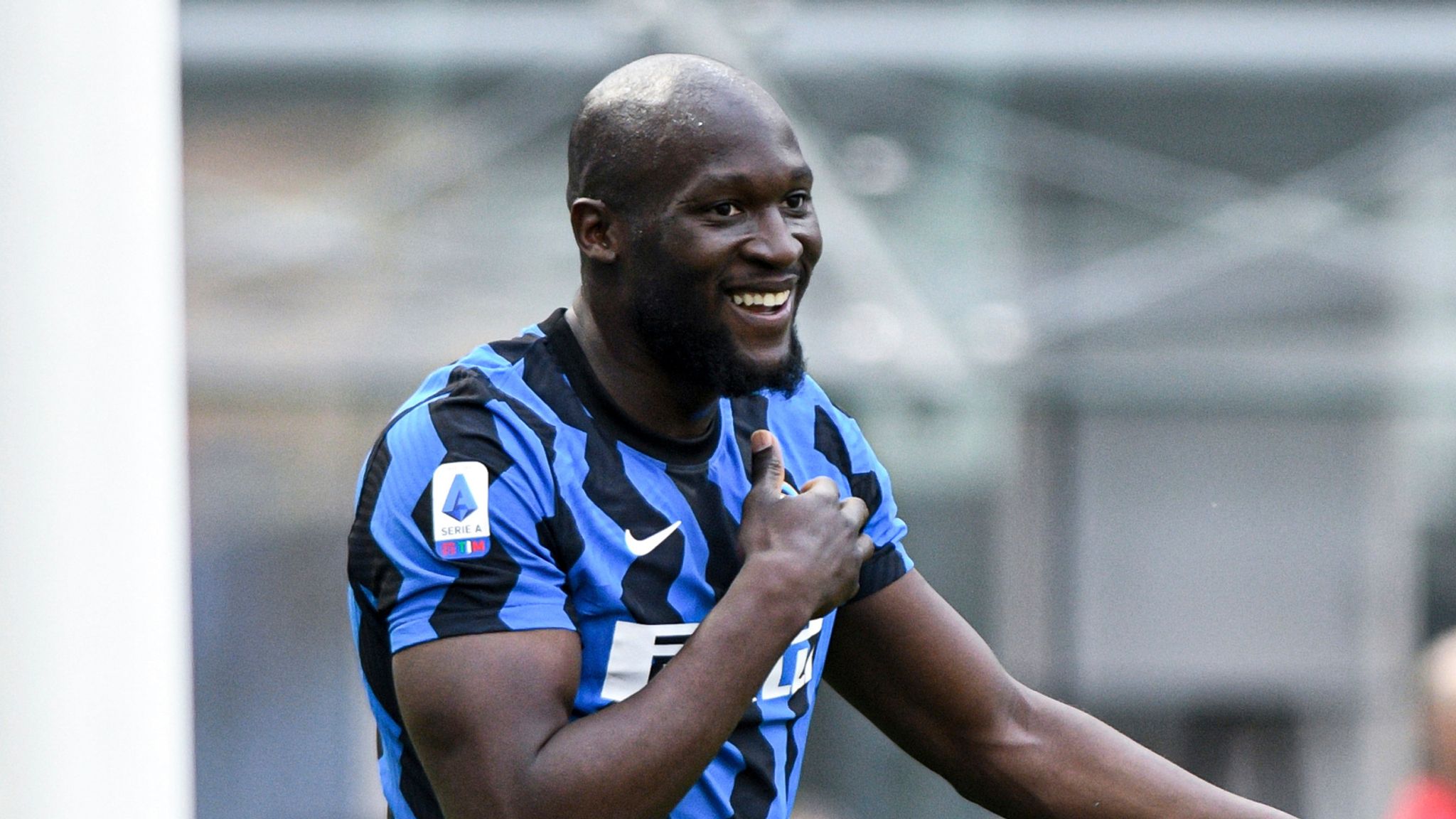 There's not much to explain here, but I will indulge you the player of the season is romelu Lukaku. He is the best player in the league and has shown it quite regularly. Last season he led Inter Milan to the Europa League final despite losing had 34 goals in all competitions this season even though he has not scored as much, he has more goal contributions than he did last season. He has shown up in a big way, having scored in the big games and big moments. Even if Inter Milan Champions League campaign was pathetic, he scored almost regularly during the group stage. He was top in goals in the league, and surprisingly this season, he became a much more of a complete Striker as a facilitator being his primary objective at times. With leading 11 assists this season, he ended the year with 30 goals and 11 assists; he is without question a top 5 striker in the world. He has gone to another level in Italy and will only continue to do so. He is world-class by every definition of the word in inter he helped them win their first ghetto in 10 years, winning his first league title as a professional, having failed to do so at Manchester United in England despite how important he actually was even if Manchester United fans don't think so. He has become such an incredible player that can deliver on practically every stage. He was the best player in the league during this campaign and was a top-three player in the league last season; he just continues and continues to develop into that animal we all know he's capable of. He was so important, in Inter Milan was winning their first title in 10 years; under no circumstances can Inter Milan afford to let him go. He was such an adapter ballplayer that came through for Inter Milan when they needed the most; his Relentless listen to score goals and Supply them is a big reason why after a few tough games, Inter Milan ran away with it under Antonio Conte he was something extraordinary hopefully under Simone Inzaghi he can keep wrecking Italian defense has he is the player of the year in Serie A. he will have a high possibility of retaining the award.