Goalkeeper: Gigi Donnaruma, A.C Milan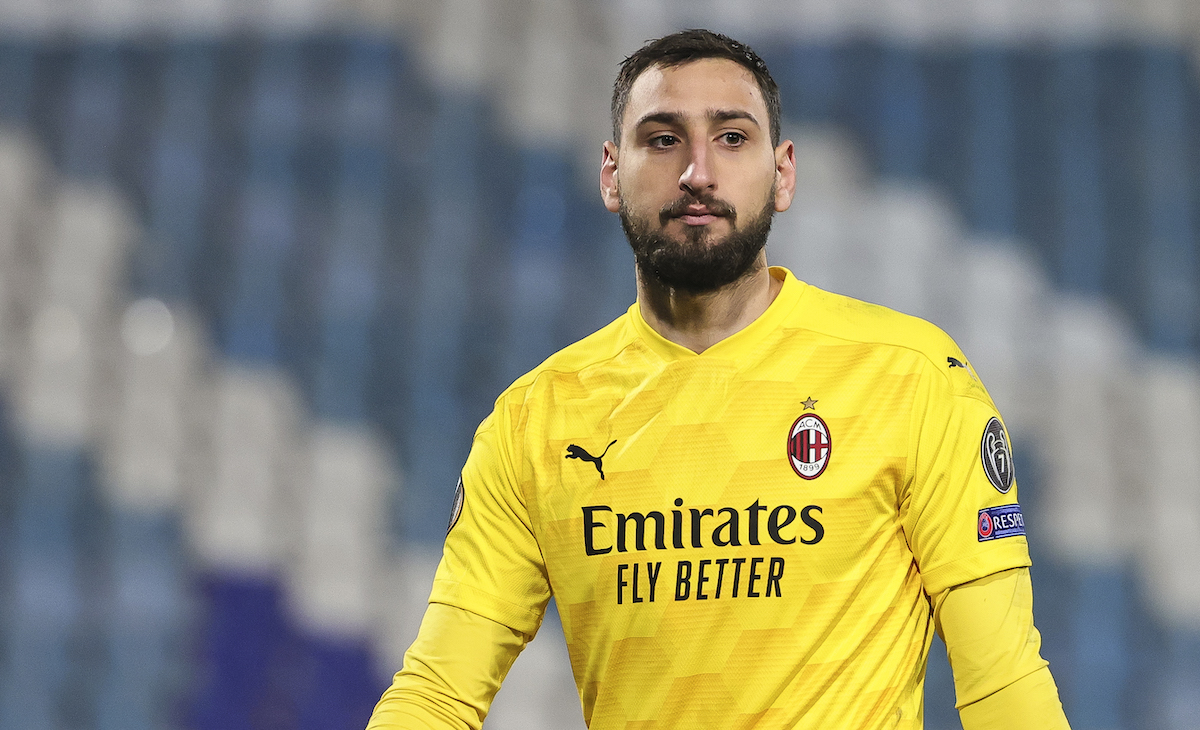 The goalkeeper of my team of the season goes to Gigi Donnaruma. In what looks to be perhaps the last season, he will play as an AC Milan goalkeeper; he is departing following the season he put together a great campaign. 2nd in clean sheets with 10 and 89 saves this season which ranks in the top five. AC Milan did make it back to the champions league for the first time since 2011, but I'm not sure they could have done it without Gigi donnarumma. He made some big saves in very crucial moments in some of the most significant, most defining points of the Season. Without his influence within the team, it's unclear whether or not AC Milan would have made the Champions; they only barely got it, so considering some of the performances he has put together this season, it is simply a no-brainer as Gigi donnarumma walks into the team of the season for the very last time.
Left Back: Theo Hernandez, A.C Milan  
Theo Hernandez comes into my team of the season at left-back. His defending is still an issue and can be a liability; there has been slight Improvement but not an extensive amount. However, the left-back and right-back positions have become more than just defensive abilities; it also is vital to have the ability to push forward and contribute to the attack. Going forward, Theo Hernandez is an absolute weapon, one of the most dangerous players on the Left Flank, having scored and some massive games this season. He's been so impressive on that side of the ball that I can let his lack of defensiveness slide. Considering he had 12 goal contributions this season and he plays left-back, that's wildly impressive; at times, he looks like AC Milan's best player; he has shrunk at certain times, but for the most part, he is that consistent as anyone at that position. The left-back options that Italian football aren't great but, among them, I think he is significantly been the best this season.
Centre Back: Matthias De Ligt, Juventus 
As one of the Centre backs nominated Mathias Deligt to me, when he's at his best, he is the best defender in the world. The self-awareness and intelligence he has are unlike anything we have seen in many years. He is so smart, very calculated, and considers the game exceptionally well. Juventus, despite making the champions league, has been somewhat disappointed; however, even though he has it dealt with injuries when he has played, he has been exceptional. He may not have the statistical numbers that we have seen from him in the past, but he continually had taken the best player on the opposing team out. Romelu Lukaku and Martinez in particular, really struggle against him. He finds a way to poke their weaknesses and exploit them on regularly its not just the Inter pair he can essentially control and dictate the most dangerous goal-scorer on the opposing team; he has done this in his last two seasons in Italy and the seasons prior in the Netherlands especially in the Champions League in competitions like that. There are many hypotheticals that you can attach to this season. Juventus defensively had its fair share of issues; if Deligt is not a part of that backline, they concede significantly more goals. It's been an absolutely brilliant season for him, but it is not being looked at. It's being overshadowed by Ruben Dias mainly because Man City is one of the best teams globally, way better than Juventus; he is getting way more credit for the season Deligt has been phenomenal. Still, he's not been under the microscope because his team is not very good despite making the Champions League Juventus had a horrid campaign, and he was one of the bright spots and what was an otherwise disappointing season.
Centre Back: Alessandro Bastoni, Inter  
As the other center-back, would it be Alexandro bastoni The Inter Milan rising star was absolutely phenomenal last season. Last season he showed a lot of different attributes of becoming something unique but still lacked that defensive Edge that we need to see from center-backs like him. However, this season he went Leaps and Bounds and progression, seeing Bastoni arrive on another level from both in attacking and defensive perspectives. While he still is not the greatest Defender defensively, he has become much more consistent in that area which is what made him so impressive behind Samir handanovic and next to Milan skriniar and Stefan de vrij Inter Milan have one of the best defensive units in the league but none, the less the young Italian, really came into his own to become not only one of the best defenders in the league but one of the best players. He ranked fifth in passes, 7th and expected gold build-up, and 15th and passes into the final third he's filled at the stat sheet and pass the eye test; it has been a sensational campaign from Alexandro Bastoni, and he's only going to get better.
Right Back: Rick Karsodrp, Roma 
To cap off the defense as my right-back is Rick karsdorp. Roma had a very two-sided season. During the first half of the season, they were brilliant, one of the best teams in the league, and during the second half of the season, it was utter collapse. They had their fair share of issues defensively during this season, both in terms of performance and injuries. However, no player in the league last season made more progress and improved more significantly than Rick karsdorp. When Roma initially bought him from the Netherlands a few years ago, the thought was he was going to be a really impactful player; he faced injuries and fell down in the pecking order; it felt like he never was going to make his breakthrough a Roma he rejected a move to Genoa in the summer to stay at Roma which turned out to be a really great decision. He turned out to be one of them is most consistent and vital players. Often, he played as a wing-back but was able to contribute in both defensive and attacking areas. He scored only once this season but supplied six assists which is the most out of any right back in the league. He contributed to the attack immensely up and down the right flank. In addition to that, Rick karsdorp has extreme speed, which allows him to come up huge defensively as well; it was a mix of both. I would say that he's more of an attacking hybrid but does have the qualities to come up big defensively, especially with how quickly he operates. There have been numerous of times this season in which he has come out of nowhere and taking the ball, holding an attack from the opposition. He has been extraordinary this season, and I hope it only continues he should be a dynamic part of Jose Mourinho has plans. One of the best-attacking right-backs in league with the capabilities of showing what he's made of defensively; he was outstanding as a wing-back but operating as a right back to close out the year he played some of his best football this season it may be a strange choice for team of the season, but his performance has Justified it.
Hey everyone,
Just in time for the Euro 2021 (2020), I've just discovered a really cool web-site.
It is based on an interactive map and it shows players, schedule, and results in a clear and beautiful way.
The coolest part is the Talent Flow section which shows how the players move back and forth from their countries to the club teams.
This will be a very fun and useful site during the Euro which starts in less than a week!