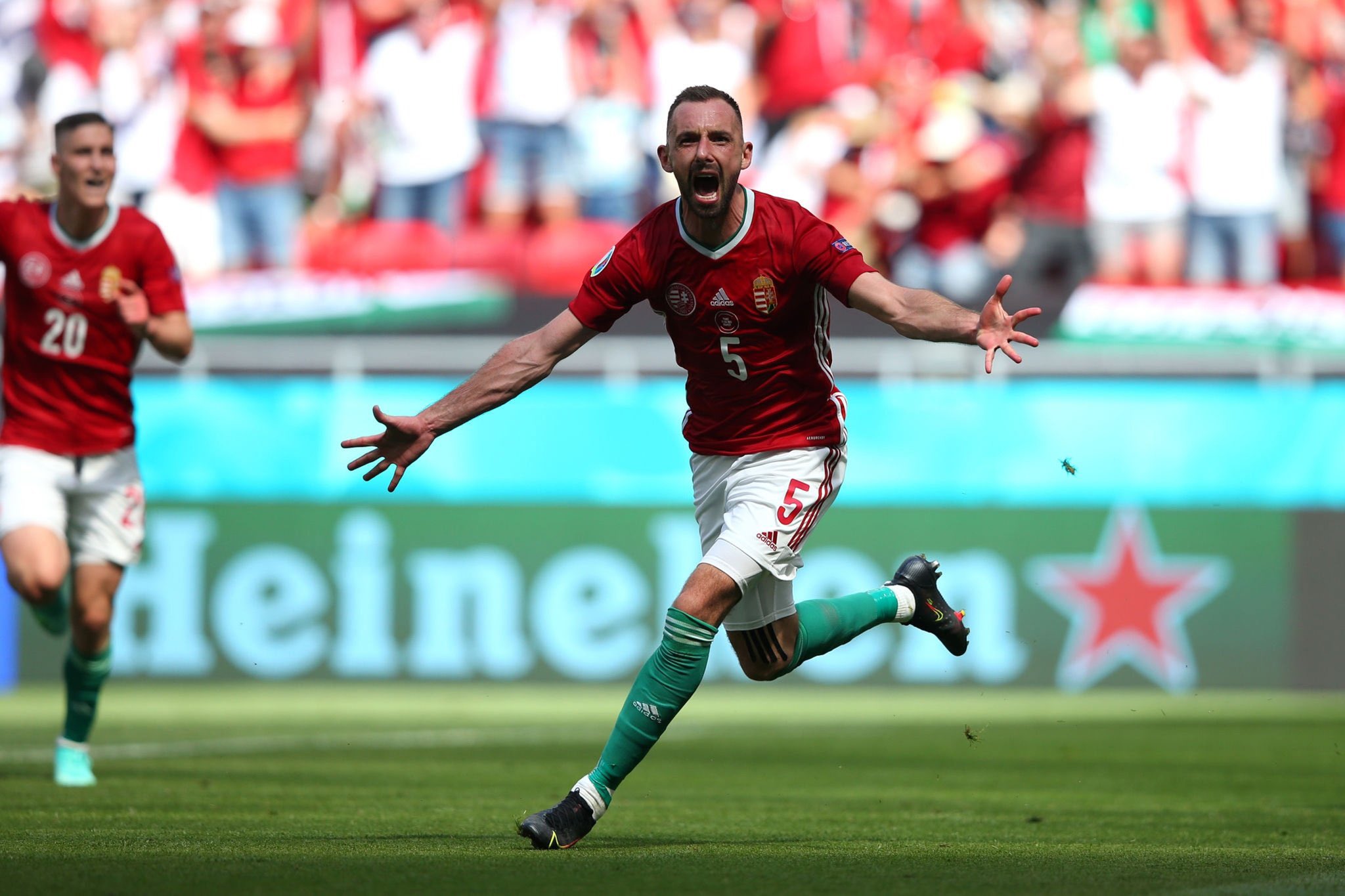 Hungary has one of the most historical National sides of all time. There is an argument to be made that the golden Team of the 1950s, despite not winning the World Cup, our Superior to the majority of World Cup champions. that Team was filled with quality from Back to Front led by one of the best center forwards of all time. What they could do in the 50s is something in Hungarian culture that will never be forgotten. The Magical Magyars we're the best Team in the world. The Hungarian side ended up going unbeaten for almost 2 years 54 games and even humiliated the inventors of the game. There have been so many historical national teams throughout history in football. Even though Hungary did not win that World Cup, they are still widely considered one of the most essential national sides in International Football history. They won the gold medal and may the final of the 1954 World Cup controversy over losing to West Germany it ended up being one of the most toxic relationships between two Nations. This Team was led by Puskas, an icon of Hungarian culture; he represents Hungary as the face of the country because of what he meant not only to the sport of football but to the people and the community in Budapest. He wasn't just one of the most phenomenal goal scorers of all time and a top 10 player in history; it was the human element that made him so special. During some unrest times of political Warfare hungry and their success acted as a treaty between the politics in Budapest. It was led by Puskas, Nándor Hidegkuti, and Sándor Kocsis, three prominent players that made this Team so special. There are so many more included, as it was one of the greatest teams we've ever seen. The Galloping major let Hungary to the World Cup Final in 1954; before that, they had beaten England at Wembley 7:1 and beat them in Budapest 7:1 at the time England was considered the most fantastic Team in the world. The golden Team went into the 1954 World Cup as the favorite, but an injury to Puskas by German psychopath Werner Liebrich saw Hungary's big star injured and could not play until the final. Hunger got through all of that, and I finally scored twice. Germany came back, but one of the goals we scored illegally and Puskas scored an equalizer in the 90th minute that was on the side but was taken away robbing Hungary the World Cup The Galloping major and the Hungarian Team after beating Russia a year later vanished because of War and the Rebellion in the country. The Team was never seen again. from a historical standpoint, they were iconic, and even though they didn't win like the Brazilian or the Italians or the Germans, they were agrubley the greatest Team of all time under other circumstances without War they could have been the greatest Team ever and potentially could have won the World Cup that was truly there's.
As time progressed, the new generation and the years following that extraordinary success of the Golden team weren't the same, and I still have been unable to recreate the dominance of Hungarian football. The golden Team that took the world by storm with their unbeaten run, their gold medal, and the fight and battle to the World Cup final, it was going to be almost impossible to see something even remotely similar to what they did during the 50s. Hungary today, for the most part, has been a middle-of-the-road nation that never even remotely consists or challenges for anything. Hungary went from the most prominent Team on the planet to a country that fights just to make tournaments. The Hungarian National Stadium was named after Puskas, but the success would be challenging to be repeated. In 2016 things started to change as they made the Euros for the first time since 1972. it was only the second time since the great Galloping major and a golden team of Hungary had made a tournament. There were not many expectations of what they were expected to do, but just being there reminded the people of Hungary how special the football team is to the community in Budapest. Against the odds, they ended up winning their group on the back of a 3-3 draw with Portugal; even though they went out in the round of 16 to Belgium by humiliation, it was something different but also important that Hungary in this day and age could make an international tournament once again. It was impossible to imagine they could recreate the Golden Team but be involved was important enough.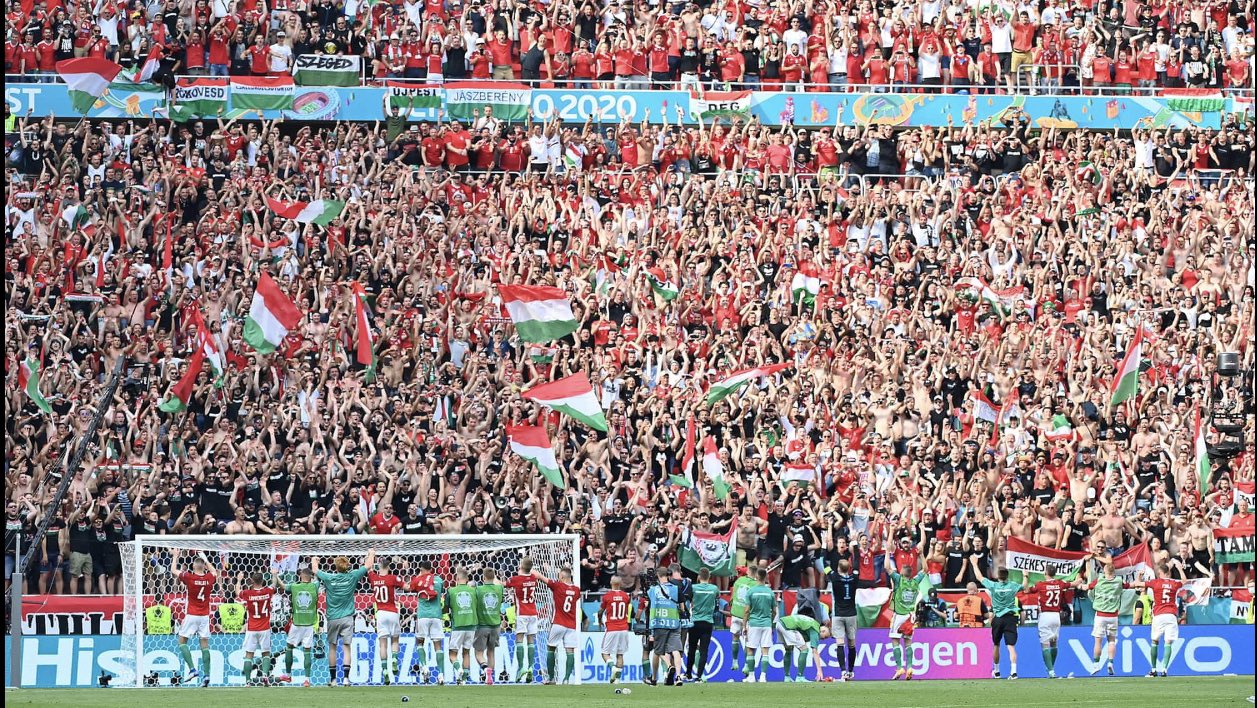 it seems like it would be a one-hit-wonder when hungry failed to make the 2018 World Cup in Russia. Hungary team seem to be good enough at the time with a Willy Oban, and Péter Gulácsi at the RB Leipzig pair seems to be exactly what they needed, but ultimately they fail to make the tournament. however, in Euro qualifying, we got a glimpse to have a star on the rise. the Hungarians hadn't really had a superstar or anything similar to one since the Galloping major it seemed like they had one finally. Dominik Szoboszlai playing for RB Salzburg this season eventually transferred to RB Leipzig. Extremely athletic, super talented, and offered something very different. In fact, qualifying for the Euros was on the back of his incredible performance to qualifying. He was so important to the Hungarian attack. He single-handedly almost dragged them into the European championships scoring that vital goal in the Play-Off final against Iceland to earn their place in this Summer's tournament. He was so important to this Team and show that he has that Superstar quality. he probably won't be to Galloping major. Still, Hungarians were thirsting for a superstar, someone that could potentially take them to the next level, at least getting to tournaments regularly. It's very different because the expectation is not necessarily to go and win trophies at these tournaments; it is to be involved in practically every turn of it that they have. With a player like that, that's certainly seen as a plausible outcome. however, the Hungarian Superstar did not make the tournament; he was not picked because of injury. so the Hungarians had to go into the Euros without their best and most explosive attacking player. They were going into a group of death with favorites France Portugal and a German side that was playing in their last tournament under Joachim Low. Hungary needed all the Firepower that you could get. it was going to be a challenge to get points. now they were without their best player; things became even more complicated. there are other parts to the Hungarian attack, but that, in particular, was a huge loss. However, as long as they have a Péter Gulácsi and goal, they were going to find their ways to at least stay within distance for teams, but now there were serious doubts whether they're going to be able to pick up even a point in these three games especially considering they have to deal with mbappe, CR7, Thomas Muller, Karim Benzema , Joshua kimmich Bruno Fernandes, and so many others. It seemed like they were set up for failure just because the ball rolled into the most difficult group in the competition. however, the Eastern European turned out and some awe-inspiring performances, and even though the chances of them making The Knockout stage is low, they didn't go down without a fight; they made things difficult against the two best teams in the group with Portugal and France both having some serious issues and problems dealing with the little Hungarian. Péter Gulácsi has been incredibly impressive, turning into Prime Manuel Neuer in both the game against Portugal and France. Portugal came in with many expectations considering how many weapons they have, especially with the depth they can bring off the Bench. the thought was Portia was going to run through Hungary with no problem; however, the match we ended up seeing in Budapest was a very different one than Portugal expected. Hungary defended at an absolute super level why the goalkeeping performances from Péter Gulácsi out-of-this-world saving multiple potential goalscoring opportunity as hungry grew into the game through each minute Portugal found things even more difficult as the match went on. it wasn't just parking the bus tactic; Hungary had to play very defensive football but needed to push forward occasionally; they threatened the Portuguese goal once in a while, and throughout the 90 minutes Hungary, we're this far superior Team, and it made Portugal look bad. Ultimately Hungary could only hold on for so long despite having a goal taken out because of offsides which was the right decision. Portugal came and pressed late in the final 10 minutes to ultimately Supply The Knockout Punch. Hungary took a huge deflection on Bernardo Silva Portugal took a 1-0 lead. Later, Portugal got a very controversial penalty call that I still don't believe should have been called a penalty. Ronaldo stepped up and converted it to double their lead as despite how well the Hungarians had played, they saw the game fall apart in a moment of agony. then Reynaldo and Portugal connected on a third goal, scoring three times in roughly 10 minutes. the first two goals were truly misfortunate, a penalty that should not have been called, and a huge deflection. despite the results, in a certain sense, Hungary exposed Portugal, showing that they are not the favorite. Péter Gulácsi was unbelievable; he did everything he possibly could have to hold off Portugal, But ultimately time ran out. Hungary deserved A point and what will their wildly impressive performance. This week, they took on France, the 2016 runners-up in the World Cup champions, the best Team in the world. Hungary gave France difficulties once again, showing they're not going to lie down and die. a very similar approach to the game they had against Portugal. They play very defensively, with the goalkeeper having another day of his life. Hungary occasionally bombed forward as they attempted to pull off yet another upset, but this time the Hope was they would hold on to it. France came for numbers that were extremely explosive, especially through ngolo Kante Paul Pogba,mbappe that entire France attack with Antoine Griezmann and Karim Benzema. France's option from top to bottom is ridiculous, and In fairness, France played very well in that game, but Péter Gulácsi made things so complicated for them to save everything they threw at him. They defended really well, and they got forward just enough to see the game out. Surprisingly Hungary, before half-time, took the lead a huge moment as crowds erupted in Budapest as they were 45 minutes away from beating the defending Champions. Just like in the Portugal game, they were the much better Team; the question is could they hold off the best Team in the tournament. ultimately Hungary held them off as much as they could. Antoine Griezmann was eventually teed up and gave France for the Equalizer.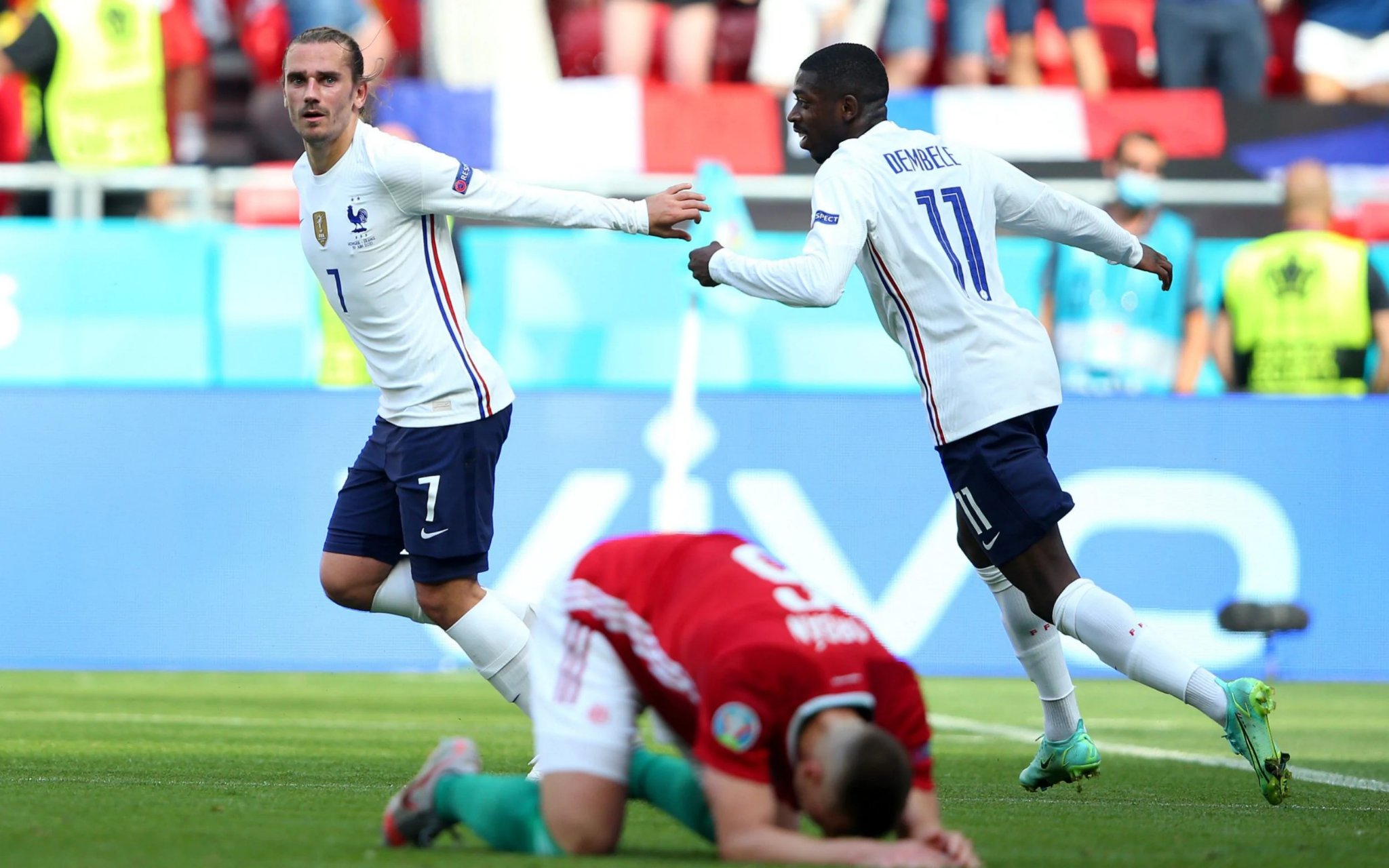 France continues to push late, but Hungary would not give them an inch in one of the shocks of the tournament. Hungary earned a point against France. does this performance define the French Team? absolutely not I still fully expect them to win this competition; they are the best Team, and if another goalkeeper is in the Hungarian net, France light them up. So there's no need to panic, especially how poor Portugal looks both in the game against Hungary and the game against Germany where they were humiliated. It was an amazing moment for Hungary; the golden Team is no longer with us, but there's somewhere smiling after that performance. Hungary even have a chance with a result against Germany to potentially make it to the round of 16, which would appear to be almost impossible going into it they went into the group of death and managed to salvage something now I have doubts whether they can handle Germany but considering they were the better Team in both of their games they got a puncher's chance against the Germans. throughout all of this, Hungary has been underestimated. Most people thought they would just be a punching bag for Germany, Portugal, and France; quite the contrary, they gave Portugal and France hell and were rewarded with a point in the group of death. Hungary may have a chance to qualify, but even if they don't get the point against France means so much not only to the Hungarian Team but to the people in Budapest and so many other cities in Hungary; these people haven't had really anything to celebrate since the fifties and even though this may not be the be-all-end-all getting a point split with France the best Team in the world is worth more then anything. some teams have been prematurely celebrating in this competition when they're expected to go deep Hungary isn't expected to do anything, and they outplayed the best teams in the world. Hungary should celebrate this every minute the rest of the campaign, and this tournament, the Eastern Europeans stunned France on the global stage in Budapest.