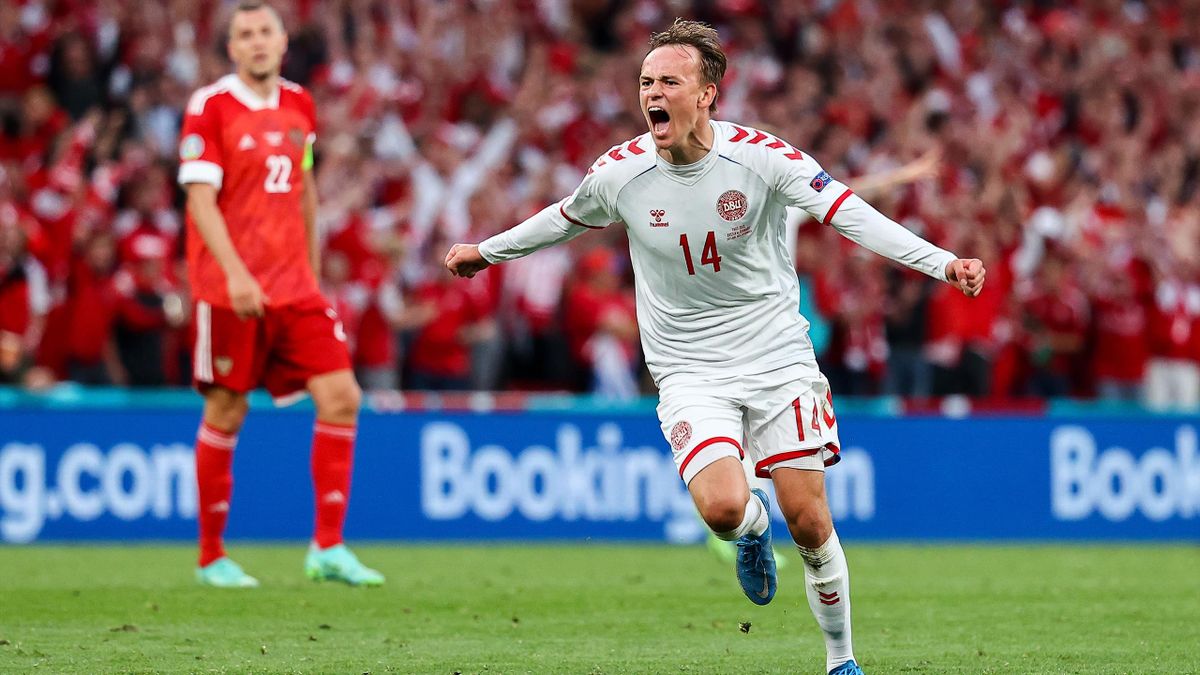 Denmark was primarily expected to be one of the dark horses in the European championships this summer. It's been a long wait, and it was all ready to kick off their tournament ended up getting off to a very tragic start some argued it would be impossible to recover from. one of the big reasons Denmark were one of these teams got a lot of people saw potentially as a team that could fight their way into the quarter-finals getting out of the group and potentially taking down a favorable opponent in the Round of 16 then you never know. Crazier things have happened. However, this entire idea was surrounded the fact that Christian Eriksen was going to have a phenomenal tournament and lead them to the Mountaintop. in Denmark's first game against Finland, a traumatic moment occurred that caused the entire footballing world to hold its breath in shock disbelief and an overall emotional state. While receiving a throw-in, Christian Eriksen collapsed as he went into cardiac arrest as we saw Denmark's Dynamic midfielder fight for his life. There was a level of emotion in that game from the Finland fans and the Denmark fans, not to mention the emotions we saw from both teams and his wife, who had to watch her husband trying to fight for his life. He was eventually stabilized spent several days at the hospital before being released from the hospital in Copenhagen just days ago. He has made a speedy recovery as the competition could not have started any worse than it did. Finland ended up winning that game 1-0. in their second group game against Belgium, they put together an outstanding performance. In the wake of the Christian Eriksen situation, the Danish battle until the final whistle hoping to at least secure a point. After two games, it would be tricky if Denmark didn't collect points with Russia beating Finland in the other game; it would make things difficult. Despite their best efforts in that match, Belgium picked up maximum points confirming their spot in the Round of 16, while Denmark had to sit and wait to go into the final group game with zero points. Meaning at the very least a win against Russia and many goals if they were going to advance to the Round of 16. it would have been devastating to see Christian Eriksen collapse and then Denmark getting eliminated just a week later. The Beating Heart of Christian Eriksen became the identity of the Denmark team with the hope of A performance against Russia that could potentially take them to The Knockout stage with at least the platform to go on a run. If Denmark finished second in the group, they would likely take on a favorable opponent second-place team in the Netherlands; they would have a great chance of getting to the quarter-finals if they could get through. The game against Russia was going to determine absolutely everything.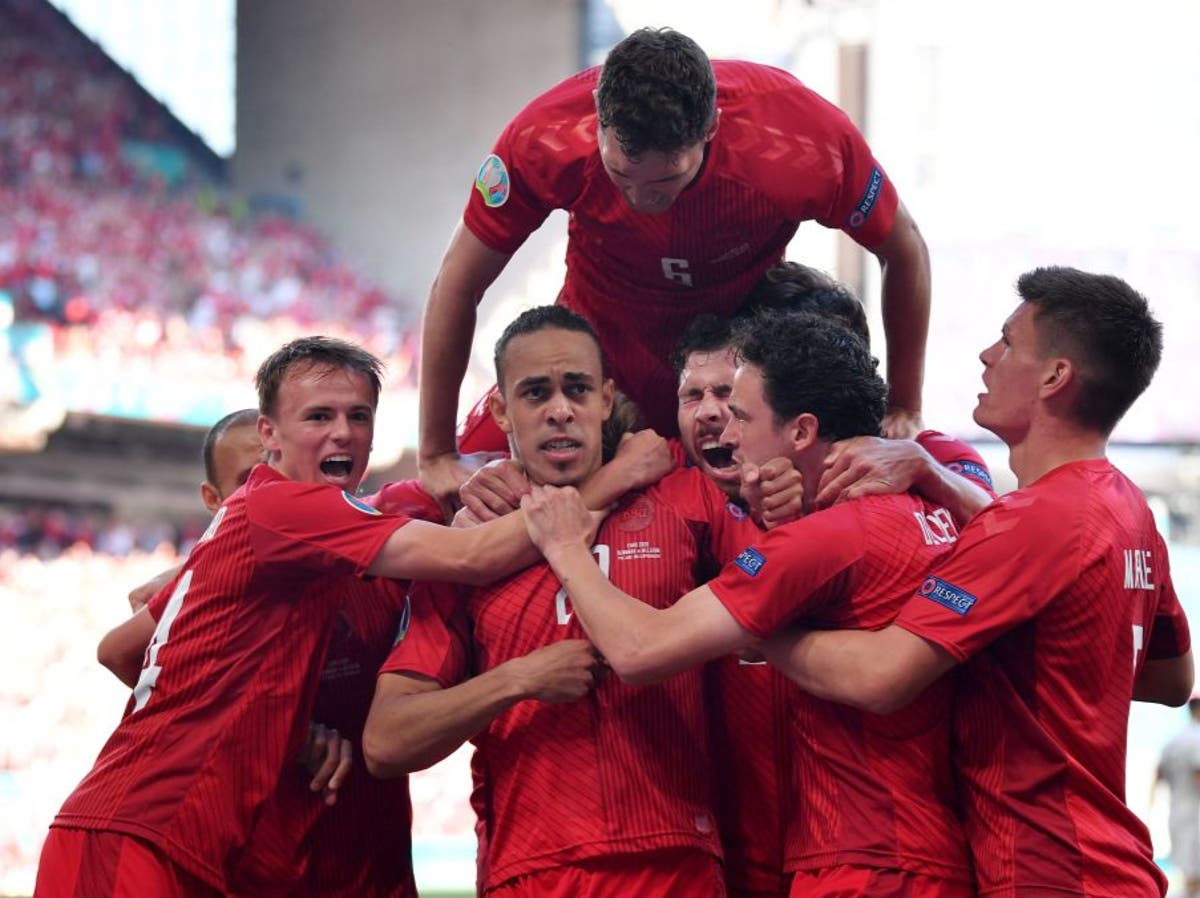 Before their final game of the group against Russia, Denmark put together an inspiring performance against Belgium even looked at different points that they were going to get something from the game potentially. In the game against Belgium, they could not have started any better. RB Leipzig Striker Yussuf Poulsen scored the second-fastest goal in Euro history, scoring just 99 seconds into the game. Denmark took a shocking and dramatic 1-0 lead. They tried to hold on for dear life, but Belgium was one of the favorites in the competition for a good reason their quality throughout the squad, and on the bench, it was going to be a tough cookie to crack. Denmark even had the lead going into the second half, and we're surrounded by an emotional Danish support that was firing them on throughout the game. However, Belgium came through great team football romelu Lukaku teeing up thorgan hazard scoring Belgium's first goal then 18 minutes later Lukaku connected with Kevin De bruyne as Belgium took a 2-1 lead. Ultimately Belgium picks up the come-from-behind victory that confirms their spot in the Round of 16. despite the result, Denmark played so well and just saw their point fall out of their grasp; they were now going to have to go into the final matchday with no points hoping they could put on the clinic against Russia. Russia beating Finland made things very complicated now Denmark was going to have to win and have an advantage in goal difference. It was such an inspiring performance by Denmark, but the Belgium side's talent was too much for them. Then they took on Russia with everything on the line. one way or another, they needed to win and win big; there was still a scenario in which they could potentially make it out of the group and get to The Knockout stage all the momentum would be with them if they got out of this group. Still, it wasn't going to be easy; at least that's not what they thought it was. They had no points to show, for Russia had three, so regardless of what happened tonight, it wouldn't be easy. The spirit and a heartbeat at Denmark Christian Eriksen being released from the hospital were exactly what was needed to push them on to get out of the group potentially. It was a battle, no doubt but Denmark always seem to step ahead as they were pushing against the grain eventually; they found that moment as Jens Damsgaard gave Denmark the lead at the Danish support, and the support of most fans around the world explode with excitement potentially starting to fight their way out of the group. They held a narrow lead out of the first half in the second half it took Denmark only 13 minutes to double their lead it was Yussuf Poulsen yet again going for the second consecutive gain for Denmark. after scoring, he got on his knees and was on the verge of tears as the possibility of Denmark making it into the Round of 16 was becoming more clearer by the minute. Russia did get back into it with a penalty being converted, but it didn't last very long. Just seven minutes after the penalty, Champions League winner Andreas Christensen continues to have a phenomenal summer as he hit an absolute stunner from outside the box into the back of the net, more or less securing Denmark's qualification for The Knockout Round. The second the ball went into the net, the Denmark team exploded, going straight to the corner flag, and they jumped on one another in Celebration. Then late in the game, Denmark would have a fourth as they flew by Russia without any issue whatsoever in a 4-1 victory. After all this and what happened to Christian Eriksen, they get second in their group and a pathway to potentially be that Dark Horse that we all thought they would be with Christian Eriksen; they've managed to play extremely well in his absence as they earned their spot in the Round of 16 with a four-goal performance. Now Denmark has a realistic chance now to go very deep in this competition, and you just never know. In 1992 Denmark won the European championships went on was expecting them to battle through and qualify; now, it's on them to shock the world. The Beating Heart of Denmark is Christian Eriksen; as we continue to send positive thoughts for the Denmark playmaker may not be suiting up for the rest of this competition, his teammates honor them with their performance.
Tuesday, the Round of 16 will kick off for Denmark as we prepare for the business portion of this competition, the part of this tournament that we are all here for and patiently awaiting. In Holland at the Johan Cruyff Arena, Denmark will have an optimistic chance to make the quarter-finals. They will be meeting Gareth Bale, Aaron Ramsey, and Wales as they finished behind Italy in group a. Denmark ends up getting a very favorable matchup. We should not underestimate Wales and what they're capable of; they made the semi-final in 2016; they are a team not to be messed with, but the Beating Heart of Denmark gives them a huge advantage because they have momentum and belief, and optimism to potentially make the quarter-finals. Even though I think it will be tough, I don't think there's anything in the world that can stop Denmark from making the quarters. Just on pure impulse and emotion alone, it should take them to the quarters. Now when they start playing more difficult teams, the question will become is emotion and Instinct going to be enough to push them through to potentially the semi-finals and Beyond. one thing at a time, but with Christian Eriksen healthy and the Denmark team having that extra motivation they will be a very difficult team to beat. Wales will have a fair shot, but the emotional input of this Denmark team and how they have played and honored their performance through Christian will be an arduous task for any team against this Denmark side that is playing for Christian Eriksen and with him in spirit. Christian Eriksen is the Beating Heart of Denmark; him being healthy and stable in his condition will be enough to give them that extra inch; how far will it take them? That is the question Denmark has been playing great football since that first game has many outstanding players. Christian Eriksen would have made this team so much more explosive and dynamic, for the quality is there. With all of it there's no reason why Denmark cant shock the world. If Greece can do it in 2004 with a team much worse than Denmark with this side, this team's emotional component could take them to the end. Still, indeed this is not a team anybody wants to play right now. Christian Eriksen is the Beating Heart of his team, even if he won't step on the pitch. Denmark won't stop fighting.
Tuesday Denmark vs Wales Round of 16 In Amsterdam