Mancini's Mistake Could of led to Italy's Elimination
The reason Italy has been a smashing success so far at the euro has to do with the team and the individuals that Italy has. This is the most talented Italian side in a long time; they have quality throughout this team from every position. Their Midfield is especially incredible. Marco Verratti, Jorginho, and then the Serie A lads Nicolo Barella and Manuel Locatelli, among others that are going to come through the ranks in the next tournament. We will see the likes of Lorenzo Pellegrini and Nicolo zaniolo break into this team for the World Cup; it is legitimately speaking the most indestructible Midfield in Europe with the number of options that come forward in that area. Outstanding defensively with more depth that will see at the next tournament Gigi donnarumma one of the best goalkeepers in the world, and then attack with a lot of options and Firepower. Back to front, this is probably one of the best Italian sides in the last decade. However, it only has one significant weakness, Roberto Mancini. He is a snappy dresser, and it's just the definition of Elegance and class. Everyone seems to be celebrating how impressive and amazing he is, even though he's quite clearly being carried by the talent around him. Much like he has been carried his entire career in management. When he was at Inter Milan the first time, he had one of the best sides and European football a dominant team with the best players, with Manchester City, he had one of the best teams in the league, and honestly, if it wasn't for Sergio Aguero and edin Dzeko pulling back a deficit against QPR he would never have won the Premier League, to begin with. he has been carried by talented team his entire career. With this Italian side, it's no different. Suppose Italy go on to win this tournament. In that case, he deserves no credit for it because not only is he not doing anything in particular that has enhanced Italy, he has done things that haven't damaged Italy yet but very well could have.
Involving Bastoni was the Most Obvious Tatical Move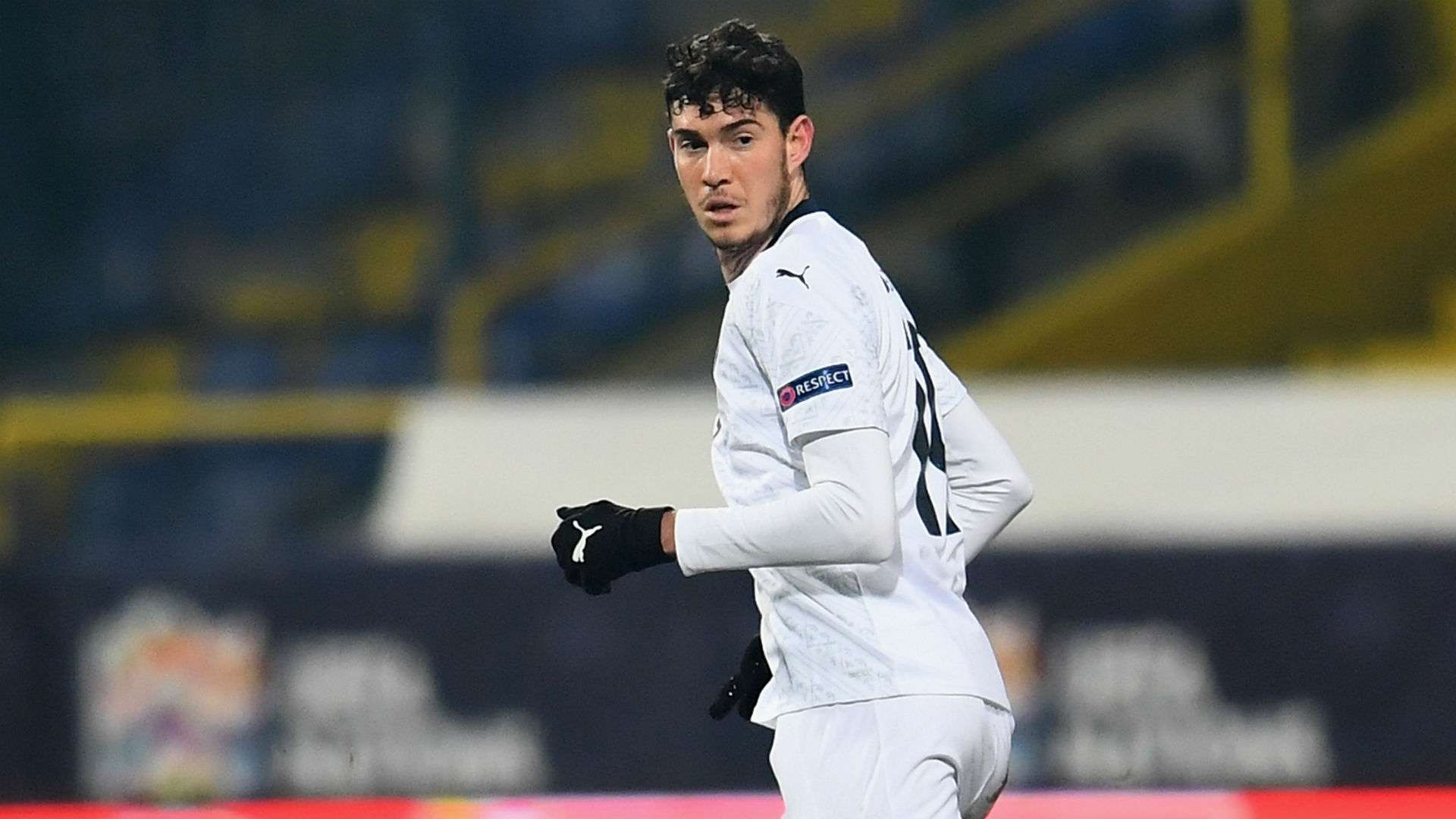 Roberto Mancini is an absolute fraud. There is one specific thing that makes great managers great is an adjustment that nobody sees. if you look throughout football history in any Trophy-winning team, there has been a moment where a manager has figured out a niche that no one was expecting and made an adjustment that has taken the opponent off-guard. Roberto Mancini has proven to have a total lack of intelligence and awareness. There was an adjustment that had to be made in this game; it was evident to anybody who pays attention to this Italian side and this Austrian side. What makes managers great is the uncommon or unlikely adjustment that becomes effective. However, Roberto Mancini failed to execute the most apparent modification in this game. Leonardo Bonucci and Giorgio Chiellini are phenomenal players that have been so important to this Italian side at the Euros. that has to be the center-back partnership in every game except this one, the Austria game there was something quite evident that Roberto Mancini needed to do and he couldn't see it. Makes him look like a total fraud and does not grasp the best way to infiltrate the Austrian team. it shows a lack of knowledge and a lack of homework done on his part. Bastoni is one of the best young center-backs in World football. His skillset and his youth could have come into play to a very significant degree tonight. Italy ended up winning this game; they played very poorly but still won; it's very fortunate. Going into this game, I said whether or not Italy wins or loses Bastoni is not at least subbed on or start in this game that I would lose all faith that he can get the job done. Roberto Mancini cannot get the job done when he can't identify the most important aspect of the game.
Sasa Kalajdzic Would Have Knockedout Italy had he Started
Austria made a mistake when Sasa Kalajdzic wasn't included in the starting lineup and waited until the 97th minute to bring him in the game. Sasa Kalajdzic is the biggest hitman on the Austrian team. He absolutely Balled out this season in the Bundesliga; he is an absolute animal and one of the best up-and-coming strikers from Central Europe. He is very agile, swift, a definite danger through the air, and can strike from a distance. We have seen this season that Sasa Kalajdzic has scored some great goals against some of the best goalkeepers donnarumma is top-class. Still, with half an inch of space, Sasa Kalajdzic can hit a rocket into the top corner. the only way to neutralize him is with an agile, athletic center back with speed, athleticism, and excellent man-marking. Bastoni is the only defender on Italy that could have closed the space between himself and Sasa Kalajdzic. The only way to get him out of the game is to give him no space between himself and the defender. Sasa Kalajdzic has scored some fantastic goals with barely any distance between himself, and the defender is already too much. I know Italy won the game, but Mancini could not identify this shows he really isn't paying attention. He approached this game as if he's never seen him play. Had Austria started him from the very beginning of the game, they would have scored a goal and maybe could have knocked them out. With the center-back pairing that we saw tonight. I'm certain he would have eaten them alive had he been played earlier in this game. When he was subbed on, they constantly gave him a foot space to operate because the center-backs did not have the speed and youthfulness of someone like Alessandro Bastoni. Sasa Kalajdzic scores for Austria even though it was too late. Sasa Kalajdzic scored a brilliant goal on a corner kick; he had very little space, maybe half an inch; he took five different Italian players with him into the corner he had half an inch still managed to propel his header through all five and beating donnarumma at the near post just squeezing the ball into the back of the net. Had he played from the start, there's so much more damage and could have done. I will admit that Roberto Mancini is a good coach but indeed not good enough for this Italian national team. Sasa Kalajdzic could have made them pay so much worse had he played the entire game; you do not under any circumstances give him a foot of space; he will kill you every single time Roberto Mancini could not be less aware than he was. It is a preschool adjustment Bastoni is the only one that matches up with him that has the skill set to make him uncomfortable if he plays from the beginning; Italy could have been in big trouble and probably don't make the quarter-finals. That's how dangerous of a game Roberto Mancini just played. He gambles with a 6'7 athlete that can score from anywhere; he doesn't need much space at all, and he gave him a lot when Sasa Kalajdzic isn't on the pitch; then I totally understand not playing Bastoni but in the 97th minute when you saw him coming to the game that's when you pull the plug and throw in Bastoni Roberto Mancini nearly could have thrown a grenade into Italy's chances. If he could not detect that adjustment, how is he going to figure out a way against either Belgium or Portugal. When you're coming up against romelu Lukaku or Cristiano Ronaldo, there's not really a game plan or adjustment that can dictate everything, which means Roberto Mancini theoretically would have to think outside the box to find a way in that game he couldn't figure it out an obvious situation he's not going to figure out in a complex one. Roberto Mancini exposed himself in front of the whole world. Italy will probably go out in the quarter-finals, and this team is ready to win the World Cup next season, but I'm not sure they have the right captain patrolling that ship; the 31 games unbeaten run is meaningless to me; they need a coach that can make a proper adjustment and has an awareness of what is going on not only with his own team but with his opposition. Looking at this entire situation, I don't see how anyone can believe in him anymore after that debacle; this job is and always has been over his head, which was justified tonight. For Austria, even though they got knocked out, they gave Italy hell for 120 Minutes; they've had a phenomenal tournament getting the first-ever victory at the Euros, the first-ever appearance in The Knockout round at the Euros, and almost took down Goliath one of the favorites in this competition and Austria nearly took them out. The Austrians should be incredibly proud of the tournament they had, and they should be highlighted more than it is, but the idiocy of Roberto Mancini overpowers it.