Score: Italy 1 England 1AET (3-2 Italy on Penalties)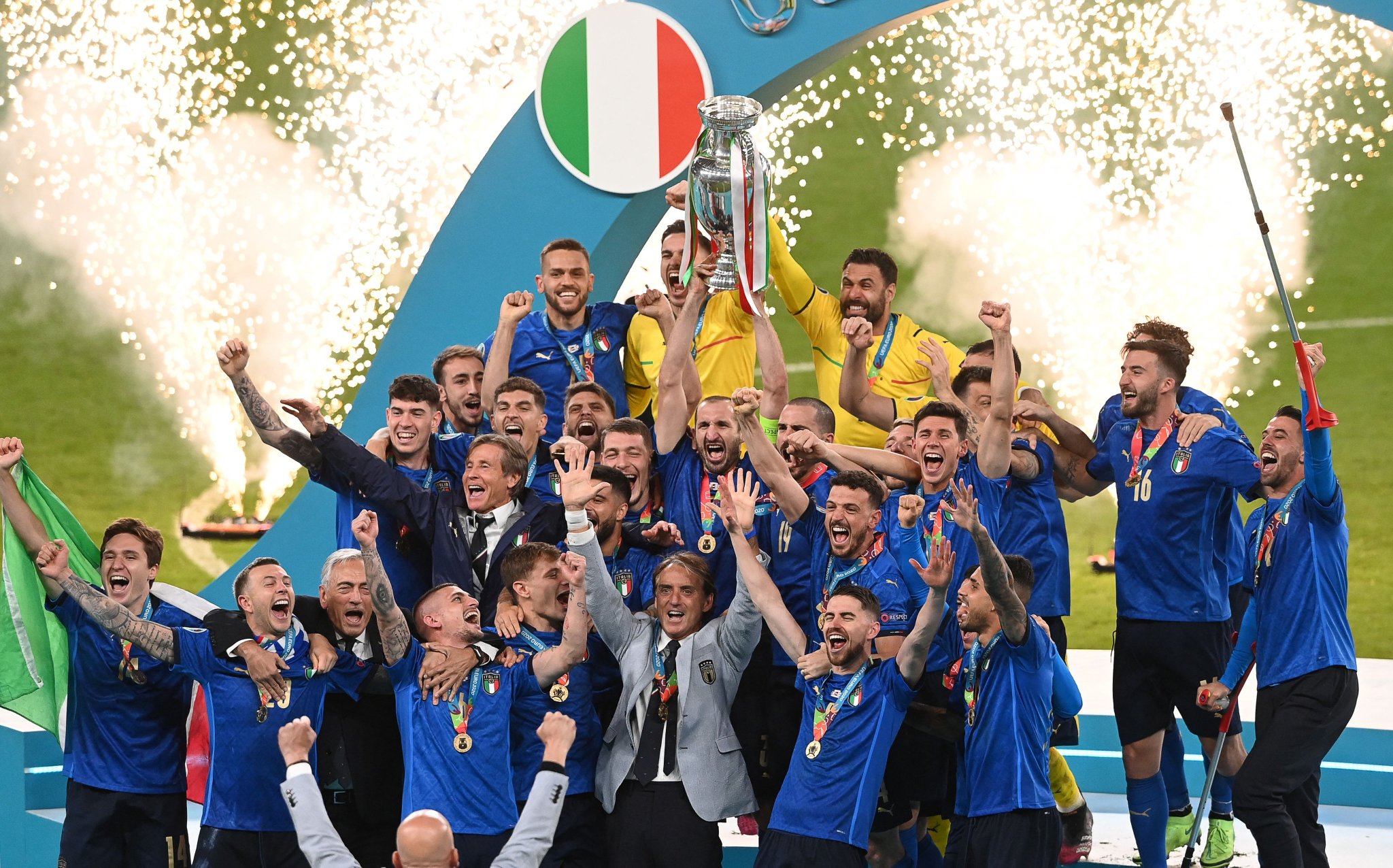 It's been exactly a month since the kickoff of Euro 2020; after the competition being suspended and rescheduled due to a global pandemic, we saw an incredible tournament, one of the best of all time. Sunday it came to a conclusion a dramatic event Wembley Stadium. since that very first game in Italy's 3-0 victory over turkey leads us to this very day competition of dark horses incredible drama penalty shootouts, unsung heroes, as we reach the final day with a tournament with all good and positive memories. After not qualifying for the 2018 World Cup, Italy went on an incredible unbeaten run as Roberto Mancini, and a young Italian side had an opportunity to reach the Pinnacle. Italy finished atop their group without conceding a goal. In Round 16, they got past Austria an extra time in a very tense challenge that we were not expecting. They took on one of the favorites in Belgium in the quarterfinals doing just enough to get through in a 2-1 victory for the Italians. Then in the semi-final, they met up with Spain, a match in which they did not play particularly well; in fact, Spaniards outplayed them; however, it was a 1-1 game going penalties Gigi Donnaruma being the hero as Italy booked their ticket for final. An incredibly talented yet experience Italian side that will be around for a long time-proven, and they're a very tough road to get here. Joining them this joyous occasion would be England as the song of its coming home started to be played with potentially the opportunity to make that dream a reality for the first time since 1966. they did not look powerful in the group, but we can fight their demons and get into good form what a knockout round began. They beat archrival Germany at Wembley Stadium in the Round of 16. humiliated Ukraine in the quarterfinals and just got past the dark horses in Denmark in a 2-1 extra-time victory in the semi-finals. The final was set the English against the Italians at Wembley Stadium on the line to become European Champions. Incredibly jam-packed Wembley Stadium. The question was was it coming home? Or was it coming to Rome.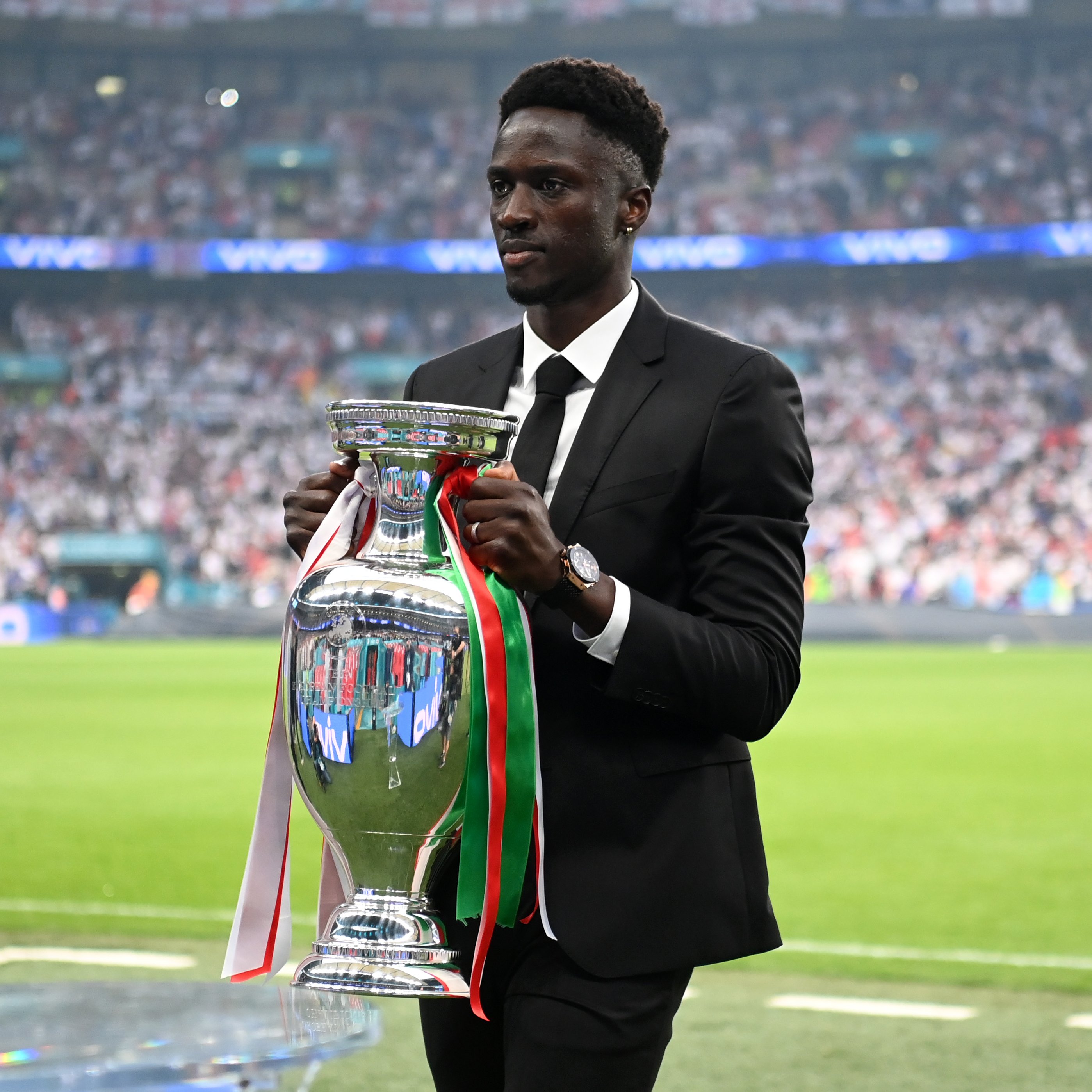 Euro 2016 Hero Eder Presenting the Trophy before Kick off
Both Italy and England had an opportunity to exercise their demons. Italy obviously not making the World Cup in 2018 was a tragedy, even more devastating seeing Sweden, the team that prevented them from making the World Cup go on to make the quarterfinals. Fortunately, as Roberto Mancini was coming into the job, the most talented team since 2006 was rising to the occasion, essentially a perfect match all arriving at the right time ahead of this Tournament. Winning the Euros would mean everything to them. Meanwhile, England has been searching for this very moment since 1966. England has come short on so many different opportunities getting your heart broken essentially every Tournament from 2016 to Iceland, and the 2018 World Cup semi-final 2 Croatia Gareth Southgate has this England team in a place let them could never have expected. Roberto Mancini lost the world cup with Italy as a player, and Gareth Southgate missed a decisive penalty in a euro semi-final against Germany; both have scores to settle. England came into this game as slight favorites but only slightly with England having the opportunity to win the Tournament at Wembley Stadium was going to be tremendous. Italy has the chance to go from not qualifying for the World Cup to win the Euros and an opportunity to rob England of their moment the tension was there.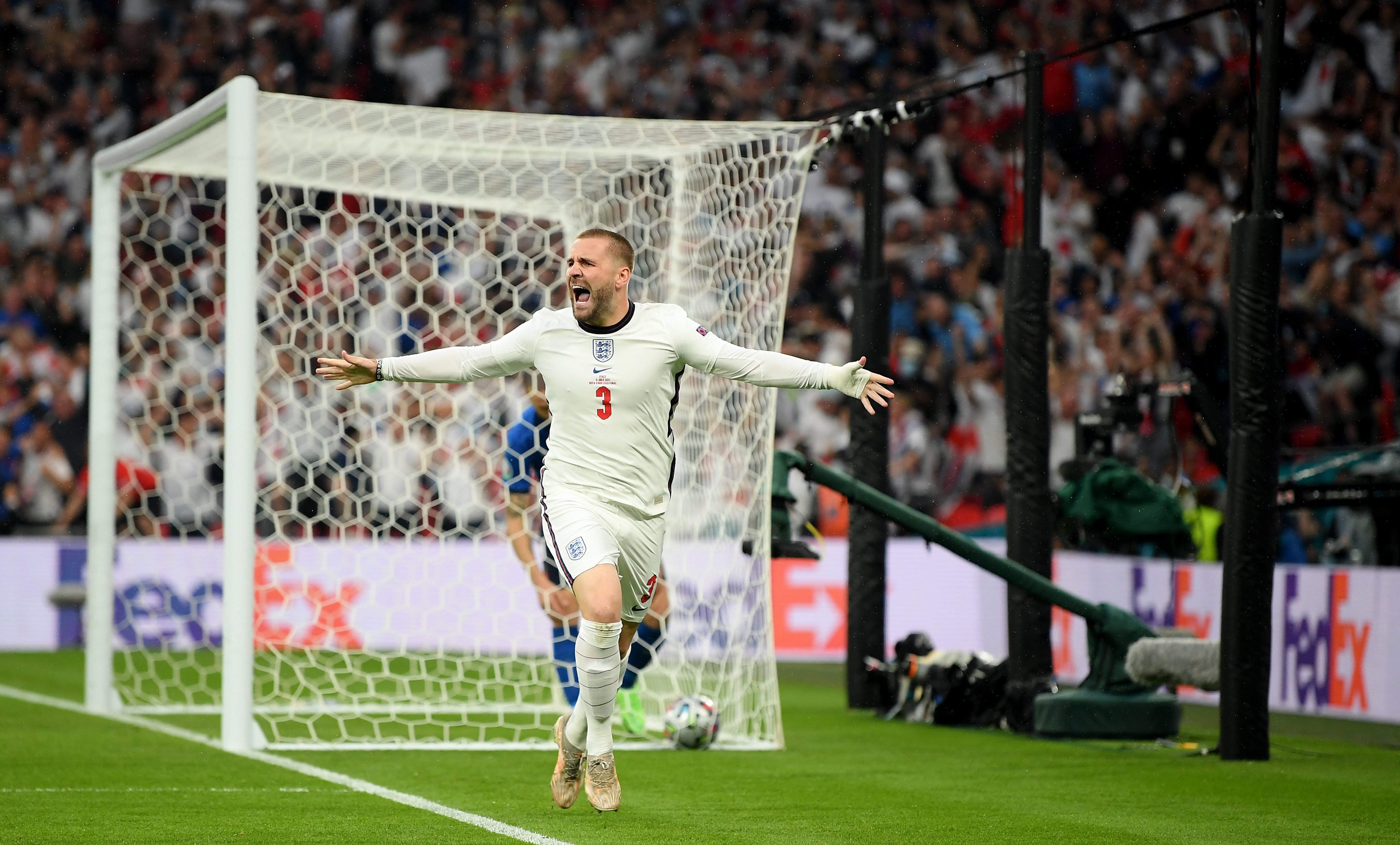 Luke Shaw scores fastest Euro final goal putting England infront after three mintues
England wasted absolutely no time as they were in Dreamland in the opening minutes. A beautiful through ball from Harry Kane into Kieran Trippier Inside the Box sending a cross to Luke Shaw getting on the end of it beating Donnaruma at his near post a slight touch of the crossbar and into the back of the net as England took a 1-0 lead as a Wembley stadium erupted. Luke Shaw scored the fastest goal ever in a euro final. All the momentum what is with the English as they had the advantage with just three minutes gone. It felt like a moment England had been waiting for it could have proven to have significance. All the momentum is with England; however, remember Italy has one of the best Midfield in Europe, and they were certainly capable of getting back into the game. It was not an ideal start for Italy, and they struggled in the opening half-hour. England really pushed but could not cash in on it. Meanwhile, anytime the Italians attacked England stack the box with as many bodies as possible, making it very difficult for the Italians to breakthrough. Italy has some good weapons in any attacking installation, but they have lacked consistency in this Tournament and when was trying to drown them out with exceptional defense. The one player that gave Italy that edge in the first half, even though the Italians were not at their best, was Federico Chiesa; the Juventus 22-year-old doesn't need very much space to be effective, and he was the one constantly punishing England whenever you have the opportunity. He took off from it feels getting fouled in the process, continued to run, controlled the ball, and rifled a powerful strike from outside the box, just missing lied. Every once in a while, Italy had those opportunities, but in the first half, it was England; it took after the first goal they could not cut through a second time the center-back partnership of Giorgio Chiellini and Leonardo Bonucci despite their age and experience they were immense together. Not to mention Gigi Donnaruma was fantastic when he needed to be. England had some really good opportunities through Raheem Sterling Mason mount, and Harry Kane feeding into their attack put pressure on the Italian backline. Still, they could not keep it going despite how well England was playing. England had their 1-0 lead after the first half. Luke Shaw's strike in the opening 3 minutes is the difference so far, but Roberto Mancini had an idea of how to fix the situation and get his team back in the game.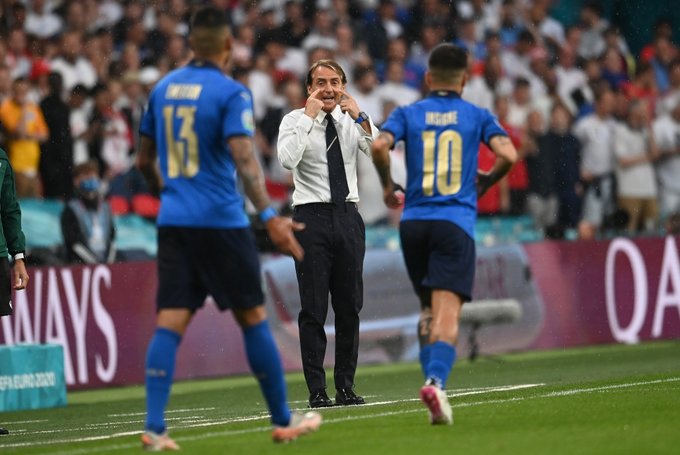 Roberto Mancini Directing his players at the start of the second half the come back was coming
Italy's issue going into the second half was quite clear. Ciro immobile was incredibly predictable honestly was having a horror show of a game. Italy needed to put unpredictability into the equation defensively; they were handling England outside of the opening minutes but could not find enough space to break through a hectic backline. Southgate meanwhile brought in Kyle Walker, a very defensive-minded player, to add more sturdiness to the defense. England was probably the slightly better team in the first half; however, in the second half, the game changed completely. We saw dictation from the Midfield total control for Marco Verratti and Jorginho; there was some concern with Nicolo Barella because of the short fuse; he already picked up a yellow card, and it was really nerve-racking to see him operate because the Laughing Italy wanted was being 1-0 down and reduced to 10 men. Roberto Mancini made a masterful move. Bringing in Berardi replacing Ciro immobile. Berardi is not a striker by Design; he very much operates out of the false 9; the one thing he does bring his unpredictability. Italy also shortly made a change with Barella coming out for Bryan Cristante. I would have brought Manuel Locatelli a slightly controversial one, but there were logical reasons behind his changes. However, it was exactly what the doctor ordered with Berardi in the middle Federico Chiesa on one side and Lorenzo insigne on the other it added a whole different Dimension to the Italian attack. England barely touch the ball in the second half; the Midfield completely overwhelmed them, and they had a very compiled attack with the three upfront. England was playing a very high line but had many bodies in the penalty area, making it very difficult for the Italian to get inside. It did seem they were just holding off trying to grab a 1-0 victory potentially. The unpredictability of the Italian front three caused major issues. Italy was already dictating a game from the Midfield largely behind the Brilliance of Jorginho and Marco Verratti. This only fed into the attack going forward. Every time Italy got forward, they took their time with the ball, putting their attacking players in suitable spaces. Federico Chiesa gave them a challenging time because of his athleticism and ball control. Every time he came forward, England was on their back heels. Italy was on the verge of breaking through on multiple chances. Lorenzo insigne made a brilliant run into the box; there was a chance, in particular, where Federico Chiesa fed him the ball, but the problem with Lorenzo insigne he is very small, and his lack of height was becoming a problem, especially through the air. Italy cut into the box shortly after it looks like they were going to score a beautiful run inside from Federico Chiesa to Lorenzo insigne, who fired a powerful shot at Jordan Pickford, who made a fantastic save. It felt like England had dodged a bullet. Then, after all that possession getting into the dangerous area, Italy finally had its breakthrough. Following a fantastic run by Federico Chiesa with the ball at his feet denied by Jordan Pickford, only setting up a corner for the Italians to pounce on it theatrically with less than a half-hour remaining. A well-hit corner into the box by Berardi, a miss-timed strike by Giorgio Chiellini Marco Verratti connecting on a header only to hit the post it comes out just to fall to Leonardo Bonucci of all people getting a dramatic equalizer for Italy.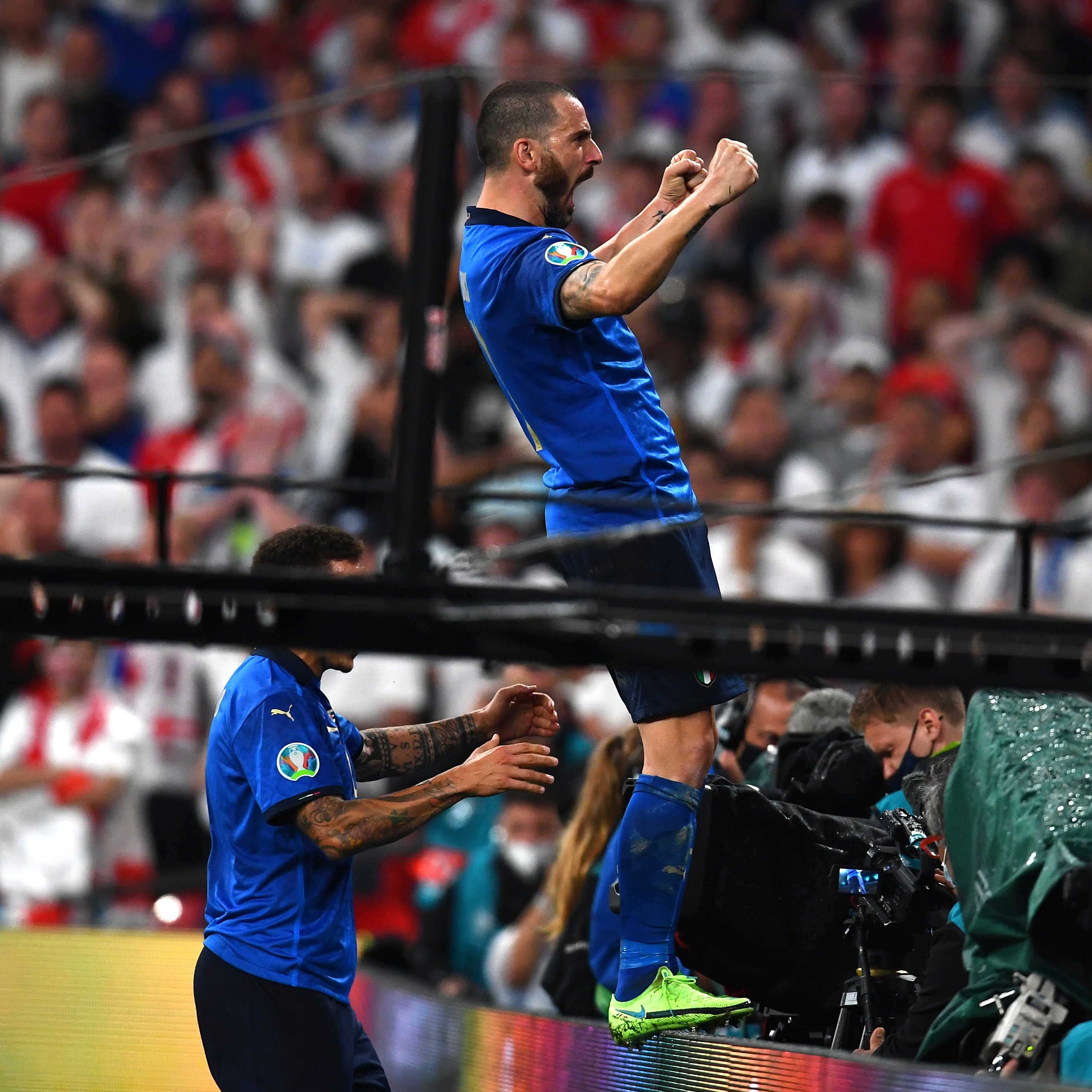 Leonardo Bonucci's dramatic equalizer gives Italy life 
The reception around Wembley Stadium became incredibly quiet outside of the Italian fans celebrating as Leonardo Bonucci runs over to his fellow Italians gets up on the stand and celebrates. It was quieter than Church mice as England now needed to find a way to recapture the momentum. It was going to be extremely difficult especially considering all the rate was riding with Italy. It only had the majority of the possession, and we're just motivated even more in hostile territory at Wembley Stadium. Italy continues to get through the unpredictability of the front three make the difference, especially through Federico Chiesa getting into dangerous positions Time After Time After Time, Jordan Pickford was on his game making some fantastic saves in critical moments with four minutes Federico Chiesa the most explosive weapon for the Italia continue to push and make England uncomfortable failing to grab any sense of momentum. However, they would lose him after being shoved to the ground by Kyle Walker; all Italy's momentum evaporated, losing the most dynamic playmaker and not getting a foul called. Momentum all went into England's favor, but Italy stayed intact, finding a way to deal with it. Once again, 90 minutes was not enough; extra time was on its way.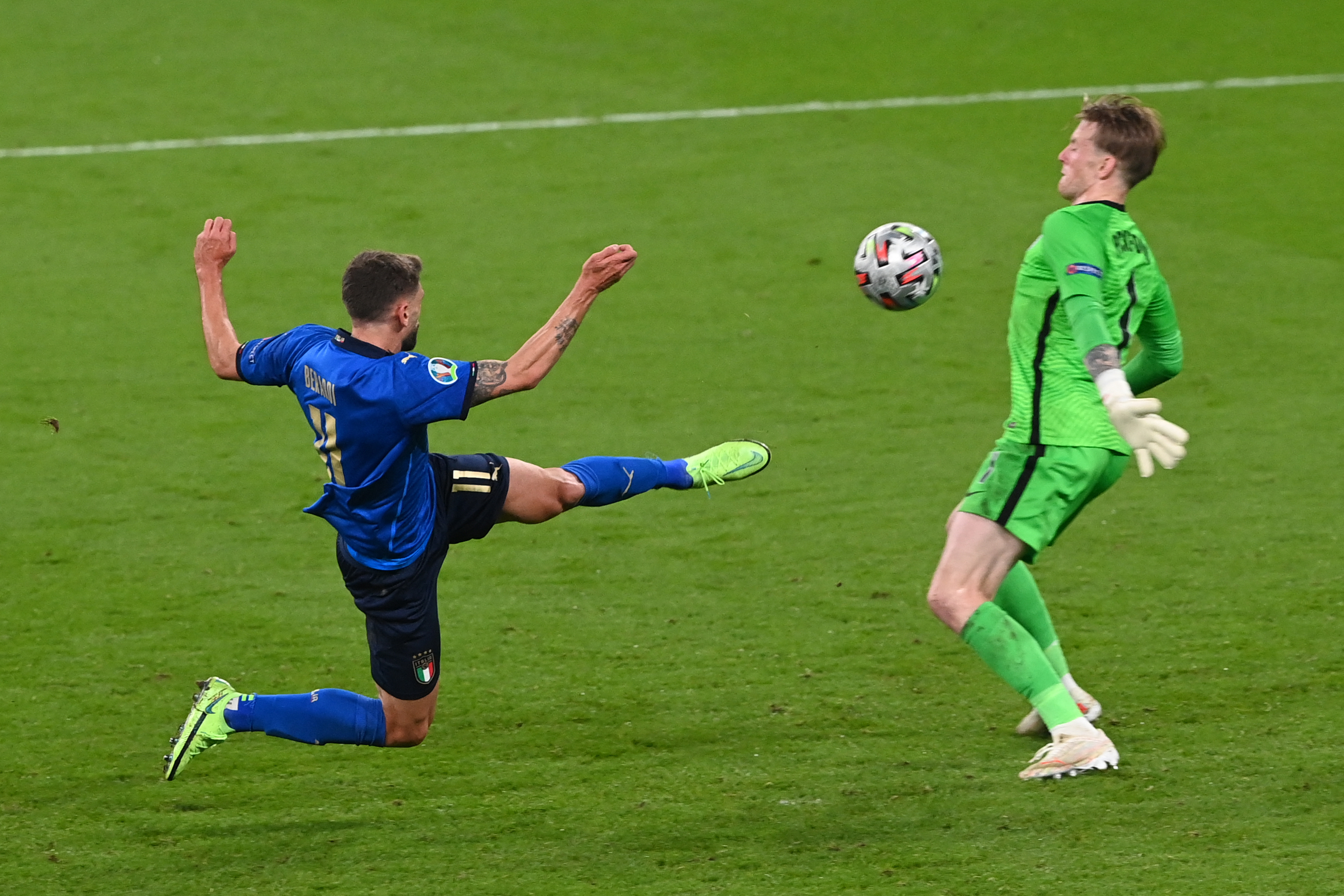 Berardi hits volley in extra time coming dangerously close to a winner for Italy.
Federico Chiesa went down all the momentum with England; they pushed and tried to get into those dangerous positions, but with a partnership of Leonardo Bonucci and Giorgio Chiellini, they were always going to find things difficult, not to mention Donnaruma is playing in Peak form. The momentum was riding with England, and they were trying to take advantage of any chance they possibly could have; they did test the Italians. Roberto Mancini was aware of the situation and made a very important substitution bringing on Manuel Locatelli as Lorenzo insigne was sacrificed. England had a couple of late chances after the first half of extra-time but couldn't find a breakthrough. In the second half of extra time, it was a complete flip. An extra time this far, and then we're probably that's the slightly better side, but it was very close in the second half of this it skipped on its head and went back into Italy favor. The dictation in the Midfield played a huge part in changing everything went out when Federico Chiesa got injured; they needed to find different ways to get into those dangerous spaces. If Federico Chiesa does not go down, Italy would have won the game early on in extra time. Italy looked threatening during the final 15 minutes of extra time penalties would be on the horizon if one of these teams did not take advantage of it. Italy had several late Chances with the possibility of getting to the end and getting that winner; they had the most possession in that second half of extra-time where they just controlled the game. England had a chance or two here or there, but it was pretty much Italy dictating everything; however, time ran out we were headed to penalties. Italy had beaten Spain on penalties in the semi-final; if they were to win this, they would be the first team ever to win to penalty shootouts in the Euros.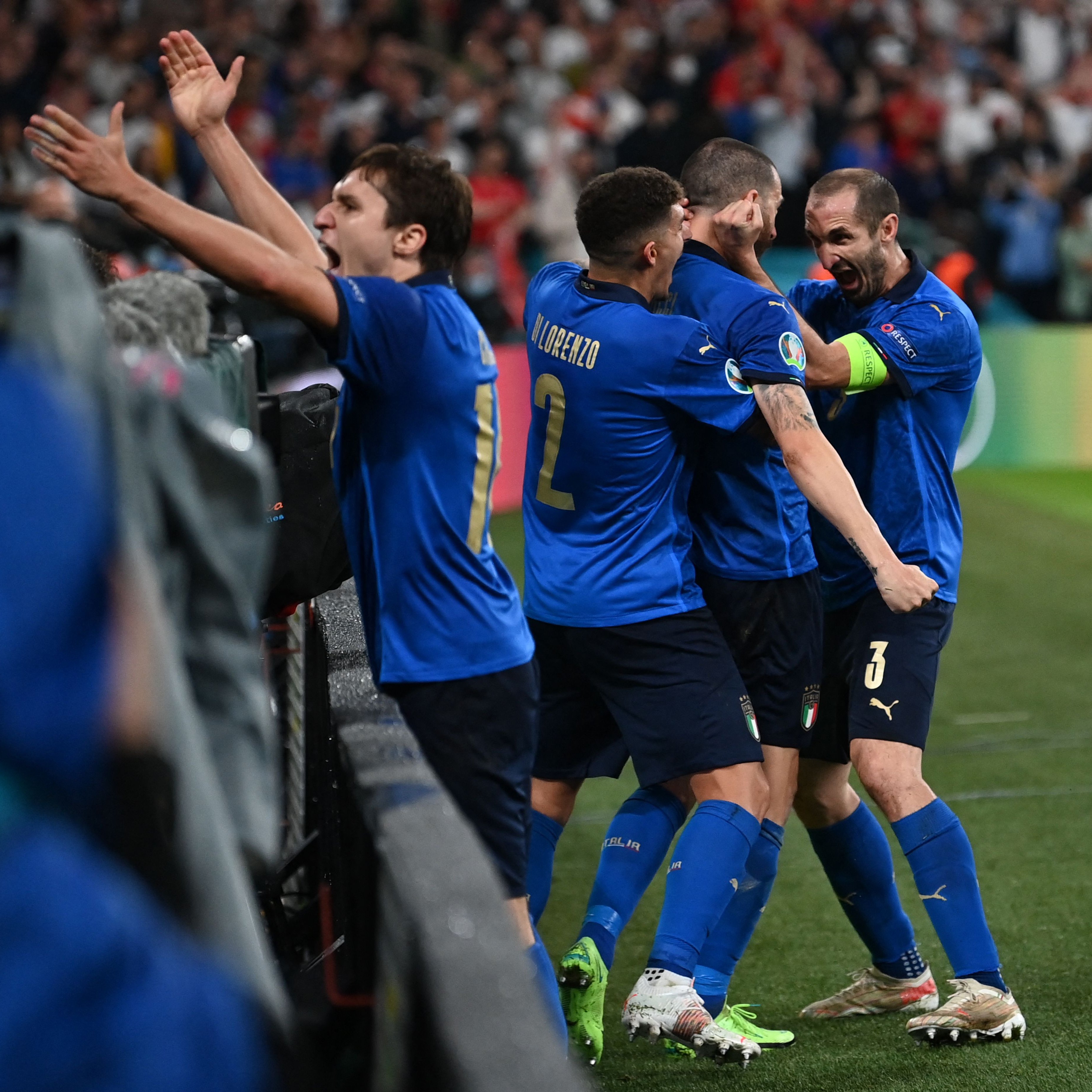 Penalties would decide the outcome at Wembley Stadium 
Dominic Berardi would be stepping up first in a highly pressurized penalty shootout in the final of Euro 2020. Sassuolo star hit a beautiful penalty guessing the other direction. Italy leads 1-0. Harry Kane stepped up and converted to make it 1-1; next up would be Torino Captain Andrea Belotti. Jordan Pickford denies him. Harry Maguire Captain hit a beautiful strike into the top corner giving Gigi Donnaruma not a chance. England leads 2-1. Leonardo Bonucci stepped up for Italy cool as you like the Juventus Center back converts, leveling the shootout. Marcus Rashford steps up for England guesses correctly but hits the post to give Italy a lifeline. Taking the next one would be Federico Bernardeschi; he steps up and converts as Italy leads 3-2. Taking for England would be Jadon Sancho, but Gigi Donnaruma denies him. It came down to Jorginho know if he scores, Italy are European Champions. He is the guy who scored the decisive penalty against Spain, but this is different Jorginho plays in the Premier League. Jordan Pickford has dealt with him before. Jordan Pickford guesses correctly denies can the opportunity to win the Euros for Italy. Stepping up would be Sako, the teenager we have a chance to forced sudden death. Gigi Donnaruma has there 68% save rate when it comes to penalties. England should never have put themselves in this situation because Sako took a good penalty, but Gigi Donnaruma saw it all the way; he's denied by Donnaruma!!!!!! At Wembley Stadium in England, with thousands of England fans in their own backyard Italy are European Champions. A moment of pure emotion and passion from the Italians that worked so hard to get here. From not making the World Cup in 2018 to becoming European Champions in 2021, Roberto Mancini took over this team instilled the personality and attitude in the most talented Italian side seen since 2006 is arriving at the right time. Roberto Mancini delivers on what he couldn't do as a player as Italy win on penalties to become European Champions. You have to feel so happy for Giorgio Chiellini he is 36 years old, probably not being selected in the World Cup he can ride up under the sunset as one of the best center backs of this generation with Leonardo Bonucci doing the same the game they played they dominated defensively and put together One Last Hurrah for the Italians Italy are European Champions as England all they can do is look and watch in devastation as well as the image of so many England fans at Wembley distraught and devastated it's not coming home at least not yet it's coming back to Rome. However, Italy was the best team in the Euros and was underestimated by many as they deliver, winning the first European Championship since the 1960s; this Italian side is not going away. They're only going to get better next year at the world cup with Lorenzo Pellegrini, Moise Kean Nicolo zaniolo, and Gianluca Mancini certainly in the squad. The Azzurri celebrate in Paradise as England can only watch and suffer.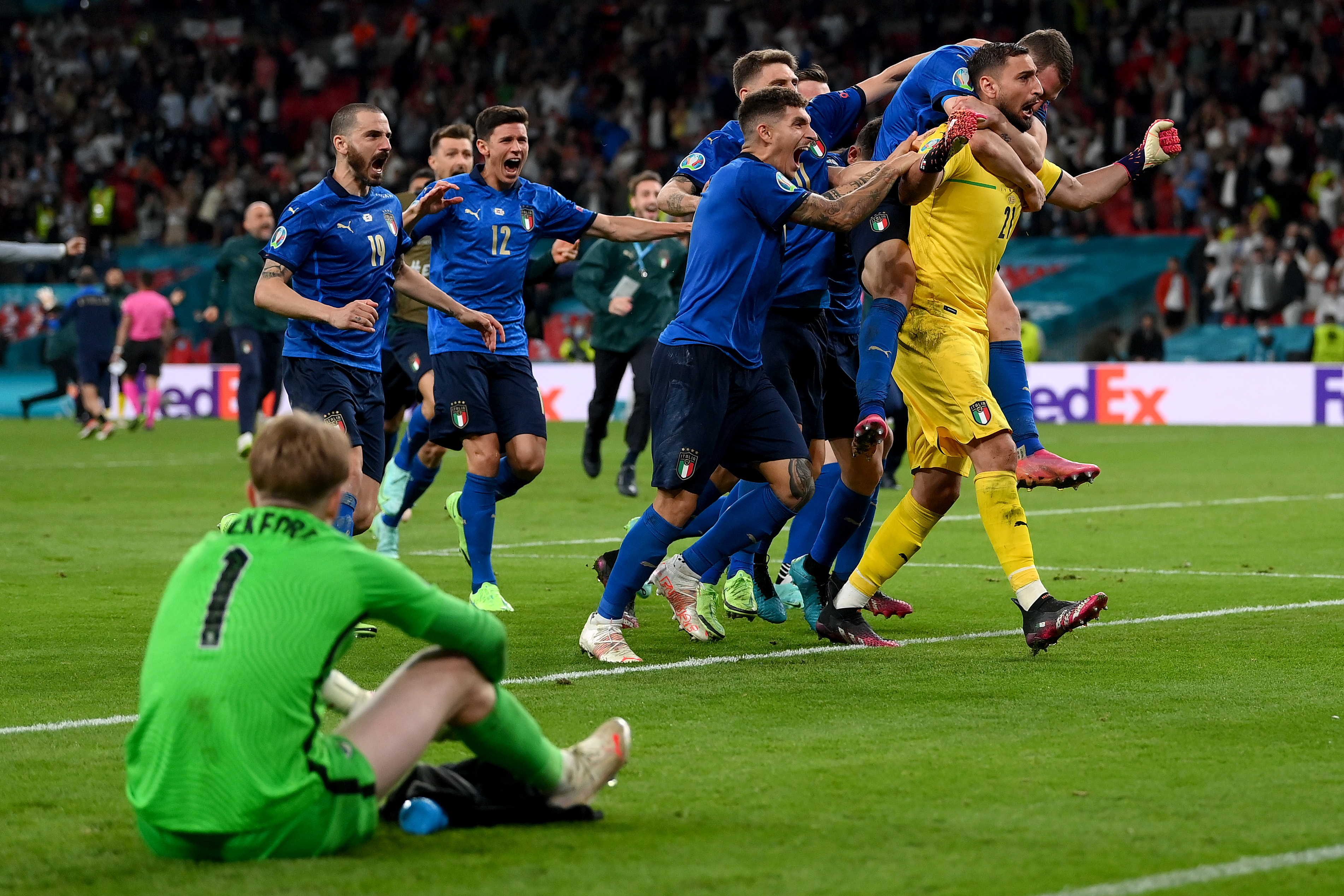 Gigi Donnaruma the Hero as he saves two Penalties as Italy become European Champions  
When Italy failed to make the World Cup in 2018 after losing to Sweden, it was devastating one of football's most historical countries was not going to be a part of football's grandest Tournament. The team itself was not as strong as it is now; their talent is absolutely outstanding, potentially the most talented team we had seen from Italy in 2006. Roberto Mancini took over this job at exactly the right time gave them the winning attitude and mentality. Even though there were some questions about his team selection, it is clear now he knew what he was doing. he is completely changing the fortunes of Italy that seemed to lose hope when they failed to qualify for Russia in 2018. I have criticized Roberto Mancini for various things during this Tournament, but even though I'm not going to go as far as to say if he is the messiah, he's precisely the coach to lead Italy on. This team is so good and so young, and they have some young guns that will ultimately come in and replace Giorgio Chiellini and Leonardo Bonucci; they had a game of their lives as they can ride off into the sunset together. This Italian team is not going away the talent level is ridiculous, and it's only going to get stronger and stronger; the World Cup is just a year away they certainly will be one of the favorites when the time comes.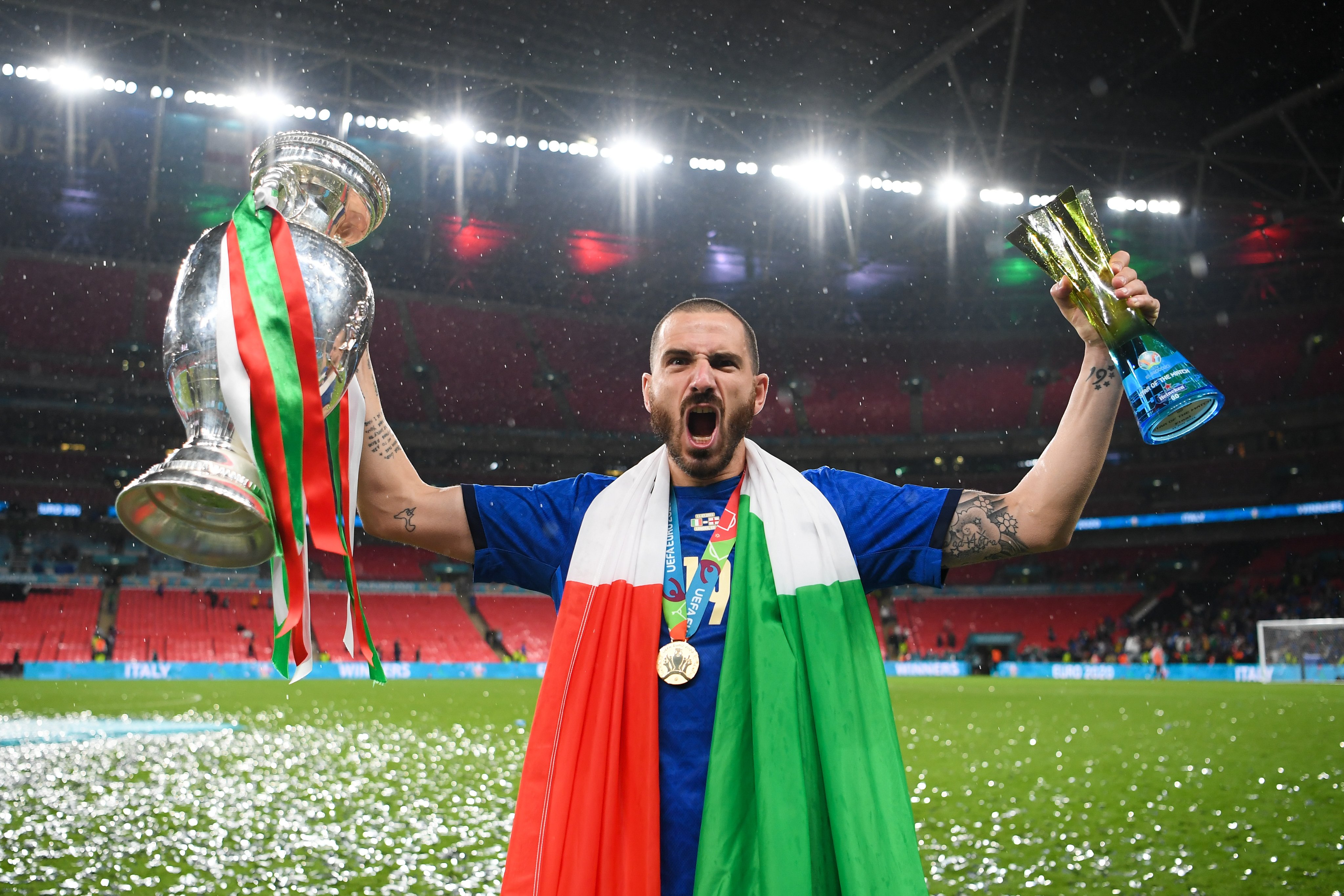 34-Year old Leonardo Bonucci with a vintage performance leading Italy to the Mountian top 
From the England point of view, it's a devastating thing to have to deal with losing a European Final in your own stadium when the hope of the world came together for the Three Lions. Gareth Southgate proved all of us wrong he made some mistakes in this game, and Roberto Mancini, especially with the substitutions he made, buried England, but he deserves a lot of credit for taking a limb here. Just like Italy, England is a very young talented team that will learn from this experience and try to use in the World Cup next year; this is not the last we've seen of England on this stage, but with that being said, once you're there it's tough to get back here. England started so fast and had control, at least in the early part of the first half. They couldn't close the deal in the end and didn't take advantage of the opportunities they had. Jordan Pickford truly is a phenomenal goalkeeper when he's on end during this Tournament he's been one of the best players Raheem Sterling coming back From a Bad season, was one of England's most important players and the entire nation came together for the possibility of winning it on Home soil England should be incredibly proud of where they've come and what they are now. This is a young team, and they will have an opportunity to get back on the stage. I feel for all of them, but Sunday Night belonged to the Italians who work so hard after the failure to make the World Cup now becoming European Champions an incredible moment of joy and ecstasy from my adoption, Nation Forza Azzurri.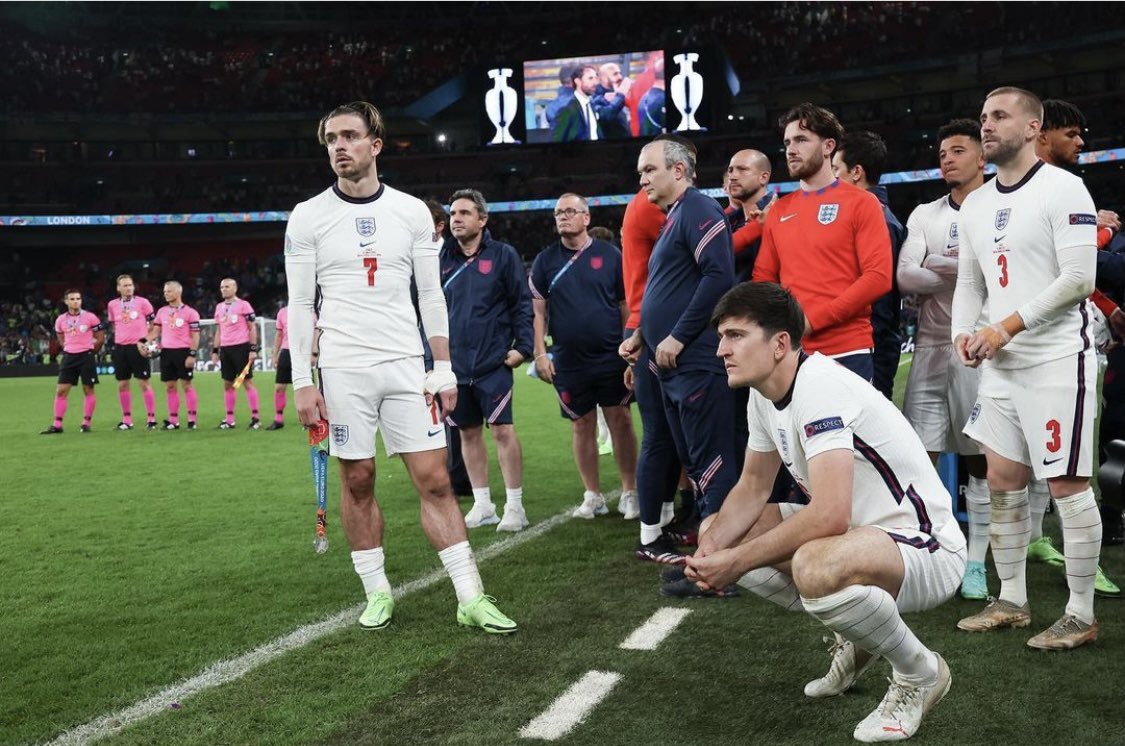 A Night of Misery from England as they watch Italy Celebrate but a bright future ahead for the Young Lions