Roma is coming off a very disappointing season. They finished 7th place in Serie A. The club required reinforcements as Paulo Fonseca and Roma agreed to part ways after two years in charge of the capital. The Europa League semi-finalists appointed two-time Champions League winner Jose Mourinho as the club pointed to the Portuguese tactician back in May. Jose Mourinho has officially arrived in the Italian capital as he had his introductory press conference this week on the back of Italy winning the European championships. Jose Mourinho has gotten to work and trying to shape his club before the kickoff of the new season on August 15th. Roma sporting directors Thiago Pinto and Jose Mourinho have been working hard to upgrade the squad ahead of the new season. They have been negotiating for a month for the services of Euro 2020 start Arsenal Granit Xhaka Roma continue to try to get the deal across the line. Roma has also looked at various Strikers, but one of their main priorities has been finding a new goalkeeper. Europa League hero Paul Lopez and Cengiz Under having joined Marseille on loan as Mourinho continues to revamp the squad. The club's main priority has been wolves shot-stopper Rui Patricio who has spent the last three seasons in the Premier League with Wolverhampton. The Premier League side and Roma have been negotiating since the start of the European championships. Patricio and Portugal were eliminated in the round of 16; since then, the clubs have negotiated a price and reached an agreement shortly after Portugal's elimination. Rui Patricio agreed on personal terms about a month ago. The two clubs inevitably struck a deal as Roma pay 11.5 million to secure the services of the 33-year old that still has a lot to offer. The most vital part of this negotiation was the Portuguese connection between the two Rui Patricio and Jose Mourinho have the same agent, which also helped complete the deal. Rui Patricio flew to Rome late Monday night to complete the deal as he arrived in Rome on Tuesday before undergoing his medical before Penning a three-year deal with Roma becoming the first Mercato of Jose Mourinho's Roma before she leaves goalkeeper had this to say upon arrival as he became the club's first signing of the summer.
One of the Best Keepers in the Premier League 
Rui Patricio spent 11 years with Sporting Lisbon winning three trophies, including 97 clean sheets during his time there. This ultimately prompted Wolverhampton to come in and Security Services of the goalkeeper following winning the Euros in 2016. under Portuguese manager Nuno, he became one of the best goalkeepers in the Premier League, constantly being a big reason why wolves ended up in the top half of the table. In 2018-2019 he led Wolverhampton to Europe for the first time in a long time and Let the Wolves to a Europa League quarter-final, the first quarter-final they had participated in since 1972. in three years at wolves, he pulled off 31 and clean sheets, the most by any goalkeeper to play for the club. Wolverhampton is an excellent team with a lot of fantastic players over his time there, but they didn't truly have enough to be considered one of the best in England; however, from a performance standpoint, Rui Patricio ended up becoming one of the very best goalkeepers in the entire league. His numbers may not look as fantastic at some of the other Keepers, but only because he was on a genuinely speaking team, finishing between 8th and 10th. His Highest clean sheet total during his time in the Premier League was 8 in a season; he provided experience from playing in Portugal for so long as well as winning on the International level; he was very influential to a team showed uncanny amounts of leadership and became one of the truly elite goalkeepers in the Premier League. He was able to keep wolves in games with his impressive individual performances under Nuno; he was an exceptional player that continues to be incredibly productive and relatively mistake three despite being in his thirties. When Nuno and Wolverhampton parted ways, he looked for the exit door and seemed to have found the solution in the Italian capital. He has developed into a really fantastic goalkeeper. He has an elite level of concentration which has been a problem with Robin Olsen and Lopez since Allison left, failing to replace the big Brazilian and why it has taken this long. He's exceptional with his feet, mostly because he used to be a striker but didn't have the speed despite having a gifted touch of the ball. Exceptional long passing will suit Jose Mourinho and what he wants to do with this Roma team's phenomenal reflexes and has a good feel for penalties having a fairly good percentage from the spot. These skills helped him develop into one of the best goalkeepers in England, and there's no reason he won't be able to take that into Italian football.
An Icon with Portugal; Arguably the Countries Greatest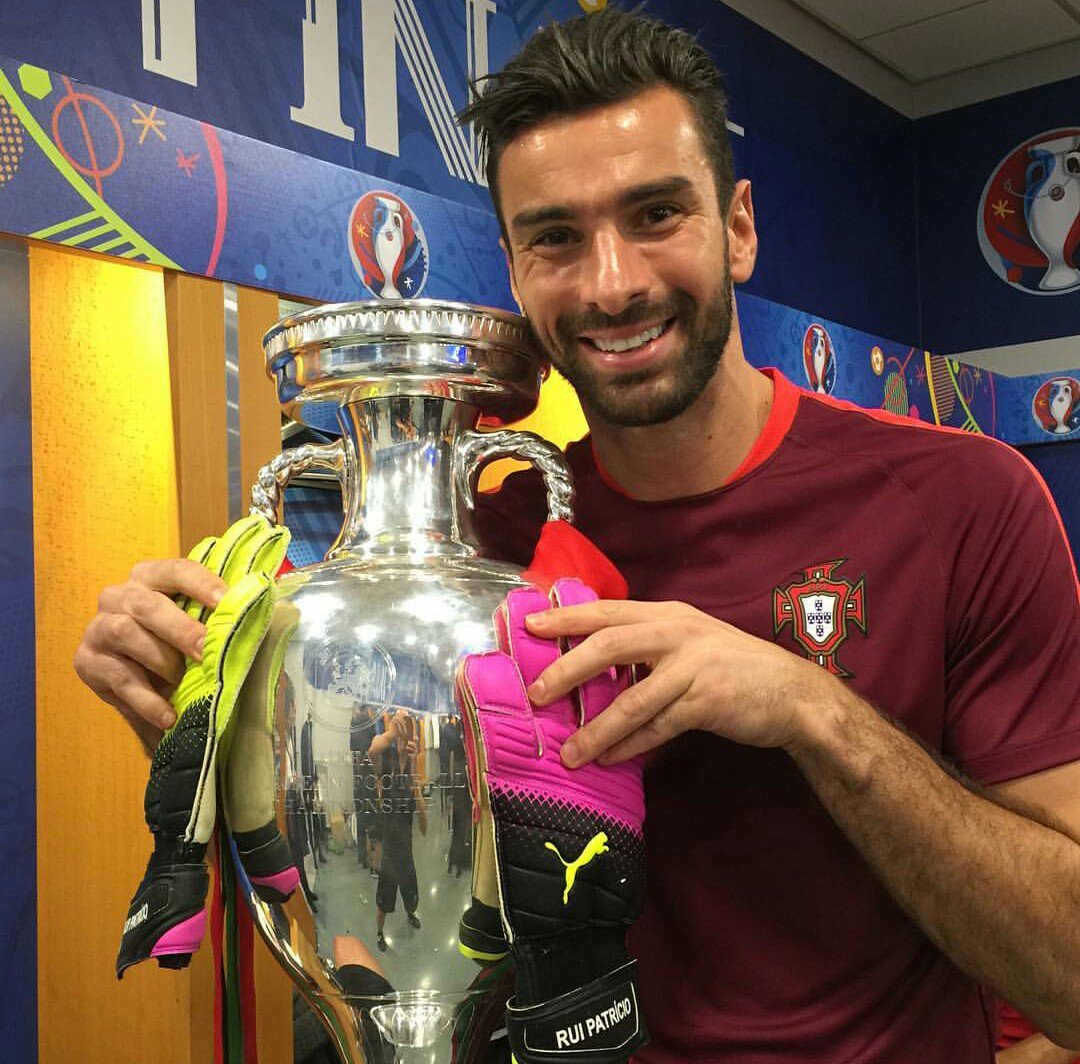 In addition to his domestic Success With both Sporting Lisbon and Wolverhampton, she has been an icon and a folk hero for the Portuguese national team. he is arguably the nation's best-ever goalkeeper I've had individual accolades and team success as well. in Euro 16 he was one of the standout performers that ultimately Led Portugal to win the competition. He saved a vital penalty in the shootout during the quarter-finals and kept a clean sheet in his final three matches of the tournament. He made some unbelievable saves in the final against France that kept Portugal in the game when it probably shouldn't have. in addition to winning the Euro 2016, she also won the Nations League with Portugal and the inaugural International competition. In Euro 2020, he once again was fantastic, making some incredible saves, especially in the game against France that allowed Portugal to qualify for the round of 16; a loss in that game would have ultimately ended any possibility of qualifying for The Knockout rounds. From an individual standpoint, he has been one of their best in history and from a team, standpoint winning the Nations League and the Euros; he is arguably Portugal's greatest ever goalkeeper they have ever had; we're talking about a player with domestic and international Success that should only excite the romanista.
Alisson's Replacement finally Arrives 
3 years ago, Roma had one of the most incredible individual goalkeeping performances of the last decade when Alison Becker was in between the post at Roma. He was ultimately sold to Liverpool for 75 million, a price that was too big to turn down. He has since gone on to become consistently one of the best goalkeepers in the world; meanwhile, Romo has failed to replace him since then. Roma was seduced into buying Robin Olsen after a fantastic World Cup in 2018 had a brilliant start But ultimately stated down the stretch and was very mistake-prone for a Roman team that had a liability in goal. Then Roma spent 23.5 million for Pau Lopez, who had thrived with Espanol and Real Betis. he looks like a worthy investment the majority of his first season, but a mistake in the derby ruined him as he lost his starting spot to Antonio Miranda at the end of that season and for different parts of the next season. it was a really inconsistent start to his second season in Rome. He ultimately got his starting spot back but not enough to convince even though he was the best goalkeeper in the Europa League but never had enough consistency collectively to hold on to his position in the Roma goal. I personally would have liked to hold on to him because I think some of the criticism that he received was unjustified; it's probably true that ultimately Lopez was not good enough over the two years to be a starting goalkeeper for Roma, but he could have been useful as a backup a player that could play in the UEFA conference League fitness McKinley better than Daniel fuzato who I've never been impressed with. Nonetheless, there was a gap that Jose Mourinho and Roma felt was need filling. The issue with the Roma goalkeepers has to a large extent, been silly mistakes, concentration, and lack of communication. Rui Patricio might be 33 years old, but the truth is Roma did not pay that much for him, and he still has at least three years left of top-quality performances. He developed into one of the best goalkeepers in the Premier League in his 30s, and we have seen goalkeepers in this league play a long time. Samir handanovic it's closer to forty than thirty but still has performed at an extremely high level; there's no reason why Rui Patricio can't do the same especially coming off three fantastic years in the Premier League and so many good years in Portugal. The most important thing that he brings to the stroma side is leadership consistency, and he has earned the reputation as a proven goalkeeper. There is not much risk involved in this deal because he has proven that he can operate at a high level as he has been both on an international and domestic level. Jose Mourinho had seen him play in England for the last couple of years and has coached against him when he was with Spurs. he has intangible leadership qualities, often keeping people in check and accountable, something that Romo needs from that position. Lack of focus will not be a problem with Rui Patricio; he's an experienced goalkeeper that has thrived at an international level as well as with Wolves. He's not the type of goalkeeper to make silly mistakes to put Romo in vulnerable positions; he will keep his defenders in front of him accountable and will be a very vocal leader for the backline this next season. Roma did not pay very much, and considering what room is getting, despite him being 33 years old, he has what it takes to handle the extreme pressure of being Roma starting goalkeeper. He has shown consistency over the last five years; he has proven to be a leader not only internally but with the team around him and has a very versatile skill set in which he can do many things exceptionally well; the age should not bother anyone considering what we've seen from Buffon Samir handanovic and so many others in Italian football. He will suit Roma and Italian football very nicely, and if he's one of the best goalkeepers in the league by Midway through next season, I wouldn't be surprised. Wolverhampton has some really nice players, but they don't have a team as good as Roma; he will now be around more talented players as well as a coach and Jose Mourinho that has won everything; this is a huge purchase for Jose Mourinho Roma, hopefully more to follow but one thing is sure Rome has filled an essential need with a world-class goalkeeper Roma finally have found one that is worthy of being Alison's replacement.
Opening Staments from New Roma Goalkeeper Rui Patrico 
It's a great feeling. I'm delighted to be here. It's a chance for me to develop, learn and improve and to come to a club where I can compete for silverware," he explained to Roma's official website.
"I'm delighted, I feel confident – and I want to work hard and do my best to help the team. Obviously I was really pleased when I heard Roma were interested in me and I was desperate to come here because I definitely wanted a new challenge."
"I had three great years at Wolves, where I was very happy, and I can only thank them because they gave me the chance to play in the Premier League. I'll never forget Wolverhampton because it's a family club and I love that – but Roma coming in represented a chance to fight for trophies and to join a big club, so I'm really excited."
"I want to do my best, help the team and help the club to win things. I'm delighted to have the chance to work with Mourinho.This is the first time I've worked with him, but he's certainly one of the best in the world."
He added, "It's a dream for any player to work with him and to be coached by him, which was definitely one of the other draws for me, as well as coming to a big club to win silverware and focus on competing for trophies. Working with Mourinho is definitely a huge plus in terms of developing, working hard and improving, so it's exciting."
The former Sporting man was also asked about his talks with Tiago Pinto, Roma's General Director and transfer market chief.
"Tiago Pinto explained the project to me. As I've said, it was very interesting. I wanted to come somewhere where the plan was to win trophies. I want to work hard to win things and dream of winning silverware," revealed Patricio.
"There was the fact of coming to a big club, as I've already said because I already knew that Roma is a huge club but this is also a project with the opportunity to win trophies."
The veteran then discussed the landscape of Italian football, conceding that several clubs will be in the hunt to finish atop the Serie A table.
"As I've said, this is a great league and I now have the opportunity to play in Serie A against some great teams and great players. There are several teams fighting for the title, so it's going to be exciting to have lots of teams competing for the same objective.
"It's also a huge opportunity to play in another league and experience what Serie A is all about. I've played in the Portuguese league, in the Premier League and now I have the chance to play in Serie A, which is a big draw for me and for all players."
Adding, "My main objective is to continue working the way I have done so far. I want to continue to improve, to help the team and to fight to help us achieve our objectives, so to win silverware."
"My objective is to give everything, to give 100% in training and to learn and improve, because that's the only way to progress – not just in football, but in life too. So I want to continue to develop, learn, work hard and win trophies. That's why I'm here – because I dream of winning things."