The Underdogs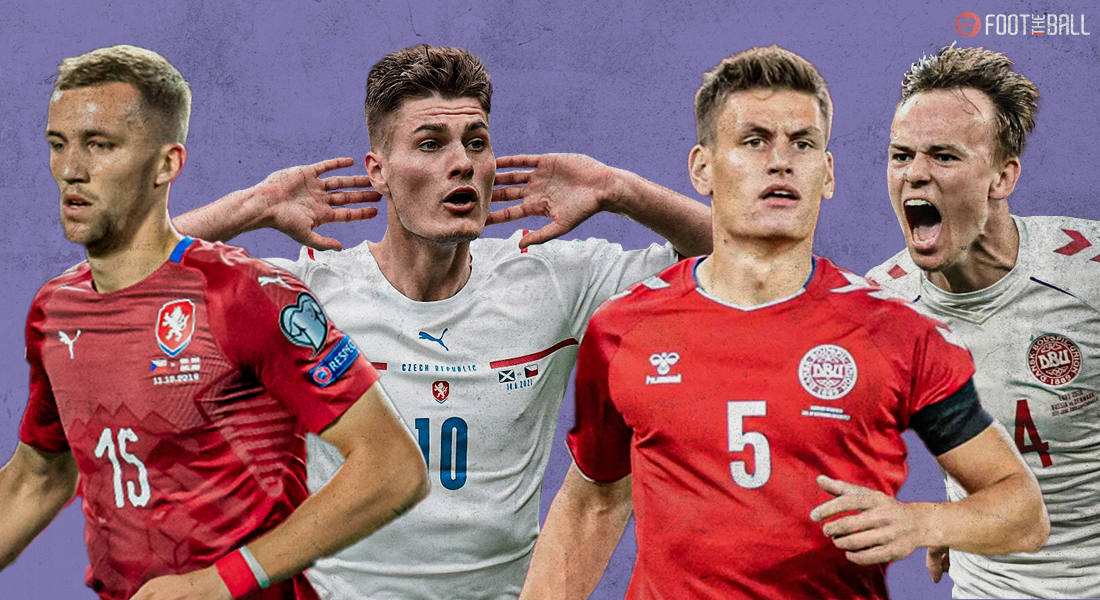 Euro 2020 had so many amazing moments throughout the entire competition. The Knockout rounds we're very special as well with most of the games going the distance 90 minutes just wasn't enough to decide the outcome. Italy becoming champions for the first time in 52 years with Roberto Mancini being the one to break the drought. however Euro 2020 as a whole will be remembered most fondly for something completely different. When we look back and think about this competition the primary focus for memory will not be about Italy beating England at Wembley on penalties it will be about The Underdogs and the dark horses. those are who truly thrived this summer most of the favorites folded in the round of 16. there were so many far in between we just can't ignore any of them. we saw Sweden win a group that's featured Spain including shutting them out in the opening game with Incredible play from Alexander isak and Robin Olsen who was terrific in goal. even though Sweden did go down in the round of 16 it took them a hundred twenty minutes for that to happen. speaking of the team that knocked them out the Ukraine finished third and one of the weakest groups in the competition but still managed to do enough to get to the round of 16 Ruslan malinovskyi and Man City we're really important to the success that Andrei shevchenko side had. they ended up beating Sweden in the round of 16 with a goal in the 120th minute to see them make the quarter-finals for the first time ever. they did end up getting destroyed by England in the quarter-final but still a tremendous campaign for a country that was not supposed to make it this far. and Austria team that had never won a game at the Euros ended up getting second in their group and pushed eventual Champions Italy to the brink and honestly they probably could have beat them. then we have the three Heavy Hitters the three most memorable Underdog stories of the summer. Switzerland finished third in their group the qualify for the round of 16. their reward? world champions France. people expect France to absolutely destroy them but it became quite the contrary. Switzerland took the lead through 15 minutes nearly doubled their lead but missed from the penalty spot in the second half France then exploded scoring three unanswered goals. however Switzerland fought back scoring twice late to push the game into extra-time. they ended up going head-to-head and it had to be decided on penalties where they knocked out the favorites. they did go down to Spain and penalties in the quarter-final but it was a masterful performance from Yann Sommer. the Czech Republic was also a huge Underdog in this tournament not only for the time being but they have a team in place that can continue to thrive in the future Patrik Schick was one of the top players and the breakout star of the tournament. he scored five goals including the goal of the tournament which is halfway line goal against Scotland in the group they finished third in their group upset the Netherlands in the round of 16 before narrowly falling short in the quarterfinals. the underdog that did the best though was Denmark in the opening game against Finland you know the story Krishna everything their best player gets a cardiac arrest he's much better now but could not play the rest of the tournament then they lost the Belgium needing an inspiration for Foreman against Russia and Denmark powered through to make The Knockout rounds they annihilated Wales nearly getting past the Czech Republic would set up a date in the semi-final against England. Denmark or even in Dreamland when they took the lead at Wembley Stadium England eventually came back and won the game controversially in extra time. however I think we'll all remember the way denmarket battle through adversity during the tournament even though they lost their best player dammegard came in and filled the void left by Christian Eriksen and ended up becoming the best player of the tournament they also got incredible production from Kasper dolberg Andre Christensen and Kasper schmeichel it was a tournament to remember for all of these teams not one team out of the group of death made it to the quarterfinals yet there were six Underdog teams in The Knockout rounds and all of them had possibilities of going even further it's obviously an amazing moment for Italy winning this competition against the hosts at Wembley Stadium but ultimately this tournament itself will not be remembered for that it will be remembered for the underdogs that went into the lions den and lived to tell the tale.
Roberto Mancini's Redemption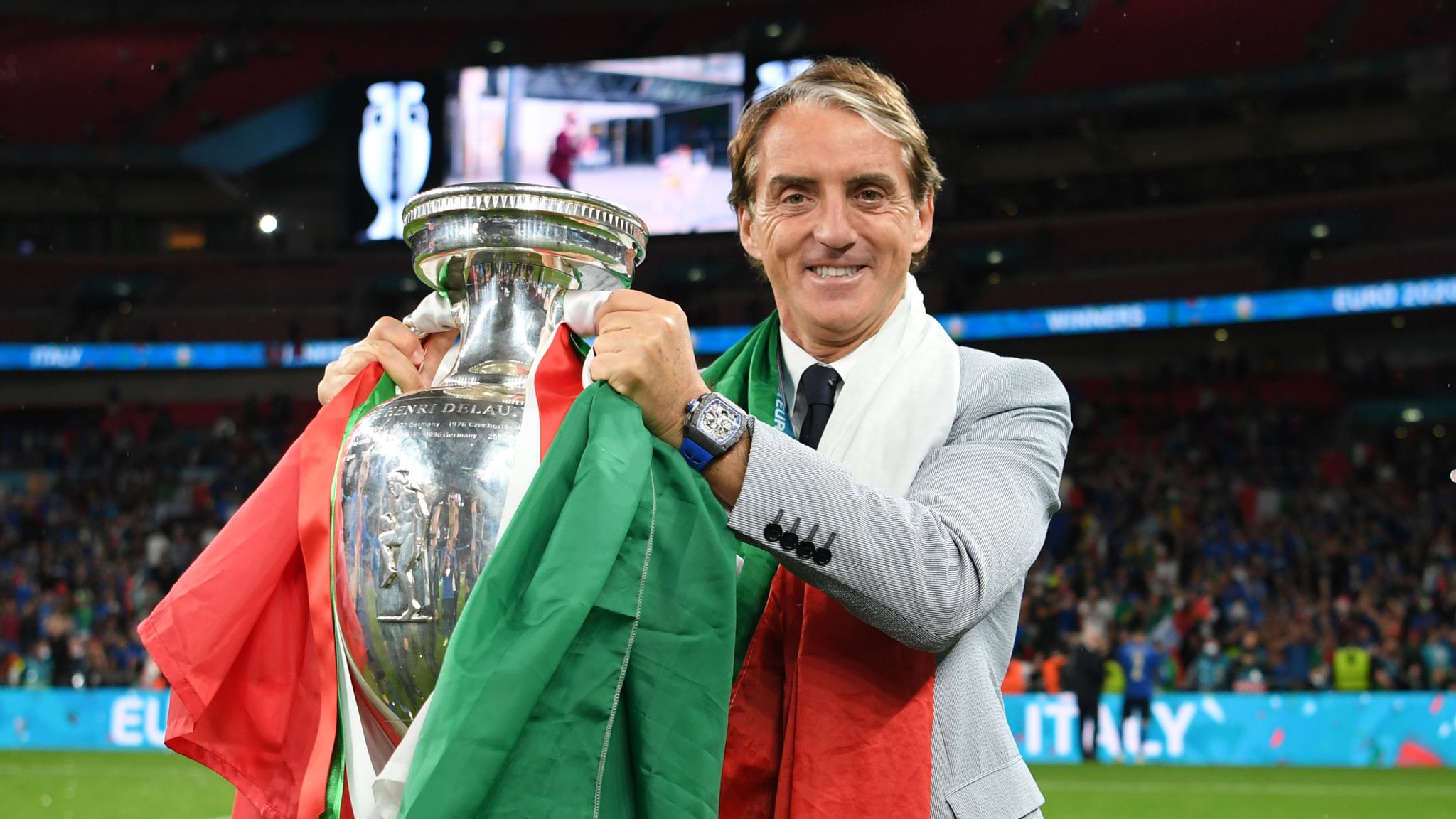 The Italian national team was in entire disarray before failing to qualify for the 2018 World Cup. Italy did not even qualify; it's just unheard of Italy on one of the most historical International sides of all time. To Fathom, I they even made the tournament in 2018 showed that the problems existed very deep in its core. there were obviously very controversial decisions made in the match against Sweden that killed their World Cup dreams. however, it invaded the problem and distracted us from noticing something abundantly clear about this Italian side. the straight truth from 2018 what's this Italy just were not very good; it didn't have to do with mistakes being made from manager point or tactics it was that the Italian side just wasn't that in Sweden, not in that game and not in general at that point in time Sweden was a better team and deserved to go to the World Cup we know the story they went on to make the quarterfinals what Italy had to watch at home. Roberto Mancini was elected as the guy to come in and figure it out. it was perfect timing because over the last two years, the most talented era of Italy since 2006 what starting to come alive. however, You could argue that the team's talent certainly helped Roberto Mancini get things under control. Still, I think it was coincidentally that Mancini's mentality and attitude were put inside the team and the team's talent coming together at the same time. it was a task of Redemption not only for this Italian side but for Roberto Mancini. in qualifying and in Friendly's, Italy went into this tournament unbeaten in 25 consecutive games only Rises together for what the tournament turned out to be not only the Redemption of Italy but of Roberto Mancini as well. in 1992 Sampdoria had a lethal Strike Force one of the best teams in Europe that Strike Force consisted of Roberto Mancini and an assistant coach for Azzuri now. in 1992 Ronald Coman scored in the Champions League final for Barcelona as Johan Cruyff's historic Barcelona side became champions of Europe. with Sampdoria and Roberto Mancini dealing with heartbreak. Roberto Mancini was also a part of an Italian side that made the World Cup final and suffered in bitter defeat. he's vowed to do as a coach what he could never do with the player. Roberto Mancini it's famous for ending droughts as a player with Sampdoria and Lazio as a coach with Manchester City and Inter Milan he has had a remarkable career this was a tournament in which he had an opportunity to end another drought. he made some controversial choices for the Squad and was given a contract extension before the tournament despite its results it was a bizarre and unusual decision. Italy got through the group without conceding a goal; they were flawless. however, in the Round of 16 and gets Austria, Roberto Mancini made a massive mistake that could have ultimately cost them in this tournament. Austria has a six-foot-seven Hitman playing for Stuttgart. Giorgio Chiellini and Leonardo bonucci for the best center-back pairing in the entire tournament, but considering their lack of pace, the obvious tactical move was to play Bastoni to eliminate space the Austrian Striker it nearly could have caught them elimination from the tournament I lost faith in him after that game because my logic was if you could not figure out an obvious tactical move like that one how was he going to tactically make an adjustment in a much bigger game when it's not as obvious. however, to his credit, he didn't make a mistake the rest of the tournament, which ended up with Italy winning the entire competition for the first time in 57 years. Federico Chiesa was basically their only weapon in attack defensive masterclass of donnarumma and the partnership Giorgio Chiellini and Leonardo bonucci and dominance in the Midfield Italy ended up winning it. They handled romelu Lukaku from Belgium play horribly against Spain but ended up winning on penalties; then in the final and one of the most romantic games of the tournament, they beat England in the final on penalties; this was Italy's tournament from the very beginning they were the best team throughout and seeing them when it against England at Wembley Stadium was something to speak. Roberto Mancini kept his promise as Italy are European Champions he was able to achieve something that he could never have the disappointment of the 1992 Champions League final in 1994 World Cup finally feel a little different now that he has led Italy to become Champions. Bertha Mancini and his team are not going away; his tactical Brilliance was on display all tournament, and there's no doubt about what this Italian team is capable of not just now but in the years to come. ultimately this was Italy's tournament as the Azzurri find the Redemption after failing to make the World Cup in 2018 to becoming European Champions it wasn't that long ago when their entire team looks like it was going to fall apart, and infusion of talent and a manager that instilled the right mental attitude and direction, in the long run, made the big difference as Roberto Mancini leads Italy as they are champions of Euro 2020.
It Almost Came home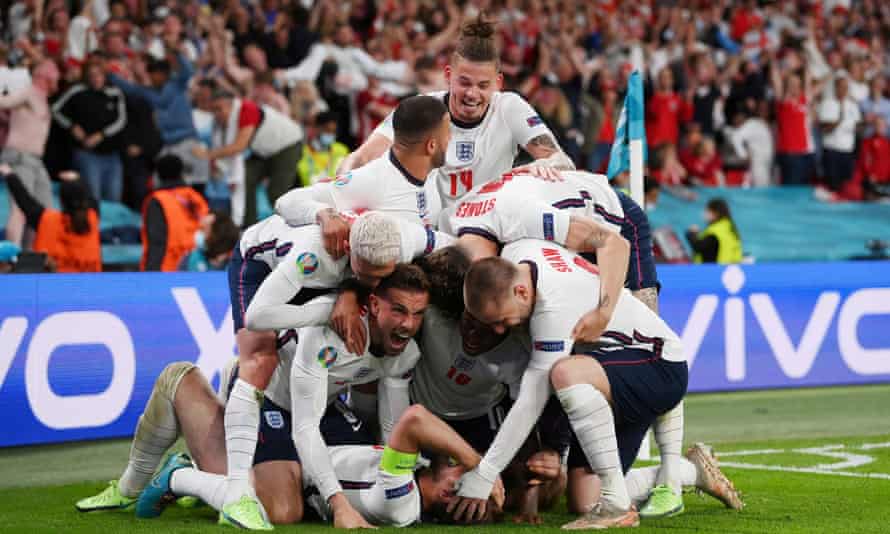 it nearly came home for England something that seems like a pipe dream an impossible task or a delusional pointed Eagle nearly became a reality. Italy War without question the worthy winners of Euro 2020 and deserving my stuff but England made it that elusive final at Wembley Stadium with all their fans in the stands something that didn't seem like it could actually be possible. it seemed like a team that was going to crash out early and not do as well as expected. Gareth Southgate has undergone serious criticism since it being in the job. he hadn't really been tested at any point in the 2018 World Cup a red carpet was given to England in the world cup to get to the semi-finals having to get through Columbia Sweden and then Croatia three teams World Cup winners France would have ripped apart. they end up going out in the semi-final despite everything they were still criticisms surrounding it even though they made the semi-finals. much like Italy England have their most talented team maybe ever. with a ton talents and they're very early twenties. in the group stage there was levels of concern and rates despite a terrific tournament from Jordan Pickford and not conceding a goal in the group stage they only scored twice after Raheem Sterling who had a phenomenal tournament scored England's only goats. To put in perspective Patrik Schick for the Czech Republic in England's group had more goals in the group stage in England did. the most infuriating thing about that whole situation was despite Jadon Sancho at worst being the second best player and although he has a hundred 14 goal involvement in the last 3 years he only played six minutes during the group stage with steamed idiotic which is why all logic pointed to England being eliminated in the round of 16 but something happened. England sleepwalked through the group stage and became relentlessly committed and The Knockout stage. England played huge Rivals Germany in the round of 16 a tough game for Raheem Sterling and Harry Kane were there to see it out as they knocked out Germany ending Joakim love has the German coach. annihilate the Ukraine just didn't. To get past Denmark to find their way in a final at Wembley Stadium. and even though England did lose on penalties with two young Lions missing the kicks I have faith that this team is only going to get better and they'll get back here once again the World Cup will be a huge stage for them as our team will mature with that possibility making it come home even though didn't quite Gareth Southgate answered his critics in The Knockout rounds even if he made some mistakes in the final this England team isn't going away and should be tremendously proud of the tournament that they had.
Favorites Falter 
Perhaps the most shocking thing about the entire tournament was how poorly many of the favorites perform at Euro 2020. the group of death in Belgium we're hugely disappointed. in the group of death we saw France, Portugal Germany and Hungary three of those four teams were expected to be challenging for the competition not coming up short so dramatically. France were coming off winning the World Cup with the deepest Squad in the entire tournament which included the return of Karim Benzema in the team. it seemed it was exactly with France needed to get that separation and win the tournament. many of us picked them to win it because along with Benzema back Ryan's his team was just so good from top to bottom that it seemed like it was inevitable that France was going to take home another International trophy. they did end up beating Germany and the in their opening game but struggled against Hungary and despite a good performance against France they hadn't really put together that performance that made them favorites to begin with. they went out in the round of 16 to Switzerland after holding a 3-1 lead they allowed Switzer to come back and then beat them up at all. For a team that was expected to win the tournament for them to falter as much as they did was surprising and hugely disappointing. then you look at Portugal one of the most talented teams in the competition they had a very good chance of retaining it as long as they played as a team and not make Cristiano Ronaldo the primary. However that's not what they did despite beating Hungary they look terrible in that game they were awful against Germany put together a decent performance against France but overall it looked average. for example Andre Silva and joao Felix Play-Doh very little minutes has Portugal made everything about Cristiano Ronaldo who despite winning the Golden Boot at a very disappointing tournament with only two goals from open Play. they didn't play well as a team and in the end they got knocked out of the round of 16 by equally disappointing Belgium. all Portugal needed to do was to play as a team because of this decision they didn't even make it out of the round of 16. Germany were really shaking in the group stage this was joking love last tournament as Germany boss after winning the World Cup in 2014 and getting to the euro Final in 2008 this was his last chance to do something potentially. nothing special during the group stage other than their incredible performance against Portugal still managed to finish second in the group and played England in The Knockout stage at Wembley Stadium. the English got the better of them losing to their arch-rivals 2-0 at Wembley Stadium it wasn't necessarily a bad performance but to the rain it being ended by arch-rivals just wasn't a good look for this era of German Football. the entire group of death didn't get past the round of 16 and you know what I'm going to throw a Belgium in there even though they did make the quarter-finals the golden generation of Belgian football was embarrassed this was their last opportunity to win something all of their key players were getting old and ultimately they came up short in the biggest way against Italy they could not do enough to get through despite having Romelu Lukaku. This was their last opportunity to potentially win a lot of the blame has to go to Roberto Martinez but this Belgium side The Talented one from many years ago just isn't the same anymore and in the World Cup they won't be one of the favorites again this was their final chance at Redemption but just like all the teams that the group of death they let themselves down even if they made the quarter-final the fact that France Germany Portugal and Belgium all failed miserably was mind-boggling.