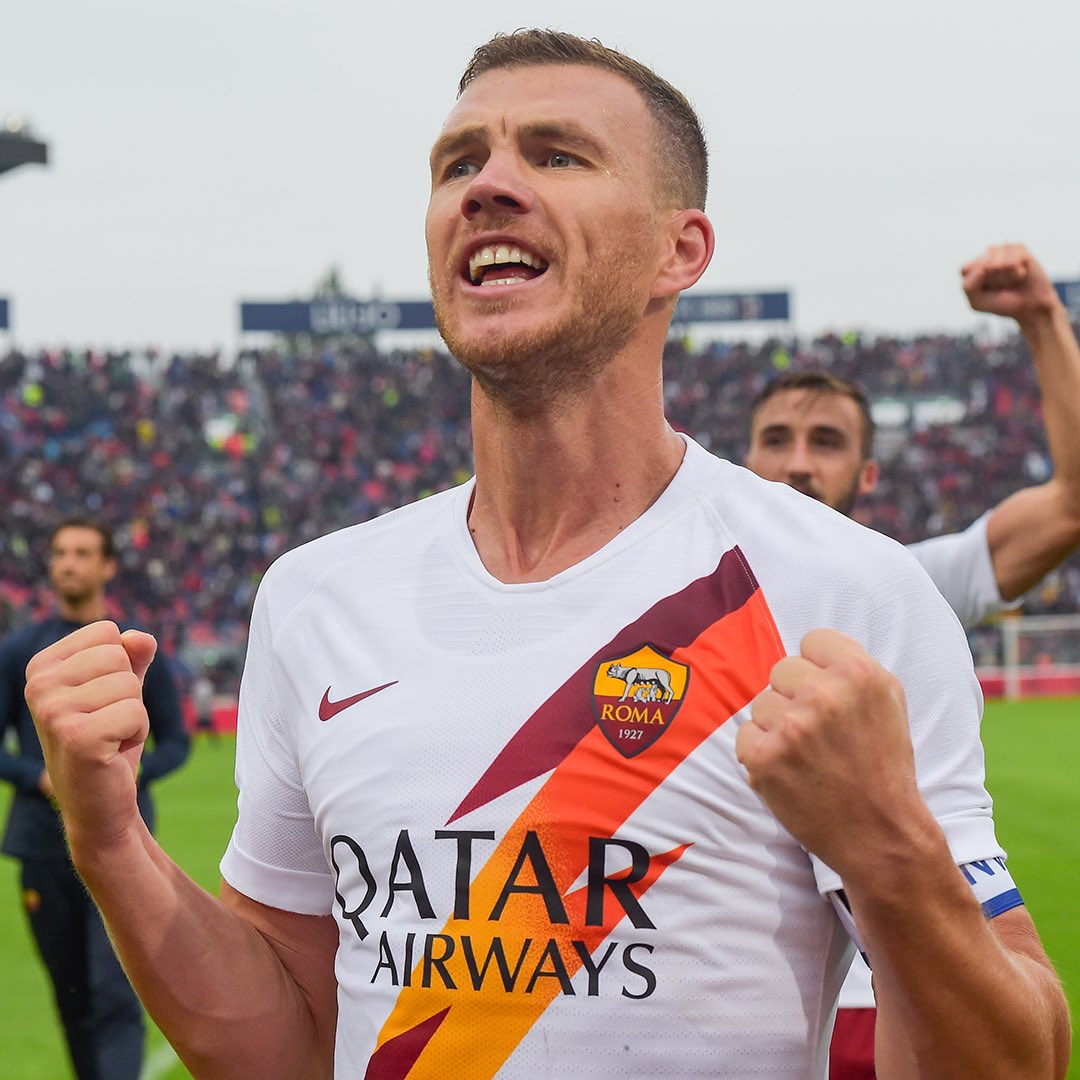 Edin Dzeko has been over the last several years one of the most underrated Center forwards in all of European football. A complete Striker that does so many things at a high level. He had spent the last six years in the Italian capital playing with Roma captaining the side and making history and breaking records for a club that needed a goal scorer Edin Dzeko was there to provide it. 119 goals, the third-highest goalscorer in club history. After winning the title and thriving in the Bundesliga with Wolfsburg, edit Dzeko moved to Manchester City, playing a vital role and Manchester City winning the Premier League title. Supplying a big moment led to Sergio Aguero scoring in the most famous goal in premier league history. Manchester City did not win the title that year without the header of Dzeko before that moment. He became a beast in the Premier League with Manchester City but was eventually phased out. Roma, who was building a team to win the title, identified Edin Dzeko as the one to take them over the top. After experimenting with a couple of others, Edin dzeko seemed to be the player who needed a capable goalscorer who had scored over 50 + goals in England and Germany before his arrival. Edin Dzeko struggles his first year in Italy. In the following two years, Edin Dzeko would be among the best attackers in Italian football and Europe. During the second season, he breaks all kinds of records, including one held by Francesco Totti as Edin Dzeko puts together a 39 goals season, the most goals ever scored in the Roma shirt. Then the following season, he was instrumental in Roma getting to the Champions League semi-final, scoring in essentially every stage of The Knockout rounds, including that historical comeback against Barcelona. He ended up as the club's third all-time top scorer and the Roma's all-time European goal scorer. Not all of his seasons are incredible, but he was an absolute world-class Striker for Roma at his best. He has played more games for Roma than any other club; from a trophy standpoint, Edin Dzeko will be remembered for his time at Wolfsburg and Manchester City, but the best version of Edin Dzeko was the one we saw in Italy. He became the first player ever to score 50 goals in and three of the top five leagues during his time here. Cristiano Ronaldo did it a couple of years later with Edin Dzeko as the first, and no one will ever take that away from him. However, as he started showing age, the possibility of a departure became a possibility. Potential moves to Chelsea, Inter Milan, and Juventus, but Edin Dzeko ultimately decided against moving when he could have. After that 39 goal season, I was sure that he would leave that he continued to stay. However, we have come to that moment now Edin Dzeko finally departs the club after six years of being one of Roma's best-ever players. It is a tragedy he was unable to win a trophy with a capable team of doing it. A trophy would have Justified his greatness that we got to see every week at the Stadio Olimpico; he's moving on to Inter Milan ultimately the right decision for the club going forward, but it is a heartbreaking realization as the Roma fans now have to say goodbye to a club Legend even though this was the right move he will be missed at the club and remembered greatly.
The Right Time to Say GoodBye 

Edin Dzeko is without one of the best strikers of the last decade. He is one of the most underrated players in European football and Italian football. The Bosnian made history repeatedly at the Stadio Olimpico and played his best years in Italy in front of the romanista. Champions League nights, big-game performances, and so forth. However, even though this was an emotional decision to be made ultimately for the club going forward, Roma made the right decision to cut bait for this season. That last derby against Lazio where a Dzeko perhaps played his best game I'll 2021 surrounding the controversy and the disruption between himself and the manager he gave us one last performance to remember him by. Edin Dzeko is turning 36 in May. He's just not what he wants as he doesn't have the pace and the power he once did. He still has something to offer for a club he is still a complete Striker that can do a lot of different things well, but the issue is he just can't do those things at an extremely high level anymore. He's operating out of moments where you can see Edin Dzeko put together a game or two where he's fantastic. Still, just not seeing the Edin Dzeko Vault and Roma is a relatively young team that is looking to win something for the first time since 2008 under Jose Mourinho Roma just cannot do it with a player of his age as brutal of a decision as it has been it was the right one. Edin Dzeko has a huge wage bill, financially speaking, and Roma can do a lot better at the moment.  Edin Dzeko from just a few years ago would provide something with this team; however, this was the perfect time to move on. Edin Dzeko didn't have a solid season, and Roma will try to get back into the champions league for the first time in a couple of years. Roma needs young players in their prime of their career or just about to enter it rather than Edin Dzeko that is fading into the Twilight of his career. Edin Dzeko, I'm sure, will provide for Inter Milan this season and do some nice things, but with Rome has a current project, he doesn't fit the identity of what they would like to do over these next couple of years. He will always be remembered fondly, especially for me; he is one of Roma's all-time greats and stayed with the club for six years. Mohamed Salah left Alisson left Pjanic left, and so forth during this era, Edin Dzeko stayed with Roma because of his love for the club; he was reluctant to leave the departure of Edin Dzeko came at the right time, but that doesn't erase the fact that he stayed loyal to the club for the last six years when you could have left like everyone else so as far as his perception in Rome it should be overwhelmingly positive it will be very difficult to replace what he has done during his time here.
One of the Best Roma Will Ever Have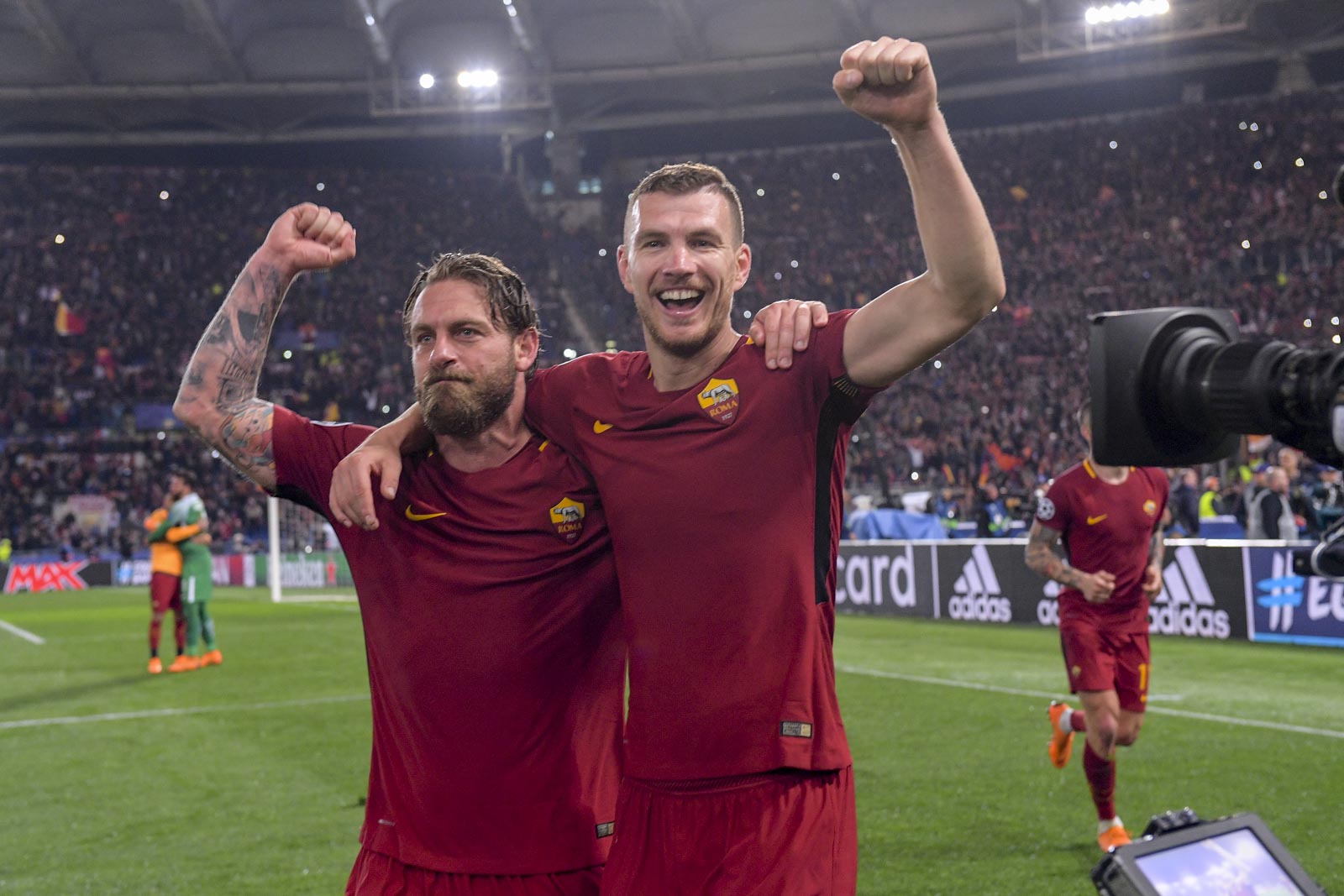 Edin Dzeko went from a child of War to captain of Roma, an incredible rise for a player and a person that had to endure so much just to get on the stage that he spent six years on. The Stadio Olimpico was his home for the last six seasons, where he became one of the club's greatest ever players. As he departs Roma, Edin Dzeko embodied in the culture and history of the club being a part of it for so long. He has won awards, broken records, and has become a club Legend being the captain to follow the footsteps of Francesco Totti and Daniele de Rossi to Absolute icons, and he was able to play with both of them. Going to War together trying to win things for Roma. That is the great tragedy of Edin Dzeko has time in the capital unable to win trophies for the club that he is loved so much over these last couple of years. As I mentioned in my opening, Edin Dzeko's start at the club wasn't exactly promising. At the time, it felt like he was the only thing they needed to push them over the top. She just couldn't get it going during that debut season in Italy. Only eight goals in league with only 10 in total. Even though it improved his last Season at Manchester City, he was known as a goal machine both at Manchester City and Wolfsburg. With regular game time, the thought was he would be able to be that center-forward that Roma needed. It didn't exactly happen that way initially, at least. However, despite how average he was during his first season, he scored in the derby against Lazio in both games and scored the winner at Juventus; he still managed to show up for the big games even though his season by his expectations was poor. However, he was given another chance, The Following Season, and he put together one of the greatest seasons ever seen in the Roma shirt. Thirty-nine goals in all competitions, 29 in the league, winning the Golden Boot as the league's top scorer and the top scorer in the Europa League. That was one of Roma's best seasons ever, and it is a tragedy, but they didn't win the league that year. That season they were better than Juventus but sloppy play against a few teams to find the entire season, and they were unable to do so. Despite scoring 125 goals in all competitions last season along with Edin Dzeko Mohamed Salah Stephan El Shaarawy Diego Perotti and others in the attack Luciano spalletti, his final Season in Rome was one to remember they ended up finishing second that year, but it was the record-breaking team for Rama it's the best season that the club has ever had as far as points and history being made it was the last year of Francesco Totti, and Edin Dzeko broke his single-season goal-scoring record in that season. The next two years under Eusebio di Francesco, it was more of the same Edin Dzeko wasn't quite as phenomenal as the year before but still ended up scoring 24 goals. Roma went to the Champions League semi-final that year Edin Dzeko scored the vital goal against Shakhtar Donetsk to get to the quarter-final. We know the story Barcelona ran wild and Roma made history overturning a 4-1 deficit Edin Dzeko 5th minute goal and winning a penalty in the second half were critical in Roma's ability to defy the odds they almost did the same thing against Liverpool even though they lost by one goal Edin Dzeko scored in both of the games. He was asking system as any player in the Champions League That Season; even though Roma came up short, it was a season I don't think anyone will ever forget. Some inconsistencies The Following Season as he scored just 14 goals but still managed to score in the big games even though the season itself was disappointing not only by his standards but by Roma standards as they finished in sixth after finishing second and third twice the previous three years. The season before last, we saw edin Dzeko continue to break records and climb the scoring charts for Roma. He was back to his best, not as dominant as he was the other two seasons, but he scored 19 goals coming up big and important parts of the season, which allowed them to make the Europa League when it looked like they could miss it altogether. Then last season, we know the story bad relationships with Paulo Fonseca got the armband taken away and didn't have the season he would have liked with only 13 goals; however, he was one of the top scores in the Europa League and made their team of the season. He saved the best for last winning the Derby against Lazio Edin Dzeko was mad the match and was very influential in that game not only in terms of performance but he showed his passion for the club in his goal. Edin Dzeko probably stayed a year longer than he had to, and there has been some negative connotation to him during the last year. Still, even though they were negative parts, we should remember the good moments because he is without question the best Center forward Rome has ever had 119 goals in 260 games, the third-highest score in club history. In his career, he spent the most time in Rome, played the most games in Rome, and scored the most goals in Rome had his best Season in Rome. The only thing missing from his resume is a trophy, and even though Roma came close over the years, they could never justify his greatness with silverware. Even though he didn't win anything when you think about the best version of that Dzeko, it's the one that wore the Roma colors. He will be sorely missed by the entire fan base even though he's old and can't do it anymore; once we start seeing others perform for Roma, we will realize how difficult it is to replace a legend not only on the pitch but in the locker room and the passion he had for the club he often referred to Rum as his second home. He will go down as an Italian football legend for what he was able to do in the biggest games for Roma he will always remember and will always be welcome back at the Stadio Olimpico he will be missed and what will be ultimately a heartbreaking situation for the fans and the city to handle because of how important he was to all of us.
My Message to Edin Dzeko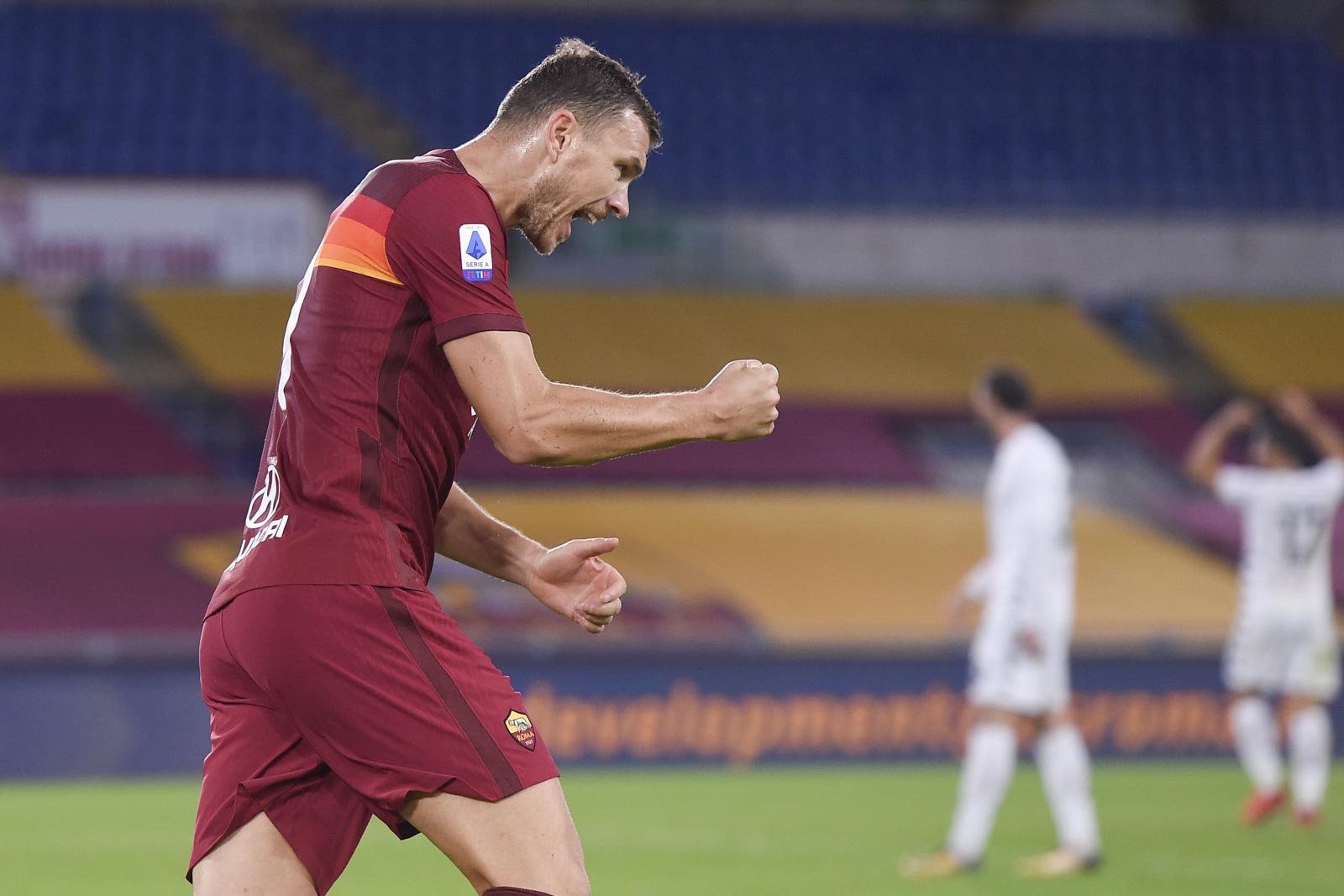 There are many things I'd like to say, and words themselves will never do enough to thank Edin Dzeko for all he has done and the loyalty he has shown to my club. Roma will forever be a part of him one day. He will be inducted to the Roma Hall of Fame at his very best he was unplayable at Rama, the true definition of a complete Striker. A goalscorer, someone that can supply opportunities for teammates leader when he was motivated and truly one of the best I've seen at the Olimpico. The stats speak for themselves is 40 + goal contributions in European football, his 119 goals for Roma he's 85 Serie A goals or his countless moments in big matches; he always has been a big game player it kind of not excused, but it made some of us forget about some of the poor Seasons that he had Roma. Still, in every bad season, he had a moment or two in a big match that allows us to think differently about the season. The most impressive thing about all of it was his 119 goals, 116 of them were in open play, only three penalties; you don't have a good see from a player who put up the type of numbers that edin Dzeko did. I don't mean to repeat myself but he is truly one of the best I have ever seen one of the greatest players in club history, and one of the most underrated players in the history of Italian football, considering what he was able to do in the six years fan it's historic not just for Roma but for Italian football. He came into the league struggles one year and just exploded and was able to be the primary goal scorer for Roma for many years; the reason Roma signed him is to win the title, and even though they were unable to do that every year they struggled the reason they continue to get into Europe was because of edin Dzeko. Edin Dzeko is one of my favorite players of all time. I love his energy, the way he is played, and what he can do; being a complete Striker is something I value very highly, not only being able to score goals but being able to hold up play and Distributing. Also, his background it's something very inspiring. From 2007 to 2008, Roma was coming off a quarter-final of the Champions League against Manchester United and won the Copa de Italia in back-to-back years. Under Luciano spalletti, they were looking like a real threat to win the league. At the same time, I discovered an excellent Striker making history in the Bundesliga with Wolfsburg. His name was Edin Dzeko. This was a Young Edin Dzeko with more athleticism in his imposing body. He just comes off a Bundesliga title and a Golden Boot in Germany. Following the best goal-scoring partnership in Bundesliga history with Grffio, they lifted the title mostly because they then crushed Bayern Munich 5-1 at the end of that season. I didn't know how or when it was going to happen, but at that very moment, I knew I wanted him at Roma, and I would do anything for that to happen. However, despite Roma's good position at the time Manchester City was lurking the new ownership, they were going to give them financial flexibility. He would be joining a team with Sergio Aguero and Roberto Mancini. Edin Dzeko was perfect for Roma in the 2008 season; what they needed to push them over the top had he joined Roma instead during that year, they would have won the title. He opted for Manchester City. I was devastated because of how badly I wanted him. The truth is, I never thought Roma would ever be in a position to sign a player of his quality. He was one of the most underrated attacking forward of the last decade. He won Premier League titles with Manchester City winning multiple titles. He was necessary to Manchester City winning their first title in the Premier League era scoring the most underrated goal in premier league history just minutes before the Sergio Aguero moment. He was a scoring machine for Manchester City, but in his last Season in England, he was phased out only scoring six goals was not looked at as an important player. It's something to laugh at now because they signed Wilford Bony instead didn't have one season where he scored 10 goals. Edin Dzeko always wanted to play in Italy; his hero was Andrea Shevchenko. Then my dream came true he joined Roma on loan for 15 million on the purchase. It was one of the best transfers of this decade. He became Roma's 3rd all-time top scorer and one of the best players to wear the shirt. Even after his first season that he struggled, he was back permanently. I have been the biggest edin Dzeko fan, and not only did I want him at Roma, I constantly begged and pleaded for it to happen. It's been a great six years. I can't believe it's finally over. He's the one player I just wanted at my club, and I never thought it would happen. He is one of my favorite players ever; getting to see him play from my club for six years was a tremendous honor, and now that it is over, it's very emotional, and I can't quite put the words on it even though this was the right time to say goodbye it is a goodbye I never wanted to have to say. This may be goodbye but if not forever, he will always have a home at the Stadio Olimpico from the bottom of my heart, Edin Dzeko, thank you for everything.
THANK YOU EDIN DZEKO FOR EVERYTHING