Wolfsburg 2 Hertha 1FT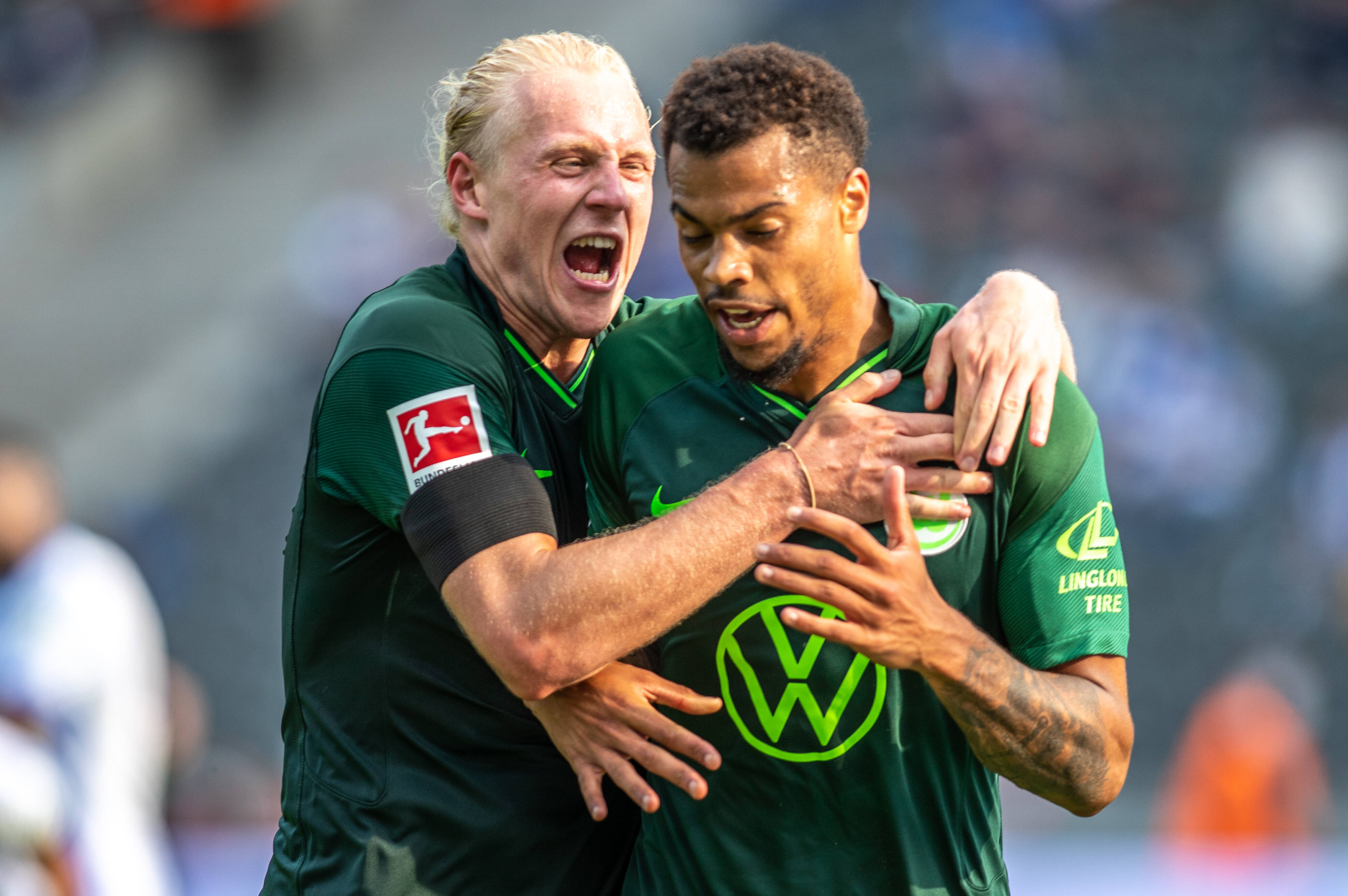 Following a 1-0 victory against the butcher in the Bundesliga opener, Marco van Bommel Wolfsburg's side looks to keep things going heading out on the road to face Hertha Berlin at the Olympic Stadium. This turned out to be one of the more exciting matches from this Bundesliga weekend. While they were roped into a relegation fight last season, Hertha Berlin has quality in the side, and they showed it early in the match. Wolfsburg defensively was called into action early as Hertha Berlin had a few early chances. Only for Wolfsburg to get an immediate response. It turned out to be a very intense match up especially how quickly the game started. Many changes were exchanged from both sides, most notably a bullet header coming from wout Weghorst that should have found the back of the net if it wasn't for a brilliant save. It was a goalless draw after 45 minutes in the second half, things heated up immensely. Wolfsburg seemed to be right there to breakthrough but couldn't find the back of the net; some of it was poor finishing, some of it was dumb luck, but a lot of it was good goalkeeping. It looks like they were going to break through, but then a little bit of drama at Hertha Berlin was giving a penalty. Big Al stepped up and converted as Hertha Berlin took a 1-0 lead. It was looking like it was going to be a massive victory for the hosts before not too long Wolfsburg got that equalizer Baku made a brilliant run retrieving the ball on the side of the box, hitting a powerful strike feeding the goalkeeper at his near post as a Wolfsburg drew things level. All of a sudden, Wolfsburg was re-energized; however, it was rather late in the game, and they didn't have that much time left. Josip brekalo and Wolfsburg new Striker entered the game and changed it. At the stroke of death, just minutes before the 90th inside the box on a long throw-in from mbabu Josip brekalo control the ball in the box before releasing Lukas Nmecha from inside scored his first Bundesliga goal finding the back of the net as Wolfsburg put themselves in the lead with little time remaining Hertha Berlin try to chase the game with a late goal but Wolfsburg hold on as they win in a come-from-behind victory at the Olympic Stadium against Hertha Berlin.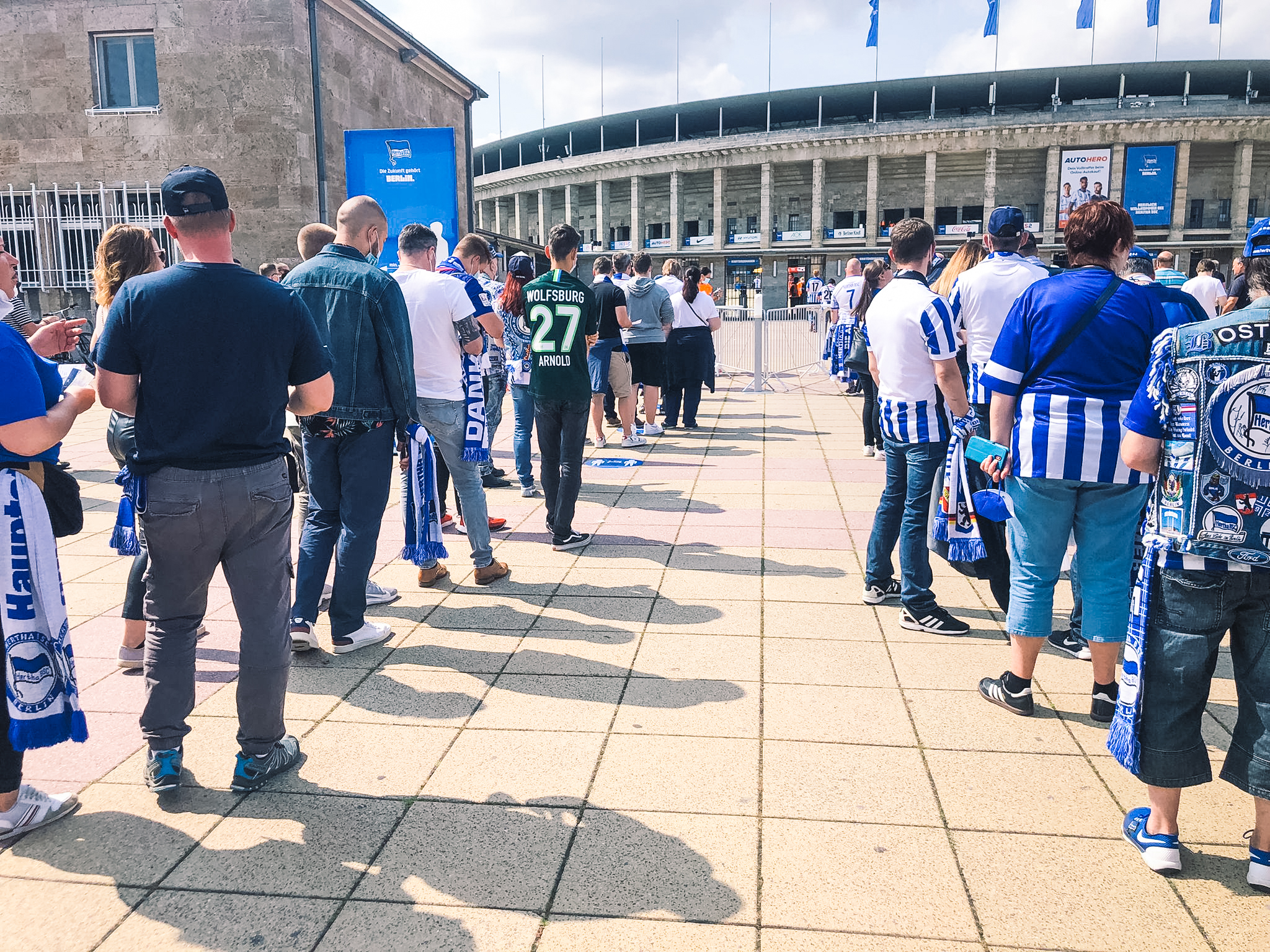 Mark Van Bommel set his Wolfsburg team out of the same formation as last weekend. Shooting out of the 4-2-3-1 formation as always in goal Belgium International Conan Castillo. At left-back would be Roussillon, beside him would be the center-back partnership of Maxine LaCroix and Jonathan Brooks, then at right-back would be Kevin mbabu. We would see their defensive Midfield pair of Maximilian Arnold and Xavier schlager. On the left-wing would be Renato Steffen on the opposite side, on the right-wing would be Baku in the false 9 Maximilian Philipp and then upfront as Wolfsburg Central Striker wout Weghorst.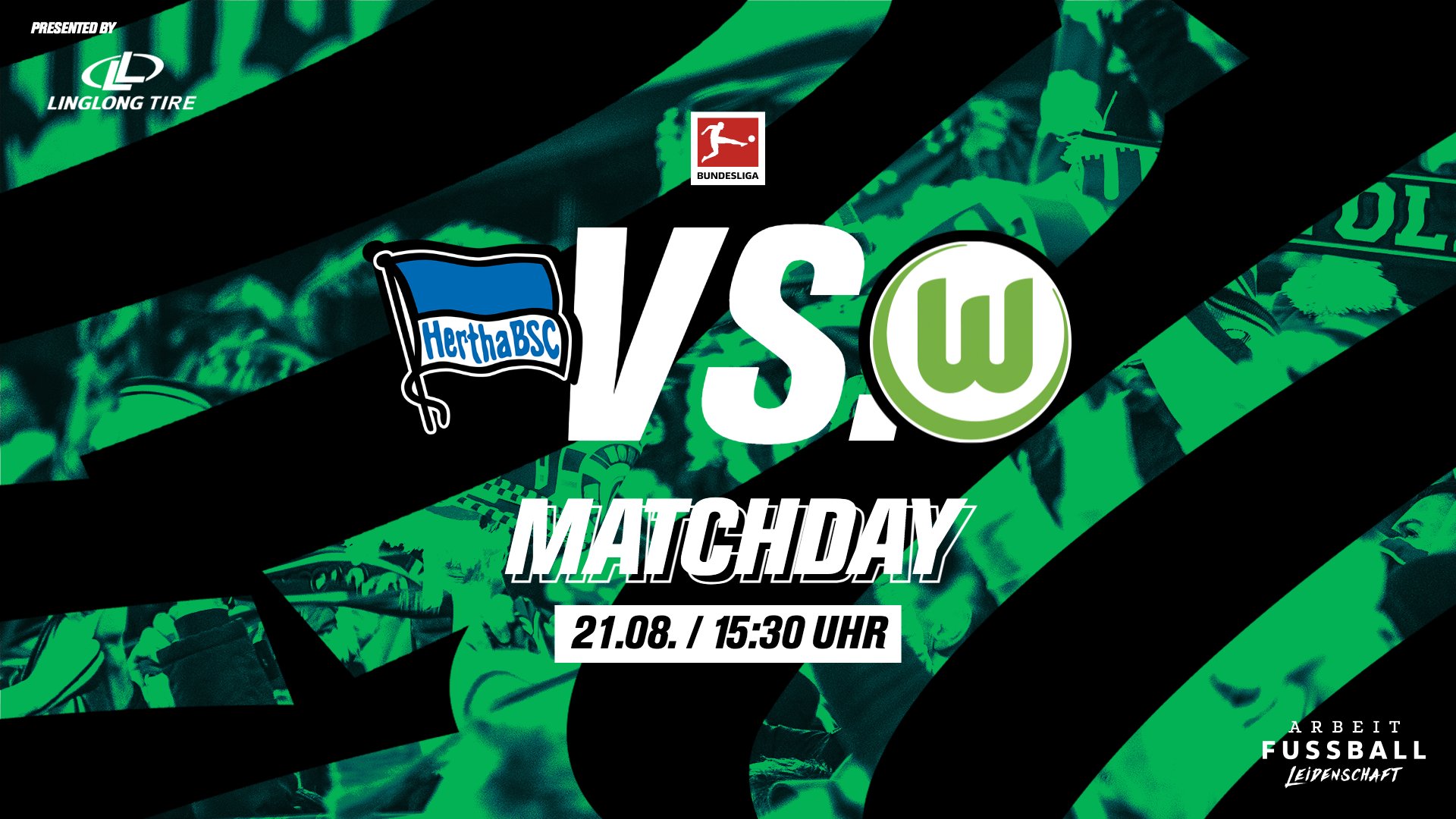 After preparations and predictions, the mascot is underway as Wolfsburg travels to Berlin to take on Hertha. Things are about ready to get kicked off at the Olympic station. From the very tip, there was early involvement from Hertha Berlin. Davie Selke came across trying to connect on a header from a difficult angle coming off a corner kick. Just a minute later, Kevin-Prince Boateng hit a fiery shot on the side of the box on another corner but didn't have the touch. It was somewhat of a fiery start from Hertha Berlin, but Wolfsburg were no slouches either early in the game it did look like more or less a back-and-forth type of game, not too much to be spared between the two. There were a lot of early chances after the Hertha Berlin opportunities Maxine LaCroix drive to convert on a Max Arnold cross but couldn't find a Target. A minute later, Hertha Berlin missed from Deep but continued to put themselves in position to test the Wolfsburg defense about 10 minutes later, following a Baku header that messed to the right. Wolfsburg had the best chance of the game so far. Roussillon did a perfect cross into the box. Wout Weghorst came through positioning himself so well in the box, putting his head on the end of the cross what probably should have been a sure-fire go what is fantastic save denied a tremendous goal-scoring opportunity. After a rapid start with so many chances, both teams struggled to create that most of the remainder of the first half, but both teams looked sharp throughout just couldn't put the chance of together until late in the first half, right on the brink of half-time with Baku header misfiring to end the first half. It was 0-0 after 45 minutes with wout Weghorst incredible header being the biggest action of the first half as Wolfsburg, despite the situation should satisfied with the 45 minutes as they were on the brink of scoring and only seems they're just going to have to find that little extra motivation to put themselves in front.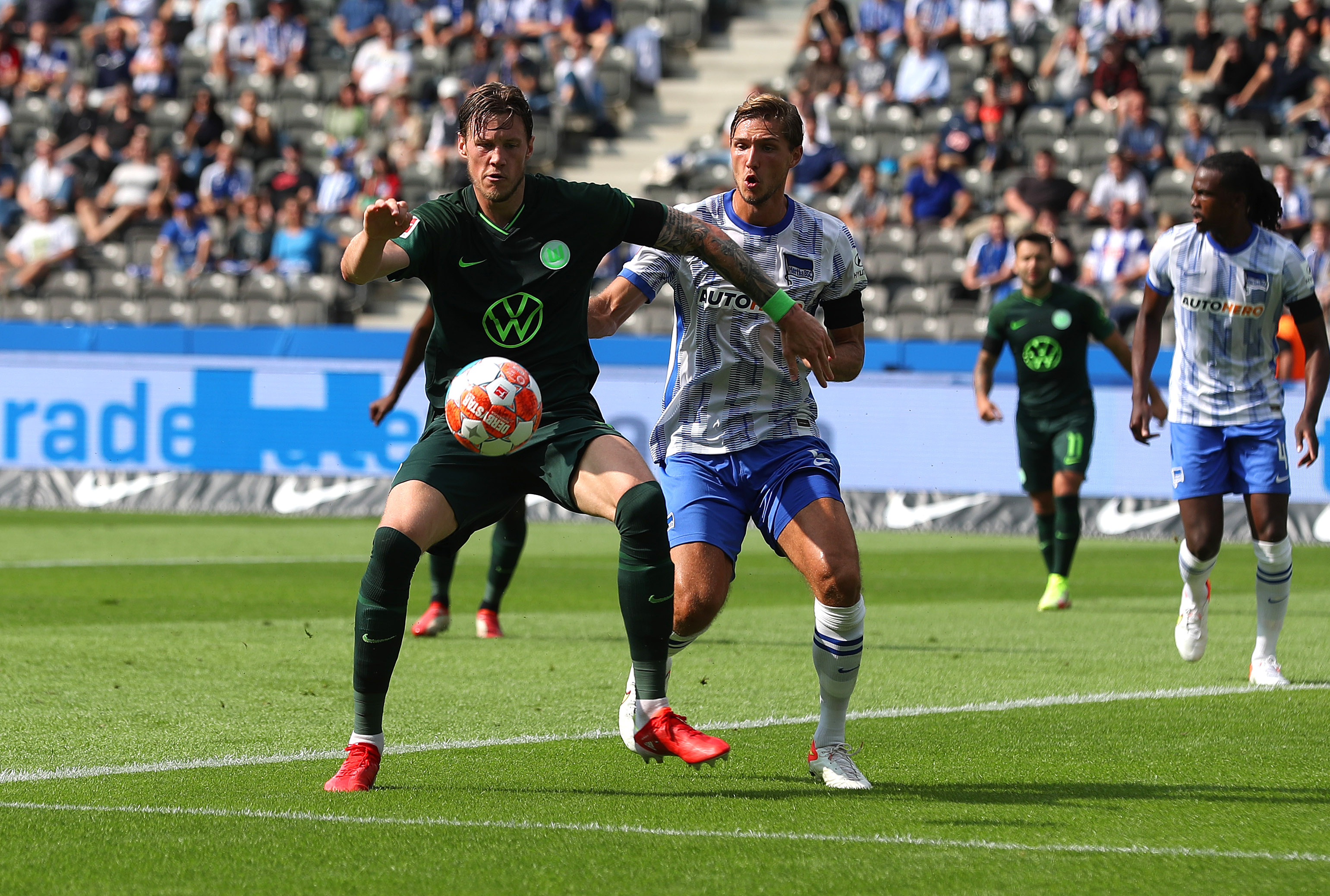 Wolfsburg came close on a few chances in the first half; the visitors looked to the only build on that as they shot out the gate with more of the same. Wout Weghorst can close getting his foot to the end of a cross set up by Renato Steffen. Hertha Berlin and try to respond with Stefan Jovetic, but he was denied from close range. Early in the second half, drama put Wolfsburg into an undesirable predicament. John Brooks conceded a penalty from inside the box. Despite all the good work Wolfsburg had done, we're now on the verge of falling behind with only 30 minutes left. Dodie converted from the spot that's her to Berlin and took a 1-0 lead. Wolfsburg now had to try to find a way back into the game. Wolfsburg continues to push on, hoping to find that breakthrough eventually. They got it in the 73rd minute as Baku found space came forward before hitting a missile at the near post beating the goalkeeper as Wolfsburg got their equalizer. Time is winding down, and Wolfsburg still looks engaged and ready to take down the opposition, but there was not much time to do it. Maxine LaCroix came really close, but his header was just wide. Then in the 88th minute, Wolfsburg found their moment a beautiful run into the box coming off as throwing from Josip brekalo he controlled the ball before setting up Lukas Nmecha who scored his first Bundesliga goal as Wolfsburg pull off a come-from-behind victory with a 2-1 win in Berlin with RB Leipzig next on the schedule on Sunday Wolfsburg did their part even though the game had some tough moments ultimately Wolfsburg reign supreme and win as they pick up maximum points again.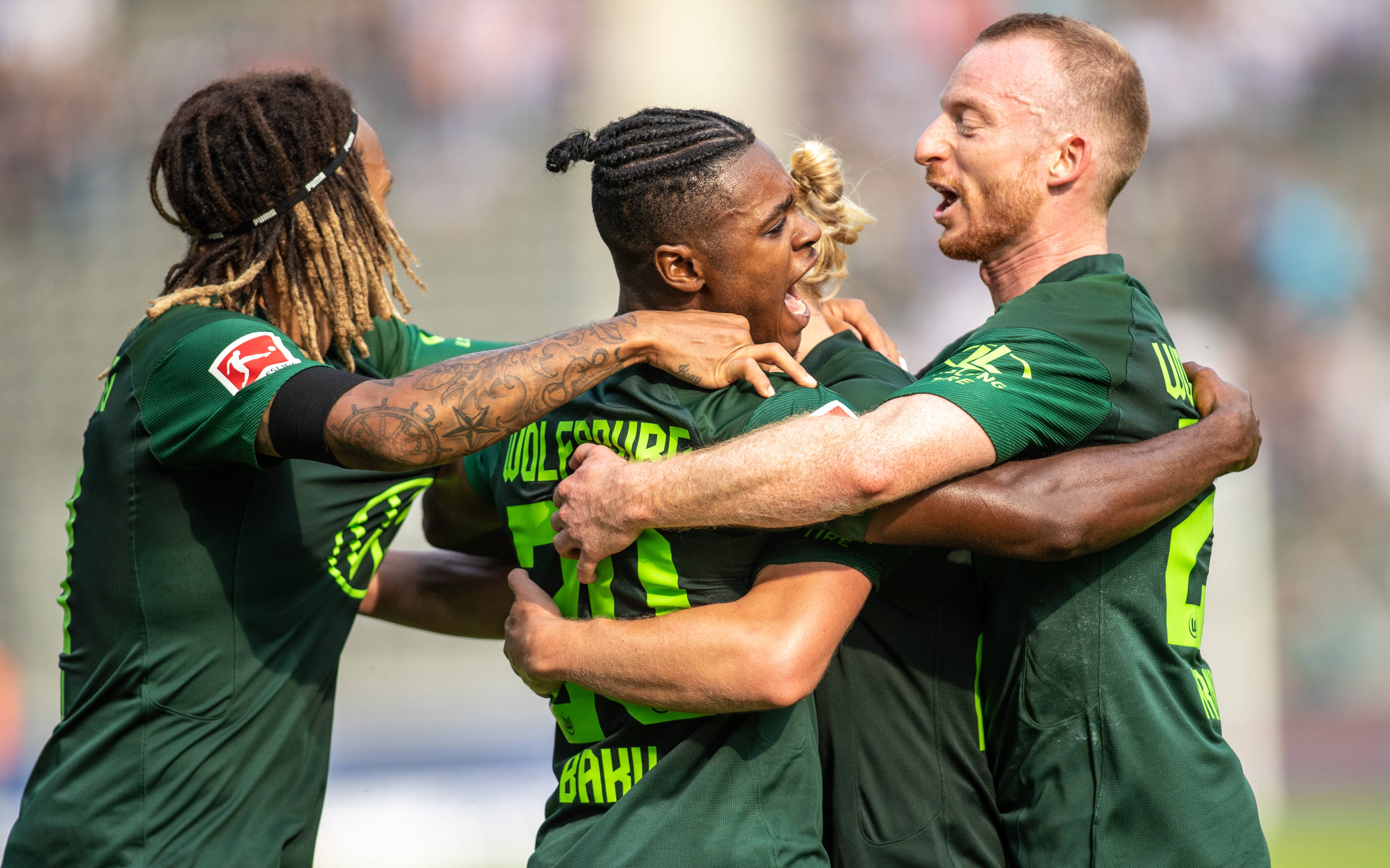 This time out, it was a little more tricky for Wolfsburg, but they do get the job done in the end. I thought as a unit collectively, Wolfsburg looked like the better teams are out; however, Hertha Berlin has proven and their performance that they will be no slouch this season; even though they came up short, there's a lot to look at from their performance with a positive outlook. Hertha Berlin we're nearly there with a second-half penalty, but Wolfsburg climbs back largely because of the substitutes that Mark Van Bommel made in crucial parts of the game. The man of the match tonight goes to Baku; he was such a menace on the wing and got into dangerous positions constantly; it was a collective performance from Wolfsburg who had to fight hard to earn their points tonight; it will only intensify in the weeks to come but an auspicious start for this Wolfsburg team.
MAN OF THE MATCH: Ridle Baku