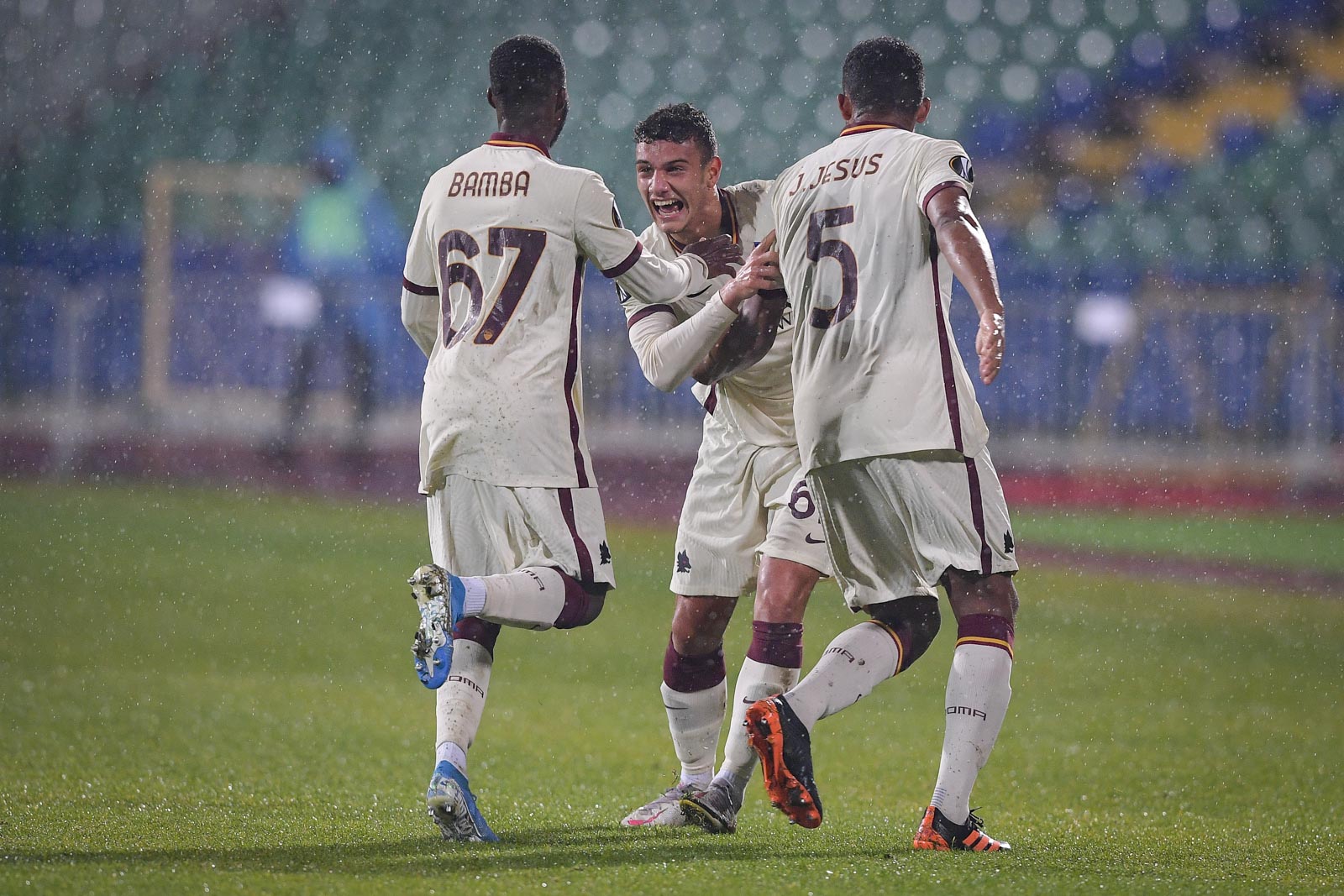 Roma, we're coming into the final Europa League game, having already won the group and confirm their place in the round of 32. This weekend in Serie A, Roma had a very controversial 0-0 draw with blank. A match did not mean much at all, to be honest. Regardless of what the result was, it didn't change anything for either team. It was a match more pride than anything else. It was a reasonably even match we're Roma dominate possession as you would expect, but this game didn't have many chances from either end. They had a few here and there, but that was the extent of it. Roma went with a very young lineup with three teenagers in this game and another that came off the bench. Cska Sofia rushed out to a 1-0 lead in the opening minutes. Only for Roma to do the same with their first shot of the game as 18-year-old Milanese scored his first Roma goal. Cska scores another one before half-time as they take a 2-1 lead going into the second half. It defensive mistake contributed to most of the goals scored tonight. In the second half, cska Sofia to take a 3-1 lead. As I said, there wasn't much in this, and it didn't really matter what the result was. Roma had already confirmed their place, and cska Sofia, we're only playing for pride. Tinashe ended as the Bulgarians were 3-1 winners. Roma and young boys go through in the round of 32.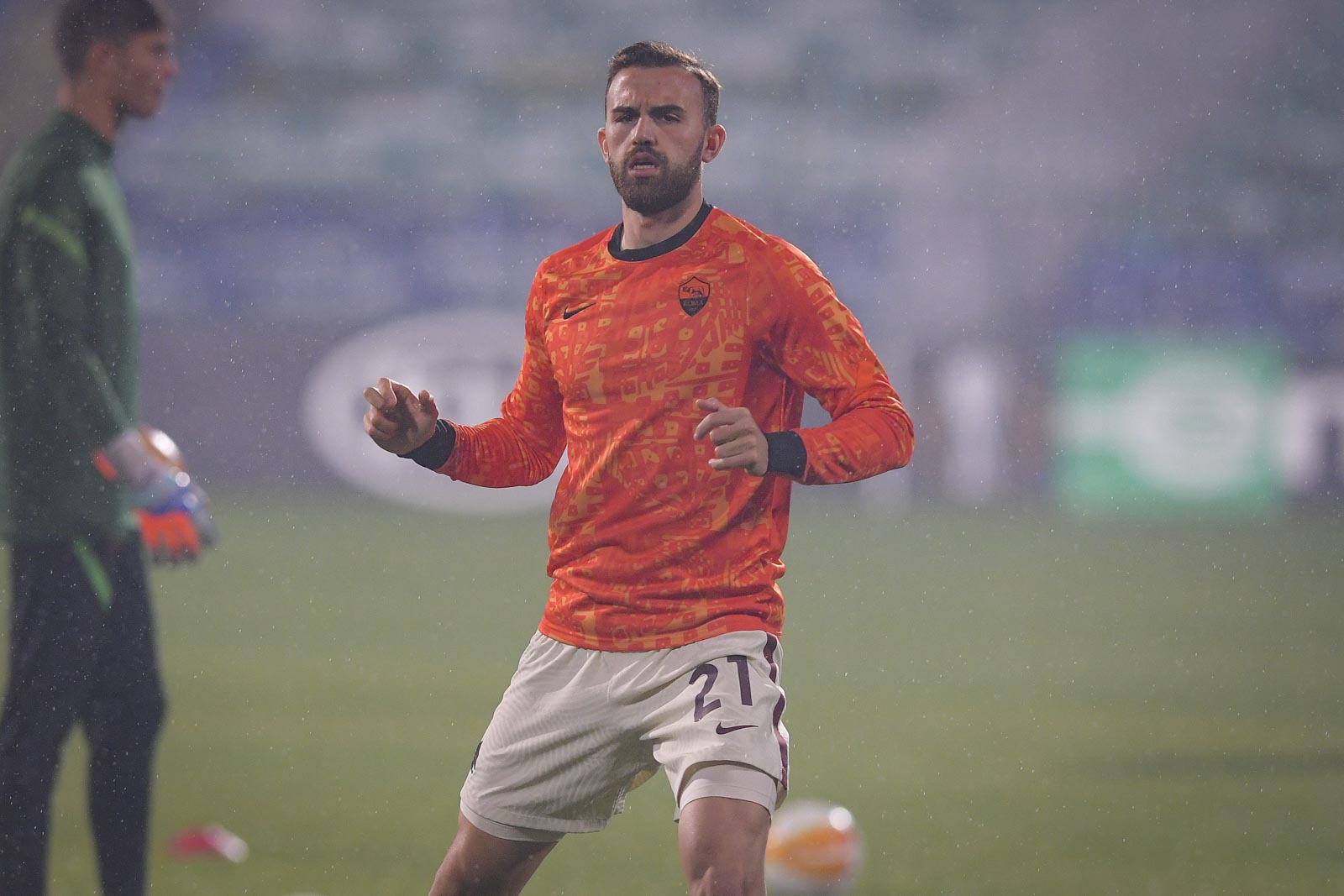 For this final game in the Europa League group stage, Paulo Fonseca would set up his Roma team out of the usual 3421 formation. He would make many adjustments with this game being almost meaningless as Roma has already confirmed their place in the round of 32 given a chance to some young players to get their opportunity. A lot of the Roma starters didn't even make the trip to Bulgaria. In goal for Roma tonight making his debut teenager Peter Boer. The three center-backs would consist of Juan Jesus on the left, Max kumbulla on the right, and Federico Fazio centrally. In at left wing-back would be another youngster getting his debut Mori Bomba. On the opposite side, as the right wing-back would be Bruno Peres. The defensive Midfield would be made up of Diawara and Milanese as the youngster gets his first Europa League start after making two appearances Off the Bench. Upfront on the left-wing would be Pedro Rodriguez on the opposite side, on the right-wing would be Carles Perez. Then upfront as a central Striker, Roma is the leading scorer in the Europa League bojar mayoral. Roma will have more youngsters on the bench and Gonzalo Villar, Chris Smalling, and Rick karsdorp with Leo spinazzola, edin Dzeko, Mkhitaryan, and other key players not making the trip to Bulgaria.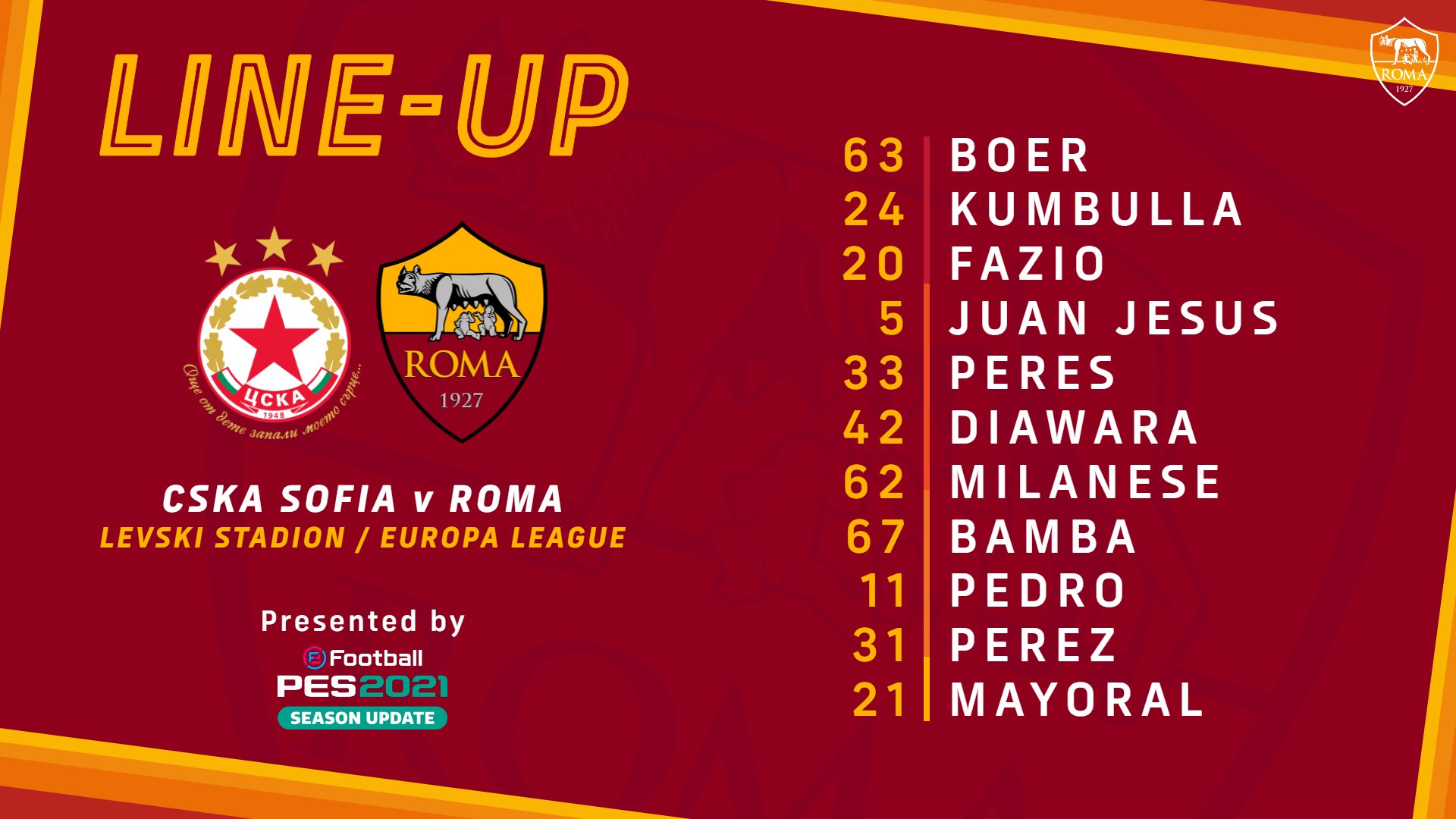 After preparations and predictions, the match got underway in rainy Bulgaria in the final match of the Europa League's group stage. Roma has already qualified and one of the group but still wants to put in a good performance. As I said, many adjustments and a much younger team than they usually would play but given Roma has done the job; it would allow some younger players to play. Meanwhile, cska Sofia has yet to score a goal in this competition and would be inspired to use this situation to benefit that. They did not have to wait very long; in the third minute, Thiago Rodrigues gave the Bulgarians a 1-0 lead seeing his shot from outside the box find the top corner. Cska looked pretty impressive, but even a Roma team with a lot of youngsters still kind of dominated. They controlled possession; they looked more dangerous than going forward; they dictated how the game was going to be played. There was not a high volume of chances in the first half cska Sofia scored on their first shot of the game, and so did Roma. In the 22nd minute, Tommaso Milanese the 18-year-old scored his first Roma goal striking the top corner from inside the box as he spun around and converted the strike to draw the game level. Near the half-hour mark, a defense of mistake allowed Thiago Rodrigues to get on a break and what surely should have been a goal, but his strike went wide. 4 minutes later, in the 34th minute, the Bulgarians got another one. Roma defensive midfielder Diawara made an atrocious back pass that Ali cut inside the box on a break and finished off the chance as the Bulgarian took a 2-1 lead. Roma actually was out playing cska Sofia, but the Bulgarian took advantage of some chances really looks good going forward and was a very productive performance thus far; the Bulgarians were going out of the competition, but we're putting together quite an astounding performance despite that. At the end of the first half, it was 2-1 in favor of cska Sofia.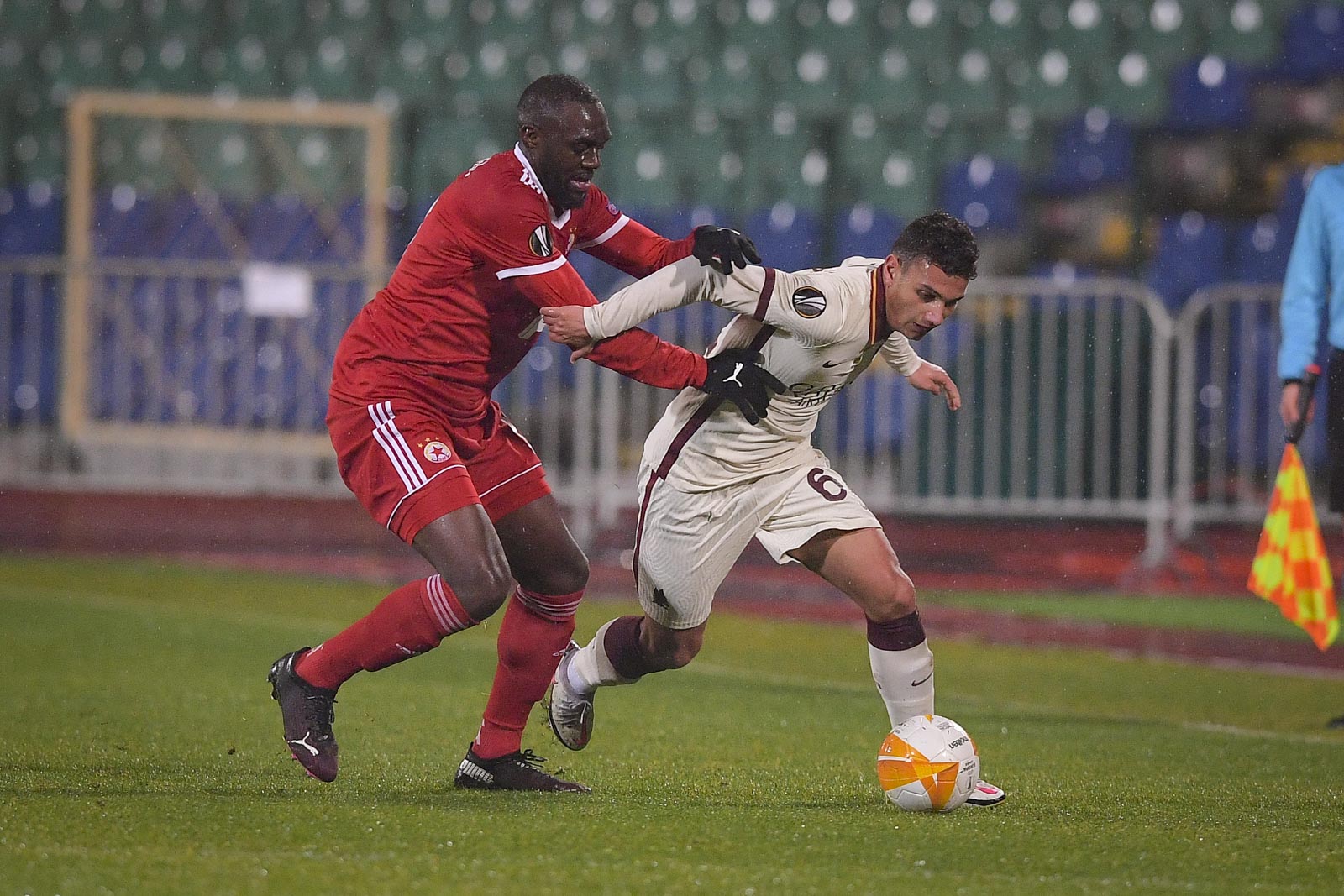 Before starting the second half, Roma went to the bench as they brought on Chris Smalling. The Englishmen has not been featured in several weeks; it was good to see him back in the team. Early in the second half, Juan Jesus header from a cross was saved by the goalkeeper. Roma continues to have control possession, but cska still had a decent chance to win this game. Not that it mattered but maybe for a sense of pride. Bojar mayoral came close to scoring, but the goalkeeper stood in the way once again. A minute later, in the 55th minute, Roma's defensive lapse allowed Ali to get his second of the game at cska Sofia took a 3-1 lead thanks to a horrendous back pass from Federico Fazio the gave the young goalkeeper no chance. Roma went to the bench once again as Rick karsdorp and Gonzalo Villar came into the game. Roma has the opportunities through bojar mayoral as the Spaniard really had an outstanding game came close to scoring on several opportunities; whether it was the weather or just dumb luck, he could not score in the game. It kind of became a dry game after cska scored their third goal. Late on Filippo Tripi another teenager, came into the game to get some run out. Near the very end of the game bojar, mayoral can close on a few opportunities to get himself a goal, but it just wasn't his day. He played well but couldn't score. Roma would fall to cska Sofia 3-1 in Bulgaria it was a game that didn't matter all that much as Roma were already through a gay Roman opportunity to rest a lot of their starters and key players while giving the chances to some young players who would not have had it otherwise. Roma finish top of the group with 13 points as they are set for the round of 32 draw next week. bojar mayoral is my man of the match tonight; he did not score but was able to get into space and come close a handful of times, unlucky not to hit the back of the net but overall, there's not much to take from this game no big storylines he was just a formality.