December
Top Goal Scorers: Jordan Veretout and Edin Dzeko
Assists: Miki and Rick Karsdorp 
MOTM: Rick Karsdorp (2)
Biggest win: 5-1 vs Bologna
Biggest Loss: 4-1 vs Atalanta
Standings: 3rd
Results: WDLWWLW
Points: 10 of 13 (In Serie A)
3rd: Rick Karsdorp
Coming in third in Roma's player-of-the-month goes to Rick karsdorp. I want to preface this by saying it has been excruciatingly difficult to narrow it down to three players. Roma has been on their game this month, only losing one game of importance. However, the progression we have seen in Rick karsdorp is undeniable, especially in his last two years he has finally found his face in this Roma team. Roma didn't have a Reliable right wing-back going into this season; it was one of the most significant issues that they would have to concur over until January, at least that is what they thought was. It turns out Roma has someone in that position that has played at a high level not just in December but this entire season. Roma will still look for a player that position in this January transfer window, but at the same time, they're looking for depth instead of someone who is going to start games regularly for Roma. Rick karsdorp, more or less, has developed a stranglehold on his position. He has stayed relatively healthy this season, and this last month has been viewed in an entirely different light. In Roma's last two matches, he was the man of the match. He's starting to show explosiveness going forward and dropping back and coming up with big tackles. He didn't play against young boys and only played 20 minutes against cska Sofia, but he was featured in practically every game outside of that. Roma's most controversial draw against sassuolo Rick karsdorp really started to show that extra element made him such an essential piece to this Roma side. It started there, and it only intensified throughout December. He has been a pure consistency player; the wing-back turned it on over the last two games but has been very solid throughout this month in terms of explosiveness in the attack and making big tackles during essential moments. He's starting to feel like an Incredibly crucial piece. Now I can go over this game by game, but it's not the stuff that impressed me; it's the way he has controlled his position the way he is attacked and come up big defensively as well; he is learning who can contribute both in the attack and the defense. Rick karsdorp has extreme athleticism allowing him to have the speed and pace to contribute to both areas. I gave him the man-of-the-match in a losing effort against Atalanta, and his performance against Caglalri was nothing short of spectacular. Doing a lot of work in spreading the ball out and allowing his athleticism to be an incredible unit of an explosion. He had two assists in that game and starting to show his capabilities. While he has been pretty consistent the entire month of December this season in general, he has been a standout star. He went from different phases of his career Roma. It didn't seem he had a future here. He won the job and has only continued to show no certain qualities and now is looking like a precious player. He's been great all season, but he took it to another level in December.
Runner up: Henrikh Mkhitaryan 
The runner-up for player of the month in December goes to Hendrik Mkhitaryan. This wasn't easy to figure out because it was close between the top two candidates for this month. Henrikh Mkhitaryan is by all accounts one of the best players in the league this season and has already won the player of the month two different times taking it in November and October. He has been as consistent as any player on this Roma side this season. He is one of the best players in the league, and even though he wasn't as influential in December as he was in November but in fairness, it would be hard to repeat a 6-goal month; he didn't quite reach that level, but he was still was very deserving of recognition. He had two goals and two assists in December, including a third goal that should have stood in their controversial draw. Scoring the opening goal against Torino, then Against Bologna, the Armenian had another jaw-dropping performance in a display of pure Domination by Roma. Providing an assist and scoring a goal as Roma ran out to a 5-1 lead after just 45 minutes in that outing. Contributed an assist as Roma started quickly against Atalanta despite the result being vastly influential in that game before crashing down. It wasn't just goal scoring; he's supplied assists in this month in addition to that, and away from the stats, he still has been one of Roma's has the most antagonizing players on the attack. He has proven to be a different type of player this season; he passes the eye test and has the numbers to back it up. He has more goals in open play than the Great Cristiano Ronaldo and easily walks into the team of the season and even may have a case for the MVP of Serie A if he keeps it up. Two goals and two assists but seven goals and six assists in all competitions; he continues to be one of the best players in the league this season. Indeed, The Armenian is Roma best during this campaign. Just didn't do quite enough to win the players a month, but it was very close, as I stated.
Winner: Edin Dzeko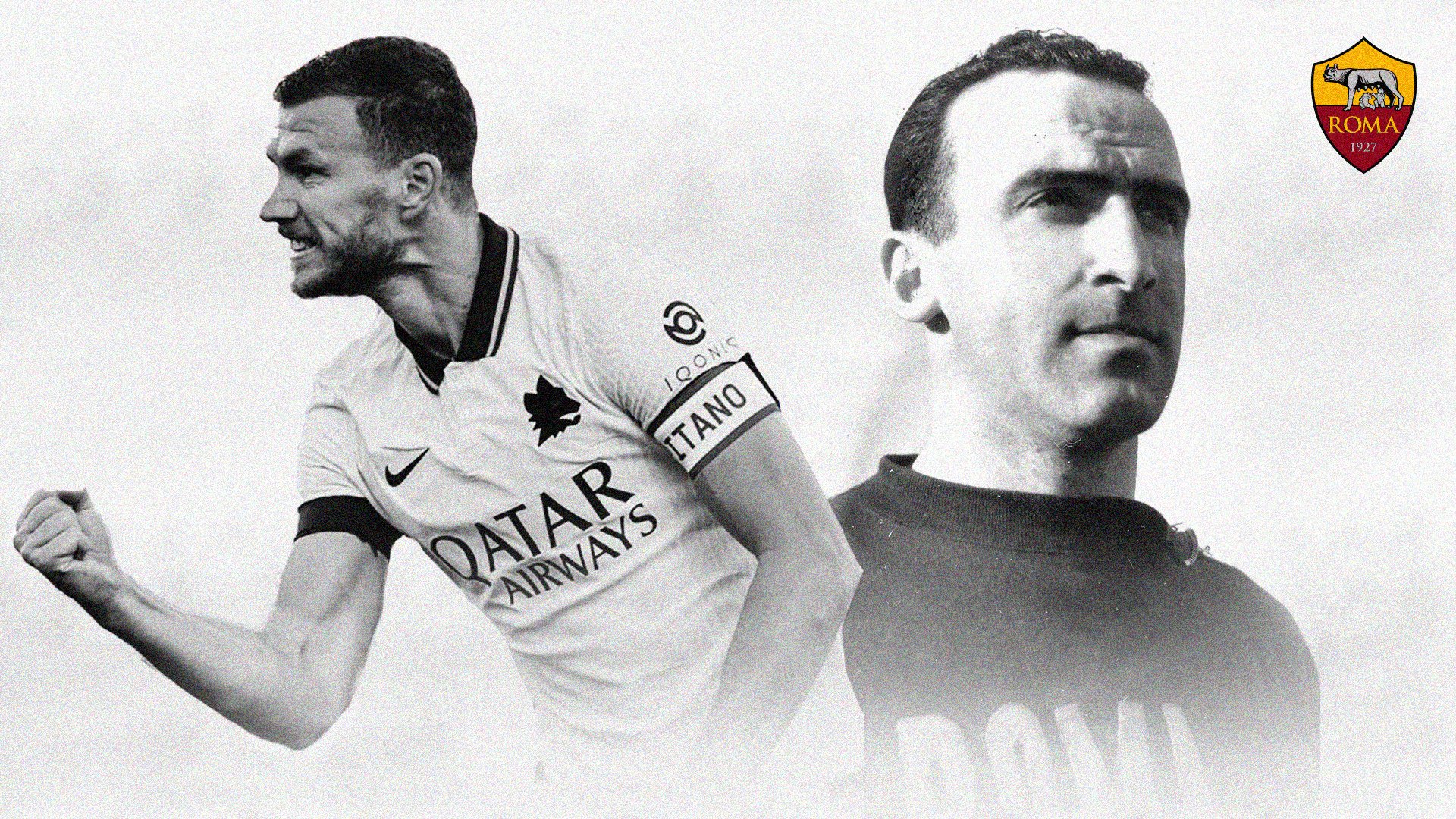 It was a historic month for edin Dzeko, who is one of Roma's greatest Strikers they have ever had. The club has been treated too many historical moments from edin Dzeko; the Bosnian Captain ended up reaching yet another milestone. The 34-year-old is now the club's third all-time leading goal scorers. Even though it would take a lot for edin Dzeko to get the second position, it puts into perspective how great he has been for the club. Even though he is not lifted a trophy as of yet, the hope is Roma will provide him that this season after his 113 goals now ranked third on the all-time scoring list. He started his month of December against young boys in the Europa League imagine, which Roma came from behind to beat the Switzerland side to win their Europa League group. He came off the bench and scored to get things started in December. He followed that up with a beautiful assist in the Sassuolo game, but unfortunately, the referee wrongly ruled it out. He did not play in Roma's has lost to Sophia in the Europa League, which was very influential in the 5-1 victory against Bologna. He scored a goal that drew him level with Amedeo Amadei as third on their all-time scoring list. He did get an early goal against Atalanta, but that match did not end in a good way for Roma; he got things going early, and then in the final matchday of the month against Cagliari, he scored a crucial goal that put wrong went back in front after losing their lead. Rick karsdorp beautifully set him up, but edin Dzeko made a great run to get into that space before ultimately taking up the points. The thing about edin Dzeko it wasn't just that he scored goals; it was about all the other things he always does a complete Strikers; he controls the play, he distributes the ball, he makes intelligent runs when Dzeko is playing well; this Roma team is so much more dangerous. Edin Dzeko scored in three of five games in the league; this largely can contribute and how well Roma has done this season. Roma finds themselves in the top three; if edin Dzeko can maintain a pace like this where he scores in at least half the games each month, this Roma team will incredibly hard to stop. The early struggles this season largely attributed to the fact that edin Dzeko was not scoring and he was missing chances yes, edin Dzeko does miss some opportunities. Still, he has been as important as any player over the last couple of games. When edin Dzeko scores goals regularly and makes Roma such a more difficult task to stop, in December, his performance was close to flawless as outstanding as henrikh Mkhitaryan was edin Dzeko overall impact earns him the player of the month. Edin Dzeko has 7 goals in 15 games; this season not a bad return for an aging player, and even though the assists numbers have gone down a little bit, he has shown how important he has been to this team this season.