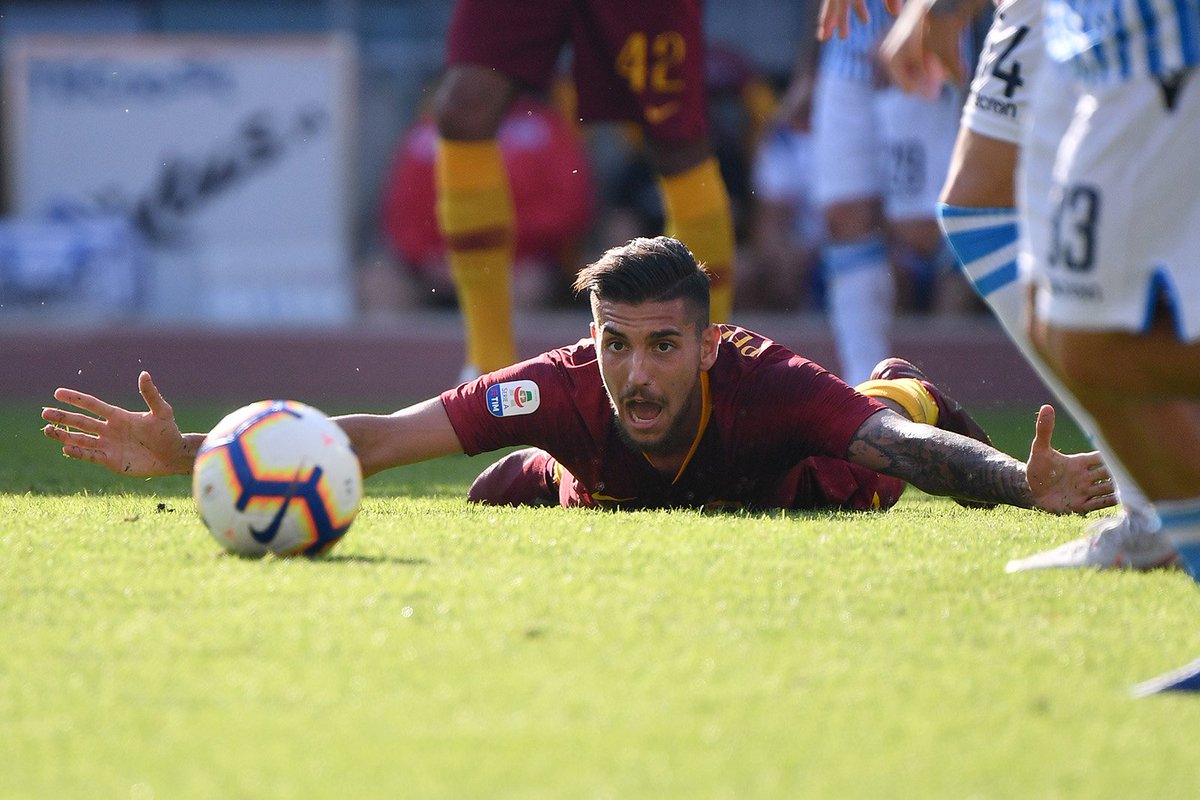 Roma's hot streak abruptly ended at the Stadio Olimpico on Saturday afternoon as season strugglers SPAL pull off a huge upset. Roma dominated the majority of the match but failed to convert their chances especially early which severely cost them three points. a controversial penalty decision swept the rug right out from under them as SPAL took the 1-0 lead through a Pentenga penalty. SPAL doubled their advantage with the only chance they had in the second half. missed chances early cost Roma as they fall on their face at home. Roma's momentum and confidence over the last month gets derailed by a team that was struggling to win games International break hurt the Romans. SPAL ended their losing streak and beat Roma for the first time in club history. Roma leave the Stadio Olimpico and ashamed and embarrassed by their performance had they day took care of their chances early they would never have been in this predicament as inconsistency continues to highlight of this team.
SPAL Penalty
There was a certain moment that greatly affected the performance in the game. A controversial penalty decision that gave SPAL a penalty right before halftime up to that point they had not registered a shot of any kind and will be completely and utterly outclassed by Roma. Right before halftime Luca Pellegrini brought down Manuel Lazzari in the Box. There was no of VAR review of what looked like play acting with very little contact made. The SPAL player rolled around in the box like he was hit by a truck. VAR needs to be used in these situations regardless of how obvious. There was another penalty that was not given to Roma and was not looked at either later in the game. If this penalty doesn't happen the outcome is likely different. The momentum of the game completely shifted Roma now needed a goal just to get level. Up to the point of the penalty Roma was in pure domination that went along with all the chances they had to score a goal. However we wouldn't be talking about this if Roma had scored one of those opening chances they had. Roma were not robbed and I'm not going to make that argument but the facts are the facts penalties changed the outcome of the game. That also ended with Luca Pellegrini getting an undeserved Yellow Card for what wasn't a penalty.
Monchi's Error's Highlighted
Monchi has been highly respected sporting director for the majority of his career. He has had a tremendous amount of success successfully winning 10 trophies including five European trophies during his time in Spain. I still believe in his ability to lead this club forward he is incredibly smart and a special person in football and has a fair amount of pull in the transfer market. With that being said what has work in Spain is not working in Italy and he made several errors on the decisions he made in the summer. I know how good he is he's incredibly smart and I'm glad he is at the club but there comes a point where you need to put some blame on the man who organized the team. Monchi put this team together so when things aren't going well he is the one we have to look at. Monchi has brought in a lot of young Talent in this team essentially Roma has taken one step back to take two steps forward when these young players develop there going to be an incredibly dangerous team in Italian football. However when the future comes we will worry about it but right now we are in the now. He let go of several key players Kevin Strootman Radja Nainggolan and Alison Becker. Roma have lost several key players over the last few seasons the one thing a Roma needed to do going into the hold on to all of their key players. This young core has talent and the ability to earn the Champions League spots. However selling the that many key players in one summer selling is setting Roma back. We have seen some positive things from Roma's new signings his decision to sell key players has cost Roma dearly this season I do have faith this Roma team can battle through adversity but how can they progress if every season key players are leaving. Too inconsistent and the lack of that Cutting Edge that all comes down to the man who assembled it as good as he is if he does not start to improving this team more rapidly with the signings he makes may not be here for that much longer he has to deliver that is a promise that he made to the fans and the club when he arrived. I think he could do it but he needs to turn this around as soon as possible How can any team recover when they seem sells three of their key players.
SPAL ends 4-game Skid
SPAL was a team last year who narrowly Escaped relegation. This season most people recognized that they would be fighting for survival once again. Against a team like this no one gave them a chance they lacked quality and the depth Roma have. In fact and there Club history they had never beat him the Romans in any competition. They were under a lot of pressure and were currently on a terrible Run form having lost 4 consecutive games. As well as being a little dejected from a tough loss at home to Inter last time out. They do not possess the players necessary to win a tough games at the Stadio Olimpico that was the perception going into the game. However after the penalty swung the momentum back in their favor they took advantage with their next opportunity and scored. Roma dominated the game from every aspect of it Spal was outclassed but because Roma could not deliver their chances into the back of the net SPAL get an unbelievable yet historic victory at the Stadio Olimpico a shocking results for a team that no one thought would stand a chance.
Roma not Clinical Enough
Roma had an unbelievable opportunity to put this game away in the opening 10 minutes. The majority of Romans shots in the first half were on target. Roma failed to find the back of the net this was so frustrating to watch especially because I know how aggressive they came forward they attacked with Supreme confidence and success. It was an outlash of a Roma attack against a defense that looked nervous. If Roma had finished one of those chances and put it in the back of the net it completely changes the outcome of the game. Everything was going Roma's way and in fact the opposition had not even register the shot that's how dominate they were. It really came down to that opening 10 minutes where they had several legitimate chances to score and failed to do so. It's so incredibly frustrating because when Roma conceded the momentum and confidence evaporated. They blew their window of opportunity to put this game away could have been up 3-0 in the opening 25 minutes.. Roma create more chances than any team in the league and despite the fact there are one of the highest scoring teams they are not clinical this is an issue that Roma had last season as well as this year. It is unreasonable for Roma to fully depend on Edin Dzeko I know Roma have other scorers but they need to be more consistent in their attacks in front of goal they need to be scoring more of their chances because they are creating far too many to not get the results from amount of chances Roma to create. In the second half even less chances came from the Roma although they still dominated it came down to that early attack Roma had instigated in the first half if they deal with those accordingly Roma are leaving with three points.
Failure to Protect The Stadio Olompico
no matter what country you're in if you are a big team like Roma you must protect your home ground. Roma have been unable to do that over the last year-and-a-half and that is a big reason why we have seen a lack of trophies at this club. Roma still have their issues but if they protect their ground at the stadio olimpico they're not in this situation. Last season they lost seven games six of them at home. If they win half of those Roma's are in the title race for the entire season. It shouldn't be this complicated you're in your own stadium in front of your own fans and you fail to pick up results. This is an epidemic and quite frankly embarrassing. Losing on the road as one thing but losing in your backyard regardless of who it is embarrassing. They need to fix this situation and quick they just need to perform better at the Olompico it used to be a fortress Roma must find a way to make it one again.