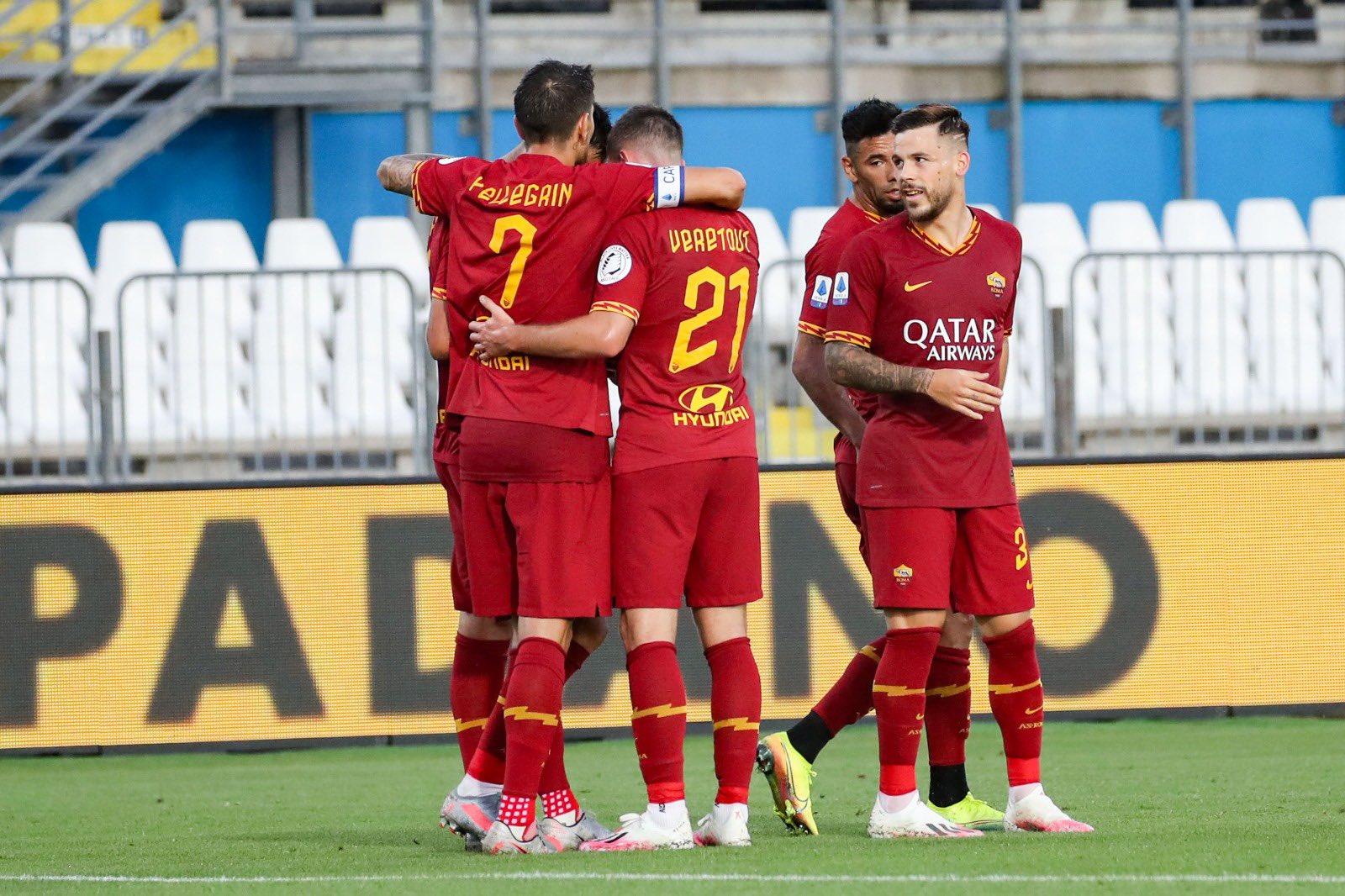 The Europa League race only continued to heat up after Roma's victory last night. Roma for the last couple of weeks has really struggled not only in terms of results but in terms of performance. A tough loss to Napoli got them back on the right track as Paulo Fonseca changed his formation as Roma Now operating out of the back three. Roma has improved massively under the new setup. After defeating Parma in a two-to-one come-from-behind victory on Thursday at the Stadio Olimpico. Rama looked to keep their momentum going. Rome is in a very tricky situation where they need to pick up as many points as I humanly possibly can until either AC Milan or Napoli drop point. Coincidentally they played this weekend. Regardless of the results of that game, they must keep picking up the points because of how close it is. Roma made it two-in-a-row against relegation-threatened Brescia. Roma has been historically significant against newly-promoted teams; they have the best form in league history. With 21 wins in 21 games. They have never even dropped a point against newly-promoted sides. Not only that, but Brescia also is at the bottom of the table, and it's pretty much mentally already relegated; they have very little shot of surviving. Three points once again would be a requirement. They played it early in the season, and Roma picked up a very routine 3-0 victory at the Stadio Olimpico. Roma, we're going to do more of the same this time around. The first half was a bit of a process. Brescia didn't exactly rush forward, but they have their moments. It took Roma a little while to really get into the game. Roma was in complete control possession and provided the better chances in the first half. Roma played with a slightly weakened team with Pau Lopez, Edin Dzeko being rested while Mkhitaryan was out with suspension and Chris Smalling out with injury. It still was a strong team, but it wasn't Roma at full fitness. Carles Perez provided the games the best chance with his strike going wide on the break. Once Roma found themselves within the game, it was Game Over. Very early in the second half coming off of a corner, Federico Fazio scored at the near post striking with his foot. Roma continued to play well defensively and came through in the big moments Roma connected with the attack & the game opened up for them, and before not too long, the points were secured. Before not too long, Roma doubled their lead as Carlos Perez picked out a perfect pass for Nikola kalinic, who supplied a superb first touch maneuvering around the goalkeeper before sliding the ball in the back of the net to give Roma a 2-0 lead. It only got worse from there with about 20 minutes to go. Nicolo zaniolo Roma's super-talent, who just recently recovered from a ruptured ACL, came off the bench and did the impossible. Nicolo zaniolo on a break scored to give Roma a 3-0 late. It was his first goal since his injury back in January. Late in the game Edin Dzeko nearly increased Roma's lead even further, hitting the post twice in what could have been a much more lopsided victory.  Roma secured a 3-0 victory as they pick up another three points . Even with absentees Roma win the season series as Roman momentum has engaged.
Nicolo Zaniolo Scores! He's Back!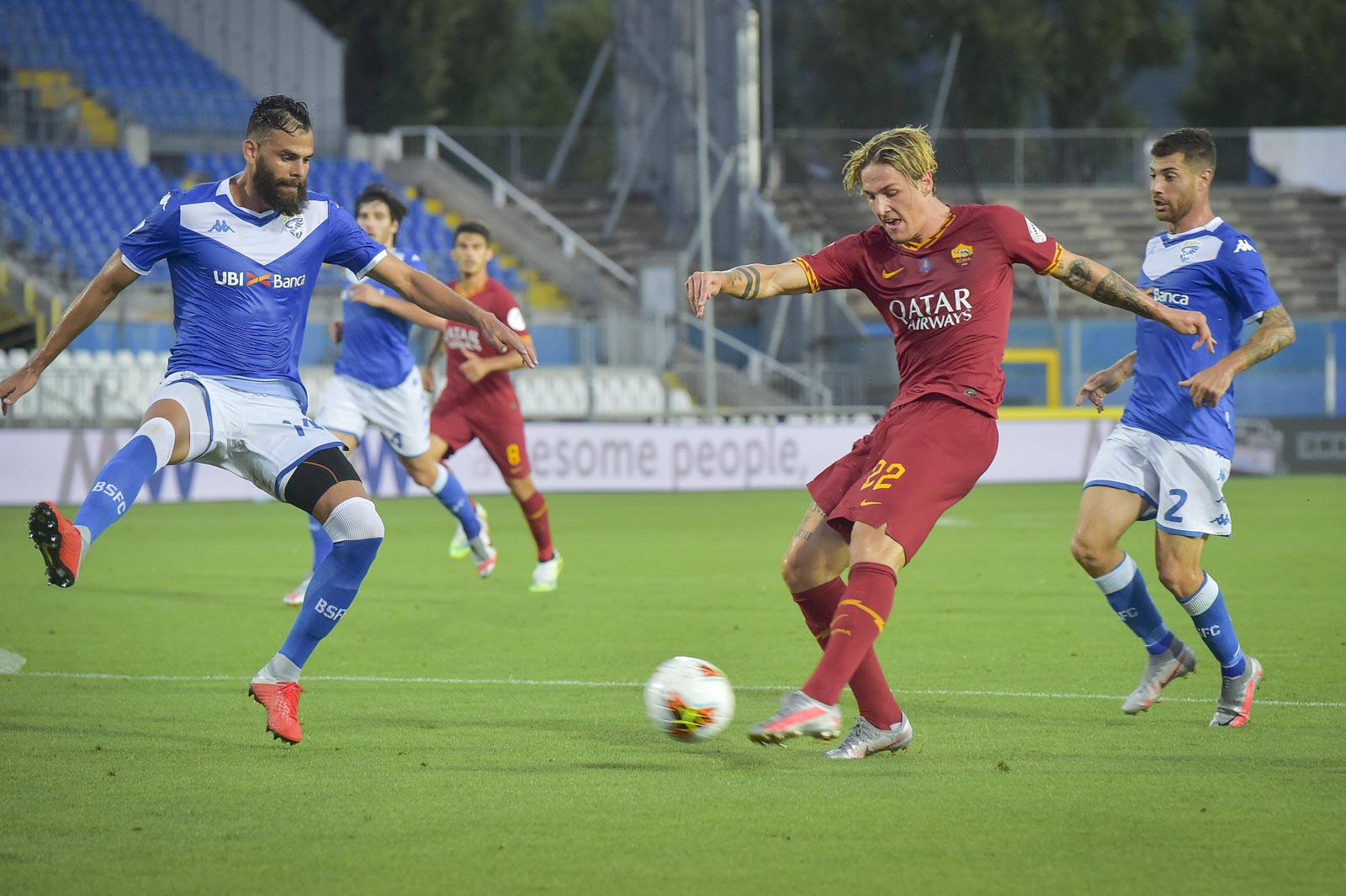 Nicolo zaniolo has had an incredibly difficult year. He had such promise the way he started the season he was on pace to double his goal Tally from the year before. He was the crowning Jewel and one of the most lopsided transfers in Italian football in the last decade. When he moved from Inter Milan to Roma in a swap deal that included radja nainggolan. Nicolo zaniolo became one of the best Prospect we have seen in Italian football in years. While despite having a very productive first season, Radja was sent off on loan this season, and despite having been one of the best players at his position, it hasn't really worked out with Inter Milan. Maybe that will change next season when he returns to his parent Club but regardless and how you look at it, it was as lopsided as a transfer as you can possibly get. Nicolo zaniolo value in the transfer with 2.5 million now he is worth at least 70 million he has doubled his value since coming to Roma. Even though there are many clubs interested in signing him, he has been adamant since day one that he wants to build something in Roma. We will see how true that is and the next couple of years, but given what he has provided, he is so instrumental to Roma's success. He reminds me a little bit of Francesco Totti and LeBron James. His playstyle is very similar to the Roman Icon, and he has the physicality like the NBA Legend. He has an extraordinary ability, great athleticism, and the right mentality. He is a superstar; he's not quite reached world-class status yet, but it will only be a matter of time before he does, though. He was having a career season until, ultimately, it was cut short. Against Juventus last January, he ruptured his ACL, sidelining him for the rest of the season. However, the coronavirus pandemic has allowed him the opportunity to get healthy and return before The Season's end. Over the last couple of games, he has been used as a substitute coming off the bench. He still is not at 100% yet, but he is progressing. Last night we saw the moment we've all been waiting for. In a game that was already decided, Nicolo zaniolo came off the bench; he was given over 25 minutes the longest amount of game time he has had since he returned to the team. Last night he came off the bench and scored his first goal since the injury. Cutting into the box before finding the back of the net scoring his sixth goal of the season, which puts them level on the amount he scored last season. Even though it was, had he not gotten injured, he would have certainly doubled his goal total. Despite everything that has happened, he still might be the Serie A young player of the year for a second consecutive season. When he came on to pitch last night, he did not look injured at all to me; he looked energized comfortable on the ball and really ambitious with his movements. If this is what he looks like at 60% when he reaches 100%, it's going to be terrifying, especially what he's capable of. Roma's lack of creativity, something that he provides regularly, he also is mentally tough and contributes in a multitude of ways. Roma probably will hold off on starting him until he reaches closer to full fitness, but seeing what he did off the bench last night gives Roma some earnest optimism. While he is fully recovering, he can be such a weapon off the bench, and we have proven that with his performance last night. We saw the re-return of Nicolo zaniolo when he is back at full fitness Roma is going to be such a more dangerous team than they are.
Brescia are going to get Realgated 
One thing became evident last night Brescia without question will be relegated. Going into the season, I thought they were going to struggle significantly, mainly because the transition from a newly-promoted side can be challenging given the difference in quality that they face week in and week out. However, the silver lining of the team was that they have Sandro Tonali, one of the best Italian Prospects in the league, and holding on to him was going to strengthen their chances of surviving the season. In addition to that, they have the top scorer from Serie B, finally getting his crack at the Top Flight as Alfredo donnarumma was a reason to be optimistic going into the season. They even signed Mario Balotelli. It was apparent they were going to struggle this season, but given some of the quality players that they had, it was possible that they could find a way to pick up enough points to save themselves. With Roma's 3-0 loss last night, it may not have confirmed it yet, but it might as well have. It is clear that they do not have much chance to survive this season. Before this matchup, they had scored in each of their last four games, which maybe gave them a glimmer of hope, but Roma last night destroyed whatever that hope might have been. When it comes to beating the newly-promoted side, Roma has never lost in 22 attempts. Brescia continues to hold onto dear life with only 21 points this season. Lecce, Sampdoria, and Torino, all have more than 25 points with less than ten games to go this season; it gives them a little to no chance to survive. It's hard to say what will happen over the next couple of months, but I think it will become very difficult for Brescia to come back to Serie A after the season. Last night was a very underwhelming performance from them; they had their limitations going forward, and their defense simply could not keep up. Even though they held Roma scoreless in the first half, they exploded with three goals in the second and honestly could have been much more. This team may not be back in the top-flight for some time. Sandro tonali, the team's best player will be making a move to a bigger club at the end of the season; it's inevitable. Even if they get a large sum for him, it's hard to imagine that money will help them rebuild so much so that they could return in a couple of years. I don't think we'll see them for a very long time.
Roma made stops when they needed to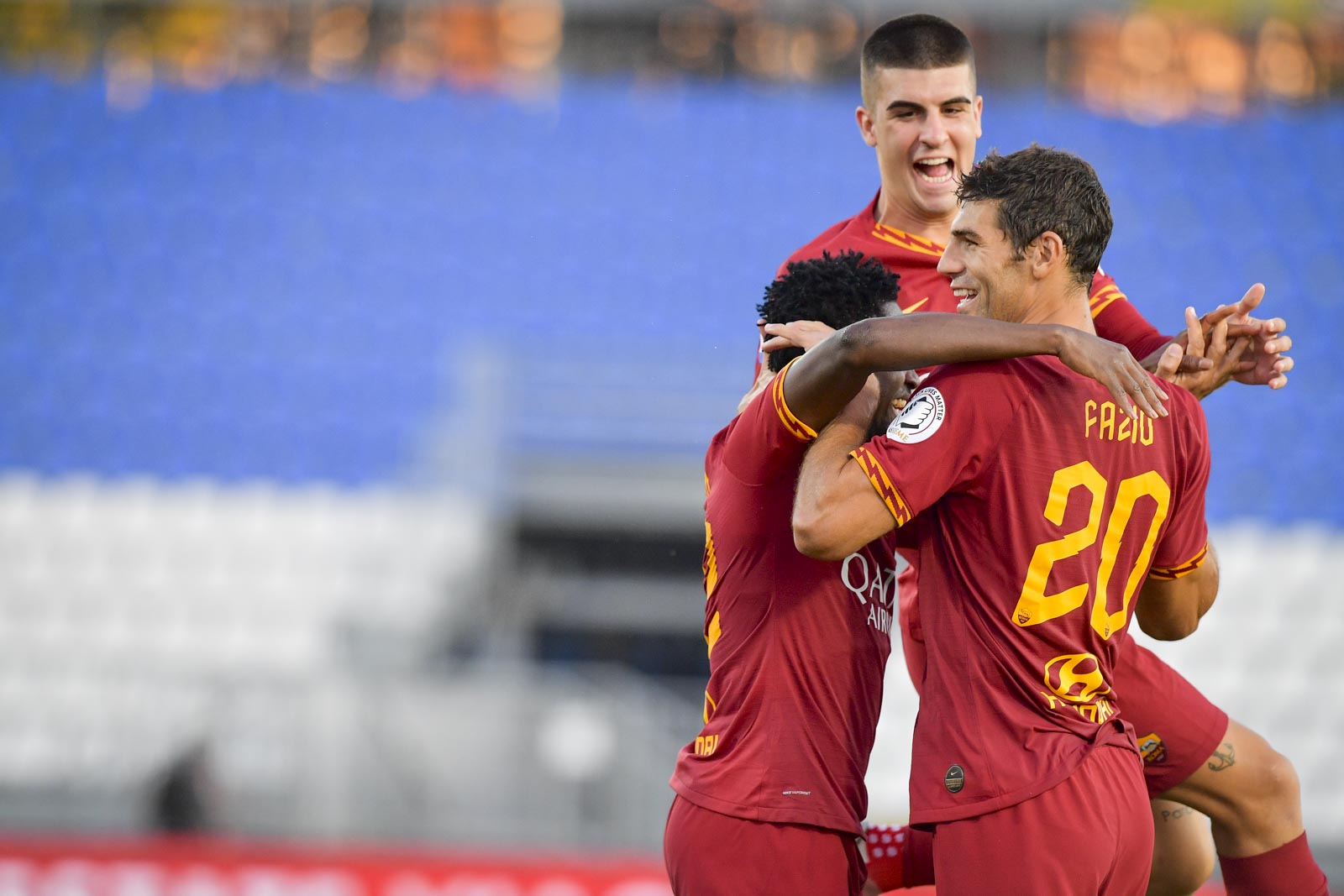 Roma was missing many components of their regular starting 11 in their victory yesterday. They were able to provide what was required without it. Understandably Roma's opponent wasn't the most challenging as I mentioned Brescia is more than likely going to be relegated in the next couple of weeks. We saw some unlikely heroes in the game last night with Nikola Kalinic, who has done more harm than good when he has played scoring being in place of edin Dzeko. Also, Federico Fazio, who is not played a lot of games this season, Finding the back of that which was surprising, but what was more surprising is it happened with his foot, not his head, where he scored most of his goals. It was a lot of things that Roma but did well last night creativity in the Midfield and going forward as massively improve continually. Over the last two games, they just look like a different team. However, the most important part of all this is not making mistakes in the backline. This change of formation has undoubtedly improved the nature of the team. With that being said, the errors that kept reoccurring since the restart has not been such a problem. The wing-backs of contributed a lot going forward as well as supplying some impact defensively. Bruno Peres was exceptional last night; he supplied a different dimension contributing in multiple ways. However, despite how well the new formation has worked for the team, the back three was without Chris Smalling, who has been Roma's best defender this season and one of the best players in the league. He missed his second consecutive game after a hamstring injury in the match against Napoli. This is the second time they have missed out on his impact defensively; they have won the last two games in light of his absence. Roma is a much better team when he is there, but given the fact that they've been able to pick up the points this week has shown that when Roma works together as a team, they can make up for his absence. Chris Smalling is a star in Italian football; they were starless in the backline and still was able to perform at a high level. Not everyone is on the same page all the time, which can occasionally happen when there's a new set up a new personality match to it. The most impressive thing for me from Roma's defense yesterday wasn't the fact that they kept a clean sheet. We all can agree Brescia attack isn't scaring anyone none the less they came forward and made things look a little chippy for Roma. The most significant difference defensively yesterday was when they were in dangerous situations; they made the stops they needed to make. Ibanez has had to play the last couple of games and has proven his unbelievable value. He is a young Defender that can make mistakes, but yesterday again, he was superb. He reads the game really well; he does need to improve some of his decision-making, but Roma may have found a dime. It wasn't just him Federico Fazio, and then Gianluca Mancini also made some crucial stops. It's not like Roma was being threatened often, but occasionally it would look a little bit nerve-wracking, and then Roma's backline made that stop that turned it around and allowed Roma to get on the break. These small details can make a big difference. The thing Roma need to work on is getting on the same page; they got to be more organized and can't make any errors. They didn't make any mistakes back there yesterday, but it's still something Roma needs to improve on, primarily when operating out of a completely different system. All things could fit, and it was significantly a better performance defensively. Once they get on the same page completely, this will no longer be an issue.