Score: A.S Roma 3 Juvnetus 1FT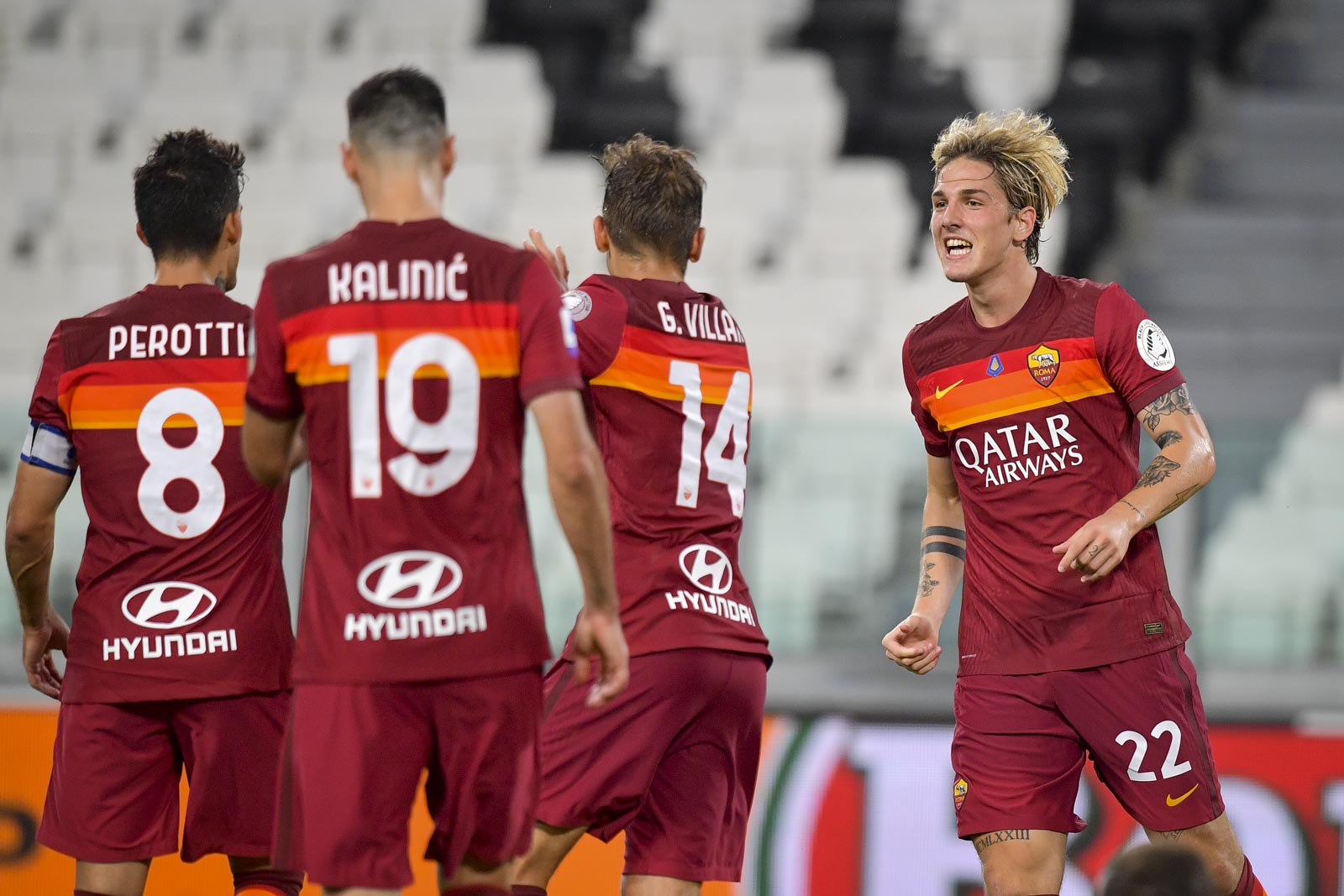 Following a win against Torino away from home last time out it confirmed Europa League qualification for the Romans. They stayed on the road as they went down to Allianz Stadium to play Juventus. This match was more or less a meaningless game as both teams had their European futures confirmed. This would be the third time these two teams will go head-to-head. Roma lost the first two meetings once and the Coppa Italia and the other in the league. This was an opportunity for Roma to get one back as they currently are one of the hottest teams over the last 10 games having been unbeaten in their last 7. Juventus didn't bring out their strongest team and Roma didn't either. There were starters on both teams but neither was at full strength. Juventus had not been beaten at Allianz Arena since 2018. Roma had an opportunity to change that picking up three points to end the season that will only drive their momentum. Gonzalo Higuain scored early coming off a set-piece to give Juventus a 1-0 lead. Outside of that Roma had controlled the match and drew level before a matter of time. Nikola kalinic converted coming off a corner take to equalize. Then with a minute left in the first half a young Roma star, Riccardo Calafiori was making his debut as he won a penalty. Diego Perotti stepped up and converted it as Roma took a 2-1 lead. In the second half, Diego Perotti scored again after converting a through ball from Nicolo zaniolo. It gave Roma a 3-1 lead. Roma maintains their control in what was at the time a one-sided affair. The young Juventus team showed their promise with some of the individual talents that they hadn't displayed this season but it wasn't enough to overpower a Roma team even against a weakened Juventus team as they collect maximum points as Roma held on in what was a 3-1 victory. Paulo Fonseca's team to eight games unbeaten just in time for the Europa League they are only starting to heat up after beating the champions on the final matchday.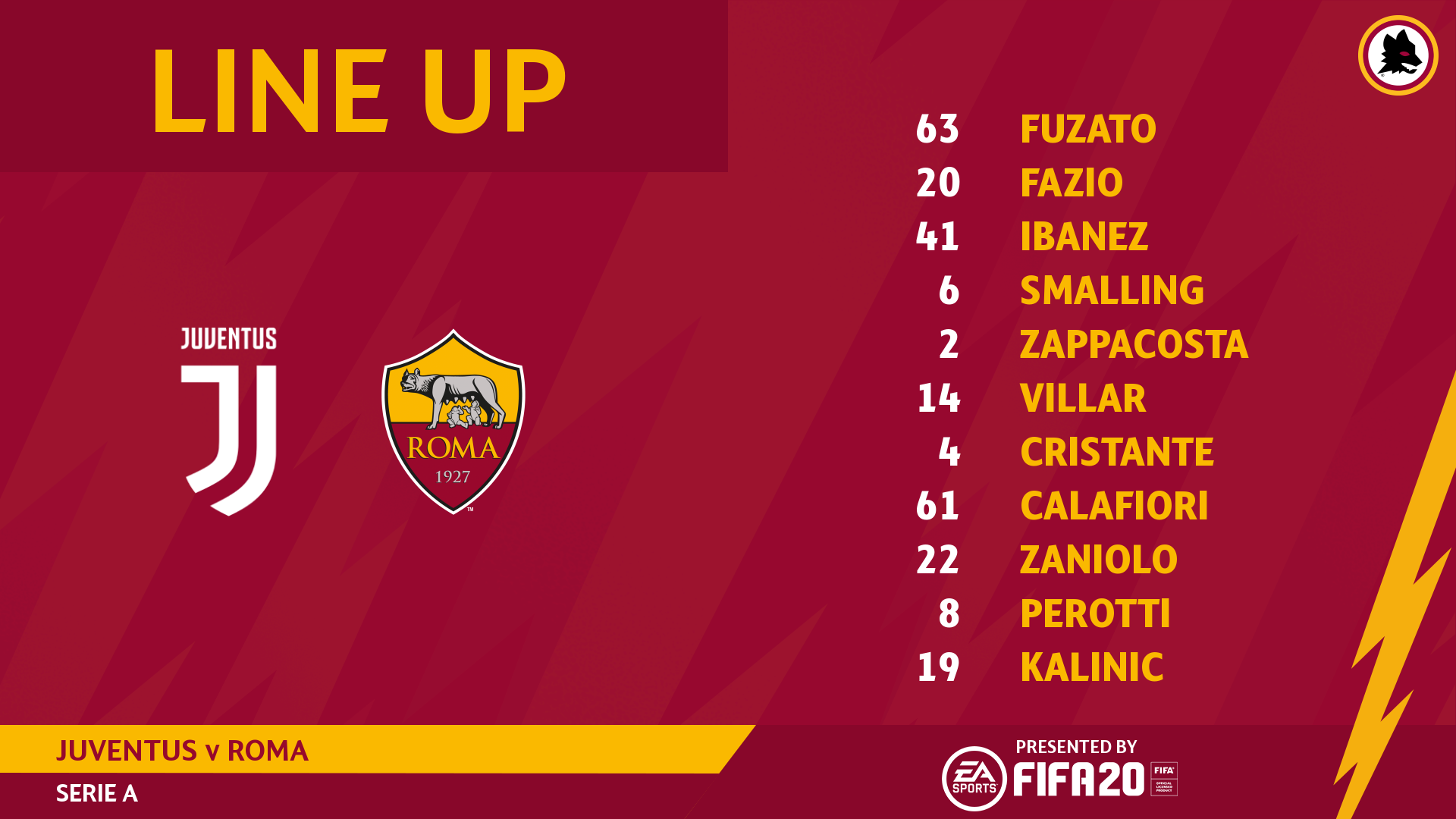 Paulo Fonseca would once again set the team out of Roma's 3-4-2-1 formations. Given the fact that is the last game of the season, there would be several adjustments as Roma and Juventus are playing in a more or less meaningless game. In goal for Roma would be Roma's third-choice keeper Daniel Fuzato who has yet to make a Roma appearance until today. The three center-backs would consist of Rodger Ibanez on the left, Chris Smalling centrally who could be playing his last game for Roma and Federico Fazio on the right. Making his Roma debut at wing-back would be Riccardo Calafiori the other wing-back would be zappacosta. The defensive Midfield would be made up of Gonzalo Villar and Bryan cristante. In the attacking Midfield, it would be the pair of Diego Perotti and Nicolo zaniolo who finally get a start. Then upfront as the main Striker would be Nikola kalinic. Most Roma starters would be available on the bench if they are needed.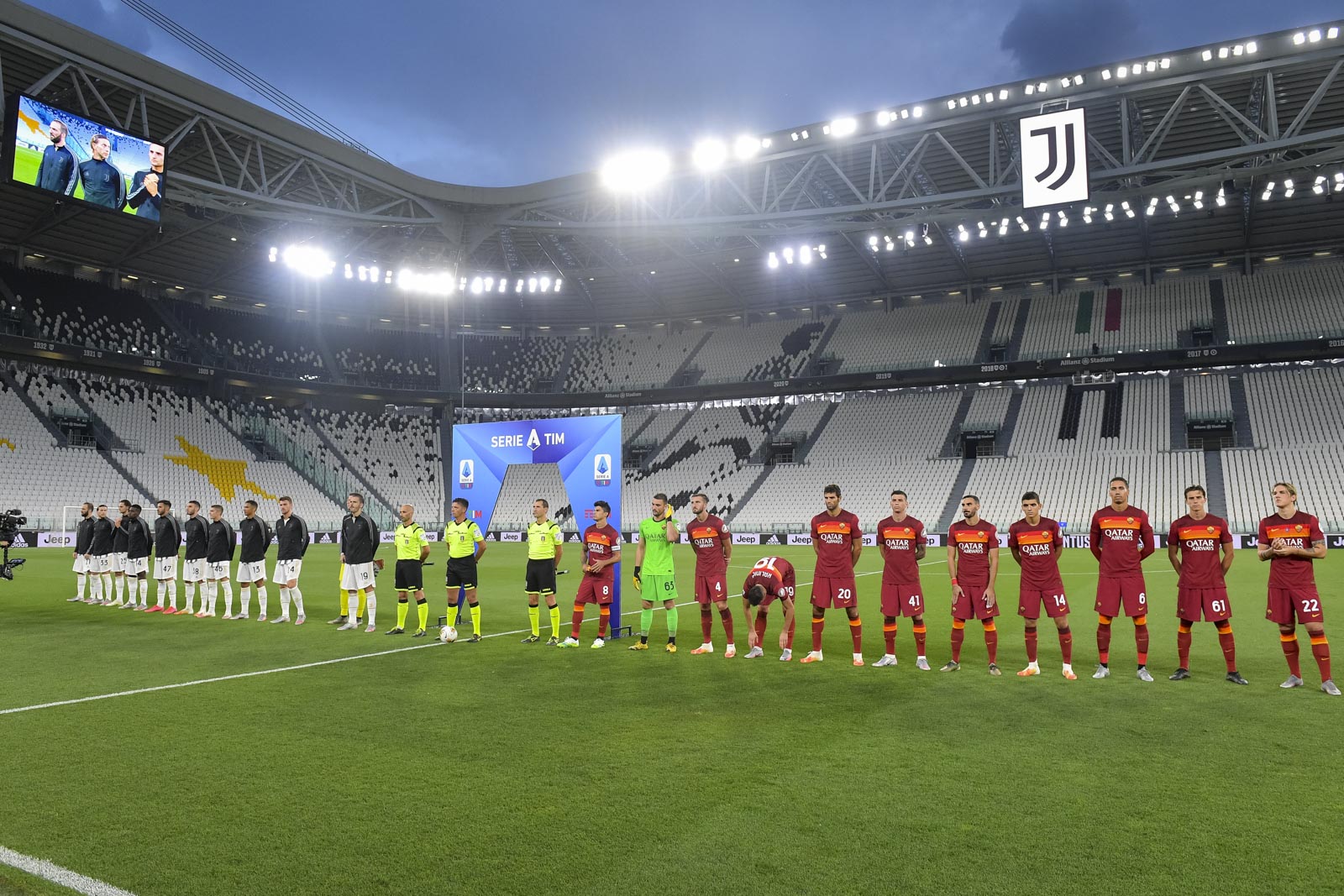 After preparations and predictions the match got underway at the Allianz Stadium as Roma made the trip the defending Champions Juventus for the final match of the season. The European futures of Juventus and Roma had already been locked up so we saw a very different lineup from both teams. For the majority of the first half it came as a back-and-forth battle between two teams. Roma had the advantage at least in the general sense for most of the first half however the Romans did fall behind early. on a poorly-executed corner kick Rabiot set up Gonzalo Higuain who hit on a strike into the top corner to give Juventus a 1-0 lead. Even though Juventus took the lead Roma looked dangerous on the break. Seeing Nicolo zaniolo get his first start since the injury really showed the qualities. He came through cutting on the counter-attack in Roma High pressing football. the link-up play between the attacking Midfield and the wing-backs was superb. Roma debutant Riccardo Calafiori showed some promise early as he looks to be a really tremendous player. In the 23rd minute, Roma got back into the game a beautifully hit Cross by Diego Perotti set up Nikola kalinic who connected on the header on a poorly marked corner. it would be the Croatian fifth goal of the season he scores once again coming in for the rested edin Dzeko. Not long after  Roma would get another one only for the goal only be taken away. Riccardo Calafiori hit a tremendous strike from outside the box but for some reason, the goal was disallowed whether it was a foul in the box or outside it is unclear. Soon enough their moment would arrive. However, Gianluca Frabotta came really close on Juventus break inches from converting a strike at Roma's far post. Minutes later in the 35th minute Riccardo Calafiori rose to the occasion once again really showing his qualities really had an outstanding 45 minutes. He cut into the box after receiving a cross from the wing trying to drive inside before he was clipped. Roma was given a penalty. Diego Perotti stepped up and drill the ball into the right corner despite Szczesny's best effort. Roma took a 2-1 lead with 10 minutes remaining in the first half. In the closing minutes of the opening half, Nicolo zaniolo was denied and Federico bernardeschi misfires on a late free-kick. At the Midway Point Roma held a 2-1 lead over Juventus at the Allianz Stadium. Thanks to goals from Nikola kalinic and Diego Perotti.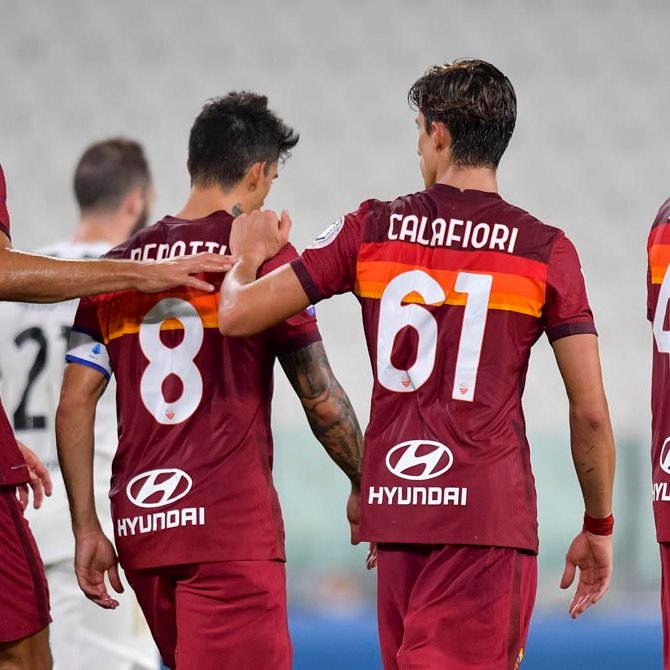 Riccardo Calafiori set up Penalty and Diego Perotti converts on it as Roma takes a 2-0 lead into the second half.
Roma had a really strong first half outside of the early goal Juventus really were second-best. While neither one of these teams for playing with their strongest side Roma's momentum was only growing despite this. Early in the second half, Nikola kalinic was denied by Szczesny as he dealt with a great strike coming from a world-class Zaniolo cross. Roma certainly had the momentum and we're playing with certain confidence even without some of their starters. Roma broke the game open as they pulled away early in the second half. Nicolo zaniolo orchestrated attack for Roma he dribbled through the midfield before He sent a through ball into Diego Perotti the Argentine converted on goal as he increased Roma's lead scoring his second goal of the game Roma now had a 3-1 lead on Juventus. Despite the circumstances, they were on the verge of being the first team in 2 years to beat Juventus at home. Roma went to the bench and made three changes. Juan Jesus Davie Santon and Cengiz Under came in for Nicolo zaniolo, Rodger Ibanez, and Bryan cristante. Juventus came close to getting back into the game but Aaron Ramsey misfired on goal. Roma, we're significantly out playing a weakened Juventus team. Late on Roma made one final change as Arsenal linked Justin kluivert came in for Diego Perotti. It wasn't a lot of scoring opportunities for either team in the final 15 minutes. Gonzalo Higuain Simone Murando saw their chances Miss and zappacosta misfired for Roma. Roma continued to apply the pressure and looked incredibly dangerous at many different points in this game. The Romans ultimately were able to hold off Juventus becoming the first team since 2018 to pick up all three points at the Allianz Stadium even though it was a more or less meaningless matchup football Roma end the season finishing in fifth place with 70 points and an eight-game unbeaten run. Paulo Fonseca has a Roma hot at the right time as it puts them in good position for the Europa League. Roma finishes the season strong. Roma finished a year on a high note as they take maximum points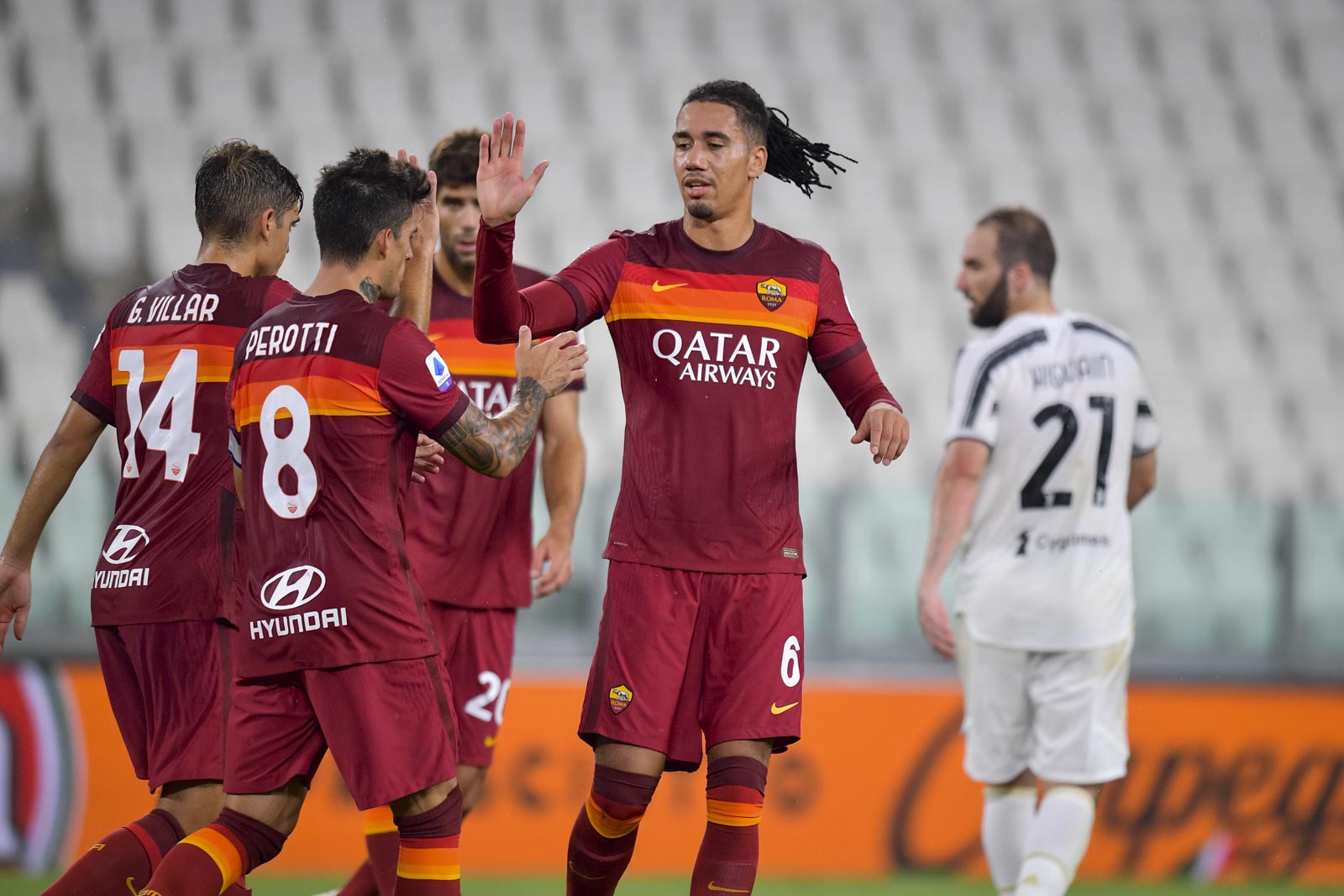 Perotti adds another as Roma beat Juve 3-1 to finish the season strong 
Roma concluded the Italian football season at the Allianz Stadium. Juventus we're unbeaten at home since 2018. Tonight an undermanned Roma team did the job against them. If we're being honest this game meant absolutely nothing to either team. Roma had already confirmed their Europa League status and Juventus already been crowned as League champions. This game didn't have that much impact on that whatsoever. Maybe for Roma slightly because they want to take High momentum into the Europa League but collectively the result of the match would not have changed anything. Nonetheless, it's always nice to pick up maximum points especially against a team like Juventus. Both Roma and Juventus played with the youngsters and depth players. It wasn't a match that really determines anything. However, because of the situation, it's allowed Nicolo zaniolo to get his first start since he was injured in January. While Danielle Fuzato Roma's third-choice keeper made his debut and on top of talented wingback Riccardo Calafiori got to play his first match in the Roma colors all is well. The same goes for Juventus that played young Talent. Roma was the better team for the majority of the match and it showed on the scoresheet. We didn't learn anything specific about either team from this game. it was just going through the most of the final game of the season. Riccardo Calafiori really showed he has exceptional talent and the way he performed this game he's definitely want Roma should hold on to in the future. That's the only thing that I learned from this at all. The man of the match tonight goes to Diego Perotti scoring twice in the victory outside of that I do not have much to add. Roma finishes the season unbeaten in their last eight games seven of which ended with maximum points Roma ended on a high note this season as they will take their momentum into the Europa League round of 16 hoping to master off enough momentum to take them to the trophy. Roma took stride this season and has vastly improved in a multitude of areas this season. Roma finished Four Points better from the year before and seemed to have a team on the rise.
MAN OF THE MATCH: Diego Perotti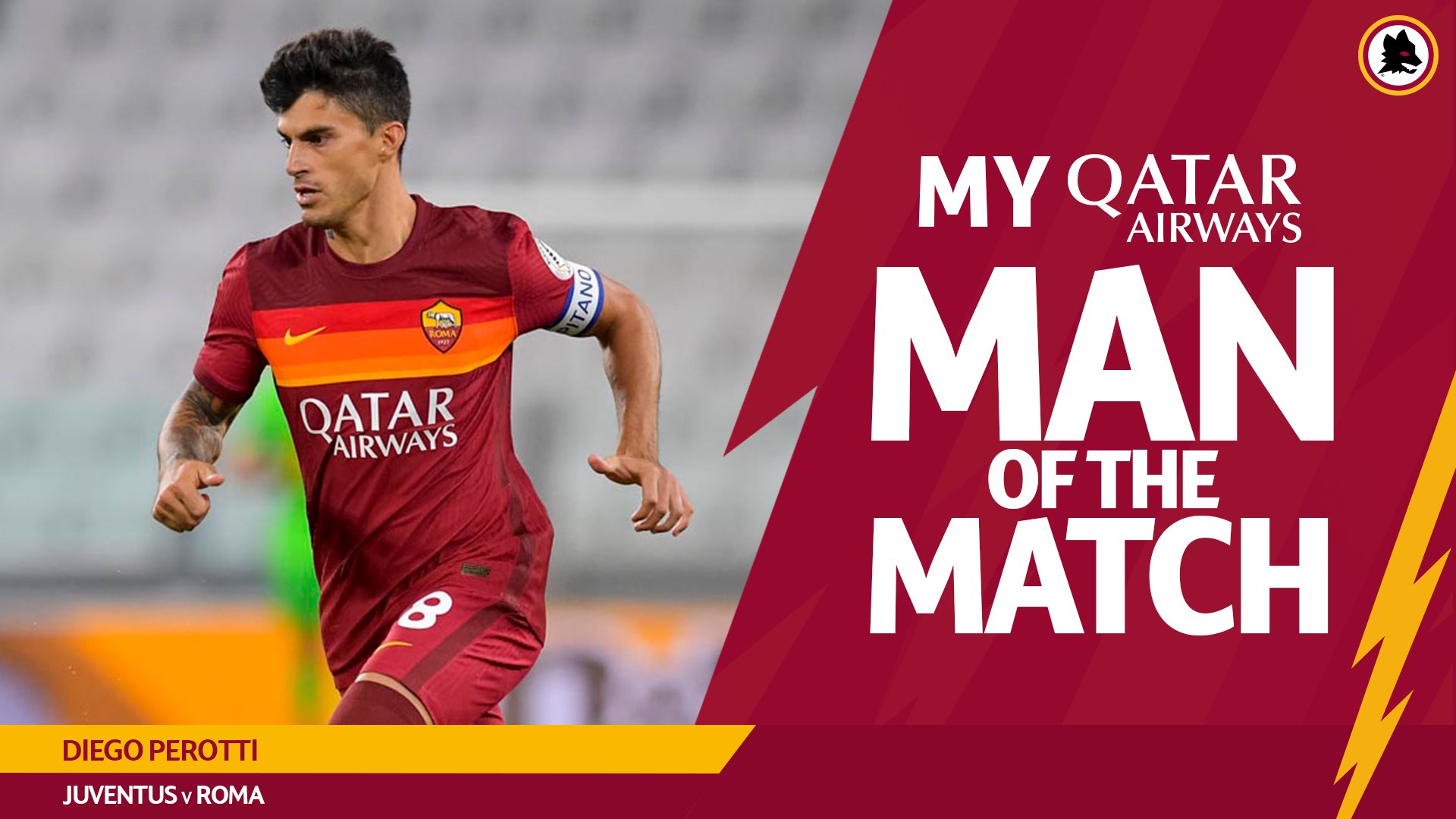 Top Of Table
1. Juventus 26-5-6 83Pts (Champions)
2. Inter Milan 24-10-4 82Pts (Champions League)
3. Atalanta 23-9-6 78Pts (Champions League)
4. Lazio 24-6-8 78Pts (Champions League)
5. Roma 21-7-10 70Pts (Europa League)
Bottom of Table
16. Torino 11-6-19 39Pts
17. Genoa 9-9-18 36Pts
18. Lecce 9-8-21 35Pts (Relegated)
19. Brescia 6-7-25 24Pts (Relegated)
20. SPAL 5-5-27 20Pts (Relegated)