Tino Kadewere vs Nance

The French league has been much more enticing this campaign than in years past. Typically speaking, PSG dominates the league as French football often misconceptions that it is weak. Even though this has never been a case this season, it's gaining some of that reputation back that it had in past years. Olympique Lyon sits at the top of the table with 36 points; they have been unbeaten in their last 10, really proving that the title race in France is up in the air. We have seen a rising star in Lyon, a player that seems to be influential in their title race this season. The Zimbabwe International Tino Kadewere has been one of the most underrated players this season. He has been as compelling as any in this team; he is red hot right now, and it's starting to show that he is a serious player in this league and in this title race. Although Olympique Lyon may not have been playing me most difficult opposition last week, they indeed show that their dominance, and it should not undermine the performance of Tino Kadewere; he has been something special this season. Tino Kadewere came through with a great goal to create separation after Olympique Lyon took an initial lead; a strike from Lucas paqueta came off the rebound to the foot of Tino Kadewere found the back of the net striking at a very complicated angle getting just enough space in between the goalkeeper to extend the lead. Then he finished off his day with an assist of pure class, supplying a one-touch assist in the box that set up Lucas paqueta as Olympique Lyon finish the job in what was an eventual 3-0 victory. Olympique Lyon stays on top of the table as they look like a real player in this year's title Chase. The 24-year-old has been a revelation this season; he has seven goals and three assists after making a move permanent after being on loan at Olympique Lyon last year; he has found his space in this team. He will continue to fly under the radar in what has been an outstanding start to the campaign. Against Nance, he was excellent influencing yet again as he has scored in three of his last four games, supplying a goal and an assist in a Lyon victory. It was a remarkable performance. Tino Kadewere may not be on my list again this season, given the overwhelming talent in Europe, but I certainly will be keeping my eye on him after that performance; there should be more to come from the Zimbabwe Rising Star as Olympic Lyon will continue to mount a title case.
Leo Messi vs Valladolid
It's been a really horrific summer for Barcelona; Leo Messi trying to push his way out in the summer, letting Luis Suarez walk, hiring Ronald Koeman as manager. That has been a disaster, a stretch of inconsistency. Barcelona is not a very good team anymore; they have little to no shot of winning the league and may find it challenging to be in the title race whatsoever. Leo Messi has been the best player in the world for more than a decade; he is the greatest player of all time. That may not matter for this season, but that shows you how long he held on to that claim. Neymar has recently overtaken that spot as the best player in the world. It's foolish to say that Leo Messi has not deteriorated a little bit; people get really sensitive about these issues because they want Messi and Ronaldo to both be at the top level until they retire. Cristiano Ronaldo shows deterioration at the end of his first year at Juventus last season; it was revealed much clearer. Now, Leo Messi, we're starting to see the same thing. He won the Ballon d'Or last season, but this season it's just not been the same. However, Leo Messi doesn't necessarily need to score a lot of goals to be effective because of Messi's intelligence and the movement he will mutually be a factor in every game he plays. He is not the Leo Messi that scores 50 goals this season. I don't think we'll see that from him. He's had a relatively slow start to the campaign, but that can be attributed mainly to how little the pieces around him really are. He hasn't really had that world-class game yet until last weekend. He has been very useful and most of the games he has played but hasn't had a moment that forces us to sit back and appreciate. His assist numbers are down, his goal numbers are down, and he's having kind of an up-and-down season. Half of his goals this season have come from the penalty spot, with only 10 goals and one assist this season. However, as I've mentioned, he's been very influential in a lot of things. Beyond scoring and supplying, he is more of a complete player than most, and even at this age, he is one of the world's best players. It has been very underwhelming considering his lofty standards, but the last game of 2020 was a great one for Leo Messi. He was as efficient as creative, and as impressive as he has been this season. Hopefully, this is a sign that he can get back to what we are accustomed to seeing in the New Year. Leo Messi did not want to be at Barcelona; he has felt betrayed by the board and some decisions that have been made. He is their greatest ever player and the best player in history, so maybe you can a tribute to his lack of production based on his frustration with Barcelona; it's hard to say I would find it surprising if he ends up coming back next Season with PSG and Manchester City very interested and getting him in the summer. However, this week we saw Prime Messi in his last game of 2020. The hope is he can take that momentum, and we can start to see that magic that we have seen for the last decade. Very early in this game, he set up the first goal with a beautiful cross into the box that reached Clément Lenglet, who converted a header in the back of the net. Exquisite control of the ball and excellent delivery inside to put Barcelona up in this game. On Barcelona's second goal, he was largely influential in the build-up supplying a perfect ball inside to Sergio's dest before the American Wing back picked out a pass that led to Barcelona's 2nd. Then Messi got on the scoresheet, and this time it wasn't from the penalty spot he cut into the box in a Messi fashion finding the top corner killing off the game for Barcelona. A goal and an assist display were showing he still has a little left of prime Messi. It has been a slow start, but we could see an explosion in the second half of the season. Nonetheless, he was absolutely fantastic as Barcelona picked up a crucial three points with Messi having his fingerprints and Footprints all over the results not only scoring and supplying the goals, but his influence in the Midfield was outstanding the ball distribution and the intelligence of the goat shines through as Leo Messi was unplayable. The team around him is not very good witch predominantly highlights where they stand in the table, but Leo Messi found a way to overpower that with world-class performance. Will we see a different 2021? Only time will tell
Rick Karsdorp vs Cagliari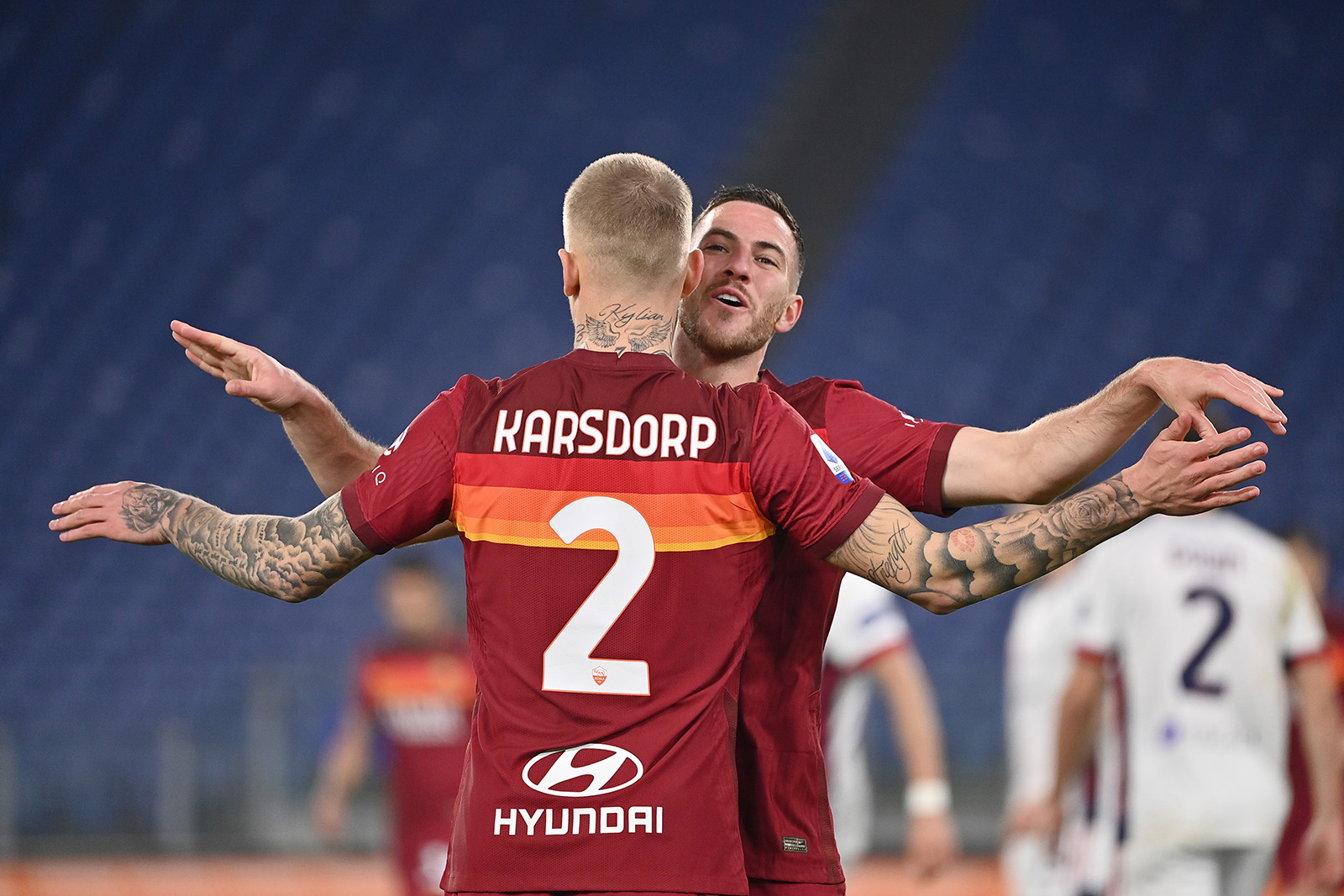 Rick karsdorp is slowly becoming one of the best players in the league this season. He has gone through so much with this club, and I think the growing belief was that most of us did not believe he had a future at Roma. He rejected a loan move in the summer because he wanted to try to fight his way into the team. In fairness to Rick, a lot of it had to do with injury concerns that he has had to deal with the last couple of years, but this season, he has not had those issues, and he has consistently been one of the best players in the wing-back position this season. Leo spinazzola, his wing-back counterpart, has been absolutely incredible; meanwhile, Rick karsdorp has someone flew under the radar this season as one of the best players this campaign. Both Rick karsdorp and Leo spinazzola are starting to look indispensable. Going into this season, another Wing back is something that Roma needed to address; now, it doesn't seem like that is the case. Roma needs more depth because Bruno isn't good enough, but despite that, Rick, karsdorp has been such a revelation this season. We know the story of what he's had to get through to come to this point. He had proven so much value in this team when no one was expecting it. Right now, Rick karsdorp is running on fumes and momentum. He has barely had a poor game all season and found he is being featured as my man of the match on numerous occasions so far. He has been Roma's best player in their last two games, and this is only going to intensify as the season goes on. Rick karsdorp is primarily looked at because of his athleticism and speed. This is what makes him so effective down the wing, largely why Roma paid 14 million for him back in 2017 before injuries took that from him. If Rick karsdorp stays healthy, he will be such an essential piece of this Roma the next couple of years. This has been his first season as a regular starter, and he has been so impressive for Roma. He's not the only reason, but he is largely contributed to why Roma find themselves in the top three at Christmas. Rick karsdorp has shown incredible growth in ability. It's not just the athleticism; it's everything else. Such an incredibly attacking-minded player can make those runs and have the vision to pick up passes for teammates. He was absolutely unreal this week. He registered two assists last night, a cross inside the box that found a Jordan veretout that gave Roma the opening goal. Then on Roma's second goal, he made a beautiful run up the wing Inside the Box before supplying a perfect ball at edin Dzeko's foot. A two-assist performance as he has been playing at this standard the majority of the season. Easily one of the best players this week, not just in time football but in Europe. The crazy thing about him is that; he came up with some huge tackles in big moments even beyond that. He has much more gifted in an offensive perspective been defensively, but he has the speed and ability to make tackles in essential moments. He has progressed so much it's night and day in comparison. I don't care what anybody says this season; the best wing-backs in the league play for Roma, Leo spinazzola, and Rick karsdorp have been legit. The Dutch wing-back is the truth; it's everything he provides and makes him almost irreplaceable in Roma starting 11. If he keeps this up, he will make it into my team of the season. Rick karsdorp has shown enough to deserve a new contract. I am not sure what Roma's plans are; they obviously want to keep him long-term, but he has Justified a new and improved contract. Obviously, Roma is going to extend Lorenzo Pellegrini first and foremost, but when that deal gets done, Roma should start working with Rick karsdorp on a new deal. Given what he went through to where he is now is truly impeccable. He has turned out to be such a critical piece of this Roma puzzle that he wants to get back into the Champions League next season. You can't watch his match and not be blown away from his performance.