Robert Lewandowski equals Gerd Muller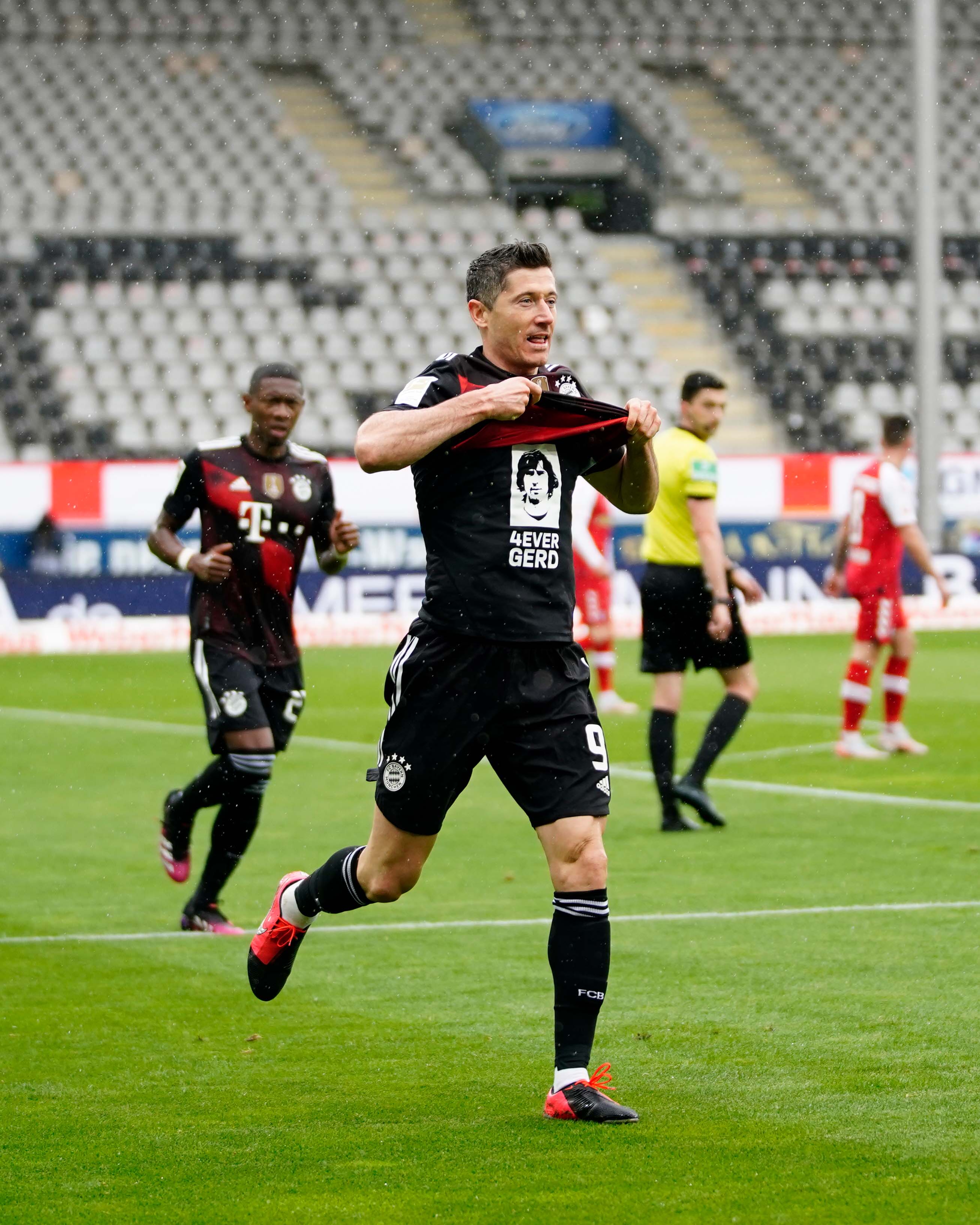 Gerd Muller is one of the greatest strikers in the history of German Football. He is an icon and a scoring machine that broke practically every record known in the Bundesliga. The success he's had with Bayern Munich and the German national team is undeniable; he is someone that paved the way for the Next Generation. In 1971/72 season Gerd Muller scored 40 Bundesliga goals in a single season; this record stood 51 years. It no longer is his and his alone. The German Legend was very influential and motivated and inspired a Polish kid who made his name in the Bundesliga for Dortmund and then for Bayern Munich. that kid's name is Robert Lewandowski against Freiburg this weekend his penalty made it official. Robert Lewandowski's 40th Bundesliga goal of this season the more remarkable thing and only took him 26 games. He honored the German Legend with a t-shirt with a picture of Gerd Muller as he mouthed the words thank you. Robert Lewandowski finally did; he truly has become one of the greatest Strikers of Our Generation and one of the greatest of all time. He was stuck in a generation of football that included Lionel Messi and Cristiano Ronaldo but quietly has become one of the best of our time. This is the eighth year in a row in which he has reached 40 goals or more. Bayern Munich in the Champions League could have been very different had he been fit to play. Furthermore, he is on pace to shatter the all-time Bundesliga goalscoring record also set by Gerd Muller. However, 1 Accolade and one record at a time. As I had mentioned in previous weeks, he has conquered the Bundesliga on seven different occasions. Last year, he got himself a Champions League; the Ballon D'or should be imminent for Robert Lewandowski, considering it was robbed from him in 2020 as they canceled the ceremony for no reason whatsoever. It was an emotional moment for the club and Robert Lewandowski; you could see how much the record meant to him. With one game remaining, he just needs a goal to break it. One way or another I think we all know that that will happen. However, it's important to acknowledge the greatness of Gerd Muller it would be foolish not to acknowledge how important that he has been to German Football and to the game of the hole. That record stood for 51 years; that just shows how improbable of an accomplishment it actually is. Robert Lewandowski has 47 goals and nine assists this season; he is the most dominant player in the game today; this last weekend was a milestone he will never forget. The Bundesliga all-time goalscoring record is in reach, and maybe in a few years, he will pass him once again. Robert Lewandowski came to Bayern Munich on a free from Dortmund after winning two titles with Klopp and became one of the most Unstoppable players; he is 32 years old but doesn't seem to be slowing down at all; it was a special moment just one more go until Robert Lewandowski stands alone on top of the mount while still recognizing the sacrifices that were made Robert Lewandowski it's final level with a record he has been chasing all camping.
Ending in Heartbreak as Frankfurt miss-out of Champions league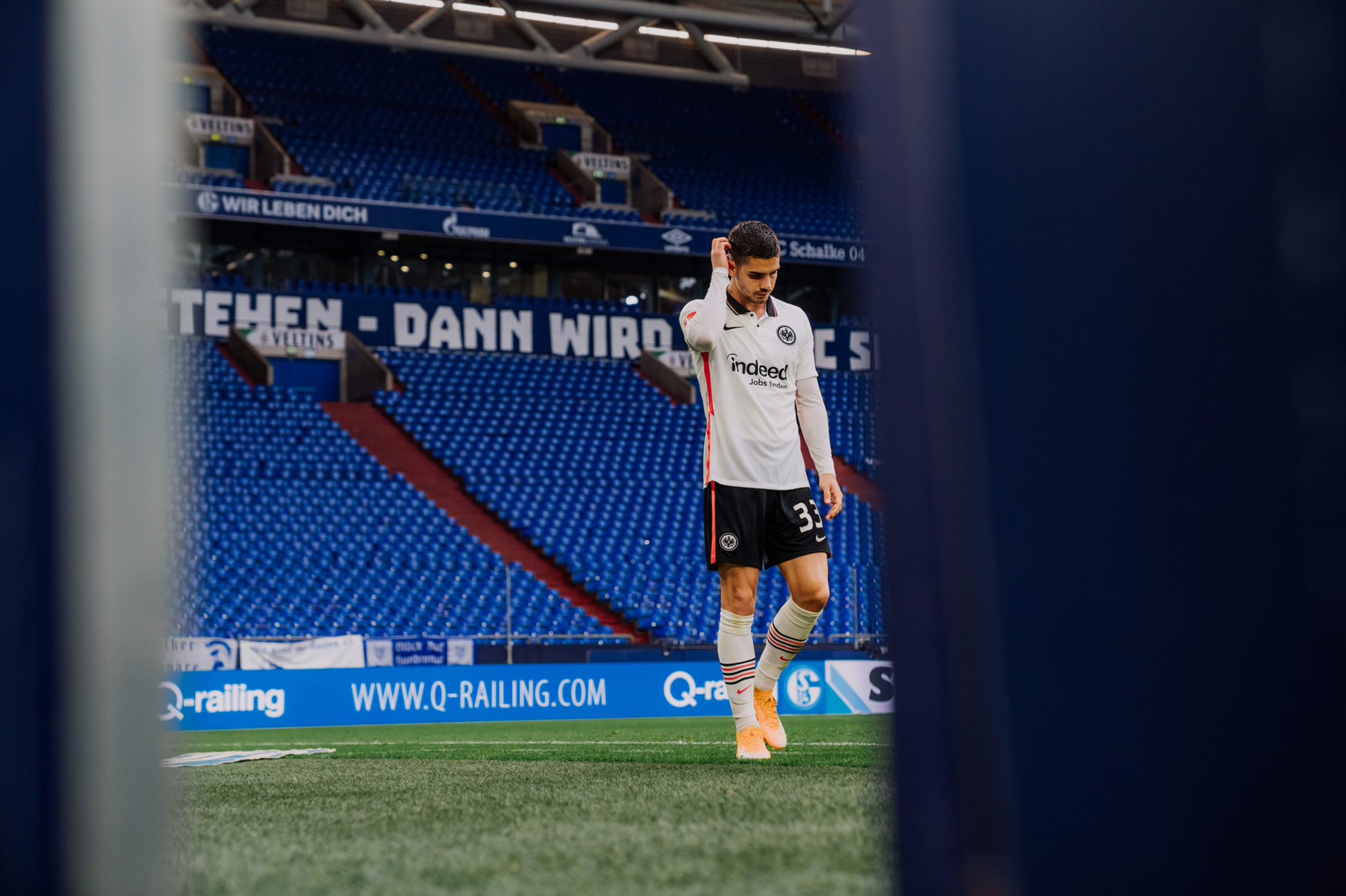 Frankfurt this season turned out to be one of the most improbable Champions League stories in European football. Unfortunately, it had a heartbreaking ending that largely could shape the club's future and some of the important players they have. Frankfort had one of the most intriguing Bundesliga seasons in recent time. Frankford had not made the Champions League in 60 years, and they were within the grasp of accomplishing that. They picked up some significant victories this season, beating Bayern Munich, Wolfsburg, and even Dortmund. After they beat Dortmund, they were seven points clear in the Champions League race they had a relatively easy schedule to close out the year, and it was more or less done. Meanwhile, Dortmund had just struggled to beat Stuttgart in a come-from-behind victory and had not played well before that either it looked like they were going to be heading for the Europa League. Frankfurt had everything in their hands. The connection of Filip Kostic and Andre Silva was hitting as smooth as ever. The Portuguese Striker still the number to Striker in League with 26 goals; he has been playing out of his mind, but unfortunately, things went sour at the wrong time while things were heating up for Dortmund. Despite having a very winnable schedule to end the year, Frankfurt folded when the heat turned on; things started when they lost to Gladbach and Bayer Leverkusen, completely derail their momentum saw their season collapse. Their coach is leaving at the end of the season to join a Gladbach; this was announced before Frankfurt starting to slip out of the Champions League. Remember, they had a seven-point lead on Dortmund, and they lost it, losing Gladbach by humiliation than a tough loss against Bayern Leverkusen. Still, over the last two weeks, it was their most embarrassing performance of the season when they drop points to Mainz, who until recently had a threat of relegation. Then they lost a battle with an already-relegated schalke that put the final nail in the coffin. It is one of the most heartbreaking stories in German football; this year, they were on the verge of making the champions league for the first time in 60 years. Being led by Andre Silva Filip Kostic Dashi Kamada, and so many others, it was a season to remember for Andre Silva in particular as he became the highest Frankfurt goal scorer since 1977 behind his 29 goals in all competitions. It has been a historical landmark for him, and the team collectively nearly made history themselves getting back into the champions league for the first time in 60 years. The conclusion of this season finishing fifth was a true heartbreak and Devastation surrounding Frankfurt. The potential of being in the Champions League next season and a chance to compete with a very well put together. The squad was something that could have extended the stay of Andre Silva and Filip Kostic. It is still plausible that Andre Silva could stay in Frankfurt be on this summer, but there is heavy interest in him in the Premier League La Liga and other teams in Bundesliga. Whether or not or erling Haaland stays at Dortmund is irrelevant because I believe Dortmund will make a run at Andre Silva regardless. Champions League qualification would have been the big difference in that regard. I'm not sure he stays now; it's hard to imagine that 5th place and Europa League qualifying is enough to keep the Portuguese hitman at Frankford. I hope he runs it back for one more season because this team is good enough to make the champions league, and maybe they can push for it next year, but the failure to make the Champions League does change the future of some of their important players and they have to rebound from the poor stretch to end the season. The announcement of the coach leaving the club the real their season to a certain extent it turned out to be an incredibly bitter finish to everybody's favorite Bundesliga story; there's not any words or phrases that I can say or write that will make this less painful. Frankfurt has waited 60 years for Champions League football, and at one point, they were seven points clear and had the opportunity to close the deal faltering late in the season prevented Frankfurt from achieving the ultimate dream and something they've been waiting for for 60 years it was a heartbreaking finish to what has otherwise been a very special season for Frankfurt what happened to them to end this season was just cruel there's no other way to explain it.
Dortmund win DFB-Pokal and Qualify for Champions League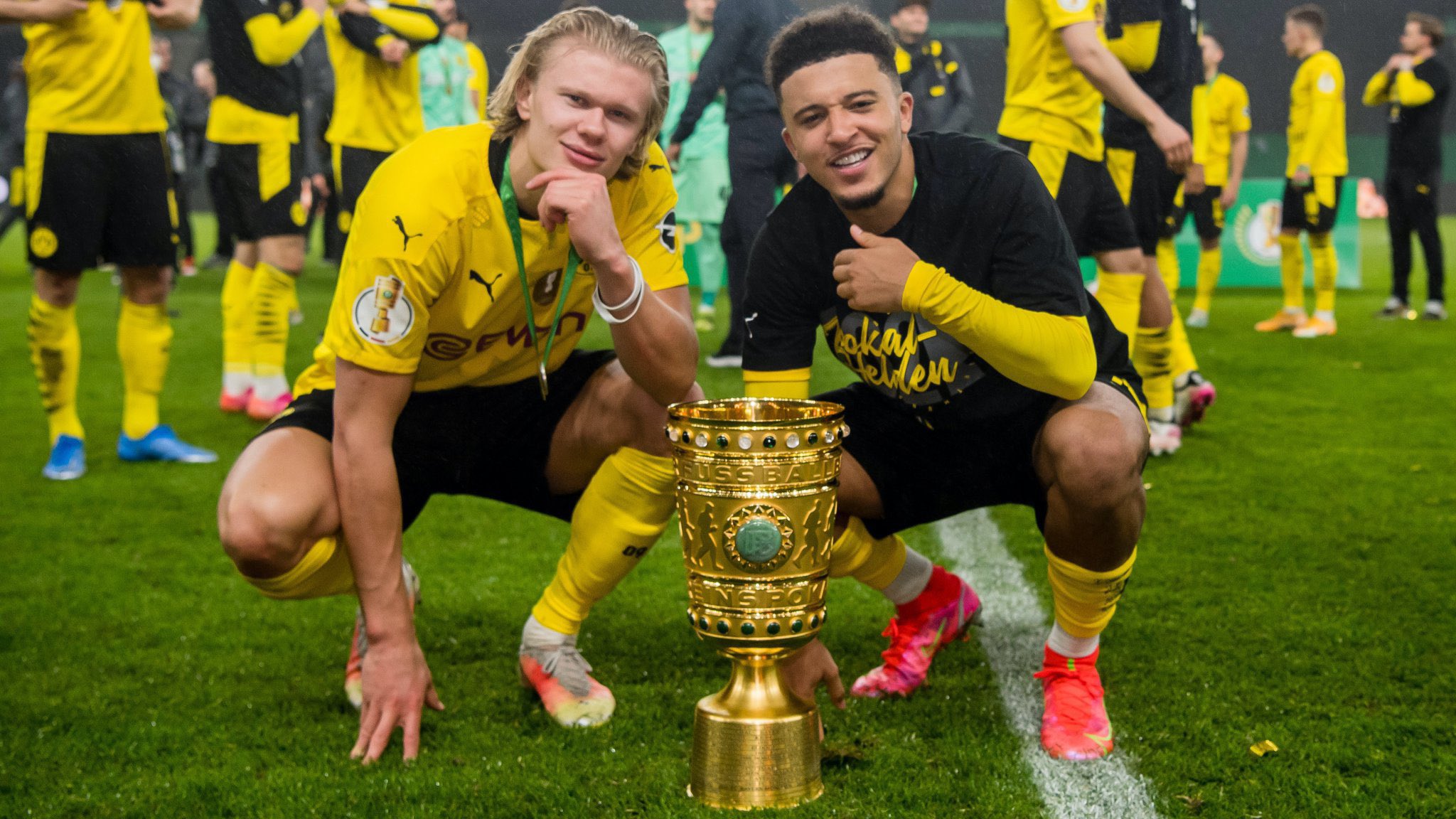 This last week was just another reminder that you could never count out Dortmund. They did The Impossible, something that seemed impossible weeks ago; after losing to Frankfurt in the 87th minute through Andre Silva, it did seem like Frankfort kicked Dortmund out of the Champions League race, and even after that, they had some scares down the stretch. Essentially they needed to be perfect and required to hope Frankfurt crumbling; unfortunately for Frankfurt, both of those things turned out to be the case. As good as Dortmund are, pulling off a return to the champions league is really important for them; they had been one of the most inconsistent sides in the league this season. They have been too hot and cold for my taste. Their talent is undeniable, erling Haaland Jadon Sancho, Giovanni Reyna, Marco Reus, Mat Hummels, Julian Brandt, etc. Considering what they have available, they have vastly underachieved the expectations. In the Champions League, they were amazing got themselves to the quarterfinals, a game in which Dortmund was very close to getting past Manchester City. In the league, they never turned into the team that we thought they would. With erling Haaland, everyone kind of felt that they were going to be the team to give Bayern Munich the most problems; it turned out not to be the case; they will finish third or fourth this season which is great considering it back in the Champions League but considering all is expected it's not been their best season. However, when the chips were down, it looks like they weren't going to make the Champions League; they came up big at the right time, starting with a come-from-behind victory against Stuttgart after dropping several points over the previous weeks before that. They made a coaching change mid-season, and it seems to have helped them get back on track. Then they beat Wolfsburg at the Volkswagen Arena; if they were to lose that game, things would become more complicated; it turned out not to affect Wolfsburg as they made the return to the Champions League in their own right, but every result that they have gotten throughout the last several weeks has put them on the platform to make the Champions League. This week they officially confirmed it following a Jadon Sancho to assist performance against mine; they have officially qualified for the Champions League. It's unclear whether or not they will get 3rd or 4th, but the Champions League picture has more or less been formed. I could call it a big achievement, but I'm not going to the Champions League qualification with a sense of relief because of the season they had; they nearly were unable to pull it off. However, something they did do has won their first trophy in four years. They took on RB Leipzig in the German Cup, a team that finished second their highest finish ever, and we're looking for their first trophy. They had played just days before the Cup final in the league and was a 3-2 victory for Dortmund. RB Leipzig came back in that game to drop level before Jadon Sancho scored the winner in stoppage-time. An absolute drubbing Dortmund went wild in what was a 4-1 victory as Jadon Sancho, and erling Haaland and Company wins their first trophy with the club in 2017. As Marco Reus lifts the German Cup, Dortmund has Glory once again for a club that has often come up short in title races; it has been a critical week for Dortmund as they could win the Cup and qualify for the champions league. Furthermore, erling Haaland has more or less confirmed his stay at least for another season; the big smile and incredible excitement from the Norwegian Star show that it is probably unlikely that he depart this summer which is probably the right move erling Haaland should give Marco Rose a chance with this Dortmund Squad that will upgrade. If they can start winning things more regularly maybe, it derails a move away altogether, but I think they should give the new manager a chance to turn things around at Dortmund. Jadon Sancho probably still departs, but I would think really hard about making that decision if I was him. I think the both of them should stay and try to run it back for one more season regardless of what happens; they've made good out of a bad situation Champions League qualified, and they just lifted the German Cup as they don't go empty-handed during this Bundesliga season.