Goalkeeper: Jordan Pickford, England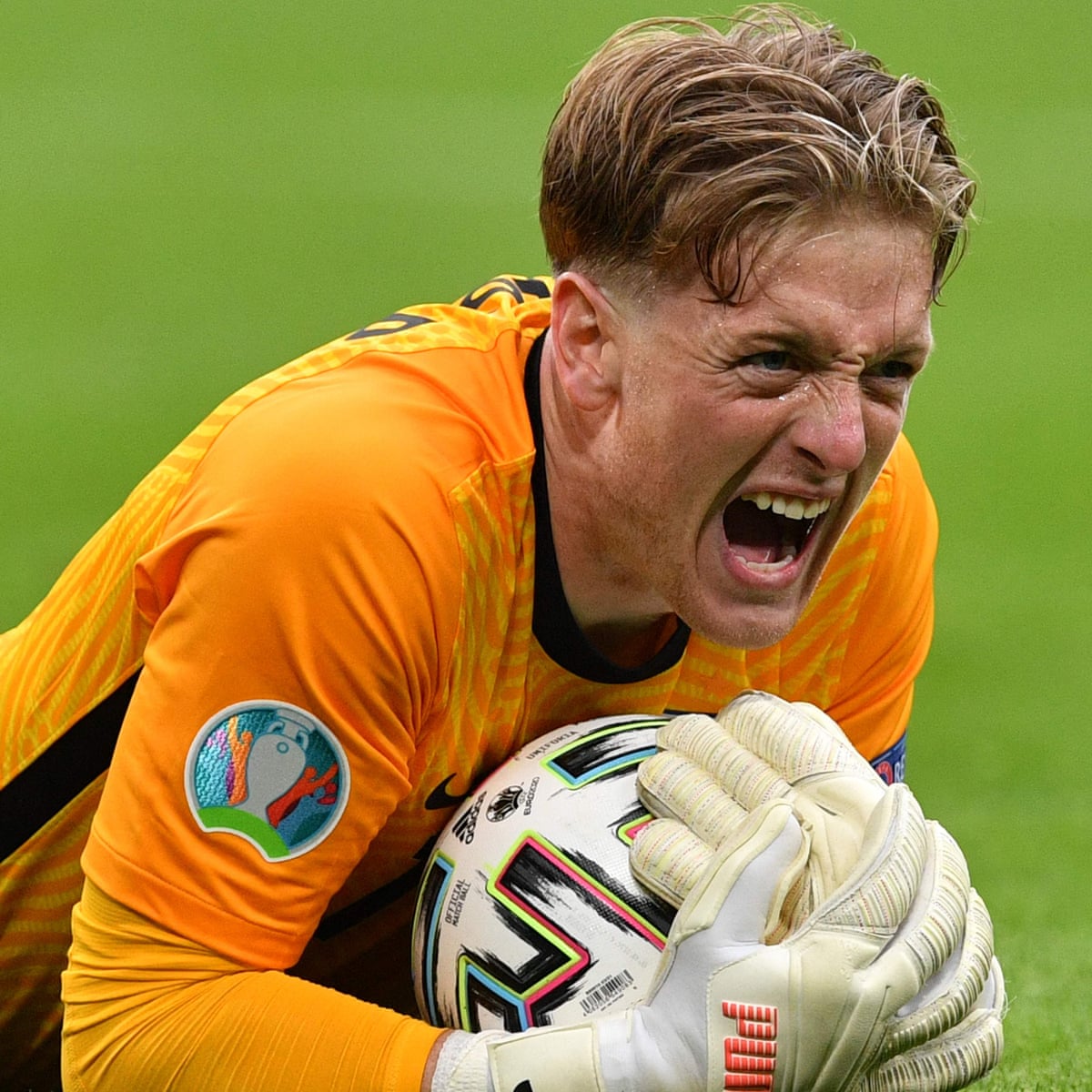 Gigi donnarumma had a fantastic during these European championships and was given a player of the tournament. Even though he was phenomenal and played a huge role in Italy, winning the competition to me, he wasn't the most impressive goalkeeper; having watched Gigi donnarumma in Italy since he was 16, nothing about his special performances was surprising to me at all. He was obviously one of the best goalkeepers in the competition, but he wasn't better than Jordan Pickford. The Everton goalkeeper is excellent in the Premier League but never anything outstanding or world-class, so the Euro's he ended up having been wildly impressive. We saw a little bit of this and the World Cup in 2018 for his level just went up a notch when he puts on the England shirt. England only conceded two goals this entire competition. A freak free-kick from damsgaard Leonardo bonucci in the final. If it wasn't for Jordan Pickford, England would have found themselves in significantly more complex games. He showed everything I like in a goalkeeper extreme passion, leadership, concentration, and no silly mistakes, not to mention his incredible ability. I'm not sure if Jordan Pickford will take this performance and this form and stay at this level in the Premier League next season but only conceding twice in 10 games is incredibly impressive. Not to mention if it wasn't for Jordan Pickford, Italy would have buried England earlier than they did; even though England lost in the penalty shootout, he did make a good save on Andrea Belotti; unfortunately, the rest of the team could not help him out in the same way as Italy became European Champions, but that doesn't ignore the fact of how impressive Jordan Pickford was all-tournament England seemed to have something incredibly consistent in goal for the first time in a while the whole thing he can keep up this form with Everton. We'll see another outstanding campaign from him in the next World Cup put in Euros; for me, Jordan Pickford was the best goalkeeper.
Left-Back; Leo Spinazzola, Italy 
Leo spinazzola is one of the most explosive right-backs in all of European football. However, he often does not get the respect he deserves largely because of the lack of media attention on Serie A; the league that dominated the Euros gets disrespected constantly, which is why he has not celebrated or gratified in the way he deserves to be. Leo spinazzola was one of the best players at the euros and could have been crowned as the tournament player had he not gotten injured against Belgium. Leo spinazzola has been such a dynamic player for Roma and now for Italy; unfortunately, his tournament was cut short when he ruptured his Achilles during the quarterfinals against Belgium. he has proven to be such a weapon offensively while defending well enough to keep Italy unscathed. after he went down Italy we're not the same against Spain they put together one of the worst performances of their entire campaign being outplayed thoroughly for all 120 Minutes luckily the penalty shootout went in their advantage, and they got themselves into the final. Then in the final against England, their weakest position was the left and right back; they could not provide a damn thing up the flank with Leo spinazzola; they handle Spain much easier, and on top of that, could of beat England before extra time. When we saw Italy without him, we just saw how valuable he was weirdly him getting injured shows more importance; more precisely, he was essential to Italy winning the Euros. not only that his transfer value just went up significantly the ones that suffer the most from this is Roma who will not get to see their star man burst into action until January or February, but it's clear during the European championships Leo spinazzola was essential ingredients to the glory.
Centre-back; Leonardo Bonucci, Italy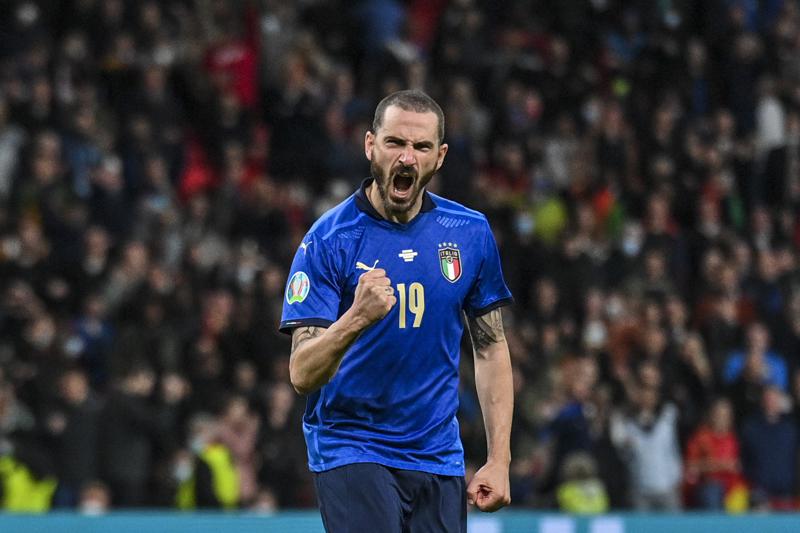 There's no question the impact the Italian defense had on Italy winning Euro 2020. there have been many good center-back play in this tournament, but it's tough to look past Leonardo bonucci. He is a controversial figure in Italian football because of some of his plays and the controversial statements he has made in his career. However, he responded to all the criticism with a fantastic tournament as he was one of the best players in Italy. He scored vital penalties in both of the shootouts against Spain and England. He scored the much important equalizer late in the second half against England that timidly pushed the game into extra time. In this tournament, Leonardo bonucci became an Italian folk hero, truly one of the best center backs of the last decade, and shows his qualities on the biggest stage. He was a part of the Euro 2012 final when Spain embarrassed Italy in front of the world to see. He was very emotional at night, shedding many tears, but he had an ultimate shot at Redemption in this tournament, and in the final, he put together a man-of-the-match performance to justify how great he has been with this Italian team during his entire career. Leonardo bonucci may be 34 years old may not be old and slow, but he made up for it with his defensive ability. Countless times during the final, Raheem Sterling, Harry Kane, and others got into the box with the hope of trying to break it down the defense and get themselves in a position to score essentially every opportunity that they had was eliminated by Leonardo bonucci playing exceptional protection in the game's most important moments. He earned a man-of-the-match display in the final while answering all the criticism to become one of the best players at Euro 2020; you honestly could make an argument for him as the player the tournament he was Flawless throughout despite his age it didn't stop him as he becomes the oldest goal scorer ever in a euro final he scores a goal shuts down Harry Kane and the English attacked while scoring a vital penalty in the shootout Italy are European Champions behind his backbone.
Center-back; Giorgio Chiellini, Italy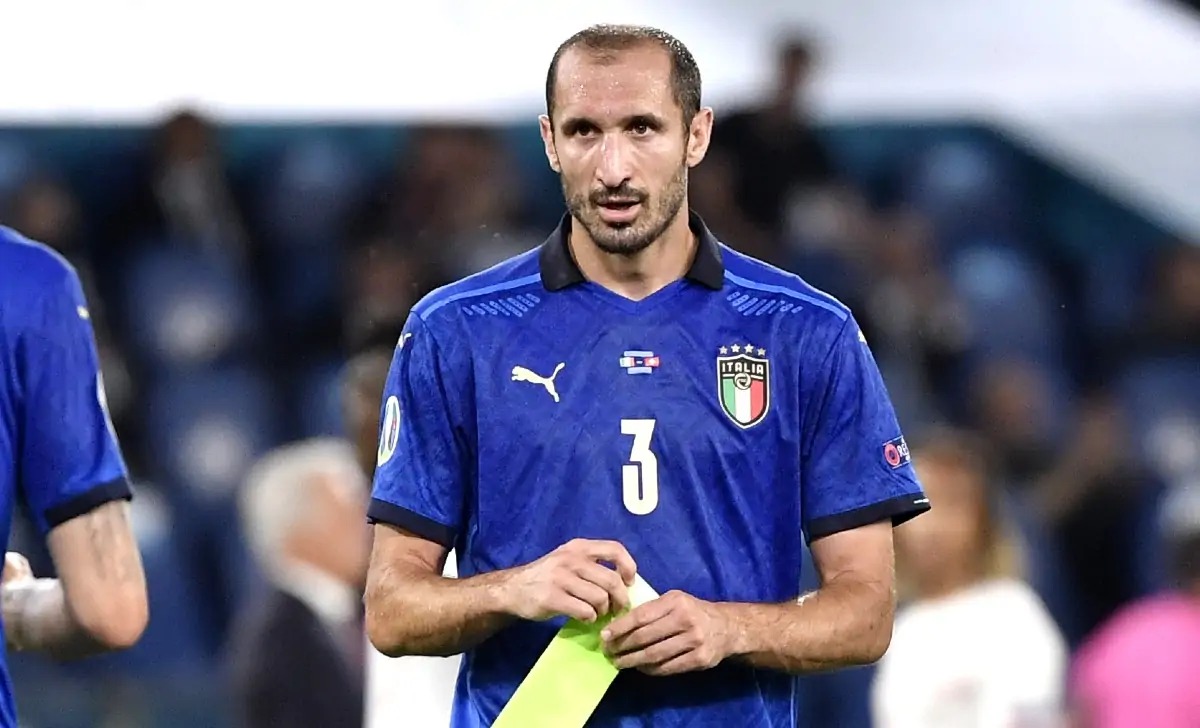 Next to Leonardo Bonucci, his center-back partner Giorgio Chiellini is truly one of the best center backs of this generation who came into the euro at 36 years old; he may not be the player he once was but certainly has been one of the most impressive performers over the last month yet another player on this Italian side that potentially argues for player of the tournament. Giorgio Chiellini and Leonardo bonucci had the most Unstoppable center-back partnership in the entire tournament. They found a way to frustrate some of the best attackers in Europe, going through a very difficult road to the final. Giorgio Chiellini embodies leadership, captaining this Italian side to International glory for the first time in almost 60 years. The first International trophy Italy has one since 2006. On top of that, Giorgio Chiellini's leadership intangibles and importance to this team shine through large influence in Italy's 35 games unbeaten run that ends with them as European Champions. He is truly one of the very best defenders of this generation and one of the best center backs of all time; what he has done domestically with Juventus and now seeing Glory with Italy just justifies his incredible career it is unclear whether he will be at the World Cup next year we get to see Giorgio Chiellini one of the best of our time ride into the sunset as a European champion from dealing with some really unfortunate tournaments and falling short in the 2012 final Giorgio Chiellini Got That long-awaited Glory with the center-back partnership between Bonucci and himself it played a big role and Italy becoming Champions without Giorgio Chiellini and Leonardo bonucci Italy would not have won the Euros importance cannot be undervalued in any way.
Right back; Joakim Mæhle, Denmark 
Denmark fought their way to a semi-final; many players on the Danes were essential to their ultimate success. However, one of the stars of the tournament that flew under the radar the majority of the Euros was Joakim Mæhle, currently playing in Serie A for Atalanta; he had some tournaments that have enhanced himself as one of the stars of the tournament. He had a very productive season in Bergamo last year, but during the Euros with Denmark, he took it up a level. Denmark, once they got out of the group stage, barely conceited at all that's partly because of their Brilliance from the goalkeeping position with Kasper Schmeichel, their Dynamic Midfield, and their fluent attack, but Joakim play a considerable part in their ultimate success at the Euros not only did he contribute extensively in the defensive area being able to handle whatever was thrown at them was very impressive, but also he contributed into the attack, not in the most aggressive way but his contribution defensively and pushing the ball forward feeding into the attack Denmark get on the front foot in a lot of their games and give them that confidence to continue to push forward. Joakim Mæhle showed how versatile he is as a right-back playing a very significant role in Denmark, making the semi-final he should only build on this into next season in Bergamo coming off a really outstanding euros he may not have been in Denmark's most important player. Still, he bailed them out in a lot of situations and contributed to the attack; it was a nearly Flawless tournament from the right-back who showed all of Europe what he is capable of.